Get Well
Danielle Copperman talks loving cheese, skateboarding & getting high(ish) on chaga mushroom powder.
As you probably know by now, we like to approach wellness without the sort of all-or-nothing attitude that has the tendency to creep up on us. We can do the whole massive green salad topped with hand-harvested, antioxidant-loaded toppings from Mayan ruins thing, but if we want a drink or a piece of cheese, we're damn well going to have that, too. So when we learned that Danielle Copperman, model, the author behind lifestyle site Model Mange Tout, and founder of Qnola, her very own line of quinoa-based granola (it's an A.M. game changer, people) and all-around insanely healthy person felt the same way, we pretty much hit it off immediately. Over acai bowls at Dimes Deli (because where else?!) on the Lower East Side, here's everything else we learned, from her insane (albeit admirable) strategy for staying healthy while traveling, daily shot of cucumber juice and how working with other women is what keeps her sane.
---
Her definition of wellness:
"I prefer to think of it in an unpretentious, undramatic way, and I find viewing it in a 'fuss free' light makes it more attainable. It can mean something different to everybody, but in general, I would define wellness as a state of being completely in balance, being grounded by the food you eat, and in touch with your body on a cellular, physical and mental level.
It is not just about food, drinking lots of water, going to the gym and getting enough sleep. For me, it starts on a mindful level. The same way diets don't work, just believing the hype or things you read about doesn't work either. You have to believe in it, you have to feel it and you have to understand it."
Her personal wellness goals (no pressure!):
"It sounds like a lot, but my wellness goals are to eat well, drink well, look after my skin, breathe deeply, stretch regularly, move often, travel lots, love deeply, laugh loudly and think positively. My goals involve taking care of my outsides and insides through the food I eat, the products I use on my skin and doing something active at least once a day. But [I want to achieve] all of this without pressure. As soon as you put pressure on yourself, you aren't going to feel well; you're going to feel negative, and no amount of green vegetables can change that."
Her hydration method of choice (do try this at home):
"I start every morning with a shot of cucumber juice mixed with juiced ginger, aloe vera and lemon juice. Throughout the day, I drink water infused with cucumber, charcoal and mint, and always keep a jug or a bottle of water with swelled chia seeds inside on my desk. I also drink a lot of herbal teas, mainly for warmth and procrastination, but also for their healing and detoxifying benefits. My favourites include mixed herbs in hot water and chaga mushroom powder in hot water."
Her mental health routine:
"To appear as calm and as in control as possible, I practice mindfulness, meditation, and surround myself with wonderful people. When I first set up my business, I was so in my own little world, I never had time to see my friends, and even if I did, I could never just hang out and switch off—I was always on. I've since learnt how vital it is to surround yourself with positive people, and other humans in general."
How working with other women helps keep her sane:
"I was so alone in the first year of my business and the lack of human contact and conversation used to drive me subconsciously insane! I'm close to my parents, but they're not close by and when I began making Qnola, they kind of thought it was just a hobby or [just] 'something to do'.
What really kept me sane was connecting with other people—mainly women—in the industry who were at the same stage of their startup journeys as I was. Somehow, there were women all around me quitting their days jobs to pursue their passion in health and wellness, and I realize now more than i did then what a blessing it was, and still is, to have them in my life."
How running a wellness start-up doesn't mean you're not immune to freak outs:
"Balance isn't easy, even if you own a wellness company. Just because I believe in working out, sleeping lots and managing stress, doesn't mean I always do! There were times when I got five hours of sleep in a week, spent midnights crying on the kitchen floor and was so stressed that I lost my appetite. My body began rejecting food (even the healthy food i was advocating). What kept me sane was laughing about these struggles with other people who had all been there before, and the insurmountable feeling of getting past them."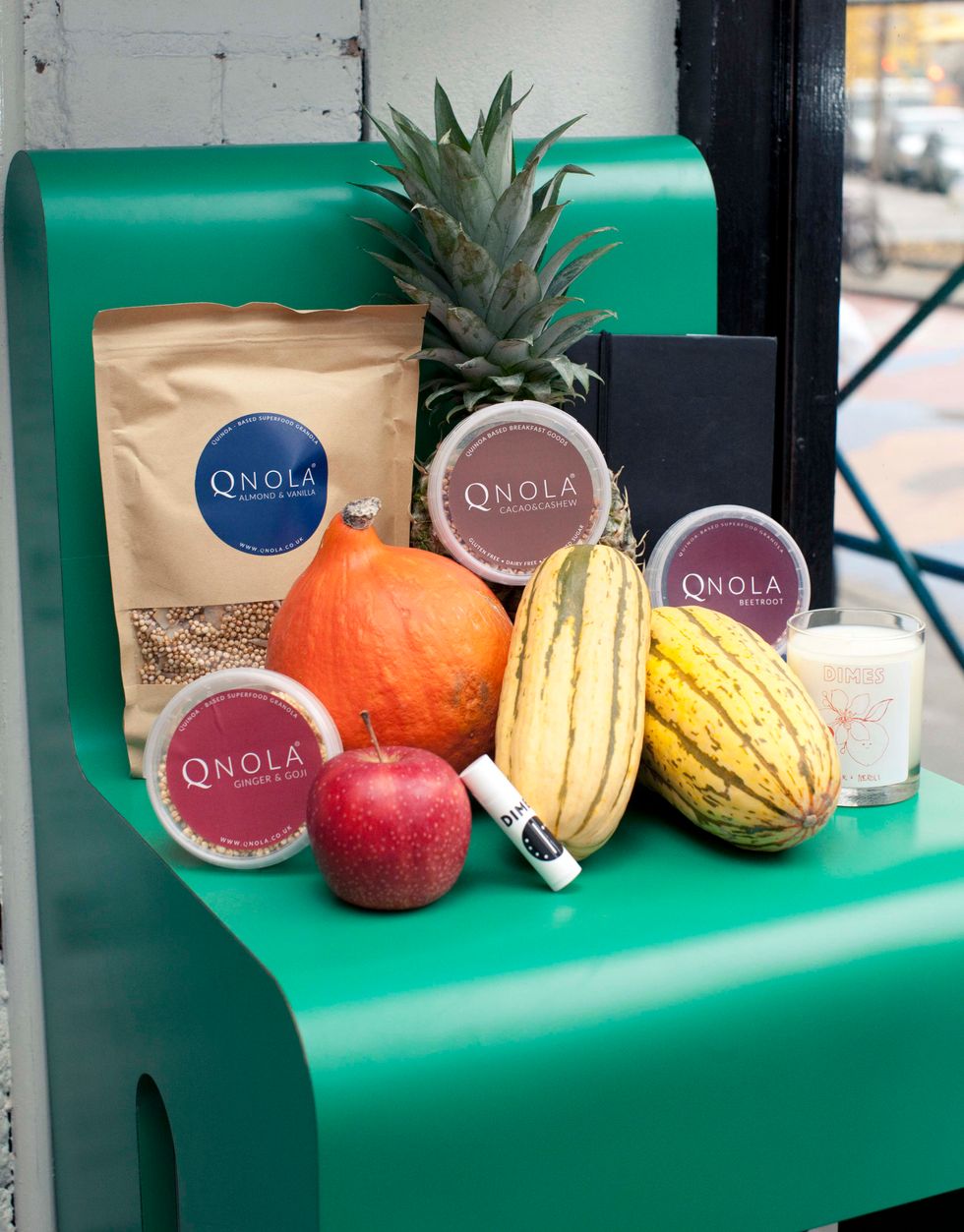 Staying healthy while on the road (her packing list is a doozy, BTW):
"It's undeniably difficult, but I have learnt a few tips along the way. I travel with supplements, prepared ambient foodstuffs, essential beauty products and a compact exercise kit.
I pack superfood sachets, essential oils, buckwheat flakes, chia seeds, raw nuts and seeds, liquid or tablet form supplements, coconut oil (for food, drinks, oil pulling), moisturizers, dry body brush, a resistance band and a candle, if I have space. I also take my own food for the journey, and research the local area's health scene offering.
It's also important to know how to shop when you're abroad or on the go, as many countries don't have the groceries or products you are used to. I always keep it so simple when I'm travelling—fruit, vegetables, nuts, seeds. That's about it. Those things are universal."
The weirdest thing she's ever tried in the name of health & wellness (yes, it involves bugs):
"That's tricky, and I guess, a matter of opinion. My parents think I'm weird if I turn up to meet them drinking a green smoothie. There is still so much taboo around eating healthily, and people generally think healthy food is weird—but that's only in comparison to what they're used to. I'd probably say insect crisps are up there on my list, though. I don't think my parents are ready to hear about that."
Her go-to meals in the kitchen:
"It depends on the time I have and, if I'm cooking quite late, on the ingredients I have in the house. I cook all the time, testing interesting things for my blog, but in reality I try to keep my personal meals as simple as possible, particularly during the week.
I usually use simple, seasonal, ethically and locally-sourced ingredients where possible, like vegetables, fruits, seaweed and pseudo-grains (like quinoa), and combine them with a protein like chicken, salmon or eggs. I start with a plain meal and then create a dressing or a dip (like turmeric tahini and honey dressing or some kind of hummus or nut-based pesto) to jazz things up a bit. I top most of my meals with either Savoury Qnola, hemp seeds, chopped nuts or umami superfood powders and adaptogens."
Her favorite snacks:
"Big, fat, juicy blueberries (sometimes with a cheeky serving of nut butter), homemade raw cacao, nut and date-based snacks, smoothies, fresh lemon and ginger tea, Beetroot Qnola, activated nuts, mashed avocado, chia seed pudding. [Laughs] I'm such a snacker!"
Her biggest indulgence (because you just can't recreate cheese):
"Cheese with chutney. It's the one thing you absolutely cannot recreate healthily. I would say brownies or caramel shortbreads, but I've found ways to recreate these things using nutritious, natural ingredients, and actually prefer them. But cheese—no. I've come close, I've come across some good attempts. but it just cannot be done."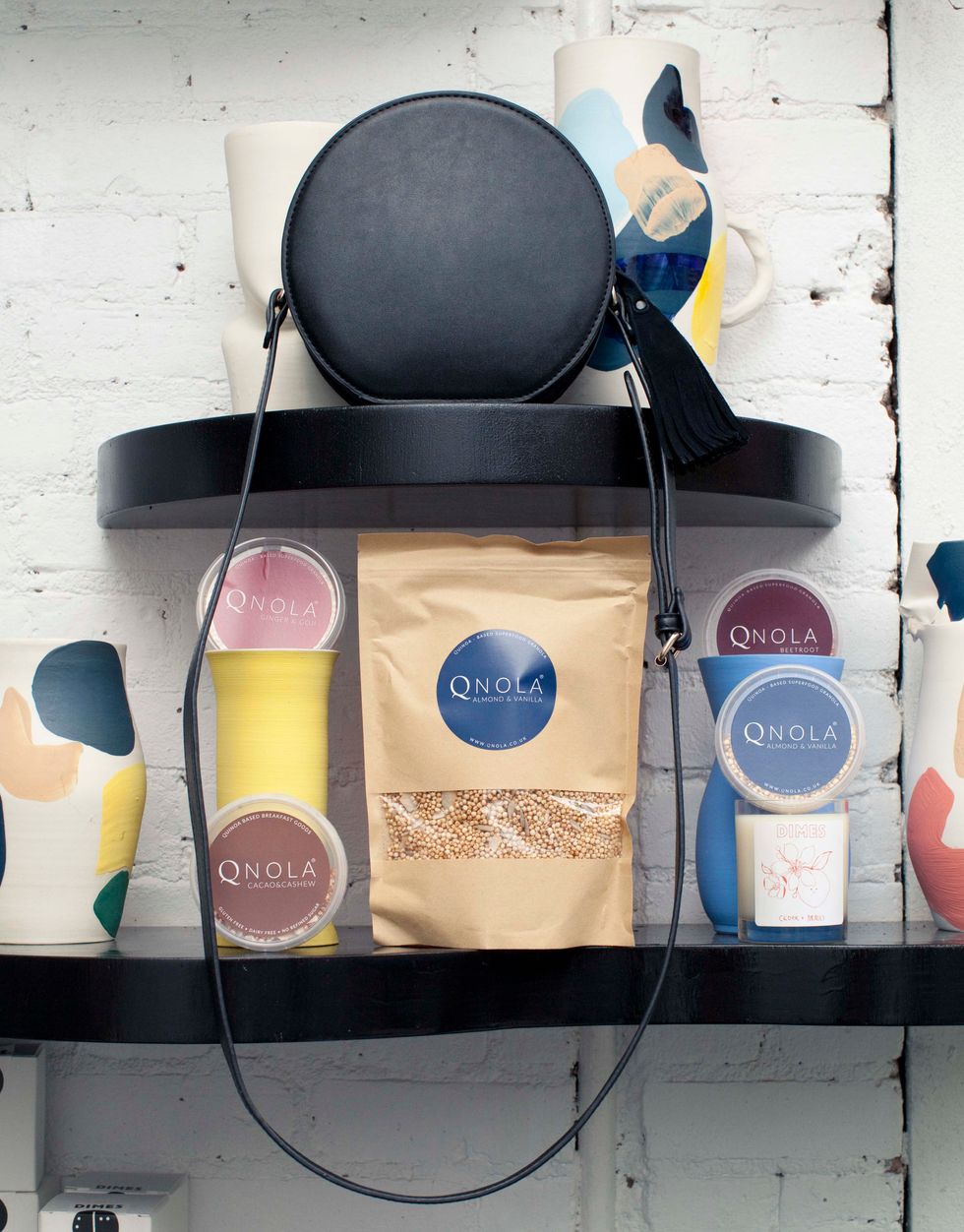 Her coffee order :
"Black americano if I'm about to workout, or an almond milk or coconut milk latte with cinnamon if I'm feeling fancy. If I'm making it from home, I'll add some cacao, or some shilajit or chaga medicinal mushroom powders. The effects are so intense it should be as illegal as it sounds!"
What she eats before a workout:
"If I'm working out before 8 A.M., i'll just have hot lemon and ginger tea beforehand, and either a smoothie or some eggs, salmon and avocado afterwards. If I'm working out mid-morning, I'll have a smoothie beforehand, and either an egg dish or a chicken, salmon or quinoa salad bowl afterwards.
If I'm working out later on in the day, I'll generally have a large, late breakfast or brunch of eggs and a smoothie or a savoury quinoa salad bowl, some nuts to snack on throughout the day, and then a protein rich dinner of chicken or homemade chicken burgers or fish with sweet potato and a warm green vegetable salad, topped with nuts."
How her idea of wellness has evolved over the years:
"When I was growing up, I was insanely skinny, pretty active and just couldn't gain weight. I was teased at school and desperately wanted to put on weight, ashamed of my shapeless, boyish figure. I used to get home from school and ask my mum what i should eat to get fatter. my sisters still laugh at me for this—I would sit and eat yum yums and pies for days!
Obviously, everything changed when I began to get older, and although I managed to remain slim, I wasn't at all healthy. I loved sweet things, cakes, brownies and snacks, and ate a lot of sandwiches and pasta. It was only when I left home and moved to London to model full-time that I became really aware of my dietary choices.
I wanted to look and feel the best I could. My skin was grey, and my energy levels so low, due to the amount of sugar I was consuming, and although I lived off boring salads, I never seemed to lose weight, feel good or feel fulfilled. So I taught myself a biology A-Level, studied nutrition for a year, did lots of research and discovered what and how I should be eating to enhance my body both on the inside and the outside. I was fascinated and I was hooked!
My idea of being healthy began as making smoothies using sugary, artificial yogurts, eating salads with artificial salad dressings, and living off of sugar-laden granola and other snack foods advertised as 'skinny' and 'fat free'. I was a sucker and I fell for it all! Since educating myself, my idea of being healthy is much more well-rounded. I don't set rules for myself, I just eat simple, real, natural ingredients and make sure i experience satisfaction, excitement and fulfilment as I do so. If you don't enjoy being healthy, you will never be healthy."
Her favorite healthy spots in London:
"Redemption Bar on Old Street; The Good Life Eatery on Sloane Avenue; Tiosk on Broadway Market; Juice Tonic in Soho. I like places that I can enjoy sitting and visiting, not just places that have good food. I like unpretentious places, making healthy food, but not making a song and dance about it. Nothing too pushy. Places that are real."
Her favorite ways to stay fit:
"Yoga, pilates, boxing (a new obsession), body weights in my room (I hate working out in company and hate the gym), running, mainly for its meditative elements. [I also like] skipping and jump rope, skateboarding, cycling, walking (preferably with good company. Or a dog!)
Boxing is so immersive and it's a skill, not just an exercise. You get so involved and caught up in creating and following a sequence. It is such an amazing way to completely switch off, turning my mind away from work to concentrate on something new. It is empowering and strengthening. I honestly see definition in my arms and abs after two sessions!
Yoga and pilates keep me sane and grounded. I either start the day with a short sequence in my bedroom, go to a 60 to 90 minute class, or end the day with a calm evening class or a short sequence in my bedroom.
Skateboarding is a new skill I am learning. Just casually, but I have rediscovered the power that learning something new has. It is so fulfilling and exciting!"
Her advice to anyone looking to get a little healthier:
"Start by learning about why certain things are bad for you, don't just believe what you're told—it's lazy and it's not sustainable. Try to understand ingredients, and understand how our bodies work, what happens to certain foods once they enter the body. You need to start thinking of food less as an object, or a way to stunt hunger, and more as a method of fuelling the internal cellular processes inside you.
Don't cut too much out too quickly or make drastic changes to your diet and lifestyle all at once. Take it slowly, redesign your habits in all aspects of your life. Get to know your body and your overall self. Living well is about making long term lifestyle changes, adapting your own day-to-day routines in order to make your goals achievable for you, and aspiring to live in a way that you enjoy and that is achievable, realistic and rewarding."