Get Well
Taylor Hill & Adriana Lima's Health & Wellness Routines
Vegetarianism, coconut oil, CrossFit and cauliflower fried rice.
In case you didn't notice, the Victoria's Secret show happened, like, two nights ago. Was your Twitter feed bombarded with "Gigi killed it!!!!!" too?. A month ago, though, when the taping happened (now that, friends, is production value), we were backstage and had the chance to sit down with a few of our favorite Angels. We're guessing you've maybe heard all this before, but even though Adriana Lima was getting a pedicure, having had yet to go through makeup and still looking absolutely flawless while we quizzed her on her newfound vegetarianism, photographers swarmed us asking her for a picture, it kind of felt like we were catching up with a girlfriend. But maybe that was because we were looking at pictures of homemade cauliflower fried rice on her phone. Same goes for Taylor Hill as she told us about how CrossFit keeps her zen (okay, fine, so we found that one a little bit harder to relate to...). Seriously, though, here's what health and beauty means when being healthy and beautiful is your job.
---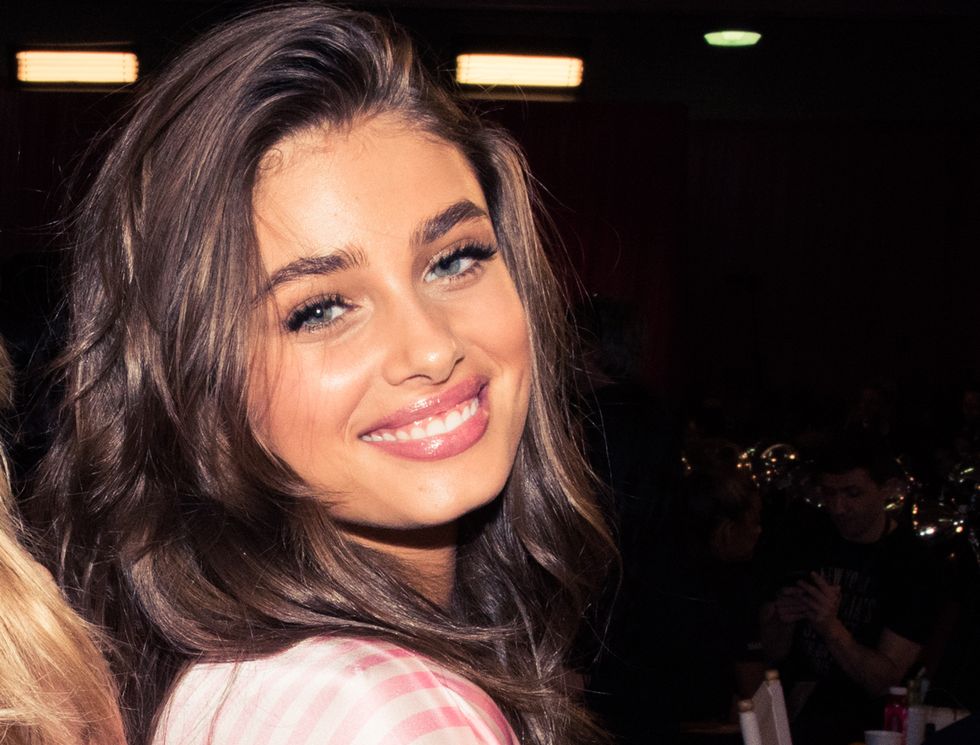 How do you stay sane leading up to the show?
"Working out really helps relieve stress and anxiety. I do CrossFit. I also do weight training by myself."
What about your skincare routine?
"I just keep it really easy, and I use really clean products without a lot of chemicals in them. I use a very simple face wash called CeraVe. It's for [removing] makeup that causes acne. And then I use coconut oil for hydration. It's the best! Hair, skin and nails."
What is your everyday beauty routine?
"When I'm not working, I literally don't have a beauty routine. I try to just roll natural, because, you know, I work everyday and put makeup on like crazy everyday. I think on my days off, it's really nice to just give my skin a break and just hang out; put my hair in a knot and just walk around."
How has your health and wellness philosophy changed since becoming an Angel?
"I think I've become more aware of health and fitness. Before, I didn't really think of those things. But when you constantly have to be in shape and be really healthy, it's really important. It just makes you feel good to be healthy and workout. You have more stamina, you have more power, and you're stronger. You can handle way longer workdays. So I think being more aware of fitness and health is very important for being an Angel. I try to sleep on the plane, which is really hard, but if you can sleep on the plane, you'll be good."
Fifteen years later, do you get nervous about walking in the VS show?
"I still get as nervous and excited as before. I thought it was going to change, but it hasn't.
Has your idea of health and preparing for the show changed?
"I prepare with boxing the same way. But the newest thing is I'm a vegetarian. It's been a month. I like it a lot. I feel [like] I have more energy. Sometimes when I ate red meat, I felt really heavy. I feel much better now."
What are your favorite vegetarian dishes?
"I like green beans. I like cauliflower rice—fried rice, that's how we make it. Cauliflower fried rice at home. I'll show you a picture. I'm very lucky because I have a chef at home. He's amazing. When I'm home, I cook. Sometimes he cooks for me, but I like to cook."
Has your beauty routine changed?
"I am always consistent. I like to keep [it] as natural as possible on my skin. Oils… I love oils. And then the workout itself, I believe, is the key for the skin—it gives you that natural glow for sure."
How to you stay sane when you're backstage?
"It helps that I've been here for so many years. When I do interviews, the majority of the people I've seen before, I knew before. So it's not nerve-wracking. But right before the show, I like to close my eyes for a few seconds, and maybe if I have a chance to listen to a calming song, I do that. And then get out there and try to enjoy. I think my family being here also—they're going to be watching the show—that is a huge comfort. It's very comforting seeing that they're there to give me support."