Get Well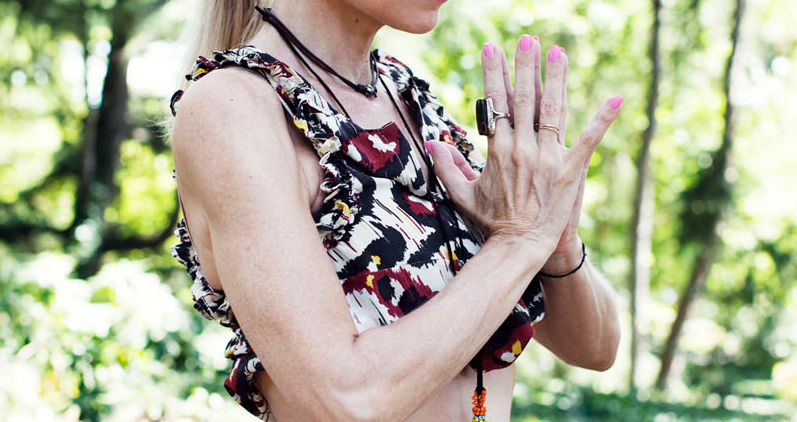 Meet DVF & Michelle Williams' Meditation Guru
Kelly Morris talks eating to look younger, the art of the full-til'-noon breakfast & all things wellness.
Meditation is a practice that's infamously difficult to nail: all those who have cycled through countless apps or fallen asleep on yoga mats in attempts to pursue it, please raise your hand. But if there's anyone capable of convincing us to tough it out in the name of gaining some of serious benefits, we're going to make a wild guess and say that it's probably going to be Kelly Morris. The (Guru? Spiritual advisor?) teacher and energy coach's client list ranges from Russell Simmons to Michelle Williams to Diane von Furstenberg; and she's been practicing yoga and meditation for nearly 30 years—in other words, way before yoga centres became as ubiquitous as Starbucks. She then started teaching and, well, the rest is history. We spoke to Morris about everything from finding yoga practices everywhere she goes, shamanism, eating charcoal and beyond.
On her definition of wellness (shit gets deep):
"Wellness for me is 30 minutes every morning sitting in meditation. If I take the time to sit, I'm golden. If I don't, I'm in a dark place and no amount of organic green juice, yoga, acupuncture, massage or money can return me to the light.
Our world is suffering from a profound lack of love. It is easy to forget that you are a glorious child of the universe, an integral member of a divine fabric far greater than anything you could ever conceive of. We are in a constant, direct and indelible relationship with the innermost workings of the universe and everything we feel, think, say and do matters. The time for love is now. I also make sure to eat organically and get enough sleep."
On her wellness #goals:
"Did I express myself clearly and effectively? Am I living in accordance with my beliefs? How great is the divide between how I present myself to be and who I actually am? I judge my happiness and wellness levels by how joyful I feel."
On her go-to hydration method (& the Japanese water filter we now need to buy):
"Water! I use a wonderful Japanese water filtration system that removes all impurities from New York City tap—like the neurotoxins fluoride and chlorine—and then puts in magical minerals that make you glow."
On embracing shamanism in the name of mental health:
"If I don't meditate everyday, I am a bonafide menace. Aside from that, I practice Andean shamanism, which allows you to awaken your inner wisdom through the methods of the Q'ero lineage from the High Andes. Personal empowerment will never be found in the eyes of another. The methods of Andean shamanism are fast, effective and game changing. I love nothing more than turning on a new client to these profound practices and watching them blossom."
On taking her routine on the road:
"I try to stay in hotels that offer a great gym. I also bring my yoga mat and do the wonderful online classes from Yoga Works. If I am lucky and have the time, I suss out yoga centers nearby and give them a try. I like to take classes from unknown teachers—I always discover gems."
On the weirdest thing she's ever done in the name of wellness:
"From eating charcoal to putting my feet in a weird vibrating machine at my acupuncturist's office, I've covered a lot of ground..."
On what cooking for herself (take note, New Yorkers) has to do with looking a decade younger:
"People ask me all the time how I look younger than 49. My answer is always the same: I steer clear of GMO food, never use a microwave, eat clean meat three times a week, and eat endless amounts of green veggies."
On her (lack of favorite) snacks (hashtag willpower):
"I don't have any."
On not believing in guilty indulgences:
"I don't feel much guilt. If I had a guilty pleasure, it might be my frequent pit stops at various Tui Na places around the city. If I feel stressed I drop in and am instantly relaxed."
On skipping caffeine and rejecting coffee culture all together:
"I don't drink coffee. There was time when people were offended by the proliferation of expensive coffee places. Now it's almost a cultural obligation to load up on caffeine and begin your day like a crazy rabbit."
On the key to post-workout fuel:
"I try to have an Orgain organic protein drink immediately after working out. Otherwise, my body eats the puny muscles I just spent an hour building."
On her full-til-noon breakfast strategy:
"I am never super hungry in the morning, but as every mother intones, you need breakfast. So I have a slice of toasted organic oatmeal bread with organic egg salad on top. It takes one minute to make—literally—and guarantees that I won't be crabby by 11 A.M. That, or organic spelt flakes made into hot cereal with organic dates, maple syrup and half and half. Everything organic!"
On being both an early riser AND a night owl:
"I love dawn and I love dusk. Ideally, I am awake for both."
On her evolving view of wellness:
"I used to listen to other people's advice about what to eat, how to think, what to do and how to do it. A few months ago, I looked at my wall of floor-to-ceiling books and threw away 90% of them. Few things have felt as liberating.
I have lived 49 years, and hardly anything served me as well or as comprehensively as learning to meditate. Once you learn to sit, your inner compass grows and you become less and less dependent on the say-so of others. We look outside of ourselves when we haven't been taught how to look within."