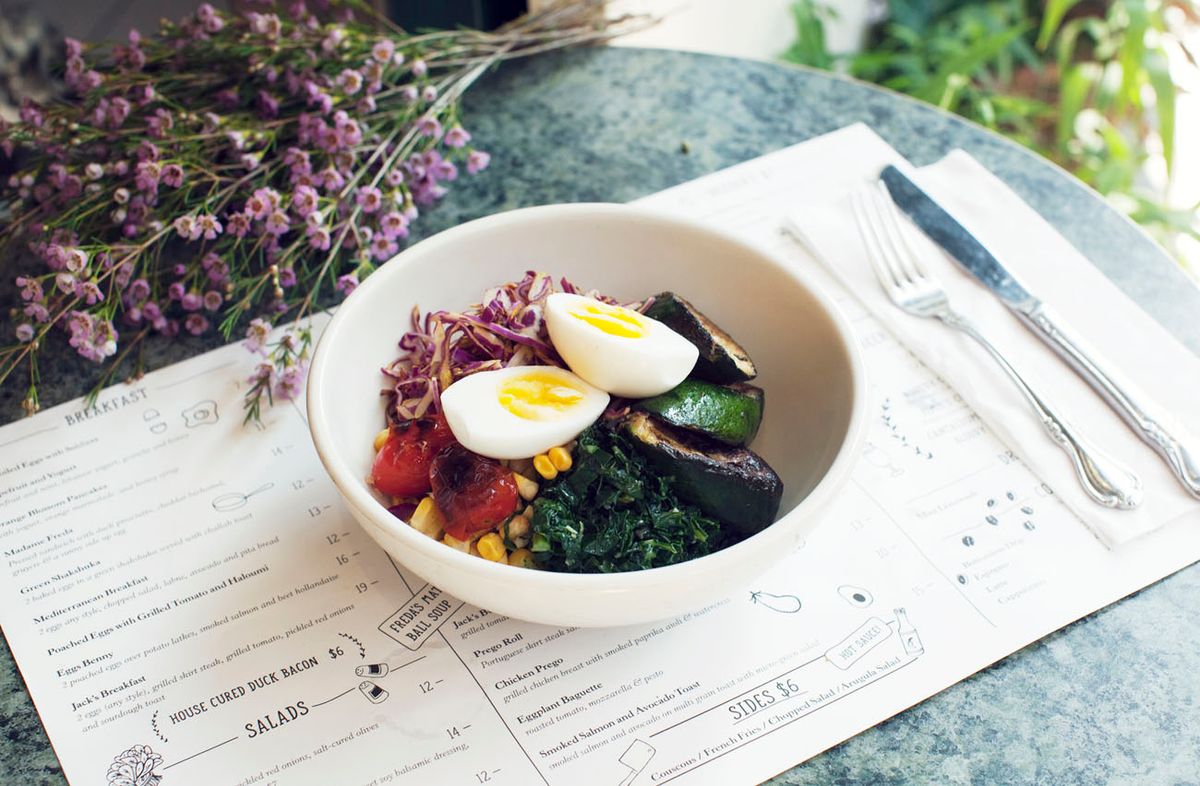 Nutrition
It's courtesy of NYC's Jack's Wife Freda, so you know it's good.
So, we've noticed you guys really, really like healthy recipes. And we feel you! Taking in fresh, clean foods that make you feel like you could beat Usain Bolt AND kick a conference call in the ass beats calorie counting and obsessing over bikini season one hundred times over. Welcome to Off the Menu: our new series, dedicated to begging our favorite places to eat for the recipes behind their most delicious, good-for-you dishes.
---
When we're eating solo on weeknights (:raising_hand:), take-out can get a little tired (read: unhealthy and/or expensive) and our old standby (avocado toast—we're soooo predictable), well, sometimes there are just no ripe avocados to be found. Also, let's be real, avocado toast is a snack, people, and we're bound to get into the popcorn come 11 PM if we try to justify it as a meal. Either way, when you're cooking for one, it's best to keep it simple—as in one dish only. Cue this delicious, completely satisfying and totally healthy bowl recipe from Jack's Wife Freda (turns out our favorite place for a gluttonous brunch is also really good with greens, but then, you probably knew that already). Toss some quinoa in with some kale, zucchini and egg (okay, so there are a few more steps than that) and you've got yourself the best dinner (and leftover lunch) you'll have all week, even if the avocados are ripe.
---
Maya's Summer Grain Bowl
 
INGREDIENTS:
Red Quinoa
Sautéed Kale
Grilled Zucchini
Corn and Tomato Salad
Red Cabbage Salad with Tahini Turmeric Vinaigrette
Boiled Egg
To plate bowl place one scoops of each component into a shallow bowl, finishing with the eggs sliced in the middle.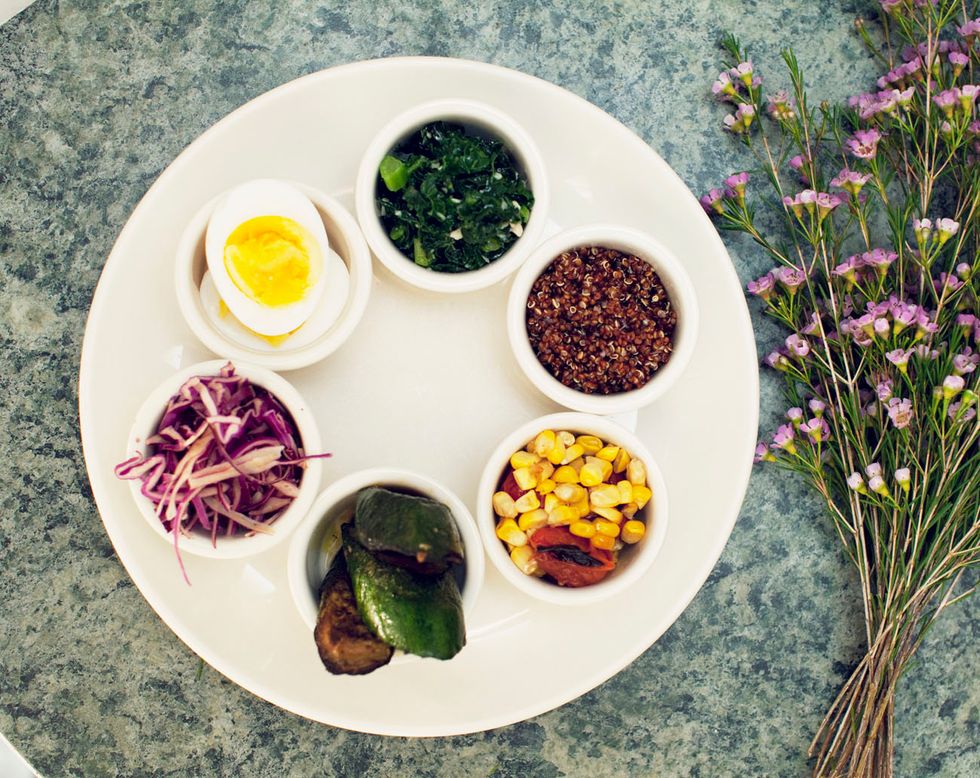 ---
RED QUINOA
 

1 small Shallot, finely minced
1 teaspoon Garlic, finely chopped
1 cup Red Quinoa
2 cups Water
Salt and Pepper to taste
 
one >> Sautee shallot and garlic in a pan with a little olive oil on medium low heat until translucent.
two >> Add quinoa and toast in pan with shallot and garlic for 4 to 5 minutes, stirring continuously.
three >> Add water and salt and pepper to taste, bring to a boil and reduce to a low temperature until water is gone.
---
SAUTÉED KALE
3 cups Kale, roughly chopped
Olive Oil
Salt and Pepper to taste
In a large pan on medium high heat, add olive oil and kale. Sautee until kale is cooked down, season with salt and pepper.
---
GRILLED ZUCCHINI
2 pieces Zucchini cut into ½ inch slices
1 teaspoon Garlic, chopped
Salt and Pepper
Olive Oil
one >> In bowl add zucchini and chopped garlic cover with olive oil and season with salt and pepper.
two >> Cook zucchini on a hot grill on both sides.
---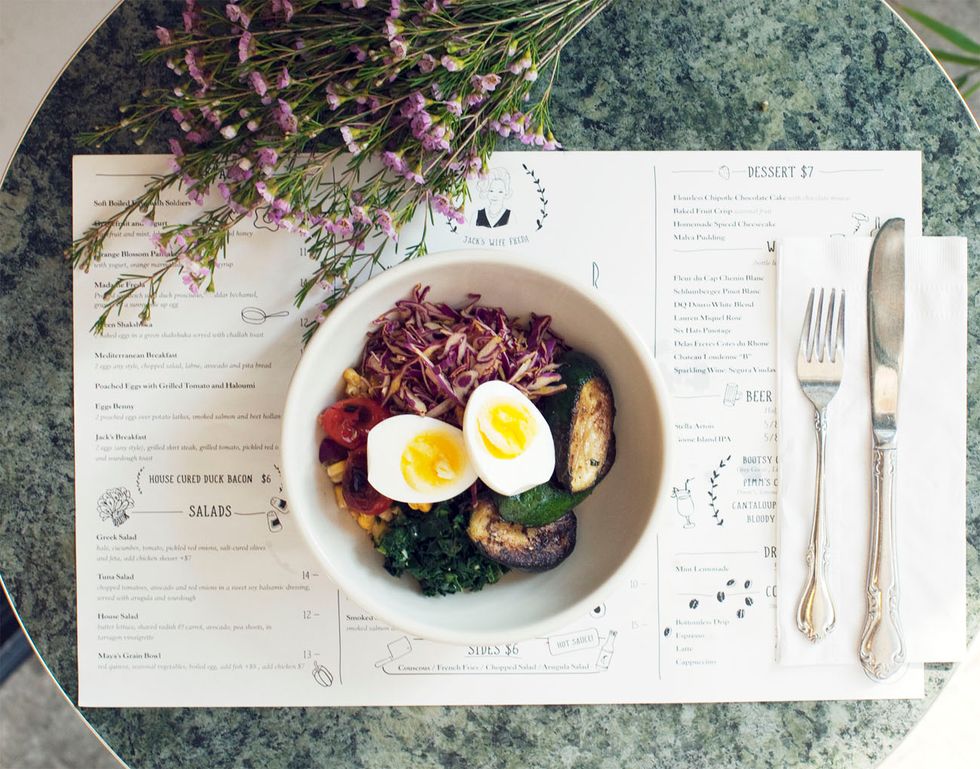 CORN AND TOMATO SALAD
 
3 ears Corn, grilled with olive oil
Grape Tomatoes cut in half
Basil, cut into fine strips
Cut grilled corn off of cob (you can also boil corn) and mix with tomatoes. Add basil and finish with olive oil and salt.
---
RED CABBAGE SALAD
 
½ head Red Cabbage, very finely sliced
¼ cup Tahini
3 Tablespoons Lemon Juice
2 Tablespoons Olive Oil
½ teaspoon ground Turmeric
 
one >> Add tahini, lemon juice, olive oil and turmeric, whisk to combine (if too thick add water).
two >> In a bowl add cabbage, season with salt and add dressing until cabbage is well coated.
---
BOILED EGG
 
one >> In a small sauce pot add 2 eggs covered with water, bring to a boil.
two >> Turn off heat and cover pot for 8 minutes, peel.