Fitness
7 Moves To Lift Your Abs and Butt (And Everything Else)
Bring your own chair. We'll take care of everything else.
---
In case you haven't noticed, we're pretty damn good at coming up with excuses as to why we just haaadddd to skip out on our workout, just this time—uh, like here and here. You can add not having extra $$ to shell out for a gym membership (because we so needed that new Proenza Schouler cross-body, okay guys), or you know, to stocking up on a myriad of free weights for our living rooms to our categorical list of reasons we'll likely regress to a butter popcorn-filled Netflix-marathon in its stead. But if there is one takeway from our tenure here at TC—and the countless times we've played pen pal to (and test-driven workouts from) the top trainers and nutritionists in the game—is that when it comes to fitting in a workout, well, the aforementioned excuses aren't all that valid.
Surprise! That's exactly what was on our minds when we caught up with Madonna's (!!) :100: former trainer, Nicole Winhoffer, at The Standard High Line, who showed us just how effing easy it is to do a Madge-level workout with only a chair. We repeat: just. a. chair. We know what you're thinking: there's no way around this one.
"With your back on the floor, bend legs and squeeze knees together.  Extend arms to the diagonals, palms on the floor.  Crunch stomach and lift head off the floor as you open the knees and put your hands behind your head.  Return to starting position.  This move is perfect for increase your oblique definition and inner thigh toning.  
 
Do 30 reps."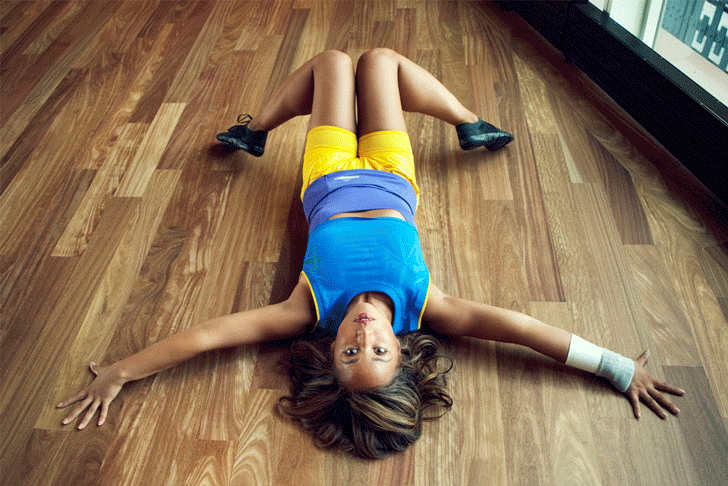 GET THE AB V 
"With your back on the floor, bend legs and squeeze knees together.  Extend arms to the diagonals, palms on the floor.  Crunch stomach and lift head off the floor as you open the knees and put your hands behind your head.  Return to starting position.  This move is perfect for increase your oblique definition and inner thigh toning.     Do 30 reps."
"Stand a couple feet from a wall, facing away. With your right leg bent and right heel lifted, arch and lean backwards until you can reach the wall with your hands.  Walk your hands down the wall a few steps and then walk them back up to standing. This move increases flexibility and upper back strength.  
 
Do 30 reps with the right leg. Repeat once you've done the entire workout through."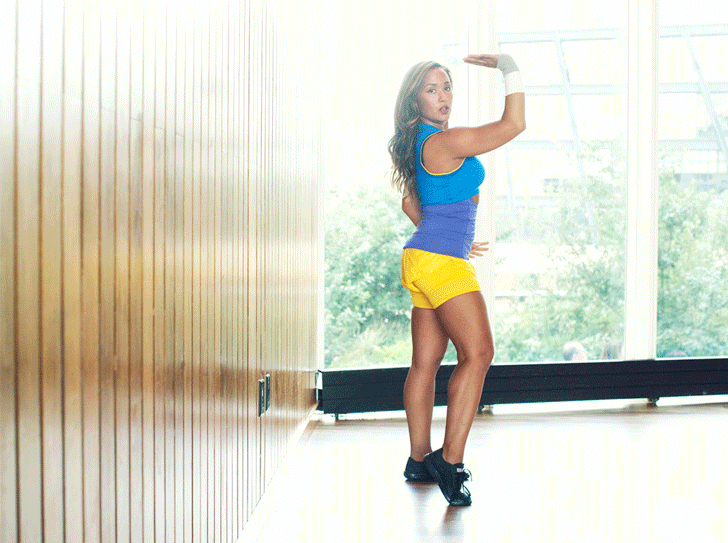 LEARN TO BRIDGE
"Stand a couple feet from a wall, facing away. With your right leg bent and right heel lifted, arch and lean backwards until you can reach the wall with your hands.  Walk your hands down the wall a few steps and then walk them back up to standing. This move increases flexibility and upper back strength.     Do 30 reps with the right leg. Repeat once you've done the entire workout through." 
"Stand in a wide parallel stance with bent knees.  Lean into the right hip and open the arms. Transfer the weight and lean into the left hip as you cross the arms in front of you, palms facing out. Lean body to the left and bend the right knee in opposition. This is a great cardio pump and skin toner. Play your favorite song and squeeze those inner thighs.  
 
Do 30 reps."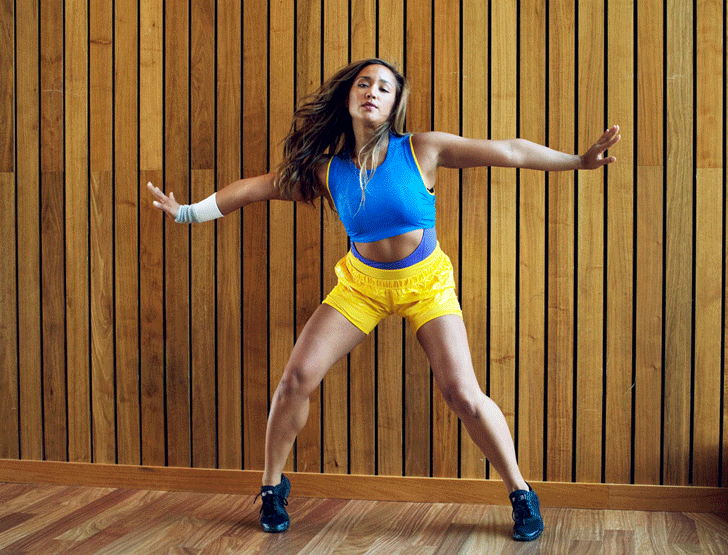 HIDE AND SEEK
"Stand in a wide parallel stance with bent knees.  Lean into the right hip and open the arms. Transfer the weight and lean into the left hip as you cross the arms in front of you, palms facing out. Lean body to the left and bend the right knee in opposition. This is a great cardio pump and skin toner. Play your favorite song and squeeze those inner thighs.     Do 30 reps."
Move #4
LOW AB PRESS and BUTT PLUMPER

 
"Start on your knees behind two chairs, hands resting on top of chairs. Press against the chairs as you jump your feet in front of the chairs and to the left, making sure to keep your knees together. Again, lift up on your hands and jump behind chairs, landing on your left shin and kicking the right leg back. This move tones the low abs, increases balance, and lifts the butt.  
Do 20 reps."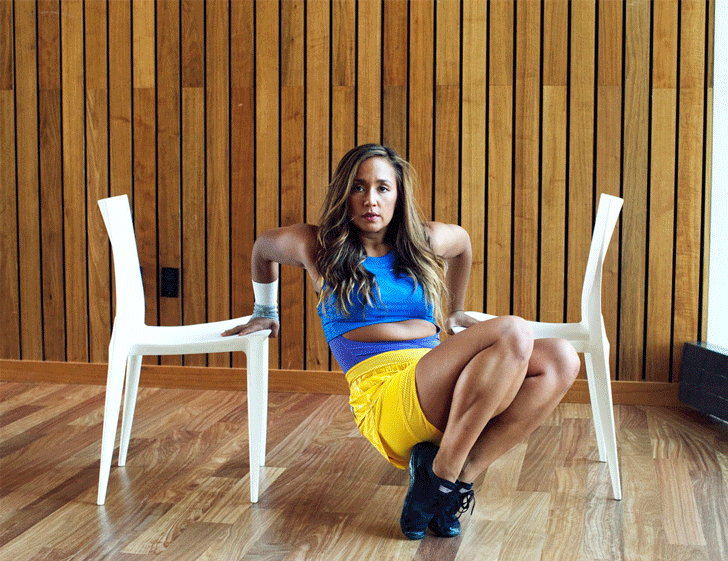 LOW AB PRESS and BUTT PLUMPER
"Start on your knees behind two chairs, hands resting on top of chairs. Press against the chairs as you jump your feet in front of the chairs and to the left, making sure to keep your knees together. Again, lift up on your hands and jump behind chairs, landing on your left shin and kicking the right leg back. This move tones the low abs, increases balance, and lifts the butt.   Do 20 reps."  
"Prep for a side plank on your left forearm, with the right foot on the chair seat, right arm up to the ceiling. As you bring the right arm down to the floor, kick the bottom leg (your left leg) forward under your top leg. Return your left leg to the ground and extend your right arm back up to ceiling. This is great for cinching in the waist and toning the inner thighs!  
 
Do 30 reps."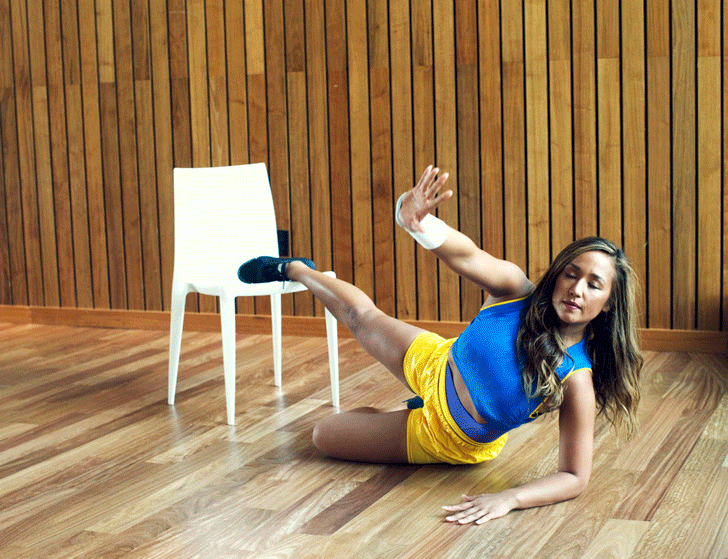 WAIST TRIMMER
"Prep for a side plank on your left forearm, with the right foot on the chair seat, right arm up to the ceiling. As you bring the right arm down to the floor, kick the bottom leg (your left leg) forward under your top leg. Return your left leg to the ground and extend your right arm back up to ceiling. This is great for cinching in the waist and toning the inner thighs!     Do 30 reps."
"Lie on your back with knees bent, heels on the chair. Squeeze your butt and lift the hips off the floor. Tap your right heel to the floor beside the chair as you lower the butt back down. Lift hips up and return right foot to the chair. Repeat on left: lower hips and left heel at the same time.  Lift hips and left foot at the same time. We often neglect our backside. This move instantly tightens the skin and tones the body!
 
Each tap side is a rep. Do 30 reps."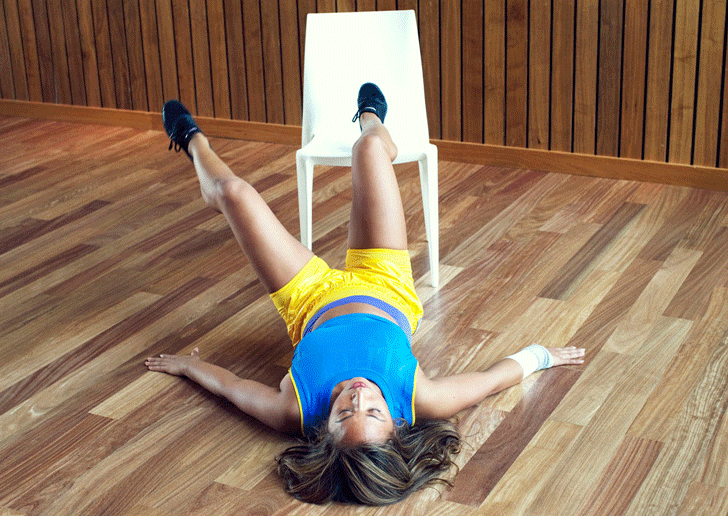 BACK BODY TONER
"Lie on your back with knees bent, heels on the chair. Squeeze your butt and lift the hips off the floor. Tap your right heel to the floor beside the chair as you lower the butt back down. Lift hips up and return right foot to the chair. Repeat on left: lower hips and left heel at the same time.  Lift hips and left foot at the same time. We often neglect our backside. This move instantly tightens the skin and tones the body!   Each tap side is a rep. Do 30 reps."
"Sit like a mermaid next to a chair, on your right hip with your legs stacked, while your left arm is curled in front of face. Left arm swoops out away from your body as you transfer your weight to the left, coming to left hand and left knee. As you arrive, kick the right leg up on a diagonal above the chair and bring your right hand to your hip. Bring the leg in as you return to your starting position on the right hip. This is perfect for the side body, to cinch the waist and trim the legs!  
 
Do 30 reps."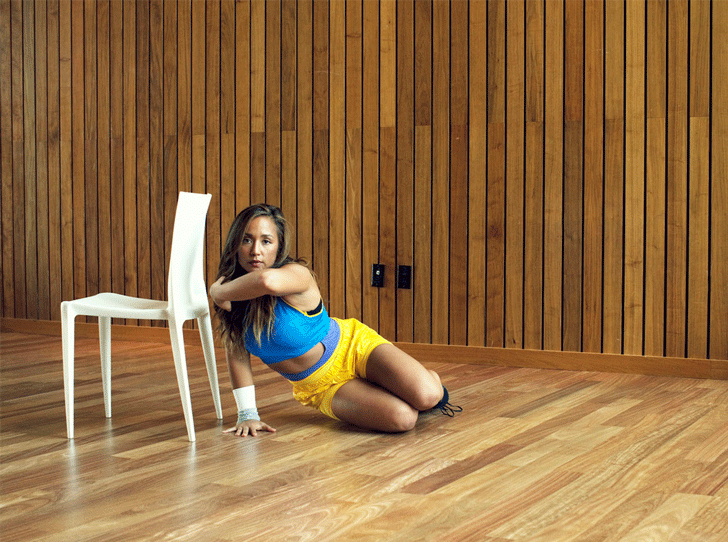 MERMAID SWING
"Sit like a mermaid next to a chair, on your right hip with your legs stacked, while your left arm is curled in front of face. Left arm swoops out away from your body as you transfer your weight to the left, coming to left hand and left knee. As you arrive, kick the right leg up on a diagonal above the chair and bring your right hand to your hip. Bring the leg in as you return to your starting position on the right hip. This is perfect for the side body, to cinch the waist and trim the legs!     Do 30 reps."
— Shot at The High Line Room and Terrace at The Standard, High Line