Career
Alexandra Shulman
Editor-in-Chief, British Vogue. London
---
There are only so many ways to sum up how you might feel when you're running some 30 minutes late to meet the editor-in-chief of British Vogue: mildly terrified is a good one. Mortified, too.
After side-eyeing our Uber driver and stress-scrolling through our Instagram feed for the better part of our ride (before you judge, we left an entire hour early in an effort to avoid this exact situation. Mercury in retrograde? Bueller?), we finally found ourselves being escorted through the halls of Vogue down to EIC Alexandra Shulman's corner office. We apologized profusely, and got to sheepishly shuffling around Shulman's office, propping her wardrobe pieces just so as she worked at her computer, reviewing upcoming cover choices. To say we were thankful to be on the other side of the pond, where lunchtime drinks are not only encouraged, but often required, is an understatement.
Part of what made the whole experience so intimidating, of course, has to do with Shulman's legacy and body of work. Aside from setting the tone for what many would deign the defining style missive for one of the industry's most influential capitals, Shulman's also the one considered responsible for boosting the magazine's circulation to an all-time high. Here, she speaks candidly about content, the Vogue brand and her new novel, The Parrots.
ON CHANGES IN THE INDUSTRY DURING HER 20 YEAR VOGUE TENURE:
"There have been so many changes... the rise of the big luxury conglomerates like LVMH, which have invested in so many brands, the whole digital universe that is such a part of what we do and the way that so many more people know about fashion, and fashion personalities are probably the biggest changes."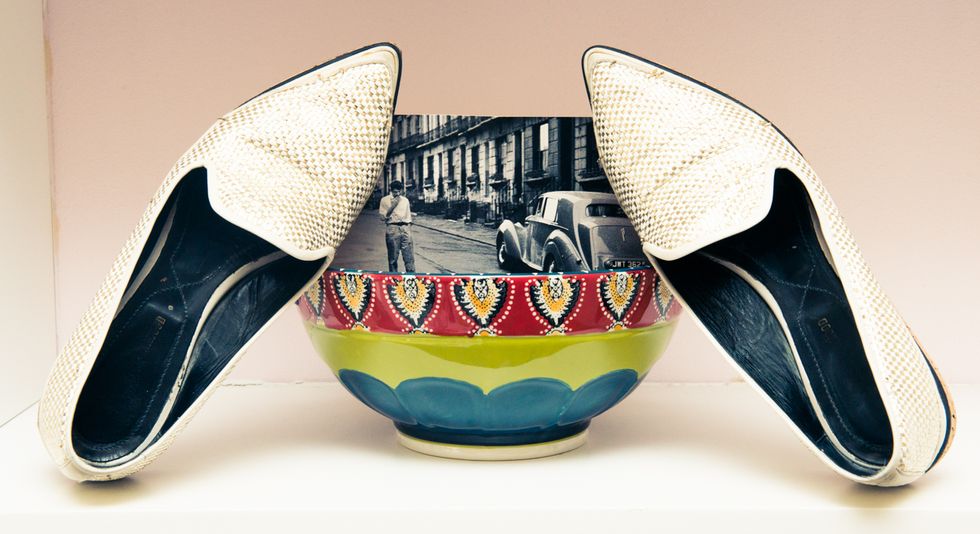 ON SUCCEEDING LIZ TILBERIS:
"I was never intimidated by following Liz Tilberis. When I came to British Vogue, the magazine market here was expanding and I had been appointed with a remit to broaden the appeal of the magazine. Liz was very driven by what the fashion industry admired. I was and still am, primarily driven by what the people who buy magazine want to see and read. We broadened the range of clothing featured, ran many more written articles and introduced much more content about how people actually buy and wear clothes."
ON HER FAVORITE COVER OF THE PAST TWO DECADES (REGARDLESS OF SALES):
"I love the Millennium cover, which was plain silver and a big success. One of my favorites is of Kate Moss, May 2003 with the Aladdin Sane zig zag painted on her face. It was a music, fashion and art themed issue—one of the first ever and now copied by many. It sold very badly."
ON ADAPTING TO DIGITAL CONTENT:
"We are now a digital magazine, as well as print. We have a hugely successful website, and its very exciting to be able to operate on an hourly basis as well as create stories for the print magazine months in advance. We have just launched the magazine on mobile and have also launched Vogue Video, which creates great films. It's a lot more work, but completely engrossing.
The print and digital magazines work together, but I like the experts in each field to concentrate on their fields of expertise. So, a fashion stylist doesn't work on Vogue.co.uk, and my features team aren't in charge of the social media plan. The digital team are incredibly experienced at knowing what kind of content works best for them."
ON HER DAILY ROUTINE (& UNIFORM):
"I get up about 7 A.M. and try and go for a run in the park outside my house. I may have a cup of coffee and read a newspaper or I may just come straight into work. Sometimes I have breakfast meetings, which I prefer to lunch.
I have a very varied wardrobe. Somedays I like to dress in a very minimal, pared-down way and sometimes I prefer to be colorful and more feminine. It is driven by my mood and my diary. Usually I wear a skirt of some kind—often in a print by say Osman or Erdem, or Marni or Prada and a plain top. I like to wear heels, but somedays I just want to be in flats. I like the flat Nicholas Kirkwood loafers with a slight platform, but my favourite shoes are Manolo courts."
ON HER DAILY READS:
"I read the Guardian and Daily Mail newspapers most days, and cuttings from most of the other UK press. I like the Business of Fashion website also. I tend not to read a great deal of daily information. If I have reading time, I prefer to read fiction."
ON BRITISH VOGUE'S IDENTITY:
"All the Vogues—and I believe there are 19—have separate identities that cater to the country where they are produced. We are more idiosyncratic and diverse than American Vogue, and more mainstream than French or Italian. We have to sell a large number of copies, and so the magazine is designed to appeal to a range of readers rather than only fashion fans. We have a lot of interviews and arts coverage and social observation pieces. I like to think that we are a magazine of record, and when you look back it will show the culture and society we live in and not only the clothes we wear."
ON HOW TO LAND A JOB AT BRITISH VOGUE:
"I hire by gut instinct. I hire people I find appealing—their personality, the way they talk and their ideas. Hiring good people is one of my best talents."
ON TODAY'S INDUSTRY LEADERS WHO WILL BE REMEMBERED DOWN THE LINE:
"Thats very difficult. I am sure that Mario Testino and Tim Walker and Annie Leibovitz will be remembered in fifty years. Models? Kate Moss, Naomi Campbell. Designers, it's hard to say. There is so much press about them and they have become such international figures that many will linger but Karl Lagerfeld definitely. Giorgio Armani.  Miuccia Prada. Vivienne Westwood probably."
ON HER ADVICE FOR ASPIRING EDITORS:
"My best advice is to try and do everything to the best of your ability but don't stress too much over perfection. I tend to think that if a thing's worth doing it's worth getting done in some way or another rather than not trying it because you don't think you will do it brilliantly. If you are an editor you need to be encouraging to others. It's more about them than it is about you."