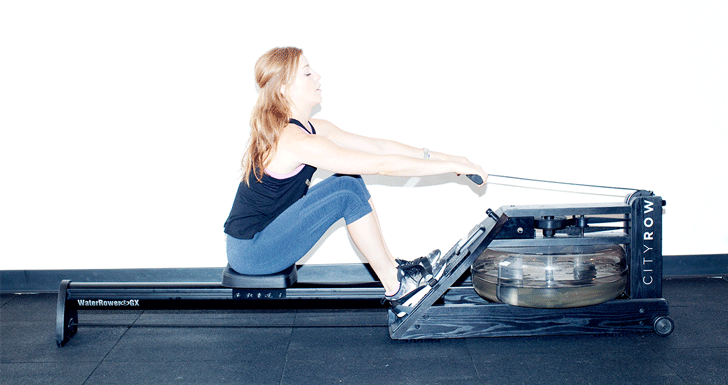 Why You Should Use A Rowing Machine
It might just be the most important machine in your gym.
FULL DISCLOSURE: up until this point, the closest experience we've had to rowing has been watching it on TV during the Olympics. So you can kind of understand why we've never noticed the rowing machine, so lonely in the corner at our respective gyms.
But then we started hearing that rowing is legitimately an informercial-worthy "total body workout!" (as in it tones abs, arms, legs AND is an intense cardio workout) and discovered CITYROW, which dedicates an entire 50-minute class to the machine. And, yeah, you'd better believe a rowing class involves more than just a standard pull on the machines handles. Since we've already admitted our ineptitude on the matter, we had Annie Mulgrew, CITYROW's Director of Programming, show us how to do more than just stroke.
Move #1
The Proper Stroke  

 
TARGETS: Legs, core and arms. When executed properly, each stroke works 84% of your body's muscles!
"Start in the catch position (knees bent, back straight, butt back, arms reaching forward), push back through the legs while leaning back almost simultaneously (you never want to lead back with the hips). Once your torso is leaning back at a 45 degree angle, pull the bar to the top of the upper abs (just below your bra line) keeping the elbows lifted. This position is known as the drive and it should be held for a solid second before the return. For the return, the arms release straight before the torso follows by coming forward with a hip hinge and a firm core. Next, the knees bend and take you back to that loaded catch position. It is very important that rowers keep a strong and firm core throughout the entire stroke. This prevents a "wiggly" spine and reduces the risk of lower pain or injury."
Move #2
Seated Deadlift A.K.A Just Legs
TARGETS: Legs and core
"Do the same as you did in the full rowing stroke, but remove the arm action. This is not only a great workout for the legs and core, but an excellent way to get comfortable with proper rowing form, which is about 60% legs. When you remove your arms from the equation, you can focus on using your legs to generate the power in the stroke."  
Move #3
Handlebar Isolation A.K.A Just Arms

 
TARGETS: Back, bis, triceps, core
"While seated in drive (legs extended, torso leaning back at 45 degrees) pull your handlebar in towards your bra line.  Switch the grip from overhand to underhand. You should feel this in your arms, upper back and abs."
Move #4
Oblique Twist Isolation

 
TARGETS: Obliques and overall core
"Hold the handlebar in one hand, putting the strap between your index and third fingers, and then extend into drive with your hips hinged at 45 degrees and the handlebar extended in front of you. Pull the handlebar down towards your hip and twist. You'll feel those obliques fire up! Alternate sides for equal amount of reps."
Move #5
Elevated Split Squat on Rail
TARGETS: Glutes, hamstrings


"Stand at the back of the machine facing away from it. With one foot planted to the side of the rail, place the toes of the other foot on the seat and extend the leg behind you. Your feet should be hip distance apart.  Squat keeping both legs engaged and making sure not to let your front knee go over your toes.  Feel your booty burn. Hold medium to heavy weights by your side for an added challenge."
Move #6
Lateral Pistol Squat

 
TARGETS: Glutes, hamstrings, quads
"Place one foot on the floor right behind the machine and the other foot on the seat. With standing leg straight and the opposite leg extended to the side, bend the standing leg to a squat, letting the opposing leg move laterally along the rail. Keeping chest lifted, pull the pelvis back, making sure to keep the knee tracking over the ankle. Hold medium to heavy weights by your side for an added challenge."
Move #7
Bridge Lift with Chest Press

 
TARGETS: Glutes, core, pecks
"Grab two medium to heavy weights (we recommend 8-12lbs) and lie on the ground perpendicular to the machine. Place your feet on the rail and arms bent at a 90 degree angle with elbows out your side, press weights overhead as you lift your hips into a bridge.  Return arms and hips at the same time.  For an added challenge, extend on leg straight and bridge on one leg at a time. Alternate legs for equal amount of reps per side."  
Move #8
Alternating "Mountain Climbers"
(Advanced Move)
TARGETS: Core, shoulders, quads
"With your feet on the seat of the machine (where your butt would typically be) and your hands on the floor at the back of the machine, find a solid plank position in your body—wrists in line with your shoulders, spine long, and belly button lifting in and up. This is your foundation. Be sure that your hips do not fall below your shoulders and that you use your legs as equally as your arms to support you. Slowly lift your right foot off the seat and pull your right knee in towards your right armpit. Repeat on left side."
Move #9
Plank to Pike on Seat/Add Inverted Push Up
(Advanced Move)
TARGETS: Shoulders, core
"Returning back to that plank position, with your feet on the seat of the machine and your hands on the floor at the back of the machine, pike your hips up attempting to stack them in line with your shoulders by engaging your lower abdominals and pressing your hands firmly into the floor. Slowly with control return back to your plank position."