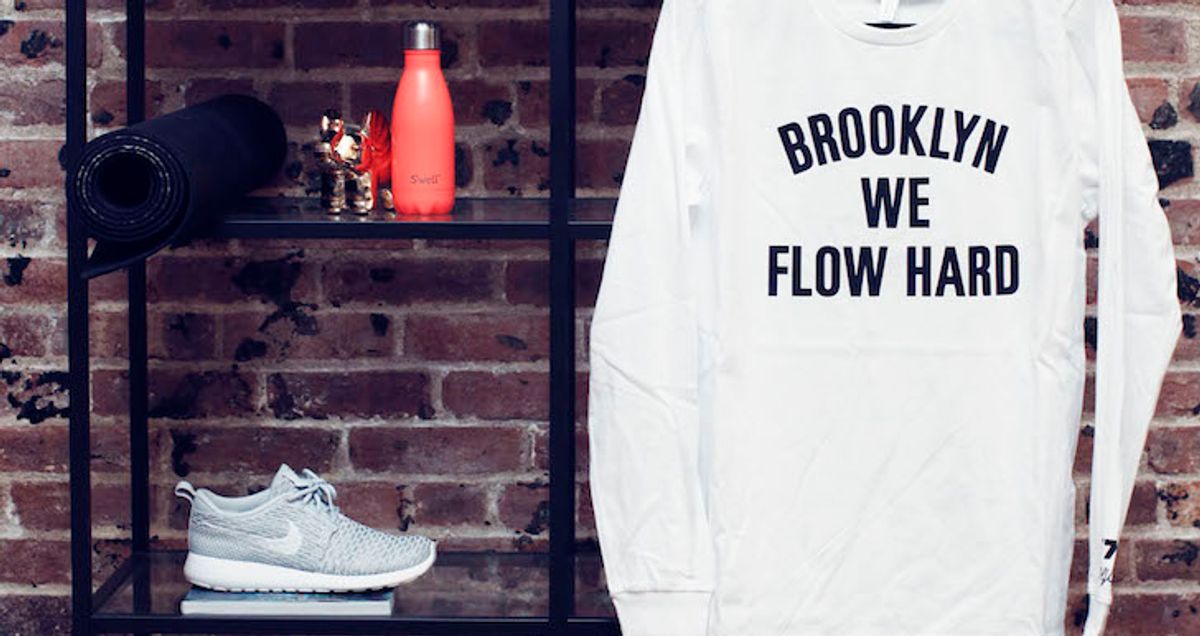 Fitness
How to Workout Through a Hangover
It sounds painful but the reward is probably worth it.
What's the deal with working out while hungover? We'll be honest, it's kind of become a weekend tradition—there's no way we're picking between a Friday night and our favorite Saturday morning SoulCycle instructor. Sweat it all out, right? And sometimes it seems to work and we come out of the session feeling like we can drink another four tequilas. Other times though, it's like the whole thing's compounded our heads and bodies into one sorry, sweaty, sloth-like mess that is in dire need of a large extra-topping pizza, Netflix and, okay, maybe one beer.
---
Sweat it all out, right?
Again: what's the deal? Cue a call with Danielle Hopkins, a fitness manager over at Equinox, where we've spent many a somewhat nauseous Sunday afternoon, to give us the down low when it comes to mixing drinking with, uh, next day exercising.
ON WHAT TO EAT AND DRINK BEFORE AND AFTER A (HUNGOVER) WORKOUT…
"Grab some electrolyte-enhanced water (like SmartWater) and a banana with nut butter pre workout. Eat as you normally do post workout: you want a combo of protein, carbs and fats. More protein post workout will help your muscles bounce back quickly. And water... lots of water. Studies have shown that taking B vitamins prior to a night out can lessen the effects of a hangover. I load up on B vitamins (especially B-12) the morning after as well—but make sure it's with food or you might get queasy."
ON THE BENEFITS OF WORKING OUT AFTER DRINKING…
"A sweat session after a night out will help you metabolize some of the things that are causing your hangover. You'll also be more likely to drink H2O, which will rehydrate you and again can speed up the elimination of toxins. Exercise is a vasodilator, which helps with headaches, too. Not only that, but getting up and getting moving will help keep you on your routine and can help you to avoid some of those hangover pitfalls that can sabotage your diet (like a greasy spoon breakfast!)."
ON THE TYPES OF WORKOUTS THAT ARE BEST…
"Anything that you enjoy doing is good: yoga, running, strength training. The point is just to get moving and elevate your heart rate."
ON THE TYPES OF WORKOUTS TO AVOID…
"You may want to avoid super high intensity, high impact sessions that are performance driven. Your tissues and joints are not going to be as well hydrated and you could be setting yourself up for injury. Hot yoga is another on to avoid as you're most likely already dehydrated and it could make symptoms worse."
ON WHY THE STEAM ROOM MIGHT NOT BE THE BEST IDEA :cry:
"Many people do this as an additional way to purge toxins, but I say no. Save it for when you've had time to rehydrate. It could actually make your hangover worse."
ON THE PSYCHOLOGICAL EFFECTS OF A WORKOUT AFTER A BIG NIGHT…
"My motto is that you're just one workout away from a good mood. Often times we wake up hating ourselves after a big night out. You drank too much, ate too much, said or did something stupid... A workout can really help elevate your mood and hit the restart button. It's a new day, and there is no sense dwelling on last night's mistakes."