Love And Sex
Sex in the Summer
Our resident sex columnist considers the upsides of being a HOT MESS in bed.
Welcome to The Coveteur's series about sex and dating, brought to you with the expertise and humor of our friend Lindsay, of the laughably addictive Tumblr, Tinder in Brooklyn. In her own very DGAF way, she'll be breaking down the good, the bad and the downright bizarre that is, well, dating in the time of Tinder (and all that other shit we Gen X, Y and Z-ers have to deal with). Check back often, because you know there's lots to discuss.
---
WELCOME TO THE SEASON OF THE HOT MESS.
It's that time of year again, bitches! Summer is officially in full swing, and once again, things are getting fucking gross. And I'm not just talking about Donald Trump's presidential campaign.  In case you missed the news, let me get you up to speed: the official temperature of North America (and Europe) is TOO FUCKING HOT.  
While surviving oppressive summer heat is a challenge faced by people across the country, those dwelling in the city have a uniquely agonizing experience. At the moment, New York City (much like my personal life…) is a goddamn mess. We are living in a sauna—and, unfortunately, it's a super overcrowded one that smells a little bit like pee.   
Living in this humidity certainly has its consequences. It makes for sweaty commutes, workouts and Netflix sessions. The sex gets sweatier too, and, let's be honest: it's freaking some of us out.
WANNA GET DIRRTY?
…NOT SO MUCH  
It turns out, Christina Aguilera was wrong about this one: we really don't wanna get dirrty. The very idea of getting hot and sweaty—even in the context of naked wrestling—makes us completely uncomfortable. Recently, after a chat with some of my girlfriends, I began to question why.  
 
It all started when one friend mentioned she had ditched her date—a guy she has been seeing for a while and is SUPER into—due to an air conditioning crisis. "I had to cancel. My fucking air conditioner is broken, and his place doesn't have any air PERIOD. It sucks… I really wanted to see him, but there's just no way I would risk letting him see me like that."
Totally reasonable, right? None of us even flinched. In fact, we all chimed in with heat wave policies of our own: "I refuse to have sex in the summer without air conditioning. I look too gross otherwise," said one friend. "Dude, from June to August it's strictly shower sex for me. I have a very real phobia of back sweat," said another. "At least two showers a day. Plus baby wipes and body mist on EVERYTHING." Clearly the team had given this a lot of thought. Despite the fact that we give zero fucks about this stuff during the winter, summertime sex has clearly changed the rules.
To summarize: Sex is not going down unless our bodies are ultra air conditioned, double shaved, triple showered, appropriately tanned and completely deodorized. Oh, and don't forget to perfume your vaginas! Because if any scent is coming from your nether regions during sexy time, it better be of motherfucking flowers. #Empowered!
…..
Meanwhile, every guy I know is like, "Perhaps I should shave my balls this month."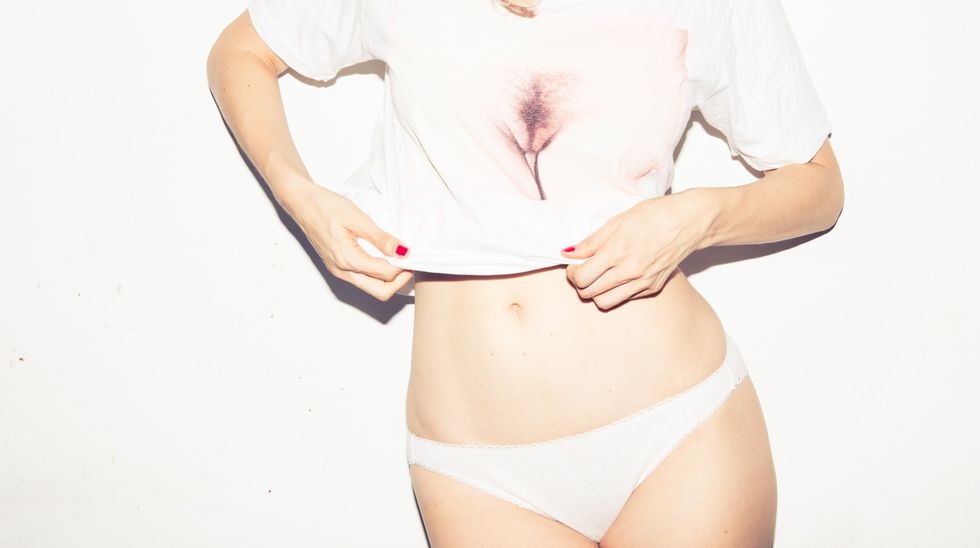 NEW RULE:
EMBRACE THE SWEATY
I have a confession to make. When I first started writing this article, it was guide on how to AVOID getting icky while having sex in the summer. Basically, I was going to reiterate all the craziness my friends and I discussed above and try to get y'all to buy into this fuckery too. DRY SHAMPOO! TRAVEL SIZE DEODORANT IN EVERY PURSE! CENTRAL AIR IS A MUST! WATERPROOF MASCARA! BABY WIPES!
 
(I know…. I know. Someone should really follow me around ringing a bell, chanting 'Shame!') Fortunately, I pulled my head out of my ass and reconsidered.
 
The more I thought about it, the more I realize just how FUCKED UP this situation is. We have literally been cock-blocking ourselves due to the summer heat! The madness needs to stop.
Now, if you are holding off on sex in the humidity because you don't want to pass out due to heat stroke, or are simply too exhausted to deal, more power to you. But I suspect health concerns aren't the underlying issue here. Instead, it seems that avoiding intimacy during the heat is based on the fact that the hotter it gets, the less control we have over how our bodies react to a good fuck. We are not afraid of asthma attacks, we're afraid of frizzy hair and sweat soaked bed-sheets.
And THAT, friendsicles, is some next-level bullshit.  
As women, we have been taught from a young age that getting hot and sweaty isn't ladylike, and is to be avoided at all costs. We've been taught that our bodies are gross and dangerous things, requiring a spectacular amount of upkeep (not to mention fucking dress codes) in order to be acceptable. Our bodies, we are told, must vigilantly be maintained, and kept firmly under control.
We have bought into this societal myth en-masse, and the impact on our sex lives is not a positive one. This becomes particularly clear in summer months, when the humidity renders this bodily management over sweat and scent borderline impossible. We feel like complete fucking swamp-monsters, and we are passing up on some quality summer dick (or vagina, or both… #doyourthang) as a result.
Well, FUCK THAT NOISE. Summer is meant to be a little bit gross. Which means sex in the summer is going to be a little bit gross too. Swamp Monsters, UNITE!
CONSIDER THE UPSIDE
 
THINK FAST: Who do you think has better sex, the pedicured Park Avenue Princess at Pilates or Courtney Love?
Clearly Courtney, right? No question. Because she is a certifiable hot mess of awesomeness. While that might not bode well for all areas of life (i.e. maintaining a macrobiotic lifestyle, committing to an alkaline cleanse), when it comes to sex, hot messery is indeed a plus. Because good sex requires LOSING control, not maintaining it. And evidence suggests that letting loose is definitely Courtney's forte. There is no question on my mind that she is absolute rocket in the sheets, and I think we should all take a cue.
Here's my theory: if you look good after sex, YOU'RE DOING IT WRONG.
Seriously! If you aren't a little bit sweaty, a little bit stanky, and in desperate need of a shower, you probably need to up your game. And if you think going into starfish-mode in order to preserve your blowout (or for any reason, really) is a good idea, you probably have some soul searching to do.  
Sexual activity is just that: an ACTIVITY. If you left your spinning class looking cute, you would probably think you wasted your time, right? The same thing applies in the bedroom, even in this heat.
So do me a favor, bitches. This weekend, go out and have some disgusting, sweaty summer sex that would make Courtney Love proud. (And let me know how it goes!) Because Jon Snow is dead, winter is NOT coming, and we have at least two more months of this nasty-ass weather ahead of us.
We might as well learn to embrace it.
Cheers to being a Hot Mess!