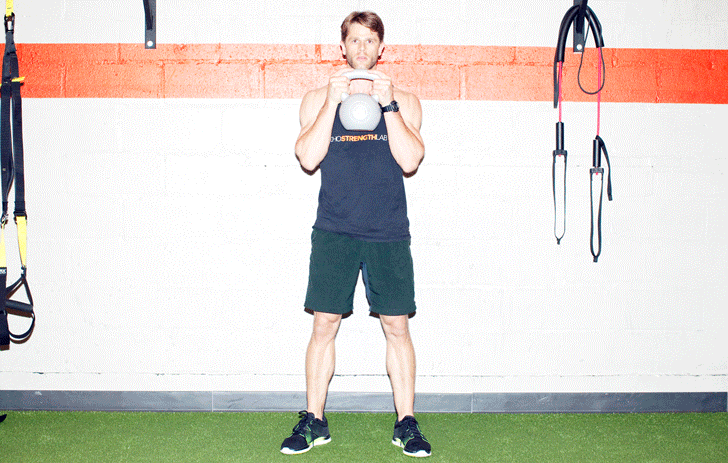 4 Moves to Lift Your Butt ASAP
The fastest way to defying gravity—promise.
If there is one thing we need more of, it's things that make life infinitely easier—Uber, Seamless, shellac manicures, dry shampoo…you get where we're going. So it's no surprise that it extends over to our workout plans—A.K.A the less work, the more we're inclined to actually participate. Andy Speer of SoHo Strength Lab gets us—like really, really gets us. Speer (BTW, he's responsible for carving out OG supermodel Christy Turlington's bod), gave us just four (count 'em) moves to lift, tone and strength our bootays, like those perfected by the likes of Beyoncé, J.Lo, and Rihanna, in the shortest (but not less painful) time.
Move #1
Single Leg Dead Lift

 
WORKS GLUTES, HAMSTRINGS, ABS, OBLIQUES, LOWER BACK
Start standing with feet hip width apart. Lift you right leg up behind you. Left leg has a slight break in the knee. Push your hips back and reach your arms forward. (If you have DBs, have your arms hang straight down to floor. ) Keep your chest pushed out, abs tight, spine in neutral position, and hips squared to the floor. Pause for 1 second in the bottom position with your chest facing floor and leg extended in back, and return to stand.
Move #2
Rear foot elevated split squat

or pistol squat from bench

 
WORKS: QUADS, GLUTES, HAMSTRINGS
Place your right foot on a bench or step box, keeping your toe down. Your left foot is slightly in front of your body.
Keeping your torso as vertical as possible, lower your back knee towards the floor.
Hold the bottom position for 1 second (knee 2-4inches from the floor) and push back to starting position.
Try to keep your front knee over your ankle.
Do 3 sets of 5 reps each. Focus on control and balance—start with body weight and add weight only when you have good control and balance.
Move #3
Dead Lift

 
WORKS: GLUTES, HAMSTRINGS, LOW BACK, ABS, UPPER BACK
Set the bottom position—feet hip-width apart, hand grip just outside your legs, hips pushed back, weight on your heels, abs and lats tight.
Tighten your abs and in a smooth (non-jerking) motion, lift the bar straight up off the floor to a standing position. At the top, squeeze your glutes and stand tall (don't lean back, your shoulders should be above your hips, never behind).
Set the bar down in the reverse motion and repeat.
Be sure to check you position on each rep, don't rush through the set!
Do 4 sets of 8. Build a strength foundation—focus on form and gradually increasing weight.
Move #4
Goblet squat

 
WORKS: QUADS, GLUTES, HAMSTRINGS, ABS, UPPER BACK
Start in a squat stance (feet shoulder-width apart, toes slightly turned out), holding a kettlebell or dumbbell at you chest. Keeping a vertical torso, lower yourself into the bottom of the squat position. As you lower, push your knees out slightly and your hips back slightly.
Pause for 1 second with your thighs parallel to the floor. Push though your heels and return to starting position.
Do 2 sets of 20. This is great to build endurance. Use a light enough weight you can do all 20 reps. It should be challenging, but doable.