Nutrition
Nutritious (& Delicious) Wedding-Ready Canapés
An appetizer you'll actually want to eat thanks to the food gurus at Hemsley + Hemsley.
The healthiest and simplest thing you can do for yourself is to eat seasonal, whole foods. By this point, we've learned that much. But that doesn't mean we necessarily follow that mantra—there's many a hurried workday when we end up with a Styrofoam takeout container of Thai food for lunch followed by a dinner of movie popcorn. As inconsistent as we are, there are people who make eating well (and making food that is healthy but never boring or bland) look ridiculously easy. Take sisters Jasmine and Melissa Hemsley, the London-based foodies who are masters at seasonal nutrient-dense cooking that also, gasp, tastes good. Every Tuesday, Hemsley & Hemsley will be back with a new, easy-to-make recipe perfect for al fresco summer dinners (rosé not included) and packed lunches alike. We're hereby limiting our popcorn dinners to a once-a-month max.
---
Our cucumber maki crab rolls make a delicious grain free alternative to maki sushi (rolled sushi). While we love sashimi, high-quality sashimi-grade fish can be tricky to find and even trickier to prepare, so here we've opted for crabmeat. We mix the crab with avocado to make it go further and throw in a little chilli, yoghurt and lime juice for a combination that packs a flavourful punch. Poached or smoked salmon or smoked mackerel work as well.
Cucumber slices make the perfect crunchy and refreshing whole food base for our favourite canapés, in this instance scooping out a little bed for our topping to sit in. We use an old-school melon baller for a neat and easy job but you can also use a small knife. With no rolling technique needed, these delectable morsels are super simple to prepare and make a pretty and innovative canapé perfect for weddings, dinner parties or summer soirees.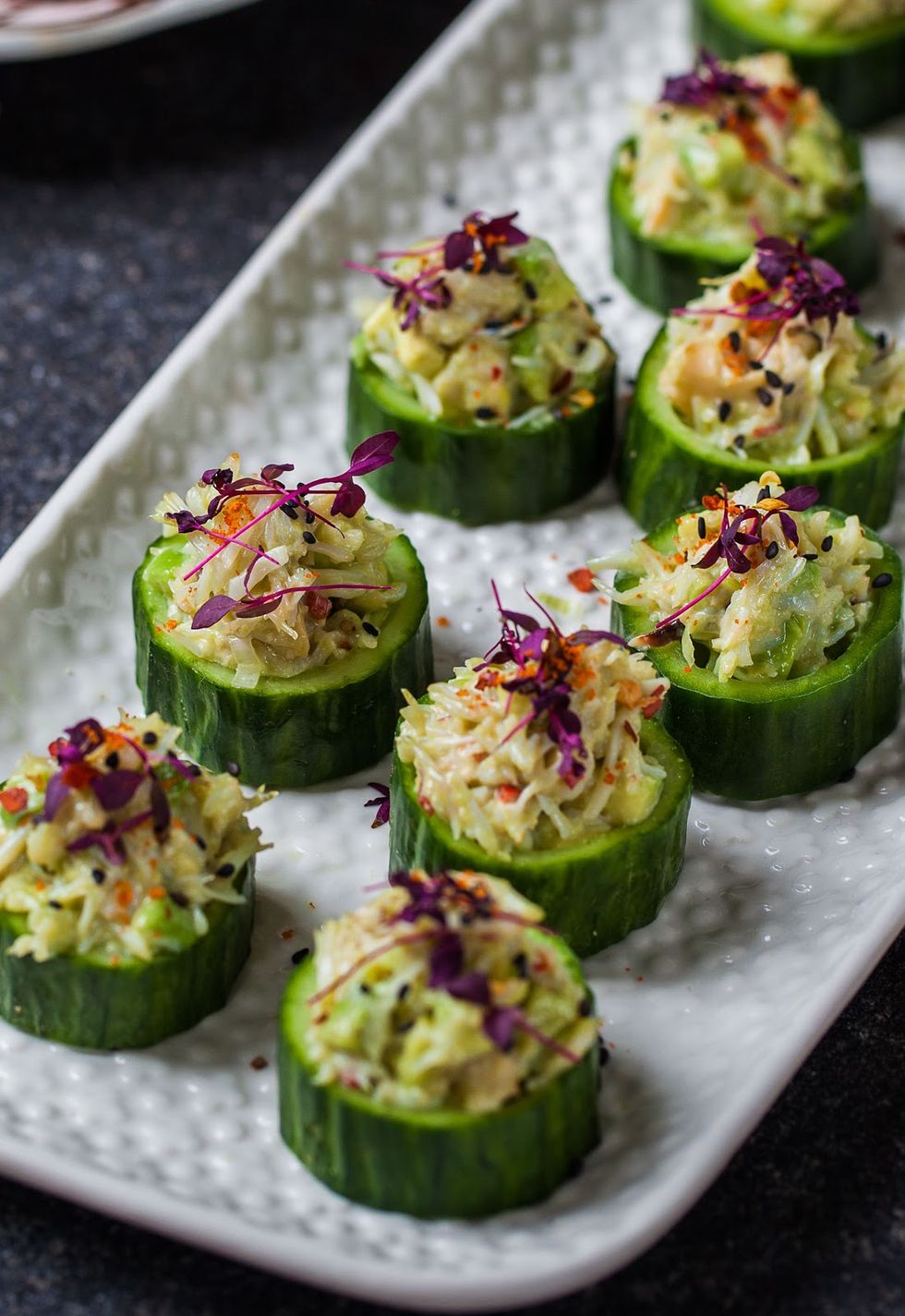 INGREDIENTS
Use Organic where possible
Makes 10-12 pieces
FOR THE CRAB ROLLS  
• 100 g crabmeat, mixed or just white

• ½ avocado, diced

• 2 spring onions, sliced

• 1 tbsp full-fat probiotic yoghurt

• 2 tsp lime juice

• ½ red chilli, finely chopped or a sprinkle of chilli flakes, to taste

• 1 large cucumber

• Black or white sesame seeds, to garnish

• Sea salt

TO SERVE
• Tamari

• Wasabi paste (or 1 tbsp dried wasabi mixed into the paste with ½tbsp water)

• A few slices of pickled ginger
DIRECTIONS
1. Drain any liquid from the crab and put it in a bowl with the avocado, spring onion, mayonnaise, lime juice and a pinch of salt. Mix very carefully to avoid crushing the ingredients and then stir in the chilli to taste.

2. Wash the cucumber and remove one end. Cut the cucumber into even 2.5 cm thick slices.

3. Use a small knife to carefully cut out the flesh from the centre of the cucumber, leaving just a few millimetres of flesh all the way around. We found the neatest way was to use a melon baller to scoop the seeds out, leaving the bottom of the cucumber intact.

4. Distribute the crabmeat mixture between each cucumber roll.

5. Finish with a sprinkle of sesame seeds and serve immediately with the tamari, wasabi or pickled ginger.