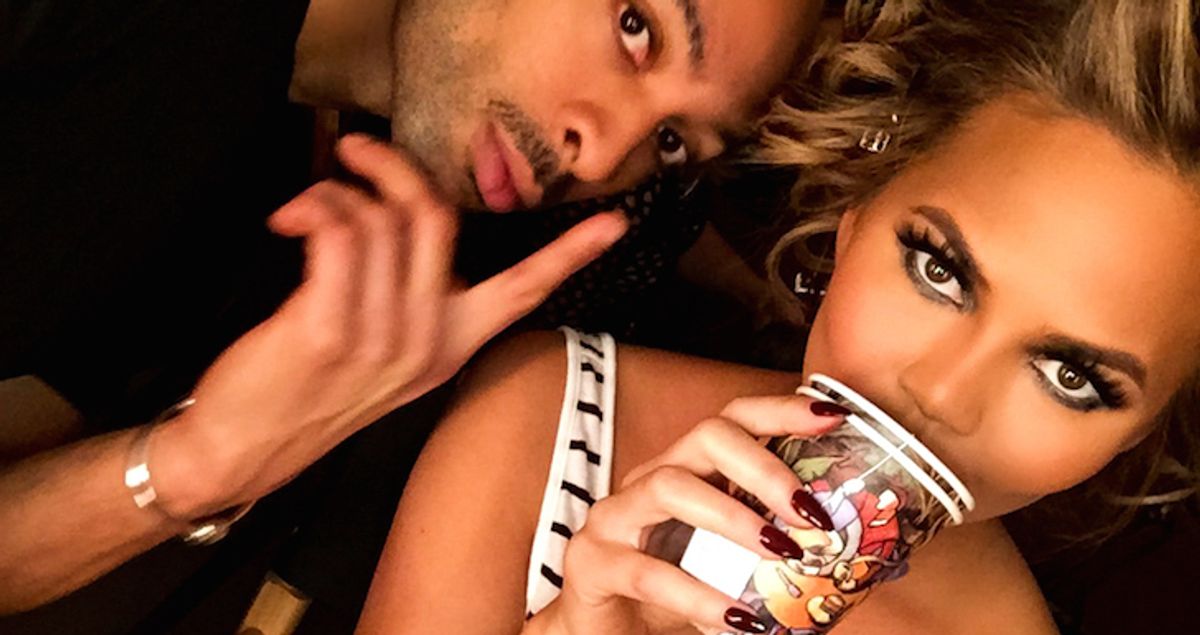 Makeup
Backstage at the Billboard Music Awards with Chrissy Teigen
And her makeup artist Sir John in Las Vegas.
There's a lot about the backstage and behind the scenes that even we're not privy to (we're still waiting for our invitation to Coveteur the green room at the Oscars). But our friends, well, they know. They're there—and, ahem, we're not afraid to put them to work. Like Sir John—Cov-alum, L'Oréal celebrity makeup artist and glam guy of choice for Beyoncé, Joan Smalls, Karlie Kloss and Chrissy Teigen. So when he told us he would be accompanying the latter to her hosting gig at the Billboard Music Awards last night in Las Vegas, we had two requests: take lots of pictures and call us after, please! And, like the good friend that he is, he did just that.


---
ON THE VIBE BACKSTAGE:
"Backstage is like the Daytona 500. This is what I'm used to. When she comes backstage it's all about what we can give her. When you work in beauty or hair backstage, your energy is contagious. You're the last person she sees before she goes back onstage. You have to not only reapply the lip gloss or mascara, but maybe do some jumping jacks just to get her energy back up. That's my job."
ON CHRISSY'S BEAUTY SITUATION:
"We had a dry run dress rehearsal the day before with lighting and everything. Her wardrobe was really, really killer. Olivier from Balmain brought over these really, really beautiful pieces with a lot of mixed media—the stripes and that graphic situation at the end. So we saw that and Jen Atkin and I wanted to do something Jerry Hall or Bianca Jagger inspired. Everything leaned towards the '70s—not literally, but the vibe. Jen gave her waves; we went from waves to a pony; and from the pony we went to a fishtail side braid.
 
I wanted to do a bronzy eye. It wasn't so much about glowy skin because I didn't want her to look shiny on camera, so we went with more of a matte finish, which is not really my thing or her thing, but it worked and translated through every look seamlessly. I could still add contrast by having using L'Oréal Infallible Pro-Matte Foundation and Powder gave a matte finish—it absorbs light really well and looks great on TV. Then we used a luminescent product to give her that brilliance on the cheeks. It was all about the eye and then we changed lips like three times.  
 With the bronzy eye, what I did is make sure we had a bronze, blown-out, smoky. And right on the ball of the eye I put bronze glitter and just pressed it in to reflect light—so every time she blinked is was like daytime disco and was referential to that whole period. We used a coco cinnamon blush just to keep that whole bronzy situation going. We started the carpet with a nude lip (Infallible Pro Last Lipcolor in Always Almond), then we went to a plum, called Raisin Revival—the same 8-Hour color I used to use on Beyoncé for the Mrs. Carter Show and the On the Run tour because they don't move and I like to layer them. After we did the plum, we went to a cinnamon '90s brown— L'Oréal Paris Infallible Pro Last Lipcolor in Neverending Nutmeg. Brown lips have to be done the right way—they can often drain your complexion if you don't know how to give yourself a bit of blush or mascara. I didn't want there to be too much punctuation in the face with color, so the only color that would stand out was the plum. Everything else was harmonious so the wardrobe changes could just glide with ease. If something happened last minute, no matter what color she put on, the golden, honey situation was alive. And it works for a lot of complexions—someone like Karlie Kloss to Selma Hayek, or even as deep as Frieda Pinto—this whole moment isn't for just one girl, it's for everyone."
ON WORKING WITH CHRISSY AND JEN:
"Jen Atkin is the consummate professional. She's always in control and gives the most sobering advice in a crazy situation. She always keeps her cool and is very smart. I like her and she's one of my peers. 50 years from now I'll remember working with Jen.
 
Chrissy's fun. She's a lighthearted sweetheart and a girly girl and she's sensitive, too. That's what's kind of cool about Chrissy is that she's vulnerable—she feels and she cares and I'm the same way."
ON HIS FAVORITE MOMENT:
"It was cool to see John win the award and be with Chrissy backstage. She teared up. They love each other so much—they remind me of a modern day Ricky Ricardo and Lucille Ball."
ON HIS FINAL THOUGHTS:
"I'm just happy to get the hell out of Vegas."