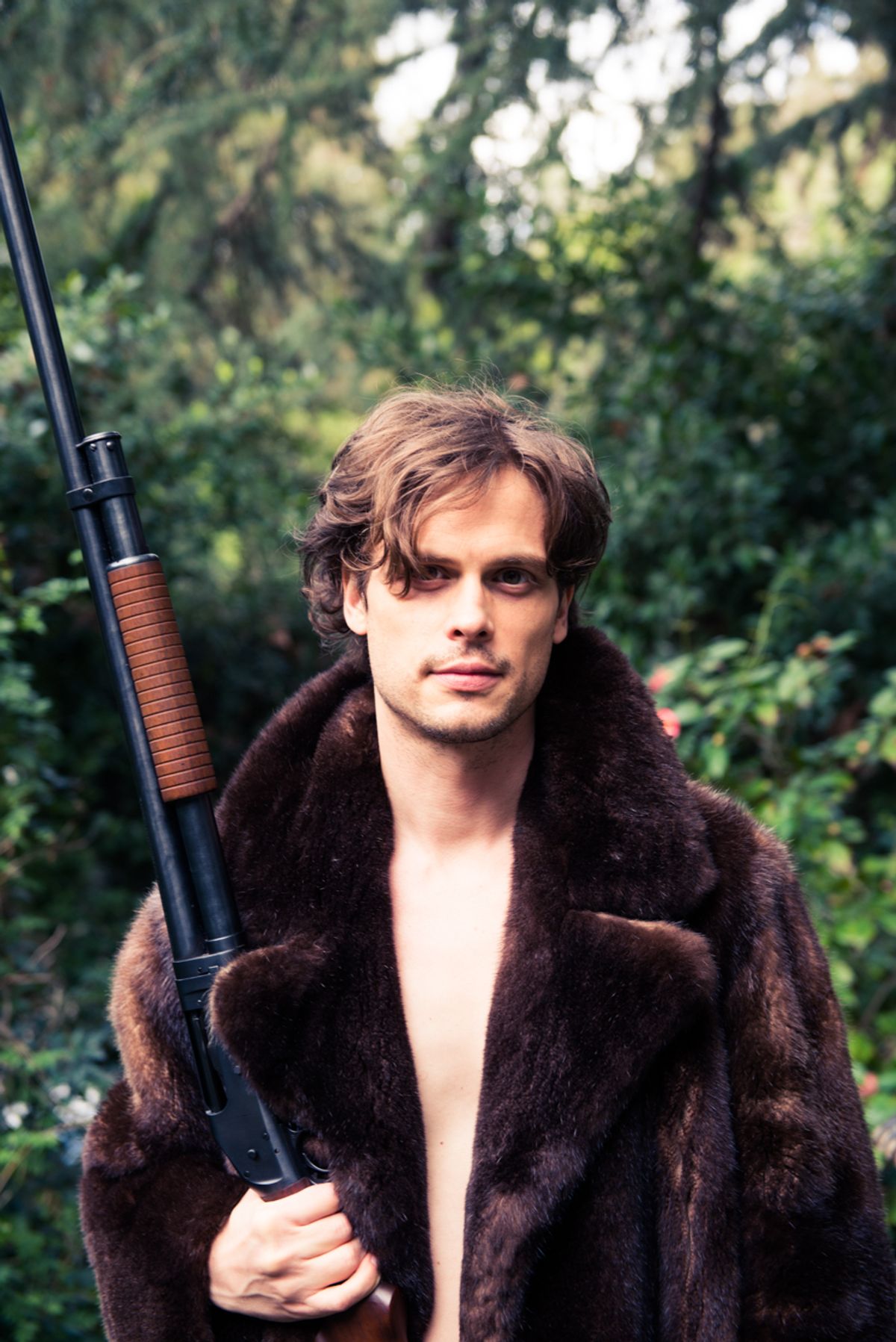 Closet
Actor; Director; Producer; Painter; Model; Magician. Los Angeles
Meagan Wilson
It sounds completely cliche, but when we say that it's an entirely different experience every time we show up at someone's place to literally shoot the(ir) sh*t, we mean it. To illustrate, the first five minutes of our tour of
Matthew Gray Gubler
's Pasadena place went a little something like this: after meeting us outside of his sprawling, foliage-encased, castle-like home, Gubler lead us inside. Ascending a set of spiraling steps, we suddenly found ourselves in his bedroom, where the elements of his home really started to come together: an abandoned Bop It in the corner, a floor-length fur (more on that later), miscellaneous shotguns stashed in his closet, a trio of silk kimonos... y'know. It was all wildly different than that of, say,
Suzanne Rogers
. Slipping into that floor-length otter, which once belonged to Edward Gorey ("I did some research, found a strange man named Pierre, and convinced him to attend the auction for me") and a pair of Batman-themed Havaianas, Gubler headed outside with the aforementioned shotgun in hand, to snap a few portraits while we scoured his closet. As it turns out, there was hardly a single item that went without an anecdote—that innocuous-looking buttondown with folksy embroidery? It was embroidered in prison and has "someone's real social security number embroidered on the back." And a lone pair of
Uggs
we found sitting among his
Converse
and
Vans
? Only worn "when sledding." With Neil Young faintly playing in the background, we explored his place (which he describes "a house that feels like it was made for a Disney princess" and "like a gnome has been smoking a pipe in the house for the last 50 years"). Gubler eventually made the switch over to a full
Dior
tuxedo and a requisite pair of beat-up Converse (sans shotgun). If we had to attempt to succinctly sum the whole thing up, we would explain it as somewhere between cozy and cottage-like, deliberately kitsch and vaguely macabre—all with thoughtful tchotchkes and sentimental touches woven in. After all, how else do you sum it up when Hanukkah sweaters (complete with velcro flame), cozy reading nooks and skulls manage to coexist, all under one roof? Thought so.