Wellness
5 British Shows You Should Be Watching
You know, other than Downton Abbey and Skins.
Have you guys seen the March issue of
Vanity Fair
? The cover of their annual Hollywood fold out is stocked with Brits: Keira Knightley, Eddie Redmayne, Felicity Jones, Sienna Miller—we could go on. They're kind of, well, everywhere. Thing is, Sunday is the BAFTAs (a.k.a. the Oscar's cooler, more talented English cousin) and trust us when we say this crowd will be on point.
But it's got us thinking, because as much as we've leapt on bandwagons
Skins
,
Downton Abbey
and
Sherlock
, there's got to be so much more British drama, comedy, action (take your pick) lurking in our Netflix menus, ripe for the proverbial Anglophile picking, right? Not that we would really know, but, like, more where Ricky Gervais's
The Office
 came from, please. So we called up our friend Anna Silman,
Deputy Entertainment Editor over at Salon
, because, well, it's her job to know about worthy watching material—rough life, we know. Herein, her top five British shows, so we can get in the mood for the BAFTAs, followed by the Brits' inevitable sweep at the Oscars, and then keep our "To Binge Watch" list filled for weeks.
---
1.
---
"Luther stars Idris Elba as John Luther, a broody, badass—OK, I'd be remiss if I didn't add gorgeous—detective fighting bad guys on the gritty, noirish London streets. It may sound like a formulaic cop show, but the show is worth watching for Luther's smoldering charisma alone, and you'll quickly see why Elba has been rumored to be the next James Bond. The show also stars Ruth Wilson, who recently won a Golden Globe for her work on The Affair, as his sociopathic antagonist-slash-accomplice Alice Morgan. Her tortured pas de deux with Luther makes for seriously gripping viewing. (P.S. watch it before the American remake premiers this fall.)"
2.
---
"I'm a sucker for serial killer shows anyway, but a serial killer show that has also been dubbed one of the most feminist shows on television, starring the kick-ass, silky-blouse-rocking, cool-as-a-cucumber Gillian Anderson? Count me so in. This Belfast-set drama (I'm just going to go ahead and count this as English) is a totally addictive spin on the traditional crime show that takes violence against women seriously and never elides or objectifies its female victims. Plus, Jamie Dornan—a.k.a. Fifty Shades of Grey's Christian Grey—gives an awesomely creepy performance as murderer Paul Spector."
3.
---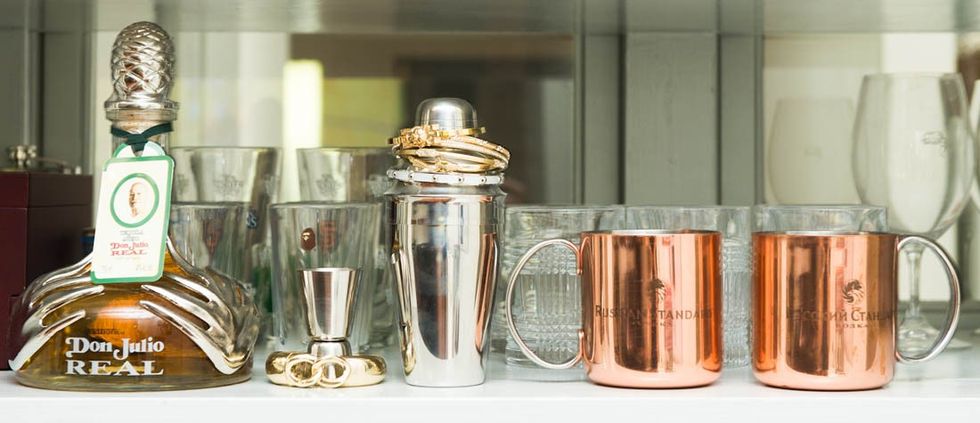 "Okay, this is an oldie, but it's also a goodie, and with news that the long-awaited Ab Fab movie is finally on the way, I'm itching to pour myself a Stoli martini and throw in my old VHS box-set for a rewatch, sweetie dahhhling. Starring Joanna Lumley and Jennifer Saunders as the boozy, drug-addled, narcissistic middle-aged pals Patsy and Edina, Ab Fab has some of the most absurdly brilliant comic plot-lines, show-stopping one-liners and outrageous fashion choices out there. Seriously, if you've never seen it, get going: Patsy "The Last Mosquito That Bit Me Had to Check Into the Betty Ford Clinic" Stone will be your new spirit guide before you know it."
4.
---
"Call The Midwife, a charming, addictive period drama about a group of midwives in London's East End in the '50s and '60s, is the perfect followup for those looking to scratch their Downton Abbey itch (and rejoice, binge-watchers: there's five seasons to catch up on). The show has everything you could want—birth, death, romance, humor and heartbreak, and is told through the perspective of four uniquely compelling leading women who zip around London on vintage bicycles rocking burgundy berets and navy trench-coats. Did we mention that it looks great? Like Downton, this show is total eye candy, chock-full of intricate period detail and '50s style inspo galore."
5.
---
"Charlie Brooker's dystopian anthology series is like nothing else on TV right now. Often compared to a modern day Twilight Zone, the show explores the psychological ramifications of our reliance on the digital—you know, that little "black mirror" buzzing away in your clutch as we speak—taking contemporary technological norms and pushing them to nightmarish extremes. All the episodes are totally different but equally thought-provoking: from the first, in which terrorists blackmail the Prime Minister into having sex with a pig on live television, to the third, which explores the psychological and social consequences of having all our memories literally recorded. Basically, if there's anything that will prompt you to flee to the woods in search of a digital detox, this is it. Oh, but watch the Christmas special first. It stars Jon Hamm. Need I say more?"