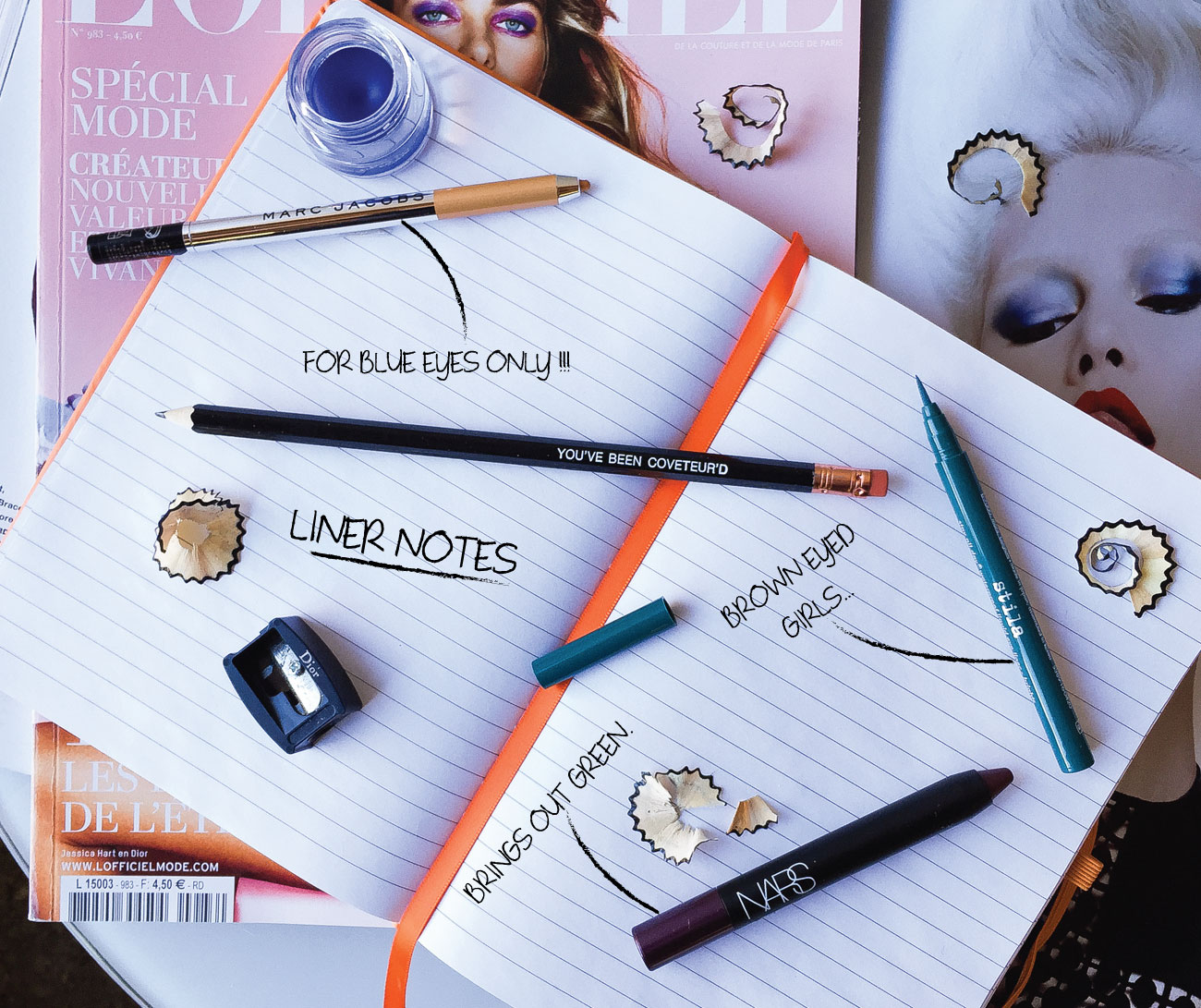 How to Master Colored Eyeliner
It's a mix and match game.
Our day-to-day eye makeup routine has been pretty basic as of late. And how can you blame us? When it comes to playing with liner, things always seem to be so not, er, linear. When kohl pencils became a thing, we spent hours simultaneously watching Youtube tutorials, sitting in front of a mirror painting our waterlines, and trying to master the sultry slight-squint, Tyra-approved "smize." And we'll admit that for a while there, we looked more like Taylor Momsen than Adriana Lima. Eventually it happened and we got it, guys: that perfect just-smudged-enough rim around the eye. But after daily time commitment like that, it's no wonder we were totally on board with the minimal lid (for a while at least). Now though? The appeal of pigmented lids is just too good to turn down.
Let's be real, we still have some reservations. It may be that pure, unadulterated fear of looking too much like our spirit animal, My Little Pony, that has us retreat into makeup normcore. For a lesson in thinking outside the box (and finding the perfect popping shade for your eye color), we quizzed makeup artist, Gina Daddona, to lay the groundwork for what it takes to pull it off. We mean, paints the faces of beauty Pinterest board fodder like Olivia Palermo and Harley Viera-Newton, so she's bound to make magic happen for us, right?
Wait, can we actually pull this off?
"Anyone can pull off colored liner! You can adjust the intensity or amount of color to suit any function or personality."
The prep work
"Keep skin super fresh and clean. Even out your skin tone with a tinted moisturizer or sheer foundation and only use a concealer where needed, like the under eye area. If your lids tend to be on the oily side, you can use an eye primer to keep the colour in place. Use a soft blush to warm up the cheeks and light natural lip tone to compliment your colorful eyes."
The best match
"The basic rule of thumb when choosing a colored liner: Think opposite colors on the color wheel (read: 4th grade art class) to bring out contrasting colors."
For brown eyes
"Brown eyes often have shades of amber and warm tones, so use shades of blue like navy or cobalt or go for green shades from pastel to deep forest."
For blue eyes
"Blue eyes can pop when complimented by golden tones, bronze, yellow or even orange."
For green eyes
"If you have green eyes, choose hues of purples (anything from lavender to deep eggplant) to emphasis your eye color."
For hazel eyes
"Because hazel eyes change their color depending on the day, I'd suggest going for golden-bronzy tones or purples. Grey and silver are a great choice here too!"
From graphic to painterly
"For a bold and more modern look, use a colored liquid or gel liner across your top lid. Feel free to make it as thick or thin as you like—just have fun with it. Try flicking out into a winged tip for a more glamorous feel. (Tip: Keep a Q-tip dipped in makeup remover on hand to clean up your lines.)
For a slightly softer look, apply a colored pencil as close to the lashes as possible on both the top and bottom lash lines. Use a Q-tip or small fluffy brush to blend and soften edges. You can even use a powder eye shadow for an even softer, more blown-out appearance.
The key here is to apply the liner (whether it's liquid or pencil) as close to the lashes as possible (no skin between, please!)."
Next level
"For an extra hit of pigment, add a matching color mascara. It will bring more definition to the eye and will be super polished."