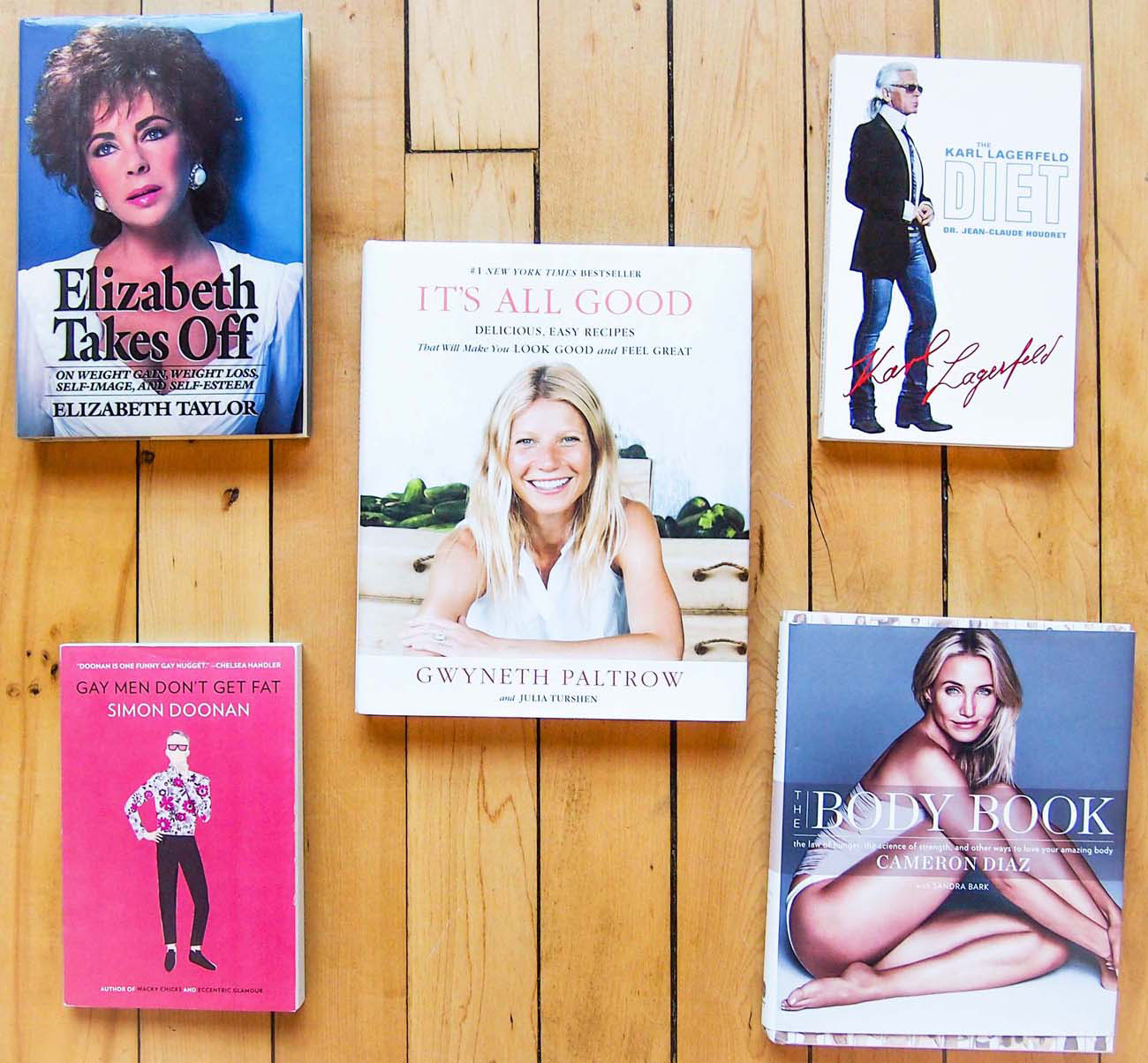 Battle of the Celebrity Diet Books
Think of it as the ultimate lifestyle smackdown, featuring Karl Lagerfeld, Gwyneth Paltrow, Cameron Diaz & more
We can learn a lot from famous people. We mean, the hundreds of books they write pretty much prove that at least they believe that to be true—and, guys, people like Amy Poehler actually seem to know what they're talking about. But when it comes to diets—something we regard as a bit of a four letter word around here—there's a little bit of skepticism. But, we mean, if anyone knows how to lose weight/be healthy/be perfect, it's probably people who show up in the occasional tabloid, take bows at the end of fashion shows and generally, uh, show their face a lot. Vanity has its perks, right?
So we decided to do a little comparison, taking five diet and lifestyle books by five public figures who, even if they're not experts, likely have some pretty interesting things to say. And, okay, we'll admit it, we didn't read the following books for the advice (although there are some gems worth taking into consideration)—but there is plenty of entertainment value between these somewhat self-indulgent covers. Herein, a little preview to whet your metaphorical appetite.
The Karl Lagerfeld Diet
by Dr. Jean-Claude Houdret
The gist: ICYMI, Karl Lagerfeld lost 92 pounds in 13 months and you can, too. If you're disciplined (read: German).
Given the fact that he simultaneously designs CHANEL, Fendi and his own Karl Lagerfeld label, on top of a myriad of collaborations and special projects (that's a minimum of 14 collections a year—and yes, that took us a minute to calculate), we already kind of knew that the Kaiser can do anything. But did you know?! Karl Lagerfeld was 'obese' in the late '90s and lost an insane amount of weight in a short period of time. On top of many quotable Karlisms (it's worth the read for those alone), the manual includes an interview with the designer by Ingrid Sischy, lots of science-y explanations by Dr. Houdret (who treated him) and a pull out poster that outlines foods that are 'recommended,' as well as those that require 'caution!' and those you should just 'avoid!' (inexplicably: cherries, lentils, prunes and bananas). 'Alcoholic drinks' are also to be avoided, but red wine only gets a caution grading—we guess this is a French diet, after all.
Choice quote: "I am grateful to Coca-Cola and Pepsi-Cola for inventing diet versions. Without these the picture would have been even grimmer, especially as I was addicted to chocolate ice cream. I am speaking in the past tense, as today, fortunately, I am quite indifferent to it."
It's All Good
by Gwyneth Paltrow
The gist: Live the Goop life by eating all-organic (expensive) fat-, sugar- and gluten-free meals. Joy!
At this point most of us probably know the story (it's kind of hard to avoid). Poor Gwynnie was stressed and tired from work and went on an elimination diet as ordered by her doctor. Instead of resting up and recovering, she spent this time coming up with a compendium of recipes that will make you as glowing, energized and generally perfect as she ended up being. And there's no fat, sugar or gluten to be seen. Okay, so some of these recipes are damn good—the Korean style grilled corn, for instance, and the salmon burger. Others, a little redundant—even we know how to make avocado toast (though, to be fair, ours isn't made with gluten-free bread and Veganaise). Mostly though, Gwyneth's life just looks really nice and pastoral and will make you wish you had the time to wander in apple orchards make lamb tagine and risotto on the regular.
Choice quote: "My whole family was tested for food sensitivities and allergies and the results were enlightening. Everyone in my house is intolerant of gluten, dairy, and chickens' eggs, among many other surprising foods I always thought were healthy. What do you feed kids who can't eat gluten when pasta and bread are their favorite things on earth? What do you give a kid for dessert who is allergic to cow's milk?"
Gay Men Don't Get Fat
by Simon Doonan
The gist: Simon Doonan pretty much knows how to win at life.
Simon Doonan is hilarious—we already knew that, but it was confirmed by this book, which is less of a diet mantra and more of a seriously LOL-inducing collection of essays. But there's a fair amount of sound, um, advice (we guess we could call it?)—like eat 'gay' food and you might just be as slim and trim as a gay man; how not to be dull even if your job is; and an amazing vocabulary lesson that schools you on the meaning of words like 'metzas,' 'willets' and 'palare pipe' (you'll have to read it yourself to find out). Mostly the whole thing just makes you want to hang out with Doonan.
Choice quote: "Sushi may well be the gayest food on earth. The design of the average ikura gunkan maki or hirane nigiri is, if you look at it objectively, really quite extraordinary. Sushi chefs are basically taking sloppy bits of fish and magically reworking them into exquisite bonbons. How gay, right?"
The Body Book
by Cameron Diaz
The gist: How to fall in love with your seriously toned and thoroughly self-aware body.
Like everyone else in the world, we've been admiring Cameron Diaz's body since she wore that white bikini in Charlie's Angels—actually, no, since The Mask. Anyway, since ever. We also know that, well, we're not all blessed with a naturally slim and athletic body that can be worked on daily by the best trainers on Hollywood. That said, we're down to have any of that magical toned stomach-ness rub off on us where possible. But guys, there's A LOT to know. Like, really a lot. To be in Cameron Diaz-level shape one must not have an acute knowledge literally everything to do with your body and mind, but also must actually do something about it. Like: don't just sit (lie) there while you're watching Netflix—do stretches and stuff. Type As welcome—and if you need inspiration, there are plenty of pictures of Diaz in white (again) to motivate you.
Choice quote: "Every night before I got to sleep, I fill up a big glass bottle with water and put it on my bathroom counter. First thing in the morning, right after I brush my teeth, I drink it. Once I drink the water, I feel it immediately. I go from being a wilted plant to one that has just been rejuvenated by the rain. All my cells fill up with water and I become bright and vibrant again."
Elizabeth Takes Off: On Weight Gain, Weight Loss, Self-Image, and Self-Esteem
by Elizabeth Taylor
The gist: Being thin = high self-esteem = big hair and ample cleavage.
Published in 1987, Elizabeth Taylor pretty much the pioneer of, uh, over-exposing one's celebrity self in a tell-all memoir. Stars! They're just like us! Except that in this case they wear a lot of diamonds and have a lot of husbands. And they publicly chart their massive success, followed by a moment of weight gain—or, in Taylor's case, what she calls "round, firm and fully packed," a phrase which awkwardly captions a photo of her at her and two-times husband Richard Burton at their collective, um, largest. Essentially the story goes: beautiful 'movie star gains weight, loses her self-esteem, loses weight and emerges in all of her late '80s glory, at which point she launches her best selling perfume. Oh, and she also includes a full "Taylor-made" diet, complete with recipes for steamed vegetables and puréed squash. Actually. Perfume deal not included.
Choice quote: "Your friends—and even your enemies—will be stunned by the new you. I know the kick I got the first few times I appeared before the media when I reached 122 pounds. Sure, there was some vanity involved. All women like to look attractive. But far more important was the reaffirmation of the direction my life had taken."