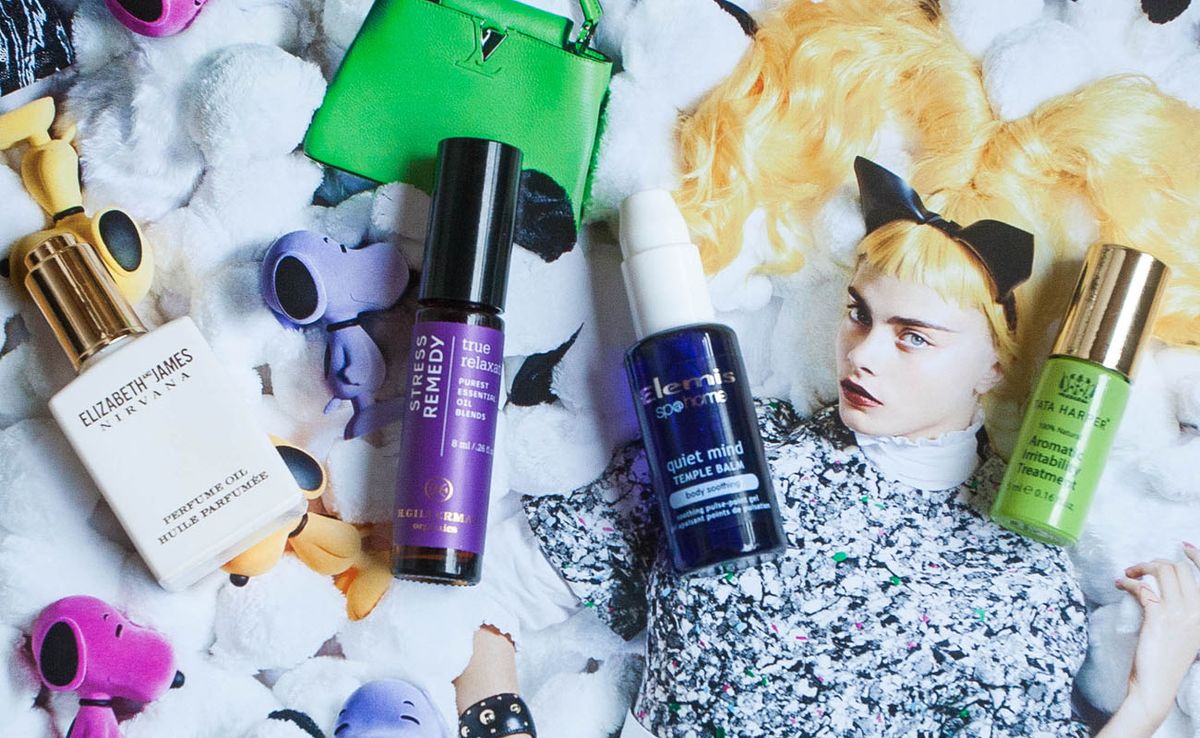 Wellness
Lavender oil and chamomile might not be tequila, but they still work wonders.
Let's say its 11 AM on your average work day. So far, you've managed to oversleep, forget your wallet at home (which you only realized upon reaching to pay your cab driver) and leave a trail of dry shampoo in your hair, which came to your attention, of course, after greeting several co-workers. You have what feels like approximately one million unread emails, and an inevitably awkward mid-afternoon coffee with that one friend of a friend constantly on you for miscellaneous favors. In lieu of keeping a flask at your desk, may we suggest a little essential oil?
---
Okay, so a calming combo of lavender and chamomile isn't quite the equivalent of tequila, but unless your workplace endorses deskside drinking, your options are likely limited. And so we've rounded up a few of our favorite stress solutions. Keep them handy in your desk drawer, apply a little on your wrists and temples and breathe deep the next time you have to press 'Send' on an especially anxiety-inducing email.

Formulated with lemon, patchouli and eucalyptus oil, this stuff is actually most ideal for travel––we're looking at you, nervous fliers and insomniacs. No, seriously––take just a few minutes to pump out a few drops and gently rub onto your neck and temples. Better, right?
For those days where you'd rather be tinkering around on an idyllic farm in Vermont (like the woman behind this aromatic ointment, say) than chained to your desk, we like
Tata Harper's Aromatic Stress Treatment
, made with linden blossom (to calm and sedate), frankincense (to aid relaxation), rose otto (to squash anxiety) and neroli (to soothe jagged nerves). For those who are more prone to, ahem, teeth grinding when the going gets worse, Harper also has an Irritability Treatment (!) made with cheer-y citrus and floral notes, patchouli to help you calm your sh*t and roman chamomile to comfort. We'll take two.
Okay, so this isn't quite an aromatherapy oil. So sue us. There's something about huffing the essence from these tiny black and white bottles that immediately calms us. For best results, apply while chanting your new mantra, "What would the Olsens do? What would the Olsens do?"
Miley Cyrus and Nicole Richie are obsessed with this brand and with good reason, guys. Just a few drops of this stuff, made with lavender, vetiver, blood orange and sandalwood and we were more or less instantly transported from the land of full inboxes to somewhere that straight up resembles St. Barths. Okay, so there were no oceans or cheese plates or grown-up beverages in sight, but like, close.