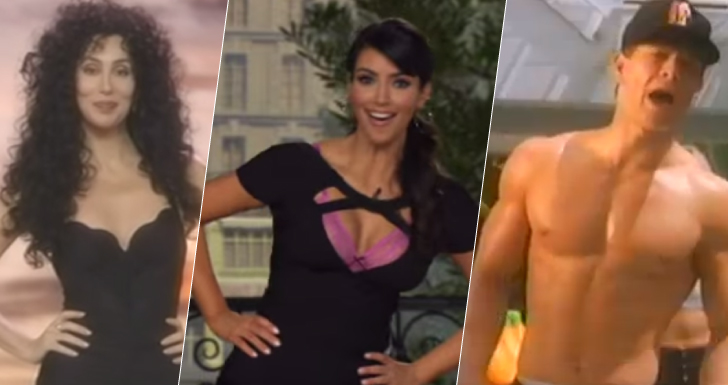 The Coveteur Reviews… Celebrity Workout Videos
We watched them all so you don't have to. But you should. Immediately.
Spandex hiked higher than you ever thought possible. Thongs layered over leggings. Theme songs entitled "Teen Steam." For those of you who ever wished you were Cindy Crawford, Heather Locklear or a Kardashian—behold their celebrity workout tapes.
Replete with more laughs than a Friends rerun, inexplicable catchphrases and outfits that make your parents' prom looks seem entirely forgivable, this is the pick-me-up you've been waiting for. Trust us.
The Promise: A 27-minute, full-body toning workout courtesy of the fitness legend.
What You Really Get: Shot in what we can only assume is a leftover The Young and the Restless set (nothing quite like step-ups onto lucite ghost chairs to get your heart pumping), join Jane as she does her library lunges and fireplace frog squats! Equally as distracting is the fact that, in her most recent videos, she is literally a septuagenarian with a better body than yours. We tried not to think about this as we panted to keep up.
Fashion Tip: If your skintight burgundy unitard is feeling a little blah, simply fasten an enormous patent belt around your waist—the bigger the buckle, the better.
The Promise: Form, focus, determination and a dash of good vibrations (had to). Pow!
What You Really Get: Complete with tighty-whities, familial cameos, incomprehensible exclamations, and answers to all your burning questions ("People always ask me why I'm doing a fitness video, you know, you know, I'm a rapper, you know. People always ask me about runnin' around in my underwear, sellin' my body"), Marky Mark's workout tape is as humble ("I'm never gonna look like Arnold Schwarzenegger") as it is honest ("I got my fly assistant, I just like the way she holds onto me").
Fashion Tips: No clothes are good clothes. Excuse him while he and his fly homies mack in the jacuzzi for a minute.
The Promise: Fit in your jeans by Friday* and have a blast doing it ("Say 'woo' with us!"**).
*Day job not recommended.
**Verbatim.
What You Really Get: Gratuitously sprinkled with #humblebrags and plugs for her blog, Kim's workout tape is worth watching if only to hear her choke out lines by a rhyme-happy scriptwriter. Sample sentence: "Help melt the flab, show off your abs and arms that just scream fab." Grammatically questionable, but entirely made up for by her masterpiece of a ponytail. There also happens to be a rolling rack of clubby outfits in the background throughout the tape, which Kim justifies as "just screaming me." If that's not a sales pitch for this DVD, we don't know what is.
Fashion Tip: Take a cue from Regina George's saboteur and ensure both cups of your baby-pink lace bra are popping through the front of your shirt. Classy, subtle, and also conducive to rigorous motion.
The Promise: The inside scoop on getting that modelesque physique. In Cindy's words, "I want you to feel empowered and energized and great and a little like you really worked your butt off." (So the sentence structure needs work. But you get the gist.)
What You Really Get: Purple filters, sultry close-ups on Cindy's mouth during water breaks and an inexplicable sepia-toned dance interlude with her instructor, à la Patrick Swayze and Jennifer Grey. Waves crash in the background as she does her beach aerobics, then—BAM—location change, and Cindy's on a rooftop water tower casually doing her leg extensions. Just go watch it. It's a vision.
Fashion Tip: Can't find that thong leotard? No prob! Slip into a black one-piece bathing suit, grab a dining room chair and Baywatch-run down to the nearest shoreline.
The Promise: Has she got a gift for you.* The New Attitude VHS promises empowerment, love and respect in the form of fifty billion crunches in lingerie. Cher-ing is caring.
*Her words, not ours.
What You Really Get: Sears photoshoot-worthy sunset backgrounds, slow-mo transitions and scalloped boob-cups. Cher's fitness tape is as much a motivational speech as it is a slow-burn ab workout.
Fashion Tip: Spanx-esque negligees, lace-up corsets and tutus are all totally appropriate examples of workout attire—and easily transition from day to night to later that night. What, like you haven't thought about rocking them to Sunday-morning Soul Cycle?
The Promise: "Be prepared to burrrrrrrrrn." Mel B's boundless energy and ridiculous bod are guaranteed to spice up your life. Slam your body down and wind it all around. (Sorry.)
What You Really Get: Mel B is like the Gordon Ramsay of fitness. She hollers. She growls. She gestures with the fervor of that fake Mandela memorial sign language interpreter. Led by Scary Spice's cleavage, Mel's routine is peppered with all the bubbly laughter and candid chattiness you'd expect from an ex-Spice, making her workout tape surprisingly endearing. Sign us up.
Fashion Tip: No need to take off your giant rock while you work out! Just think of it as an extra dumbbell.
The Promise: Cutting-edge, circa-1990 research shows that the ideal workout is a blend of energy, power and grace. Heather'll show you why.
What You Really Get: As soon as the neon-lettered italics swoosh across the screen in an oh-so-'90s-sitcom way, you'll start lunging and "funky marching"* your way through your personalized, aerobic-heavy session. The frequent moans of "oh yeah!" and "woo!" from the spandex-clad hype girls (and boy) were a nice—albeit strangely sexual—motivator. Spoiler alert: Heather had never actually done aerobics before; she was just following instructions through her earpiece. What, did we just ruin the magic?
*Actual words used.
Fashion Tip: Layers, layers, layers. Throw your magenta thong-turtleneck bodysuit over a pair of lavender leggings and top the look off with an oversized cropped sweatshirt. Add a pink pleather belt for good measure and get ready to sweat!
The Promise: With the grace of a ballerina and the hair of someone who does not understand what 'going to the gym' means, Claudia guides us through a three-part targeted workout that will no doubt see us emerge leggy blonde bombshells.
What You Really Get: The wealth of fruit and scrapbook motifs, porny VO and indecisive location scout are all made entirely forgivable by Claudia's tireless perfection. If we still owned a VCR, you'd better believe this would be jammed in the VHS drive. (It would be on mute, but it would be there.)
Fashion Tip: We have no snarky remarks. Not one. Because, we reiterate, Claudia is a mid-'90s vision in monochrome lycra and we're pretty sure we own every item of clothing in this video.
—Chelsey Burnside