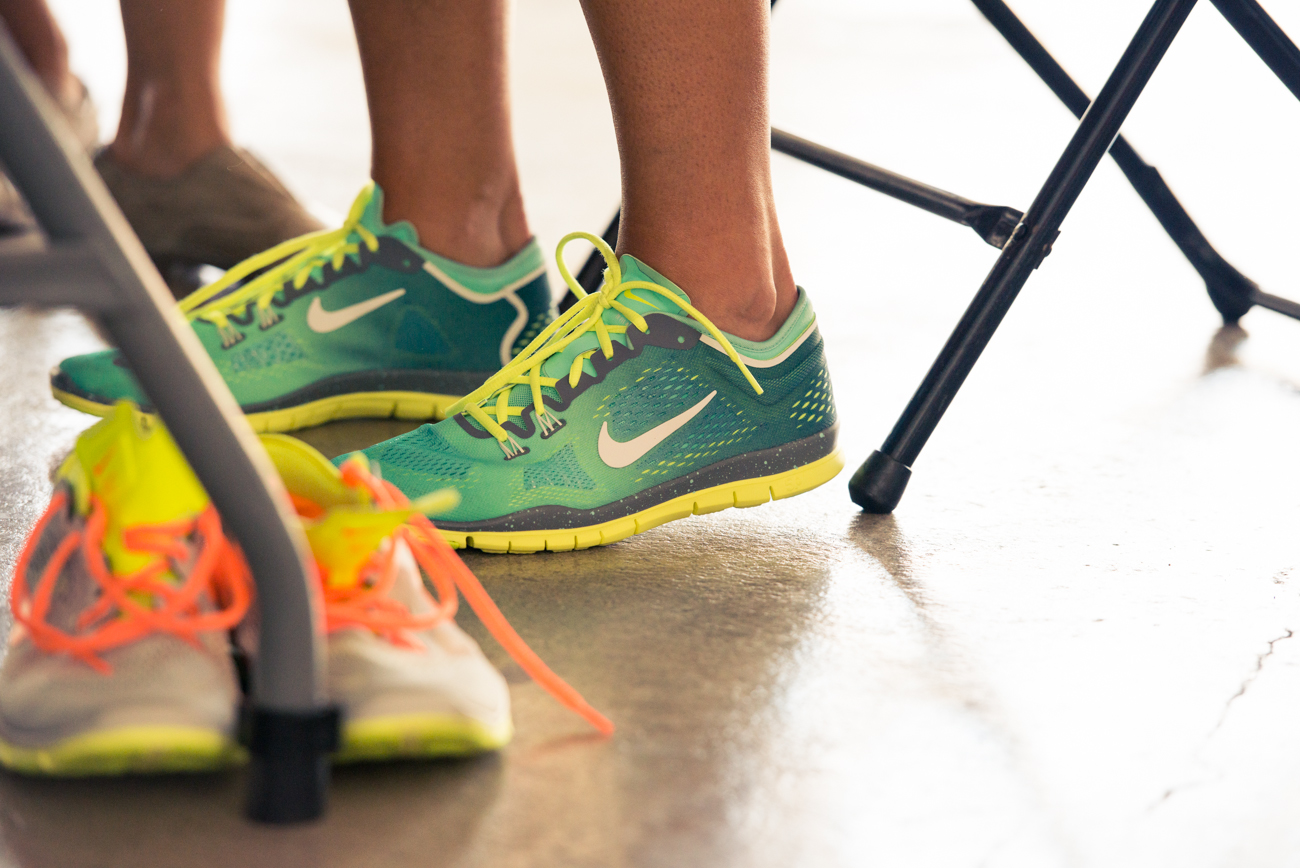 Test-Driving The 5 Best Fitness Apps
The trainers might be virtual, but our sweat? Not so much
When it comes to fitness motivation, ours kind of begins and ends with—you guessed it—Instagram. We mean, what with all the selfies, #belfies, planking, leg lifts, Soul Cycle-obsessees, juice-cleansers, #riseandgrind boot camp classes, Monday to Friday our feeds are pretty much populated with one person or another posting guilt-inducing #fitspo. And if we're being honest, half the time we kind of want to throw our phones against the wall so that we can just enjoy our almond milk latte in peace. But that other half of the time, we admittedly do find ourselves clicking into other, slightly more productive, applications.
So rather than pine over social media fitness pressures, we collectively decided to get active that best way we know how and enlisted our ever enthusiastic Cov colleagues to test and try the best fitness apps available on the world wide web. Not that we'll ever really give up on scanning for Insta fitness, but we figured it's as easy as a simple shift in habits: when our thumb is drifting dangerously towards that little polaroid camera, better to just go for the NTC Nike icon, right? Totally doable, you guys.
Nikki
"I loved how this app gives me a whole bunch of routines—everything from quick 15 minute workouts to longer ones designed to tone or develop strength. You can easily do these at home with dumbbells or at the gym (you know, when standing next to the beefheads in the weight section, pretending you know what you're doing). The only thing that I didn't like was you had to download each workout in addition to the app, which would murder my data if I wasn't on WiFi."
Would I use it again? Yes, but only with WiFi.
Emily
"I recruit my boyfriend, who's a follower of such totally nutso regimes as Insanity and spinning (actually my worst nightmare), to do a workout off of the Nike Training Club app with me, thinking that he'll somehow keep me from quitting halfway through. There's about a million options on the app depending on the outcome and difficulty level that you want. I don't really know what I want, so I decide on 'Tone' as a goal—because it's never too late in the season to have a bikini body, right?—and choose a 'Beginner' 30-minute exercise ominously titled 'Sweat & Shape.' The whole experience is far less excruciating than expected, however, and despite the fact that I was forced into doing far more burpees and push-ups (modified, but still) than I'm usually comfortable with, I was convinced enough by my excessive sweat and searing muscles to sign up for a full NTC program. Baby steps, right? The fact that my beginner toning regime requires twice weekly 'steady runs' might be slightly problematic when combined with my discipline issues, but I'm hopeful that Nike might just be the secret to kicking my ass into fitness gear."
Would I use it again? The program I've assigned myself suggests that I do at least two exercises from the app a week (and comes complete with a handy schedule), so if all goes according to plan, I'll be using it a lot. The workouts are also compact enough that they can be done in a hotel room when travelling (not to mention completed in my apartment's miniature basement).
Emily
"The idea of the app definitely appeals to me. I mean, five minute workouts? It sounds simple enough and I would think that the short period of time minimizes the possibility of boredom. I scroll onto the app, which offers workouts in all sorts of areas—aerobic, strength training, exercises for achieving the surely impossible bikini body or losing weight—and choose their complete ab workout. As the app promises, in 5 minutes, you get 5 exercises, and the whole thing is hugely intense. In fact, after just a few minutes of doing the ab workout I'm ready to give up. I mean, yes, my strength generally sucks, and no, I'm not the most driven athlete ever, but because each workout is focused on one area only, it's incredibly painful and not much else really, well, happens to speak of."
Would I use it again? I mean, sure—maybe as an addition to another workout if I felt like I wasn't getting enough in a particular area. But by itself? Probably not.
Erin F.
"Intense, much? While I do love a good workout (read: treadmill/elliptical/weight training), I'm not into tears. Sweat, yes. Tears, no. And I hate workouts that I feel like I can't accomplish them. So pretty much Hot5 kicked my tush in the worst way possible. Is it okay if I switch out my water bottle for a glass of wine during this one?"
Would I use it again? Meh. I'll be sticking to my beloved '90s 'Eight Minute Abs' on this one.
Meagan
"Hook, line and sinker. That pretty much sums up how much of a sucker I am for hyper user-friendly, well-designed apps with helpful infographics (in case an old person hasn't reminded you today, millennials are suckers for them because we're entitled and also can't read). I went sans bracelet on this one, because in my eyes, if this whole wearable technology thing is going to catch on half as much as every trade publication say it will, then let's just say we have a ways to go on the whole actually wearable thing. That, and I've heard the horror stories and I am so not down to spend half an hour a day vigorously shaking my wrist trying to catch up.
The sign-up is super easy, as is tracking all of your activity manually, although a little tedious—I'm guessing this is where the whole bracelet thing comes in? After setting your goal of choice (you can choose from taking a certain number of steps each day, weight loss, burning a certain amount of calories, or becoming more active in general) and inputting your personal information (gender, weight, height, age, social security number—kidding!), the app projects your daily calorie estimate as well as the optimal amount of water to drink on the daily. Oh, and with every action you log, your calorie allowance grows. Yay!
Compared to other fitness apps I've used previously, Fitbit is a whole lot more user-friendly and offers a way more comprehensive choice of both activities and foods. For instance, shopping and sleep are both activities which you can log—and any fitness plan that incorporates both of those is one that I can make work for me. That, and the overall focus on health, including both sleep and water, makes the mini-accomplishments along the way that much more motivating—I mean, there's nothing quite as self-congratulatory as watching an animated diagram of your cartoon self being filled with water to mirror said water consumption, right? My only real gripe is that at the very beginning, the learning curve was slightly steep, despite said general user friendliness."
Would I use it again? Full disclosure: this is likely going to replace (read: become the one I actually actively use) my current fitness app game. It also adds a serious mindfulness factor to your everyday.
Rachel
"The FitBit app is amazing—it's easy to use and has great functionality. Its Motion Activity setting helps keep track of my everyday steps, distance I've traveled, calories consumed and subsequently (hopefully) burned, exercise routes and more, in real time. My only doubt is how accurate it is at sensing each "step." I found that holding my phone in my hand rather than secreting it in my back pocket gives a more accurate step reading. It's a great motivator—really, I can't stop looking at my calorie meter!"
Would I use it again? Definitely
Meagan
"Remember what I was saying about the whole well-designed, happy-making user experience thing? Health Mate has it down in spades. Oh, and also remember what I said about the whole ditching clunky pedometer bracelets at the door thing, too? Yup, same thing here. I'm nothing if not consistent, guys.
After inputting the usual stats, you're presented with a multicoloured butterfly ("live healthy and its wings will grow," duh), with each wing representing a different facet of general health—weight, activity, sleep and heart. From there, Health Mate uses sensors inside your phone to track your activity from steps to sleep—which was surprisingly accurate and would have forced me into a life of paranoia and becoming a total shut-in, tinfoil on head et al., were I not so impressed.
The app also gives you a more comprehensive breakdown and tour of each of its features before you can fully delve into using it, flashcard-style, which I admittedly didn't find with Fitbit. With an overall focus on health rather than more weight-specific goals, one of the most helpful-slash-hateable features was the app's 'Reminders', which you can set to gently (read: naggingly) remind you to do everything from step on the scale, eat breakfast, drink water, chill with the vodka sodas for a second (limit your alcohol intake), get your ass to bed, or even go for a walk while on a conference call. I imagine this is how kids with helicopter parents must feel. Oh, and you can of course sync everything with your social media accounts just in case you need your third-grade deskmate monitoring your health milestones, too."
Would I use again? Let's just say that Fitbit better watch its back.
Rachel
"The function and purpose of Health Mate is great, but its confusing interface and navigation made it hard for me to use. I noticed that my step count was far from accurate and tried multiple times to fix it (re-opened and re-downloaded the app) to no avail. One positive is that it monitors my heart rate when I place my fingertip over the camera. Since the main function of the app is faulty, I'm not sure how useful Health Mate can really be."
Would I use it again? No
Nikki
"I'm not even lying when I say I decided to try this app because it sounded like a mix of Arby's and Angus beef and I was really hungry. I found the interface a little confusing (it has a bunch of features and can connect with other apps), which I'll admit kind of put me off from the get-go. The pedometer (sadly, very accurately tracked my like zero steps from desk to Starbucks and back) and food journal (so smart that you can food journal just with photos!) would be amazing if I was trying to improve those areas of my overall fitness. But all in all, it didn't inspire."
Would I use it again? No, it's just not what I'm looking for
Erin F.
"I think counting calories is about one of the worst, not to mention the most mathematically challenging, task out there. There's nothing I love more than diving into a big carton of poutine (it's a Canadian thing... consult Google!) and blissfully ignoring the 1000+ calorie cost dancing in my head at 3 A.M. But if I have to share that photo with my app (and my body conscious BFFs), I may just end up changing my mind on devouring the whole thing. Argus is essentially a visual diary that lets you track your food (via Instagram-esque snaps), your exercise (tracking your steps and distance) and sleep patterns (up at 3 A.M. devouring said poutine? It knows, you guys)."
Would I use it again? It's most definitely the most user-friendly health app I've ever used. I would continue to use it for sure... if I'm having a more Instagram-friendly #eatclean day, that is.