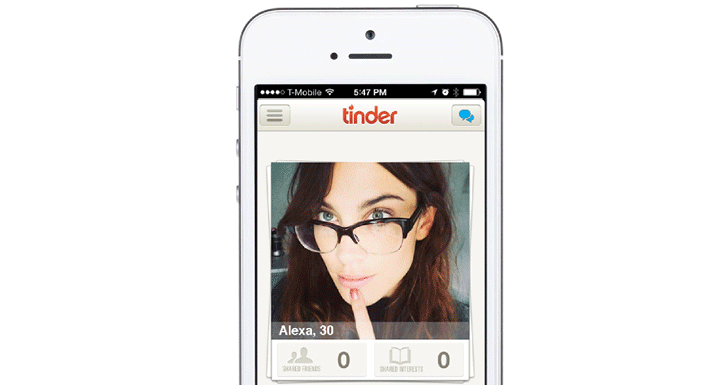 Love And Sex
Fashion People on Tinder
Just take our word for it and swipe right
If you're guilty of getting swipe-happy on Tinder and live in New York, LA, or just have ridiculously widespread location settings (hey, gotta keep those options open), chances are you've stumbled upon a user you recognize—and no, not as in recognize from middle school Phys Ed. We're talking about unearthing the crown jewels of Tinder in a sea of Mr. Shirtless Motorbike and Miss Photoshop-Much? That's right, the verified celeb accounts.
While Katy Perry, James Franco and Lindsay Lohan are all outed frequenters of the dating-game app, we rounded up a few more of our favorite fashion industry singletons and took a crack at their would-be Tinder profiles.
Yes, we made them up, and yes, you should stop looking for them.
(Seriously stop. Now.)
—Chelsey Burnside
---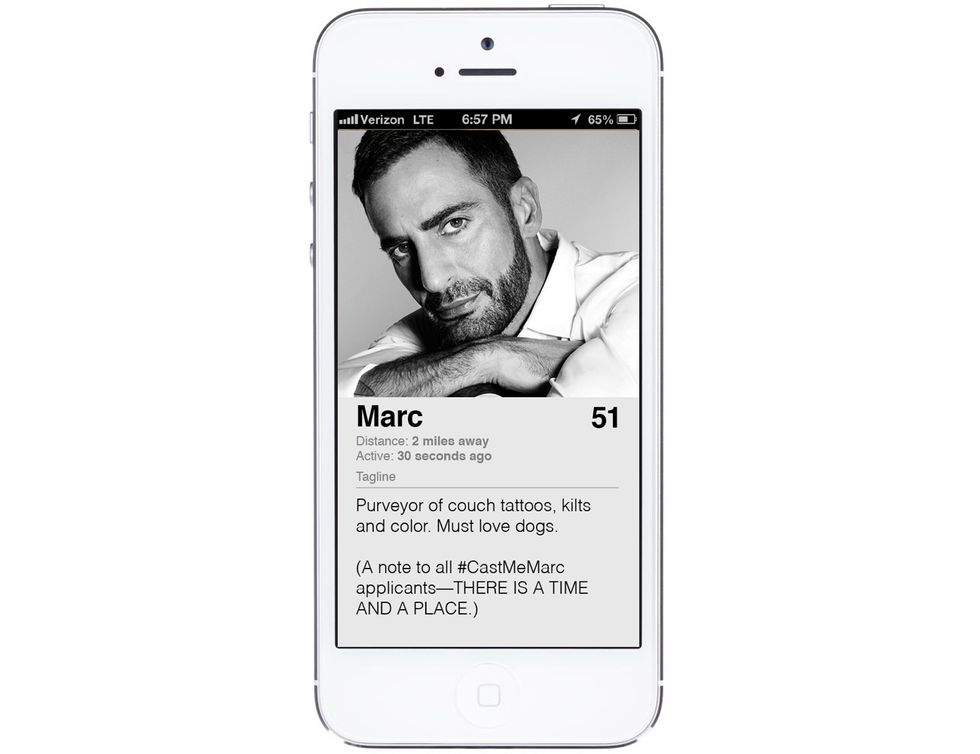 Marc Jacobs, 51 Purveyor of couch tattoos, kilts and color. Must love dogs. (A note to all #CastMeMarc applicants—THERE IS A TIME AND A PLACE.)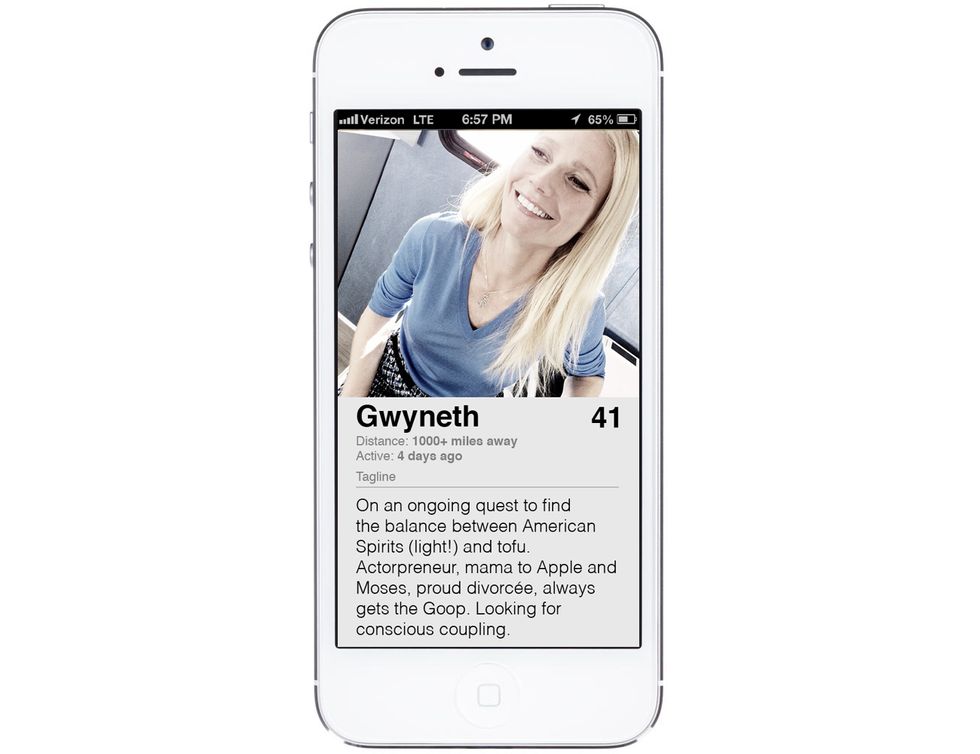 Gwyneth Paltrow, 41 On an ongoing quest to find the balance between American Spirits (light!) and tofu. Actorpreneur, mama to Apple and Moses, proud divorcée, always gets the Goop. Looking for conscious coupling.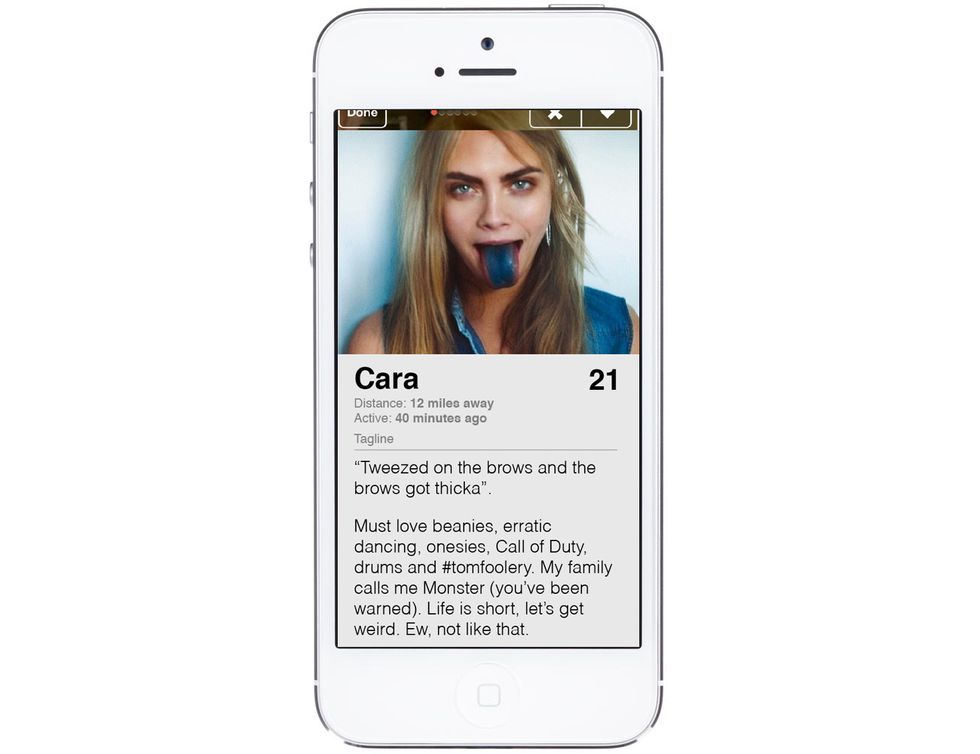 Cara Delevingne, 21 "Tweezed on the brows and the brows got thicka" Must love beanies, erratic dancing, onesies, Call of Duty, drums and #tomfoolery. My family calls me Monster (you've been warned). Life is short, let's get weird. Ew, not like that.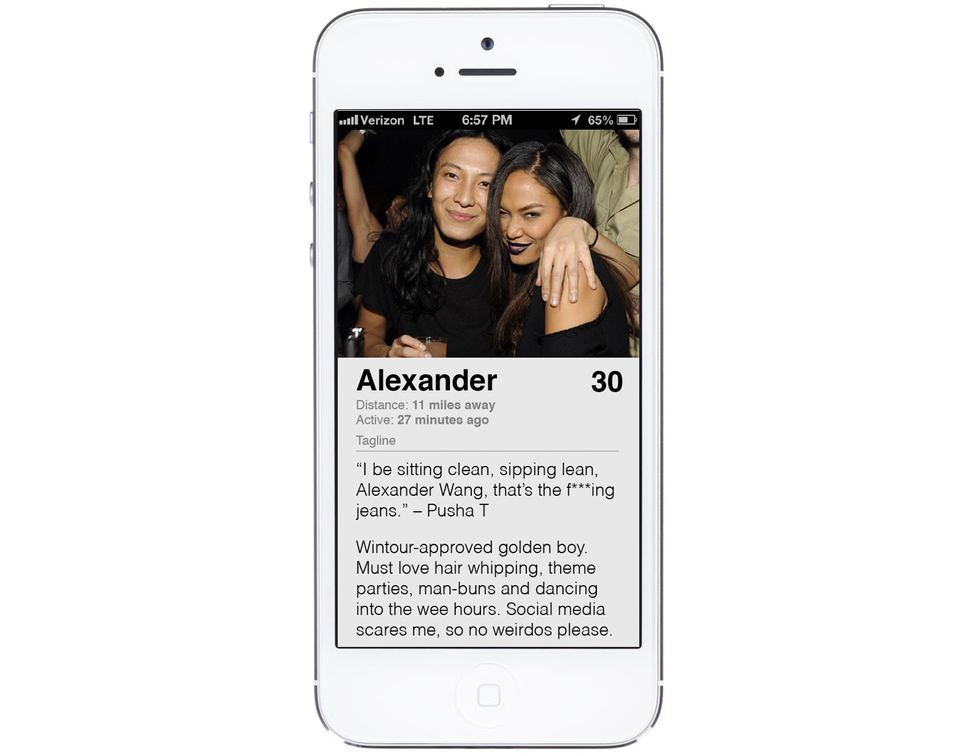 Alexander Wang, 30 "I be sitting clean, sipping lean, Alexander Wang, that's the f***ing jeans." – Pusha T Wintour-approved golden boy. Must love hair whipping, theme parties, man-buns and dancing into the wee hours. Social media scares me, so no weirdos please.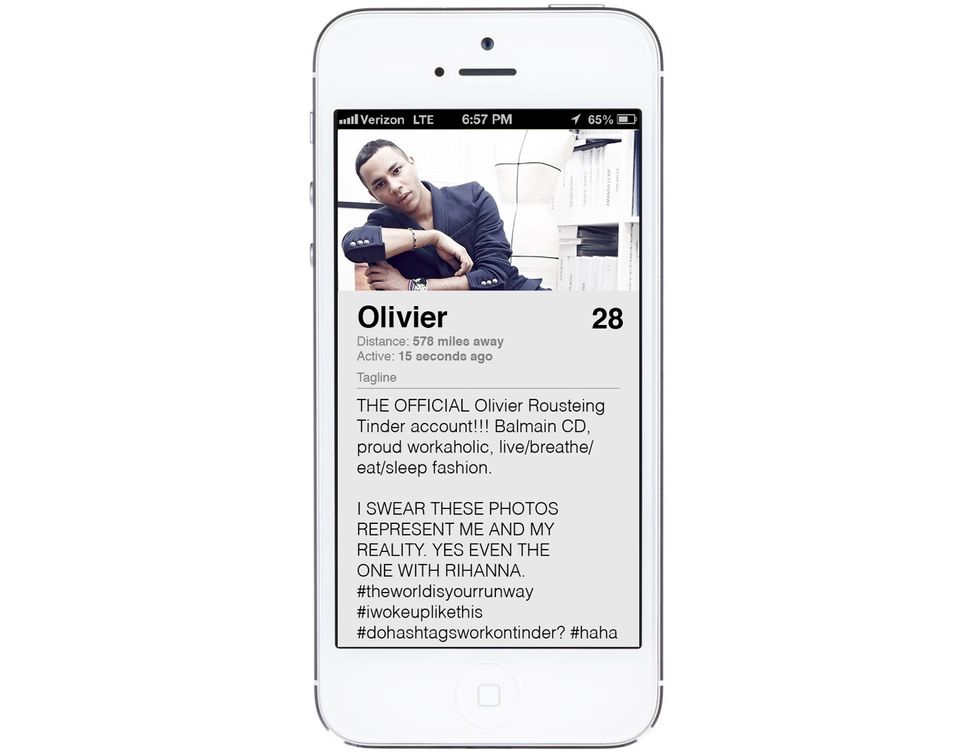 Olivier Rousteing, 28 THE OFFICIAL Olivier Rousteing Tinder account!!! Balmain CD, proud workaholic, live/breathe/eat/sleep fashion. I SWEAR THESE PHOTOS REPRESENT ME AND MY REALITY. YES EVEN THE ONE WITH RIHANNA. #theworldisyourrunway #iwokeuplikethis #dohashtagsworkontinder? #haha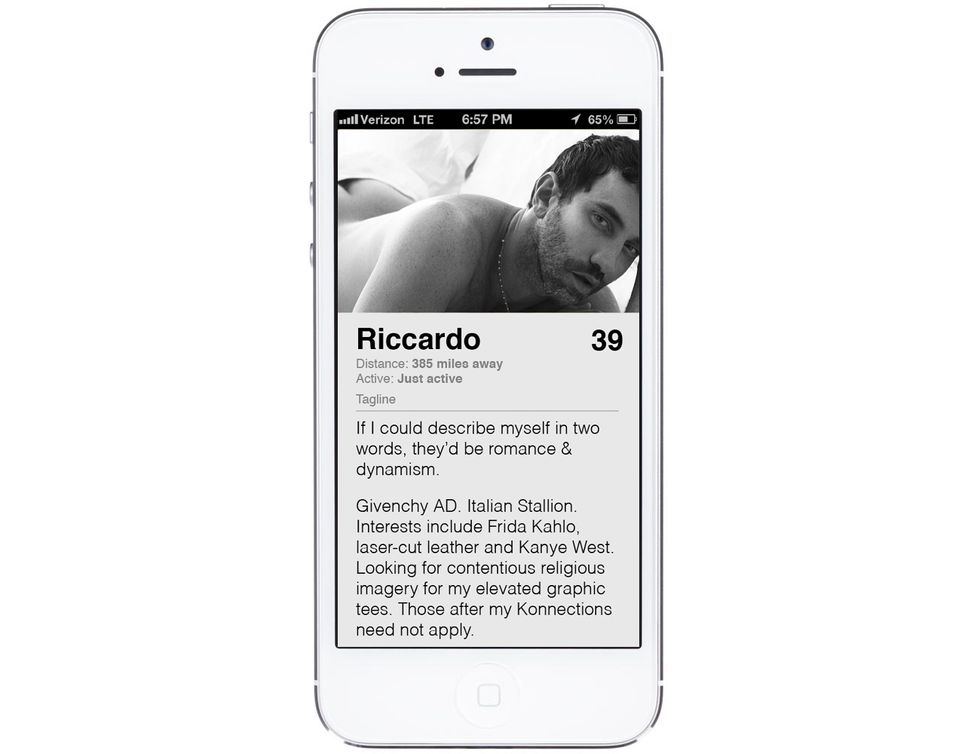 Riccardo Tisci, 39 If I could describe myself in two words, they'd be romance & dynamism. Givenchy AD. Italian Stallion. Interests include Frida Kahlo, laser-cut leather and Kanye West. Looking for contentious religious imagery for my elevated graphic tees. Those after my Konnections need not apply.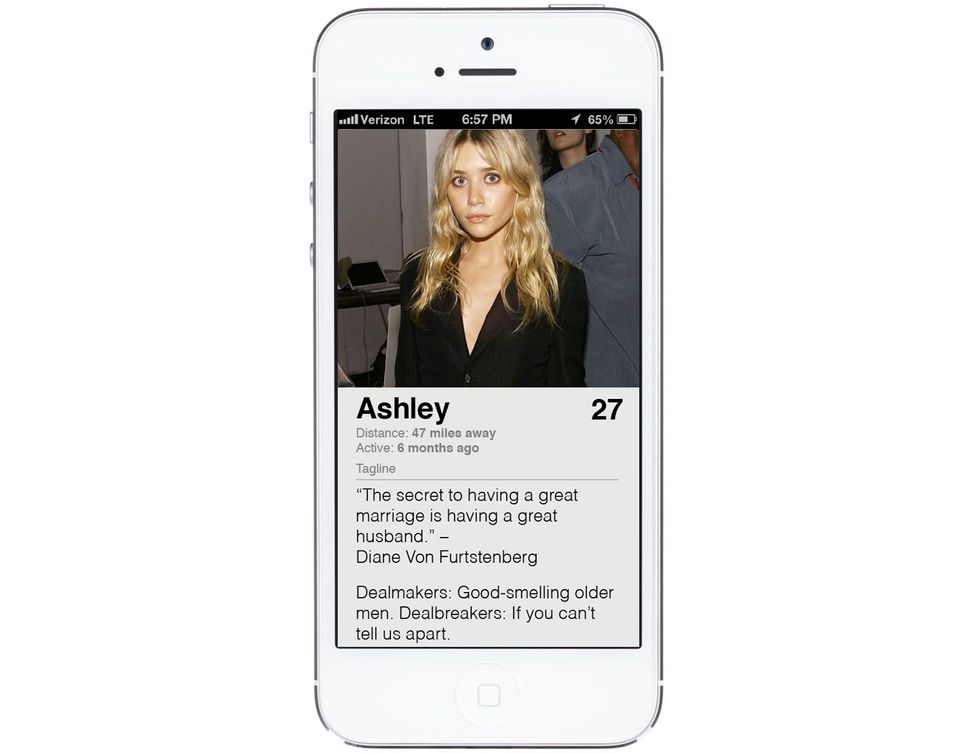 Ashley Olsen, 27 "The secret to having a great marriage is having a great husband." – Diane Von Furtstenberg Dealmakers: Good-smelling older men. Dealbreakers: If you can't tell us apart.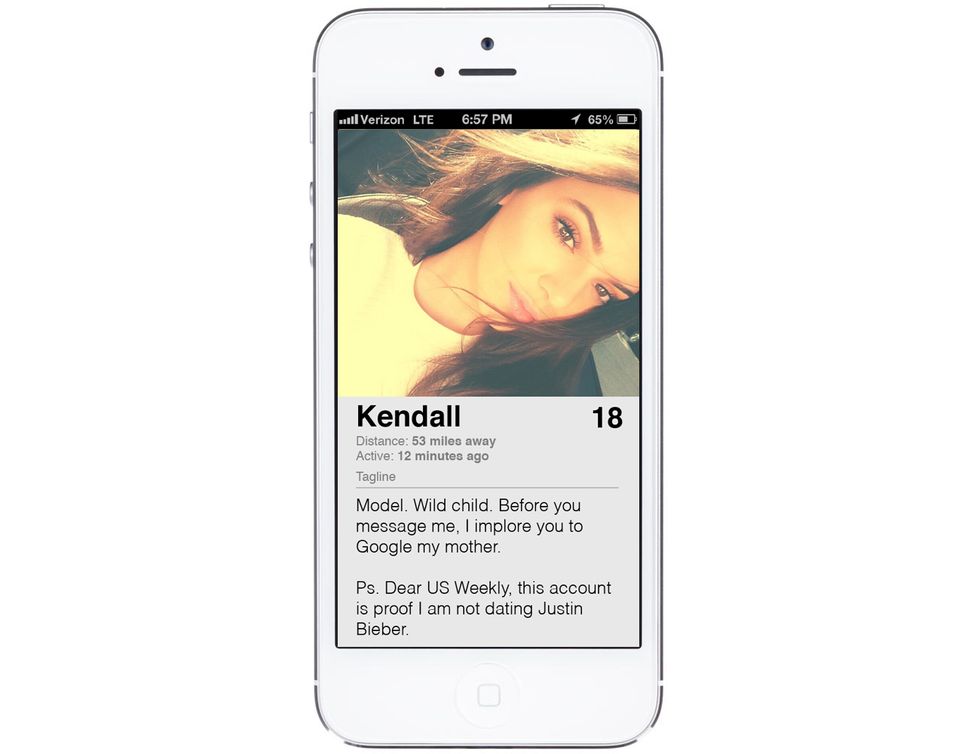 Kendall Jenner, 18 Model. Wild child. Before you message me, I implore you to Google my mother. Ps. Dear US Weekly, this account is proof I am not dating Justin Bieber.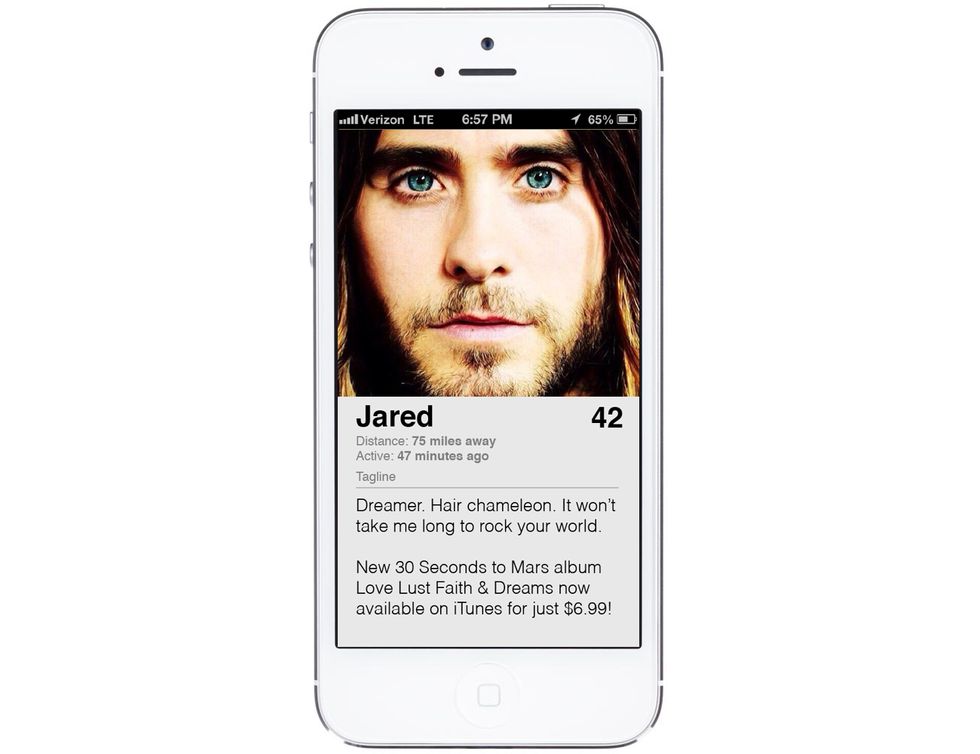 Jared Leto, 42 Dreamer. Hair chameleon. It won't take me long to rock your world. New 30 Seconds to Mars album Love Lust Faith & Dreams now available on iTunes for just $6.99!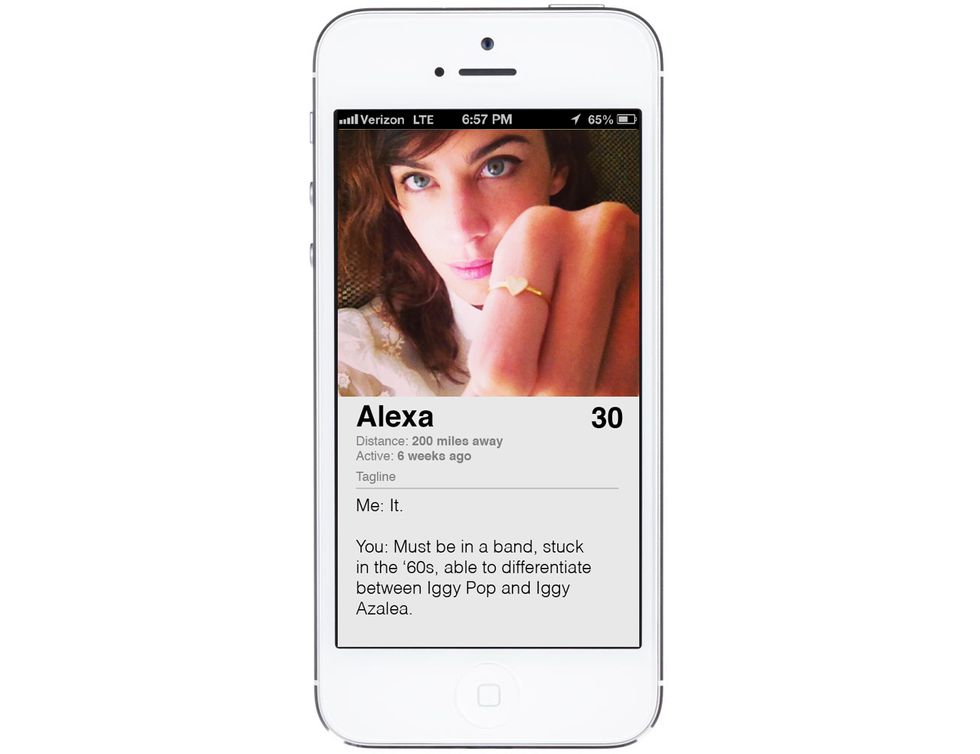 Alexa Chung, 30 Me: It. You: Must be in a band, stuck in the '60s, able to differentiate between Iggy Pop and Iggy Azalea.