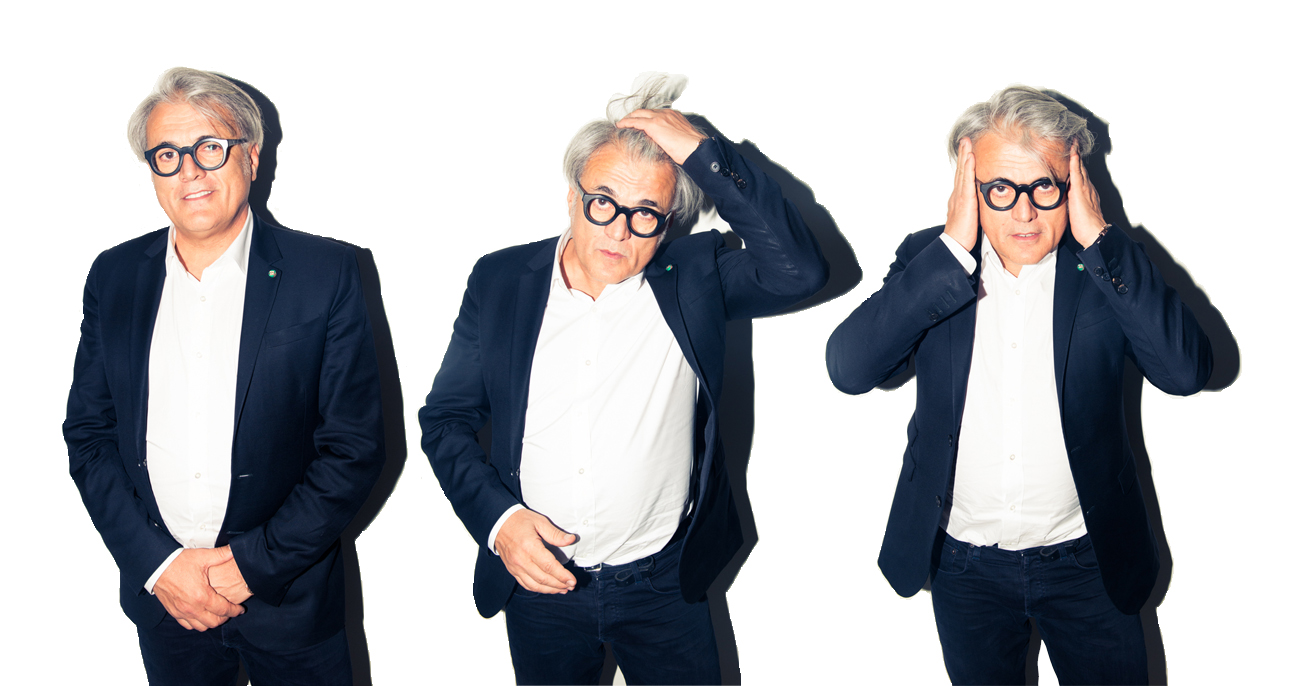 Life Lessons with Giuseppe Zanotti
The Italian designer dishes on working with Kanye, his man crush on Jared Leto and shoes (duh).
It's no secret that we have a serious weakness for next-level, spend-your-entire-rent-cheque-and-savings-account-worthy footwear. We mean, we pretty much go straight for the highest, most outrageously embellished stiletto we can find whenever we survey a new closet. With that in mind, you can imagine that we were more than a little giddy to meet Giuseppe Zanotti, the undisputed king of completely OTT, 'Yoncé-approved, Italian shoes.
In town to celebrate his company's 20th anniversary, we met the dapper Italian (his full head of salt and pepper hair totally qualifies him for that whole Silver Fox thing) at GZ HQ, right next to The Plaza on 5th Avenue. Let's just say, it was a temple to shoes, and by shoes, we mean everything from bright blue fur-covered booties, gold chain-encrusted stiletto sandals and sequined snake-embellished cowboy boots among many, many others. (You getting the picture yet?) To mark his big anniversary, Zanotti has also designed six flat gold sandals, laid out for us to gush over and each covered in increasingly ornate gems and jewels, from a diamante fish skeleton to golden wings (the latter referenced a past collaboration with Yeezus himself. NBD, guys).
Speaking of, ahem, musically-inclined friends, the designer sat down with us to talk all things rap, rock and shoes (duh). Not only was Zanotti a DJ back in the day (he was doing mash-ups before Girl Talk had so much as made a mix tape), but he also counts some of the biggest names in music (do Gwen Stefani, Nicki Minaj and Katy Perry ring a bell?) as some of his best customers (and friends, of course). And wouldn't you know it, but Zanotti still manages to live a bit of a rock star life himself—save for the overnights at Betty Ford and remote "detox spas" in Arizona, of course. After telling us about his frequent "extravagant" vacations to, you know, take a break from running a veritable empire, he let us in on a little secret. But that, kids, is a story for another time—our lips our sealed (for now).
On celebrating 20 years in the business...
"I'm a teenager! Twenty is a good target. I started 20 years ago with my brand, but I really started before—I was a consultant [for other brands]. At the beginning, it was very hard. It was by myself without any support. I started in this hotel, The Plaza, in the U.S. I'm Italian, but I was too shy to show the collection in Italy."
On why he's not just any old fashion designer…
"I'm a fashion designer, a shoe designer, but I'm different. I know the artisans. Designers sometimes divide the creativity, the sketches, the design, the research of materials, the color combinations, the pure fashion, and then they forget completely the experience, the know-how, human resources—the particulars. For me, it was important to work in both ways. Fashion is a strange world. Everything is fashion and nothing is fashion. I think, in my case, my design is my DNA, my memories, my sensibilities. I don't follow [others], I follow myself. With this [season's] collection, there are lots of disco interpretations and '90s and '80s punk rock."
On how DJing isn't so different from designing shoes (but you already knew that, right?)…
"DJ'ing was a pleasure. I was a radio DJ. I was crazy for music, of course. My idea was to create a kind of playlist—to take some songs, different kinds of music, and then I reinterpreted a compilation in my way. Then, no one was doing that. With shoes, it's not so different: you can mix a lot of things in one album, in one season. I'm a mixer with shoes and now with a clothing capsule, jewels, bags, body belts—the universe of leather."
On his favorite musicians (and guys? This man knows his music)…
"The last album by Kid Cudi was good. We make shoes with him. Eminem, I don't know him personally, but I like him. I like Jared Leto. I saw his movie [Dallas Buyer's Club]—he's very cool. I send him a lot of shoes. I like his style. He's an artist—not in one way, but in two, three ways. He shows you can apply your sensibility in different ways."
On his many, many collaborations with, well, everyone who matters…
Beyoncé. We did Miley's last concert. Girls like Miley aren't boring at all. She needed something strong and very, very cool. If a girl dances a lot, the heel needs to be strong, and most don't like it be very high—except for Miley Cyrus and Lady Gaga. When there are requests from musicians who like the collection, I love to follow them. We did shoes for 2 Chainz. I met Will.I.Am in London last week. At the studio, I'm not alone. I like to invite these people to see the work. Or sometimes I go to their concerts—I was in Atlanta in October to see Kid Cudi live with my son."
On his signatures (it involves bedazzling)…
I started with jeweled sandals and high stilettos. Always jewels. The four pillars of my collections are gold jewels, rock and roll, black stilettos and disco.
On taking a very necessary break (you know, every once in a while)…
"I'm very, very professional, but sometimes I need to tell everybody a couple of lies, and for a week I fly very far away. I have a boat, sometimes I go there. And then we start to eat and drink a lot. This work is very hard—I don't have the pleasures of normal life. So every few months I take time off for some extravagance."