Most Coveted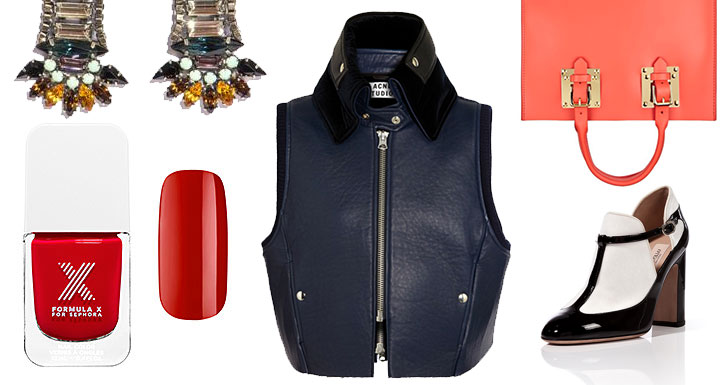 October's Most Coveted
The best of what we want now.
Hold up! Is it seriously October already? Before we can even monochromatically archive out summer clothing and ridiculous, only-could-be-worn-to-a-fashion show attire, we start seeing orange leaves and candy corn. While we do love ourselves a summer glow (read: tan... With SPF on, obviously!) we wouldn't trade trips to the pumpkin patch (those awkward photos from our childhood are priceless entertainment) and Starbucks' Pumpkin Pie Lattés for anything. Plus, is there anything better than seeing people shamelessly dress up as 'a slutty whatever' (cop, dinosaur, donut et al.)? Consider this our ode to October!
Are we the only ones who think the most wonderful time of the year comes a couple months before Christmas/Chanukah/wintery celebrations of any kind? Not only are the holidays on the horizon (okay, very distant horizon), but with October comes sweater weather, getting hyped for Halloween, and bikini season being officially the furthest thing from our minds a.k.a. hurry up with our damn croissants and piling up on Thanksgiving stuffing. We've also cleared that awkward seasonal transition period—you know, when it's too cold for all fifty-three of the summer dresses you bought the minute the Humidex spiked, but too hot to debut that new statement coat itching for a test drive. We're thankful for weather-appropriate dressing, and your boss is thankful that short-shorts and trench combo you tried to pull off has gone into hibernation.
With our wish-listing in full swing, there are a few things we simply can't hold off on 'til December—including, but not limited to red lacquered nails, a sleek new tote, Valentino patent leather ankle boots in our favorite no-color combo and a furry cocoon coat in a head-turning azure (some things just can't wait, and one of them is channeling our inner muppet). Perched at the top of our list? This showstopper of a Simone Camille patchwork textile carry-all adorned with vintage beads and coins, reminiscent of many a market visited on tropical vacations—[un]lucky for us, it costs about as much as one. But who needs a car anyways? We pledge allegiance to the bag.