City Guide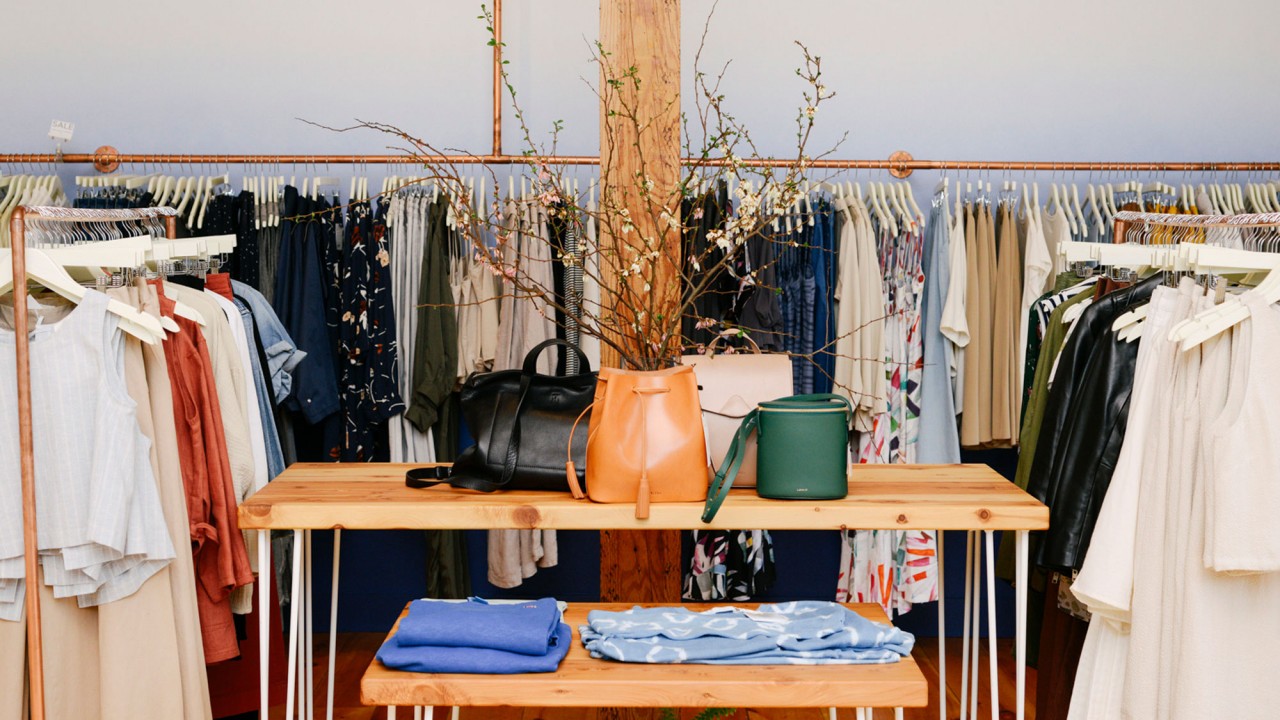 Where to Find Whiskey, Paris and Style in Portland
A stylish boutique owner let us in on all the city's chicest secrets.
Whitney Goodman, owner of WM Goods and a Portland native, will happily make the case for moving back home. After a few years in New York, Boston and L.A., Whitney found herself finally missing the place she thought she'd never go back to. Now she owns a boutique just blocks away from her dad's whiskey bar and she wouldn't have it any other way.
She tells us that Portland is the perfect mix of everything she's loved from all the cities she's lived in. It's collaborative and creative like New York, relaxed and laid back like L.A. and the weather resembles that of Boston—although she argues the rain shouldn't deter anyone from considering a move or at the least, a weekend trip. The city is incredibly walkable, easy to explore in a short time frame and don't trust Portlandia—there are plenty of coffee shops and hipster havens but there's no shortage of stylish things to do as well. Whitney took us along for a day in the city she can't seem to leave and told us where the best spot to break you vegetarianism is, what she thinks everyone should buy from her store and how to order an amazing off-the-menu cocktail.
How Portland has changed and why you need to visit now:
"I grew up in Portland and so I've seen it change a lot over time. It's definitely gotten a lot more cool and interesting. There's like so many young, creative people moving to Portland. I think it's because it's still relatively affordable and it has a good reputation as being balanced lifestyle-wise. It's not a New York kind of vibe where it's like you work until 8pm and then go out to a bar and go to bed. It's like people really value their free time, so I feel like the quality of life here is great even though the weather sucks a lot of the year [laughs]."
Why the energy of the city is unlike any other:
"I actually just moved back here just under two years ago. I was gone in New York and L.A. and Boston for 8 years and in that span of time I feel like it's just gotten so awesome with how many restaurants, little boutiques, new creative agencies—there's just so much creative energy here, which I think is really inspiring. it's a pretty collaborative environment which I think stems from it being still a pretty small city, it's very easy to get connected to people. People are really open to collaboration and introducing you to their friend who does this and that, it's like, it's just a good energy!"
It's the perfect weekend trip–no car required!:
"It's small, like it's a very walkable city. You don't have to have a car to live here. It's pretty easy, I would say, to get a good feel for it on a weekend trip, like you don't need to spend two weeks here to see everything. You can do a lot in a shorter period of time and so I think when people come visit Portland they're like, 'Oh, I get it.' Whereas there are certain cities I've been to where I'm like, 'I feel like I saw ten percent of that city and it was really cool, but I have no idea what the other 90% is like.'"
Why WM goods is your one stop shop for laid back chic:
"On a personal level, I'm super inspired by more of a California aesthetic than the New York all-black kind of a thing, which I think is very cool, I'm just not cool enough to pull it off I think. I really like soft, easy, well-made, really relaxed pieces, and that sort of bright, welcoming, warm vibe that I think is more prevalent in—I would say specifically L.A. retail and a lot of California makers. I'm just really inspired by that whole scene right now. There wasn't a great place to shop that kind of style in Portland that I was aware of. My idea was to bring very easy to wear, relaxed pieces to stuff that was super well made that would last in your closet for a long time. I try and focus on a lot of independent makers, but also people like—I used to work for Mara Hoffman and she's one of my favorite people in the world and I think what she's doing with her brand is beautiful and she's telling a great story. Also I want to find stuff that's not already oversaturated in Portland. Like I didn't want to open a store and pull all the same lines that everyone has."
But the best insider tip for shopping there has nothing to do with clothing:
"I would say my insider tip is for literally any person on the planet that wears deodorant: we sell Fat and the Moon deodorant and it's like a life-changer. It's the biggest, like, people are obsessed with it and they come in and they buy it time and time again and they're like, 'My brother had this and told me to buy it!' You get absolutely hooked on it. It's really the best deodorant—and it's totally natural—of all time. It's like the biggest insider secret."
Where to get a little bit of Paris in Portland:
"Maurice, is one of the most special little places. I just love it to death. Anytime someone is like, 'Do you want to have lunch?' I'm like, 'Yes, let's go to Maurice.' Because it feels like you're going on vacation in France just by walking into the restaurant. It's so chic and beautiful and clean and French. I don't know how to describe it any other way than that. It's the only place where I sit and I'm like, 'I want to spend four hours here.' I don't want to go back to work."
The must orders on the menu:
"The radishes with butter are like heaven. It's so simple and so good. Also there is this garlic broccolini with black bean hummus that was out of this world. It was crazy good. And they just come up with new stuff all the time. There's always something new on the menu and it's really sweet, they hand-write the menu in this beautiful cursive where you like kind of can read it and then there's certain words where you're like, 'I don't know what that is, but I'm just going to go for it.' But it's always amazing. And the owner is really sweet too."
When you need a little whiskey, there is a whole library waiting for you:
"The Whiskey Library opened a couple years ago and it's one of the most gorgeous bars I've ever seen anywhere. It's insane. I think they have like 1600 bottles along the library shelves. It's the most crazy selection and first of all I am not a good drinker, as in I can't drink a lot, and second of all I don't know anything about alcohol, so I'm not the person who's going in and being like, 'Can I get this? blah blah blah,' it's like, they do courses every week where the bartenders have to get educated on everything, and so they really know their stuff. It's incredible how much they know. It's like getting a true education in the business."
The best drink to order is one that technically doesn't exist (yet):
"You can sit down and be like, 'I want a tequila drink that's a little fruity but I don't like this and I kind of want that,' and they're like, 'this is the exact cocktail that I'll make for you.' And they have these carts that they load up everything on, bring to your table, and make in front of you, and so if you want to listen to them, they'll talk you through what they're putting into your drink, how they're doing it. And so it's like above and beyond any other bar experience and it's not like walking into a dive bar where you get like a shitty whiskey coke or something like that. It's like craftsmanship, which I appreciate."
And if you're a vegetarian, there is no better place to break that veggie streak:
"The food is also really amazing. They have a kale salad that's like a killer kale salad. And they also do popcorn with different flavors on it that's crazy good. The food's amazing. If you're a meat eater, you can go ham. No pun intended. I am not a meat eater, but my family and my fiancé are and the burger is crazy. I've broken my vegetarianism for a bit of that burger. It's that good."
If there is a wait, the best thing to do is walk:
"It's always a long wait. They don't do standing service. They only do seated and they want people to enjoy. It's not a huge place and so it's usually a long wait time. It opens at four, if I'm not mistaken, but if I was visiting Portland I would go—there's usually a line at four o'clock—I'd go put my name in and then walk around the West End for an hour or two or whatever it is. There's so many boutiques and there's the food carts, so you could get a bite to eat, and wait for them to call you for your table. But definitely put your name in early."
And of course to do a little shopping while you're at it:
"The West End is probably my favorite for boutique shopping. There's a bunch of really good shops right in the neighborhood and there's also some of the best restaurants, so it's definitely a place to spend an afternoon. I would suggest doing Tasty n Alder is another restaurant that's right there that's so good. There's Heart Coffee, there's Stumptown Coffee in the Ace Hotel. It's very cool neighborhood and it's right next to Powell's bookstore, which is like the huge bookstore that everyone should go to 'cause it's incredible, so I would say spend an afternoon there, put your name in at places that you want to eat at, and go walk around the shops and Powell's. You can kill a couple hours in that neighborhood very easily."