Cocktail DIY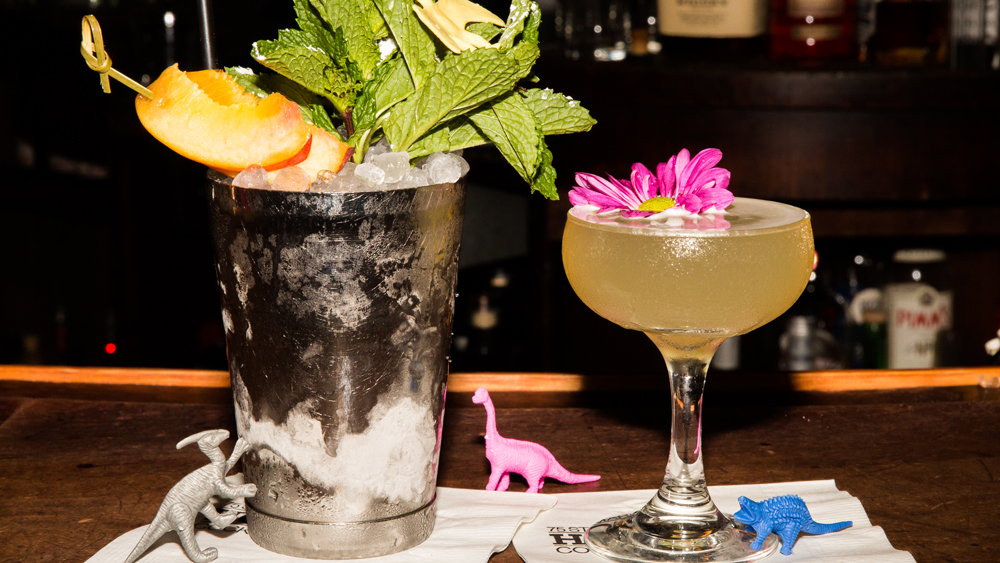 Two Summer Cocktails That Are Almost Too Pretty to Drink
Get ready to celebrate the first weekend of summer!
There's nothing like chilling in a backyard among great friends with an even greater cocktail in hand. Bonus points if the garnishes in said cocktails are just as impressive as the drink itself (extra bonus points if you can eat the garnishes)! With plenty of warm summer nights and weekends to look forward to, we knew it was time to learn a fresh, seasonal cocktail recipe. Our friends at cult-favorite Holiday Cocktail Lounge in NYC's East village—who are also known for topping their creations with multicolored plastic dinosaurs— graciously agreed to teach us their best drinks for summer, and lucky for us, they couldn't narrow it down to just one.
Bartender Erik Trickett whipped up two different cocktails for us to try, each ideal for sipping outside. His version of the classic Georgia Julep is perfect if you're a whiskey drinker. If you lean more towards vodka, then the Holiday Cocktail #2 will be your new go-to all season long. Each is equally delicious and goes down dangerously fast. Don't say we didn't warn you.
Ingredients:
2 oz Redemption Rye
0.5 oz simple syrup
0.5 oz Giffard Creme De Peche Liqueur
10 mint leaves (smashed)
peach slices
powdered sugar
Directions:
1. Slap 10 mint leaves to release aroma.
2. Add all ingredients to shaker and fill with crushed ice.
Shake vigorously.
3. Pour into chilled shaker top and fill with more crushed ice.
Garnish with peach slices, mint, and a dash of powdered sugar.
Ingredients:
1.5 oz green tea-infused Kettle One Vodka
0.75 oz Giffard Abricot du Roussillon Liqueur
0.75 oz lemon juice
0.5 oz simple syrup
Prosecco to top
Directions:
1. Add all ingredients except Prosecco to shaker.
2. Fill with ice.
3. Shake vigorously.
4. Strain into an empty glass and top with bubbles.
5. Garnish with a fresh flower.
*To make the vodka, add 5 green tea bags to 1 liter of Kettle One Vodka and leave overnight.
Holiday Cocktail Lounge is located at 75 St Marks Pl, New York, NY 10003.