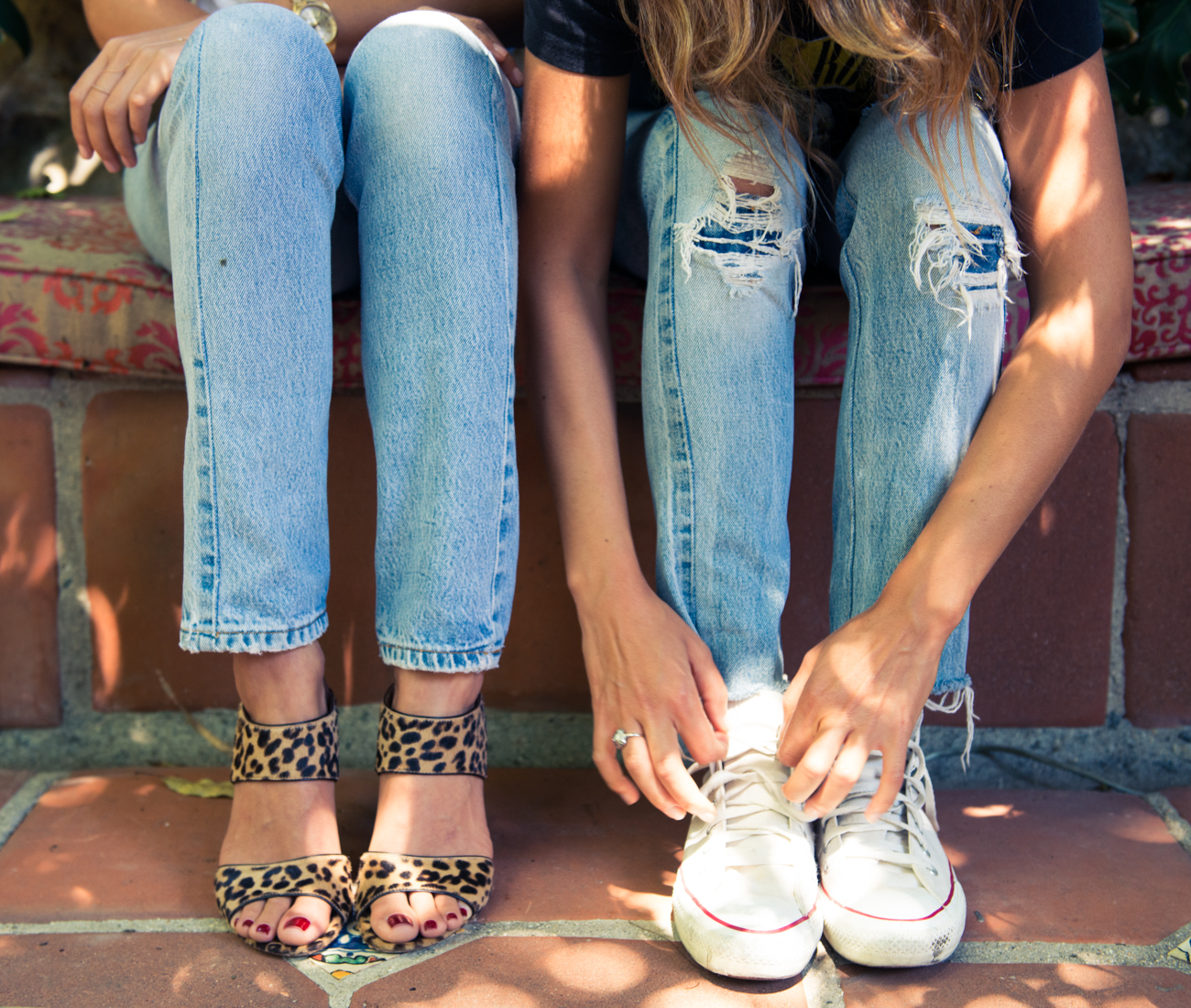 Editors' Picks: Patio Dressing
The season of happy hour is upon us.
Two—count them with us—TWO effing days until spring. Yup, we've officially made it through the hardest season of the year, guys. And it's also Friday, which means it's pay day. So in the scheme of things, today is a really, really good day. In celebration we think you should buy yourself something cute—maybe along the lines of say... some epic cat-print Miu Miu clogs, tulip pink lip color, sleek ballerina-y pumps, Saint Laurent sunglasses (necessary for patios and hiding margarita eyes) and transitional type pieces (think: breezy jumpsuits, navy culottes and linen-wool hybrid dresses). Then spend your afternoon hoarding all of the aforementioned in your online shopping cart and pressing checkout before leaving work early (when do summer Fridays kick off again?!) to soak up daylight saving time with a drink in hand. Say it with us: YAS.
Noah Lehava
Senior Editor
I hate socks. I don't layer. So winter is kind of my nemesis. Ironic that I happen to live in one of the coldest countries, eh? (Sorry, had to). Anyway, the moment I can remove said socks, is the moment I feel like myself again—it's oddly liberating, what can I say? Hence why I'm going full on sandal mode with these Sam Edelmans now that the suns out and it's patio season. And okay, some days are still a little bit breezy so I'll wear them with a lengthy jumpsuit and some shades for those long-lost rays.
Meagan Wilson
Senior Editor & Social Media Manager
Warm, temperate-ish weather is heeeeere, and the first casualty is usually my winter coat(s). I love them, but after a treacherous four months, I don't want to see them for a very long time. What I do want to see is this Acne denim jacket, it's perfect for spring in pretty much every way. Ditto these Del Pozo trousers, which are gloriously and unabashedly white, and perfectly tailored and cropped. I'd pair the whole thing (with, um, a top, obviously. Maybe this one) and a pair of Miu Miu clogs, which are inexplicably back in all of their SS/10 cat print glory.
Emily Ramshaw
Senior Editor
People, I swear to you, this is my time: daylight savings is finally over; it's appropriate to actually go out after work (read: light and patios); and temperatures allow for alternative to my wool coat uniform. Kind of, right? Thing is, I have a really, really hard time figuring out what to wear on a given day that might start rainy and chilly and end balmy and sunny (and therefore lead to the aforementioned patio). Hence these wide-legged Sonia Rykiel pants, which look summery, but are still, um, pants. Butter London's Buzzed lipstick is my all-time favorite color and works no matter what the sky is doing. And this light pink Mark Cross bag is the most perfectly impractical bag ever to bring on a patio, but it also looks like spring, so eff it.
So incase you couldn't tell, winter in New York City literally just made an Irish exit. Which is the best news ever. In it's place, lighter coats, bare legs, and the return of the flat. This Jacquemus dress is the epitome of transition dressing, navy wool makes up the majority of the fabric but then there's a white linen panel just hanging in the front (hello March). These sleek white Martiniano pumps are a welcome reprieve for feet that have been stuck in socks and black leather for too many months. And a delicate constellation earring situation, which works well anytime of year. Just add al fresco happy hours and springtime becomes my new favorite time of year.
Renée Rodenkirchen
Senior Photographer & Video Manager
In Canada it's not 'summer', it's 'patio season'. We take our outdoor lounging very seriously... probably because we're stuck inside our igloos for the rest of the year.
This is my first day of warm weather, sitting on a patio and drinking some rosé outfit. I LOVE this Reformation skirt and tank combo. Pair it with a cute straw hat, and I'm ready for the sun. The leather jacket is to throw over your shoulders when things get a little chilly. I'm a huge fan of this jacket, too: it's heavy, soft and you know it's only going to get better with age.