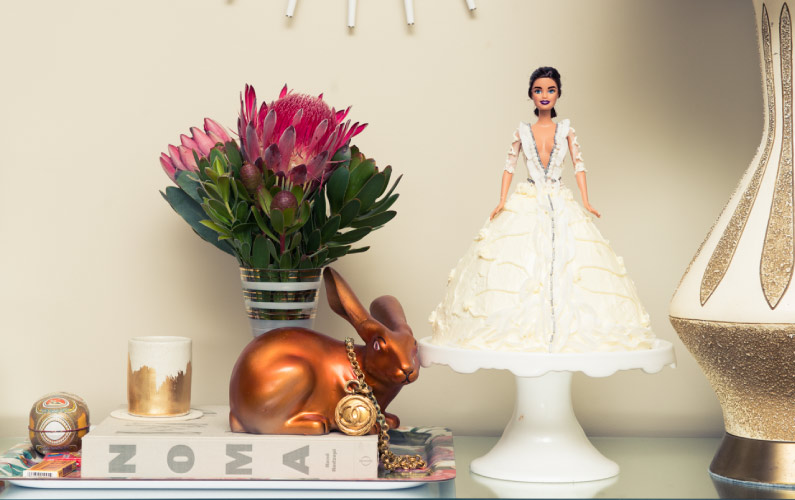 Piece of Cake
Remember that Givenchy dress The Girl With The Dragon Tattoo wore to the MET Gala? Now picture Barbie wearing that in the form of a cake dress.
Chances are, if you have a working internet connection and even so much as a fleeting interest in fashion, you remember when a Proenza Schouler SS/10-inspired dolly cake made the online rounds a while ago. No? What about the amazing McQueen, Givenchy, Christopher Kane and Balenciaga confections that followed? While we're hardly mini-Martha's in the kitchen ourselves, we can certainly admire those who can get crafty with all things culinary (usually while sampling their, uh, wares). And these couture cakes had us hunting down their creator to see what all the fuss was about. Enter Claire Thomas: the blogger and general food enthusiast behind Kitchy Kitchen and sister to designer Amanda Thomas of jewelry line, Luv AJ. Do you see where this is going yet? Fast forward a few e-mails and one flight to L.A. later, and we found ourselves at the Thomas' shared Santa Monica home. 
As we've said before, our reputation kind of precedes us when it comes to ahem, on-set refreshments—these things just happen, we swear!—and so what would any Coveteur shoot be without some good grub? Taking cues from the MET Gala's red carpet, then just a week or two before our shoot, Claire whipped up a little something something, inspired by our favorite Girl with the Dragon Tattoo's Givenchy gown. And though it's kind of too pretty to eat, Claire insisted we go beyond the whole look don't touch and have a piece. The girls cut into it ceremoniously and served us each a gigantic slice of Rooney's skirt. Let's just say everything tastes better with a side of Givenchy!