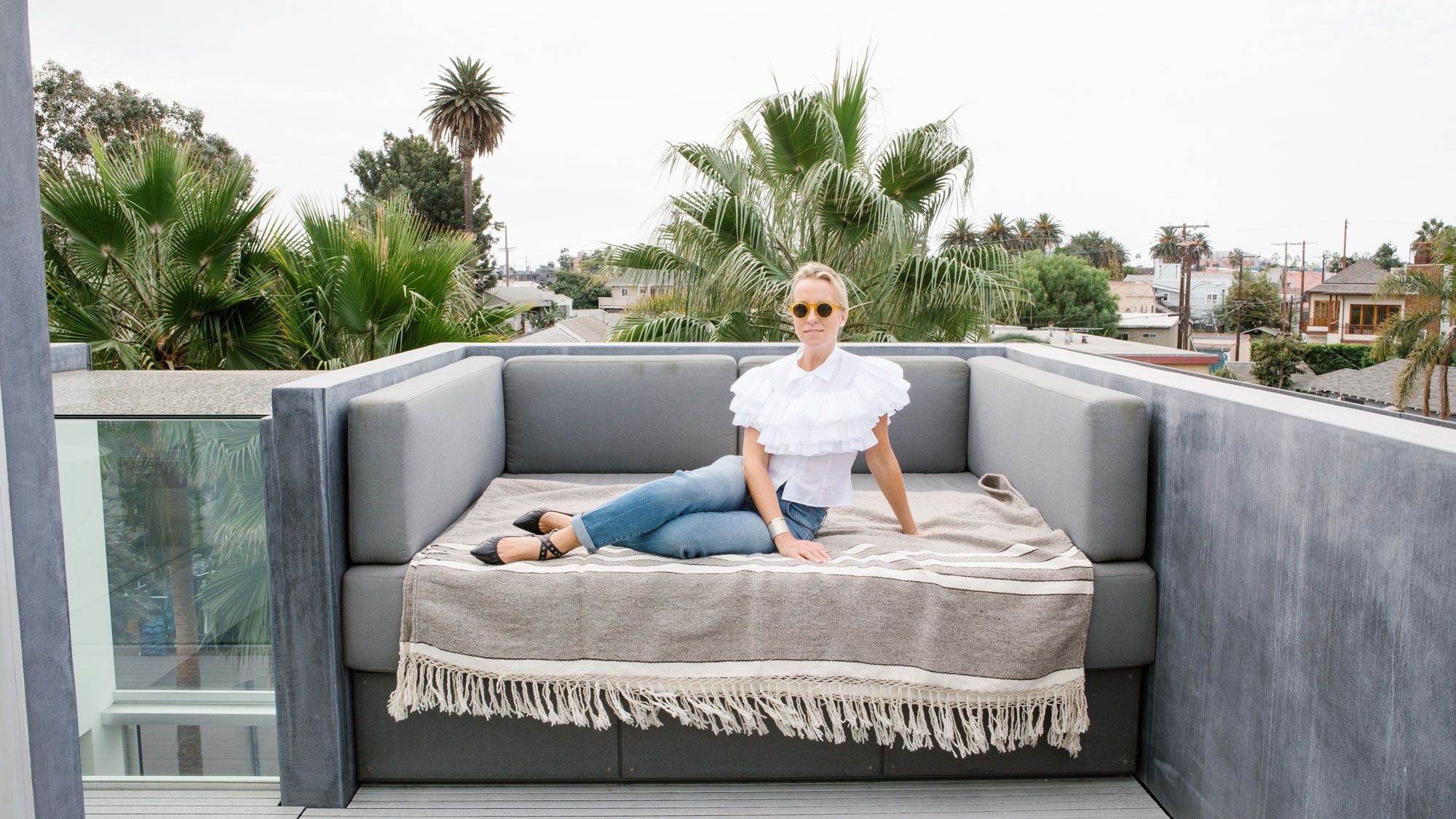 Designers
As told to us by the designer behind *those* scalloped bikinis and maillots.
Cibelle Levi
Designer
Marysia Reeves
grew up in a leotard and wears bathing suits to work. She lives by the water in Venice, California, and met her husband at a surf shop. It's strange to think she was almost a physical therapist until you realize it actually makes a lot of sense: "My whole life I've either been in a leotard or a
swimsuit
. And then in undergrad I was studying the body." While at an interview for a physical therapy graduate program, her husband turned to her and said, "This isn't really what you want to do, is it?" Which is how Reeves ended up in a classroom at FIDM where a professor told her, "You have to think about what really describes you as a person and just do that."
Having gone to a professional ballet school in Poland before moving to the U.S., Reeves realized that her life had been defined by bodysuits made for movement and daydreams of the perfect vacation. While pregnant, she entered her swimsuits in Charleston Fashion Week—Derek Blasberg was a judge. Reeves won the competition, and now actresses like Lupita Nyong'o and Rachel Bilson are wearing her signature scalloped suits on their beach vacations—along with every single Coveteur editor and every single stylish woman we know.
Basically we need
all
of her life advice, especially since these very cold times call for channeling of our inner California girl. To help us out, Marysia told us all about wearing swimsuits even when you're not at the beach, getting that natural California glow year-round, and finding inspiration for her beachy L.A. home in New York.
---
1. Wear Swimwear Everywhere
"I love swimsuit tops, they're fun, and the scallop goes with anything. It
'
s almost like a tank! And I think with a high-waisted skirt they're great, because you have less fabric around your waist. And they're really comfortable! So it
'
s not like you are suffocating in something.
"With designing, I would imagine my dream vacation and that you could just pack the whole collection to go wherever. That
'
s the mentality. You can wear the
dresses
out to dinner. You could wear the
swimsuit tops
or the
maillot one-pieces
with
skirts
or with
jean shorts
or whatever you want to do, really! I also love the
Montauk pants
. We recently went to Australia, and the pants are so nice, the fit of them is really great. I wore them with a vintage Marysia swimsuit on a boat, it was really nice!"
2. Keep Your Style Simple
"I think California style is much more relaxed than New York. I feel like I wear jeans and t-shirts a lot more than ever before. I dress up more than the average California person, but I think I am getting more relaxed in my style. I still like to wear designer t-shirts and jeans. I wear a lot of sneakers. Golden Goose are my favorite shoes. They are so comfortable.
"I also try not to get attached to things, but I do have too many Céline bags! I love them. I have this Alexander Wang leather jacket that I really love that I wear almost every day. I feel like a leather jacket is all you really need in California. I wear it in the summertime when it
'
s chilly in the evening, and in the winter with a turtleneck underneath, and I
'
m fine. I think I wear that jacket the most out of anything in my closet."
3. Hang Out in Surf Shops
"When I was seventeen I met my husband at the surf shop where I was trying to buy a surfboard. He said I needed a lesson, so I ended up taking lessons with him [laughs]. And then we traveled a lot to places to surf. When I was younger I was a lot more up for going for anything, but then after each kid I become more and more of a wimp!"


4. Rely on Natural Products
"In California the focus is on your face and hair. I try to use clean beauty products. I have a friend who writes a blog, it
'
s called
Barebeauty
, and so I
'
ll go to her blog to see what she is talking about, and I
'
ve become friends with a lot of the beauty people here in California like
Shiva Rose
and May Lindstrom.
"I use
RMS for my face
. I like the
"Un" Cover-up concealer
—it
'
s really dry here, and it has a coconut base, so it
'
s really moisturizing. It
'
s really good for the California climate. I also use
RMS volumizing mascara
. I love it, it almost curls my eyelashes so I don
'
t have to use a curler or anything. And that
'
s it! Just a little bronzer and blush and some mascara. I use the bronzer on my eyelids sometimes to give a little bit of something on the eyes. I try to be pretty low-maintenance, and with the kids you have to figure out how to get ready fast. The less steps, the better! My hair is really straight, so I don
'
t have to do anything to do it. I just use the
Oribe dry texturizing spray
."
5. A Little New York Edge Never Hurt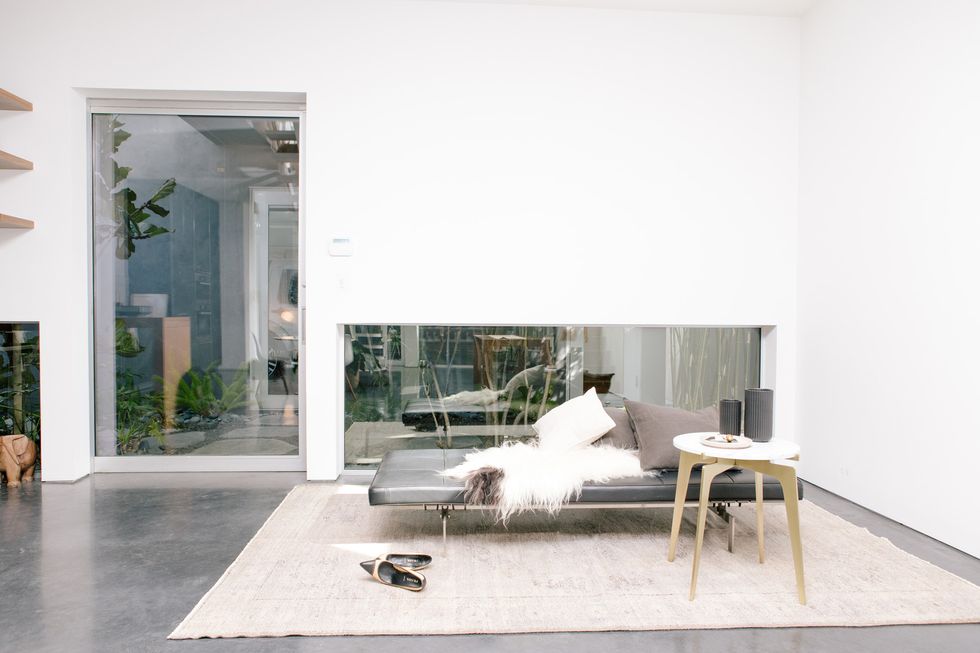 "I was really inspired by
The Line in New York
. I think when you go somewhere and you really love it, you use that inspiration. I'm not an interior decorator—
my decorator i
s
Martha Mulholland
—
and
I don't have that much time to go around and find out what would go well together, so it's nice to find something that you like as an inspiration and try to do something similar. I wish I could have just bought everything from The Line!"
6. Keep Palm Trees in Your Line of Sight