Stylest Is Creating Shapewear for the Pool
Three fashion industry veterans teamed up to create your new favorite water-friendly undergarments known as "Aqualingerie."
Fashion
Photo: Courtesy of Adam Franzino
At the intersection of lingerie, shapewear, and swimwear lies Stylest—a line of sculpting swim pieces that debuted this March. Co-founders Alia Yahia-Bosworth, Joyann King Michael, and Chrissy McCurdy turned the idea of a water-friendly bra into a fleshed-out swim subset, creating the concept of AquaLingerie (yes, you read that correctly).
The umbrella term encompasses a convertible swim bra, a smoothing panty, and a sculpting bodysuit—all of which can be worn beneath traditional swimwear or stand alone as separates. From there, they scaled up to create the concept of swim systems, or as Yahia-Bosworth says, "a full swim look." The three-step process includes choosing your sculpting layer (the swim lingerie), your actual swimsuit, and your accessory or "compliment chaser" (think pool-friendly sarongs and cardigans that will have people "chasing you down the beach to ask where you got them").
Each founder boasts a unique fashion resume. Yahia-Bosworth was chief style and marketing director at LOFT as well as an Elle editor. King logged hours as executive editor of Harper's Bazaar and as an editor at InStyle and Glamour, and McCurdy cut her teeth as a buyer at Ralph Lauren, Saks 5th Avenue, and Komar. A shared consumer-facing savviness complemented their fashion market knowledge to ultimately develop Stylest. Discover Yahia-Bosworth's take on how the brand concept came about, her thoughts on the current state of both swimwear and shapewear, and where they plan to go from here, below.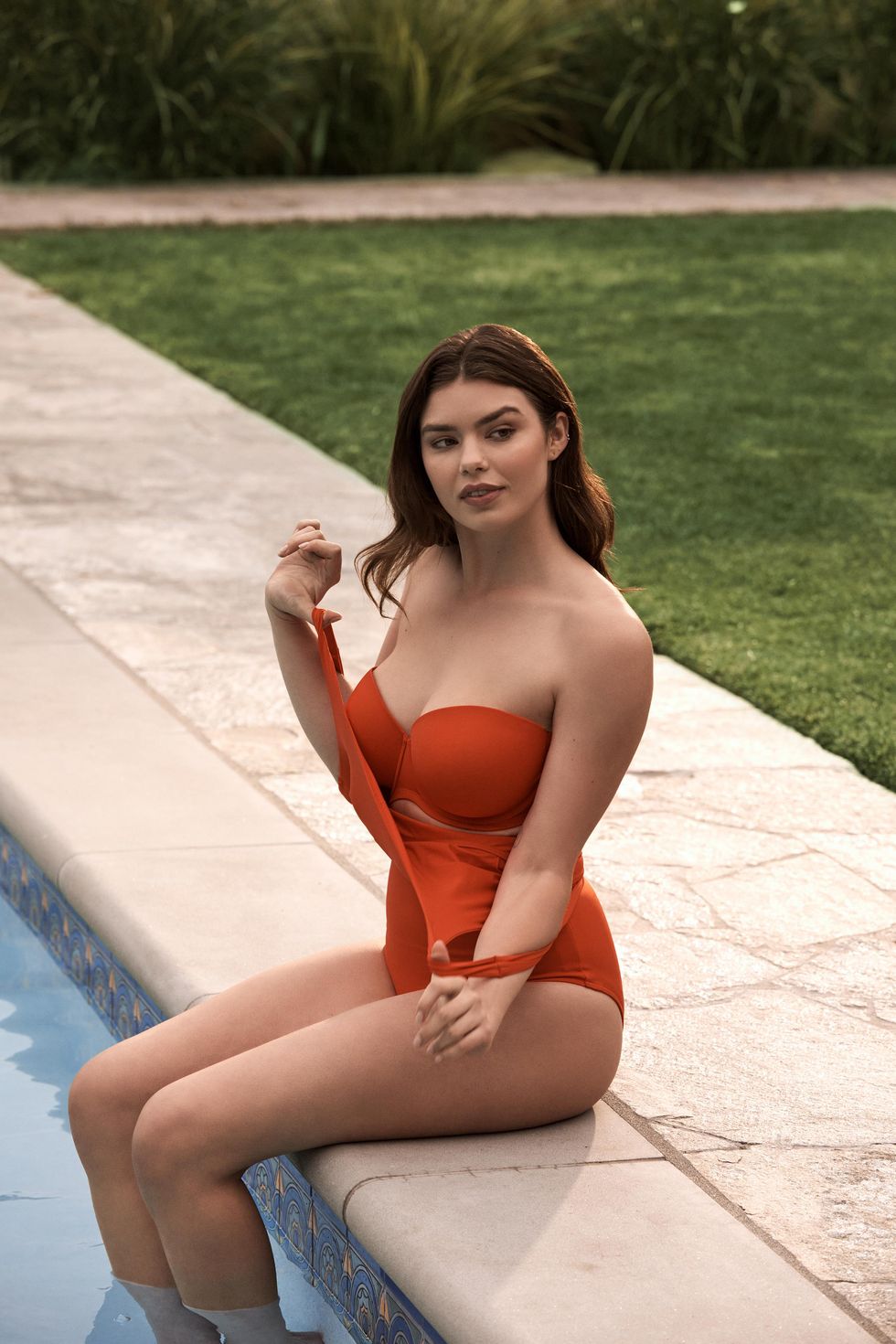 Photo: Courtesy of Adam Franzino
How did this idea of AquaLingerie and sculpting swimwear come to fruition?
"During COVID, Joyann made the switch to move out to Millbrook [New York] full time and was looking to get to know some women in her community. She invited a bunch of women over for a pool party. Chrissy was one of the women there. [We were all] in the pool and we heard this other woman say to her, 'Oh girl, your bra's showing.' She had on this long-sleeve, really cute swimsuit. The next day, Joyann and I [asked her about it] and Chrissy said, 'Oh yeah, I've always done that.' She has young boys, so [she did it] from a modesty and a chest-lifting perspective. She had this old Victoria's Secret bra that she'd taken into pools and oceans, but it's obviously not made for the water.
We all said, 'Well, this must exist.' We looked, and it really didn't. It's funny, our friends were saying they don't even go to the grocery store without a bra but will wear a swimsuit without one. [They wanted something] that not only lifts a little bit and amplifies your best assets, but makes you feel supported and held in. So we decided to go down the development process of developing the bra."
What was it like catering to an untapped market?
"We realized that what women want is for you to give them the total look that they know is going to be 1) relevant and 2) personalized to their style. I have a 4-month-old. I have about 10 minutes in front of my closet in the morning, maybe less, to figure something out and that has to take me through the whole day. It's the same thing with packing for vacations or meeting friends at the pool on the weekends. There are a lot of resources to give you cues on what outfits work together but not when you start going to the pool or the beach or vacation, unless you're in the designer luxury market shopping the vacation edit. You can't wear a silk caftan to the kiddie pool. We wanted to own this idea of a swim look because you're in it all day."
Why is this product different from other swimwear on the market?
"A lot of women don't realize when it comes to bras that 90 percent of the lift that you're getting is actually from the band, not the underwire. So swimsuits that have the shelf or built-in bras in the front don't actually do you that many favors. They might give you a little bit more service nipple coverage, but you're not getting the amplification. Also, our fabric has three times more compression than regular swimwear. It was really important to create swim shapewear that was also comfortable. Our suits feel like lotion; we went through a lengthy development process to find the right fabric. Everybody knows what shapewear does for your body, but you don't really want someone to see you putting it on. It's not a cute process and the fabric isn't meant to be comfortable. It's meant to serve a purpose. So we were like, 'Can we marry all of that together?'"
Photo: Courtesy of Adam Franzino
How did you all go about making shapewear chic?

"First and foremost, I think we are all wired to look at things through a fashion-forward lens, but at the same time, I've worked a lot in the mass market. I'm also originally from Wisconsin, and I'm the oldest of seven kids. I like to say I live in style purgatory. In the past, I have sat front row at Prada, but I can also go home to Milwaukee and talk to some of my friends who still want to look as fabulous as what they're seeing on the pages of Elle or Harper's Bazaar. None of us are out of touch with the reality of how people really need to dress and really want to feel about themselves. But we still have a honed eye to make sure that we're always doing that edit for our customer."
How did you come up with the term "AquaLingerie?" Did you purposely want to avoid using the term "shapewear" in the brand's title?
"I don't even think we thought about that. I was very, very pregnant, and I went to Millbrook. It was like one of the last trips before I couldn't fly anymore. And we were styling out what we were actually going to produce. Joyann and I went to bed at like eight o'clock in her huge king-size bed like you do with a girlfriend when your husband's out of town. So we're literally in bed and scrolling through Instagram talking about the bra. And I was like, 'I just don't want to call it a bra.' I know that's intuitive, but it's so much more than that. So we started thinking about lingerie as a concept, and I think I said, 'What about AquaLingerie?' It wasn't even a conscious decision to stay away from shapewear. I think we wanted something that really resonated as lingerie that you wear in the water."
Photo: Courtesy of Adam Franzino
Shapewear as a concept is becoming a little less taboo. You have all of these different brands starting to pay attention to the rest of the market and not make lingerie just a little lacy garment
"I still think there's education to be had there. When you say lingerie to many women, they do think about exactly what you just said—like a lacy teddy. But if you try to think of another way to explain a first layer that involves different pieces—like a bodysuit, a bra, and panty—lingerie is the only umbrella category that all three sit underneath. We racked our brains about that."
Why do you think no one's ever done this before?
"In the retail world, swim and lingerie are tough categories. They have higher return rates because fit is much more challenging. Breasts tend to be more individually sized than you can size a dress. You also have to carry a lot of inventory and sizing—think about the amount of bra sizes that exist. But as far as the idea, I don't know, a lot of people think a swimsuit that has a shelf bra in it checks the box. I don't think they realize that there could be something more than that."
I'd love to hear a little bit more about the feedback you've gotten so far. Are there certain demographics that are really responding to it? Is there anything you haven't anticipated that people are resonating well with?
"It's still really early for us, but it's fascinating how many people feel like a light bulb has gone off when you say 'lift your chest'—whether you're a size B or an E. It's funny because I'm actually the smallest chested of the three of us. When I was pregnant, I was a little more blessed. Now I've gone back to my Bs, but I still wear the bra underneath. Not necessarily because I need that chest support, but because I want a little more. We thought that the larger-size chests would gravitate towards the bra much more, but we're seeing an even distribution throughout. I think it's more of a mindset than something size-oriented.
We were away this past weekend for Easter with a couple of families, and two of the women were wearing our swimsuits. They were like, I don't necessarily love my body in a swimsuit, but this is the best that I've ever looked. That to me feels like we've done our job. The compression really does give you a waist; it's like wearing a belt."
Shop the Story:
Stylest
Stylest
Stylest