The 24/7 Treatment That Actually Delivers On Its Ten Minute Promise
The new gel mask from Soho Skin gave me a glowy complexion faster than my French press brewed my coffee.
Skin
Photos (L-R): Courtesy of Soho Skin; Courtesy of Sumiko Wilson
In my skincare arsenal, speed is a virtue. Yes, a product might have a long list of promises and yes, it might be perfectly capable of fulfilling every last one, but how long will it take? In general, our skin takes about three to four weeks to regenerate so this tends to be the sweet spot when testing a product's efficacy. But a lot can happen in 28 days and that's a long time to be waiting for a product's payoff. I don't think that there are any all-out quick fixes for skin ailments like cystic acne or more pronounced cases of hyperpigmentation and the sad truth (for impatient folks like myself) is that long-lasting skin solutions are rarely ever instant. That said, an immediate, brightening boost always piques my interest. I'm a woman on a schedule, after all.
Enter Soho Skin's 24/7 Treatment, a gel mask with a ten-minute turnaround. Per the weighted, tinted glass bottle, this formula can leave you with a brighter complexion by the time "All Too Well (Taylor's Version)" plays from start to finish. As a mask buff, the quick turnaround isn't entirely new—we shouldn't really be leaving standard face masks on for more than 20 minutes anyway—but this is a big step up from your standard wash-off mask. This is part of Soho Skin's 11-piece line of science-backed skin care designed with jet-setting Soho House members in mind. Their speedy approach revolves around the mitochondria (in case you don't recall, in science class we were taught that this is the 'powerhouse of a cell') to promote what they're calling 'High Skin Energy'. Using pointers from members as a guide, scientists worked with the Soho House team to create formulas that boost cell turnover to jolt new life into mitochondria that decline in function as we age. So basically, to get to the root of skin dullness as quickly as possible, the formula targets the most powerful part of our skin cells. This approach, Soho House says, is the next frontier of skin care.
When I saw Aalish Yorke-Long, the managing director of Soho House Retail, apply the 24/7 Treatment during a flight on her Instagram Story, I was intrigued—it was more discreet and appeared way more efficient than an in-flight sheet mask. "It's the ultimate product for the 24/7 Soho House lifestyle. It's full-on, it's hardcore," Yorke-Long explains. She likened it to Soho House's signature drink, the Picante (a cocktail similar to a spicy marg). "It's the ultimate pick-me-up. It puts your game face on," she says of the treatment. "I've internally called this product the 'game face'. It's all about when you need that little boost. If you want to go out, you want to socialize, you have a meeting, this is the wonder product that will give you a visible lift."
Though I'm not that frequent of a traveller, the fast-working brightening boost is something I've been seeking for a while. Lately, I've found that my skin is super dull and that prompts me to be more heavy-handed when I'm applying makeup. As a result, caking on glowy bases and doubling up on highlighters leaves my reactive skin looking and feeling even glummer, so when I put the 24/7 Treatment to the test, it was right on time. Keep reading for my review.
About My Skin
Photo: Courtesy of Sumiko Wilson
I'm lucky enough that my skin issues have been rather tame. I'll get a hormonal breakout every month and because I lack restraint, the picked and popped pimples will often linger around as scars. The bulk of my scarring is around my jawline and although a quick dab of concealer can render them invisible, I'd ideally like to break up with them entirely. On top of that, my skin tends to fall into a lull where I'm either so greasy that you can see your reflection in my forehead or so dull that I look like I've been drawn with pencil crayon. So brightening is a top tier must-have for any product that I integrate into my rotation.
The Formula
Courtesy of Instagram/Soho Skin
The ingredient lineup features a lot of brightening all-stars: lactic acid exfoliates to give a boost to sleepy skin while vitamin C brightens, hyaluronic acid hydrates, and magnesium and adenosine triphosphate (also known as ATP) detox the skin's microbiome.
There are two ways to experience the 24/7 Treatment: you can wash it off after ten minutes (or approximately one-third of an episode of New York Times' The Daily) or you can leave it on overnight. "The 24/7 treatment contains a combination of ingredients for both an immediate and a longer-term effect," says Soho Skin's Chief Scientist Daniel Whitby, who helped develop the line. "Applying to freshly cleansed skin for 10 minutes at any time of day allows the product to give the skin an instant boost of plumping hydration with lactic acid to give immediate benefits on skin tone and pores." As a result, he explains, the skin immediately looks fresher and brighter.
As an overnight treatment, it's more intensive. "By applying the product at night, the formulation helps the skin reset, restores cellular energy levels and boosts activity in the dermis and epidermis," he adds. "Skin energy levels are restored and the skin appears lifted and more radiant."
But this is not to be confused with an overnight cream, which Soho Skin has in its debut lineup of products and is currently available in Soho House bedrooms around the world, and online at sohoskin.com and Bloomingdale's. The 24/7 Treatment's draw is "around restoring depleted energy levels to dull, stressed skin, restoring radiance and improving appearance," Whitby explains.
On the other hand, "the Overnight Cream contains ingredients which work alongside the concentrate to boost extracellular matrix components improving both hydration and elasticity whilst protecting skin lipid integrity so focuses on sensory aspects of skin such as feel and texture," Whitby tells Coveteur. "The formulation also contains actives that increase repair function in the skin overnight."
Soho Skin
My Review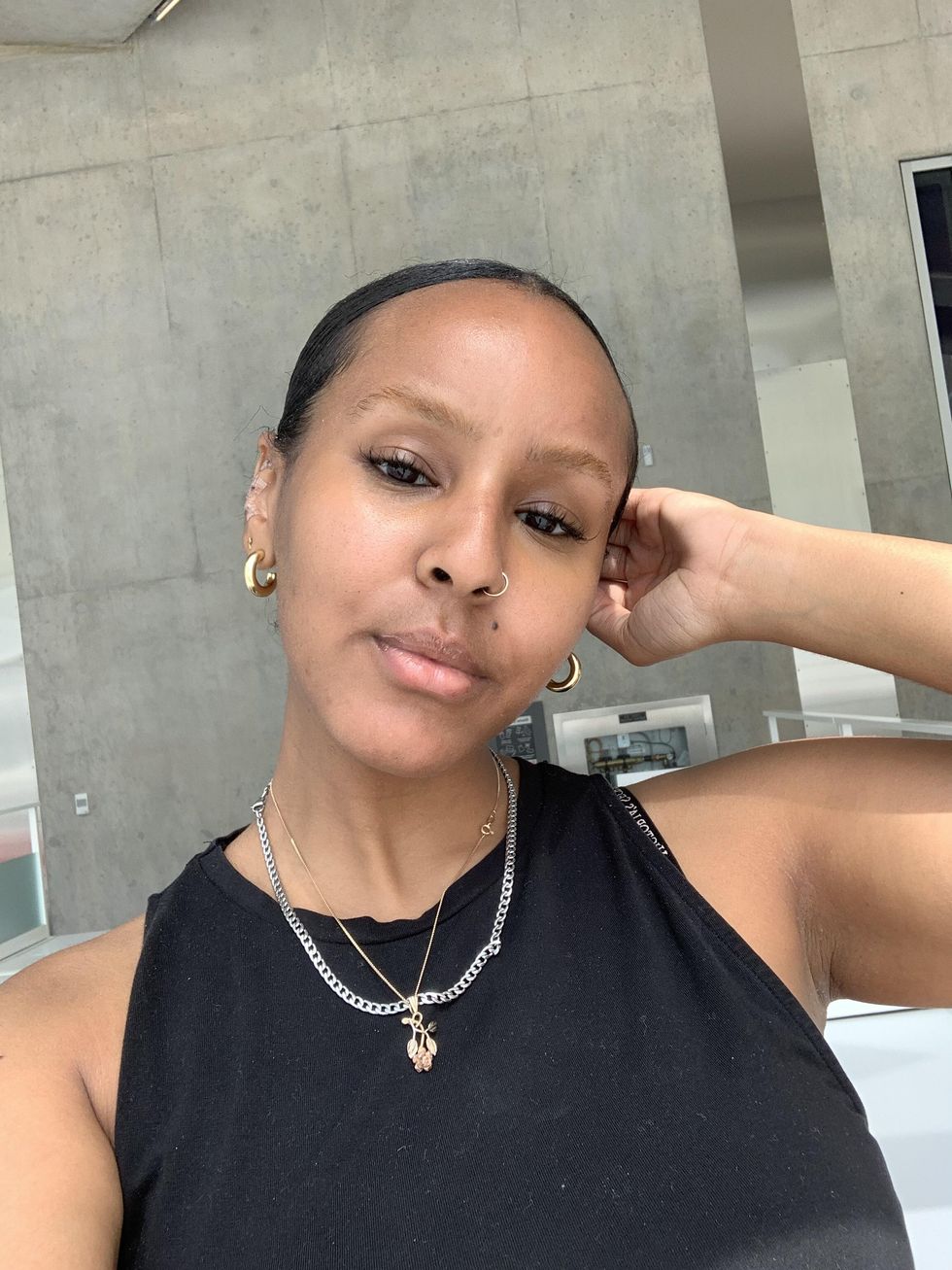 One day into using Soho Skin's 24/7 Treatment.
Photos: Courtesy of Sumiko Wilson
Three days into using Soho Skin's 24/7 Treatment.
Photos: Courtesy of Sumiko Wilson
To experience the 24/7 Treatment in all its glory, I tried it both ways: overnight and in a rush. When I applied it before bed, I applied a thin layer to my face and neck. Since the texture is so thin, it's nearly impossible to glob on, which is great if you don't like the feeling of sleeping with something on your face. I happened to start the trial during the week that I typically break out each month and the cycle of breakouts and scarring begins. So on day one, there are fresh blemishes that popped up thanks to my time of the month. Within a few days they tapered into scars, but since I had been using the 24/7 Treatment each night, I found that they faded a lot faster than they typically would.
When I woke up after day 3 (pictured above), my dark spots weren't completely gone, but I didn't expect them to be after just a few nights. My dark spots tend to get so bad that they'll still peek out under concealer, and this month they were far tamer. Plus, my overall complexion was visibly brighter. After a week of nightly use, my dark spots still hadn't vanished, but they were significantly lighter and my texture appeared more even.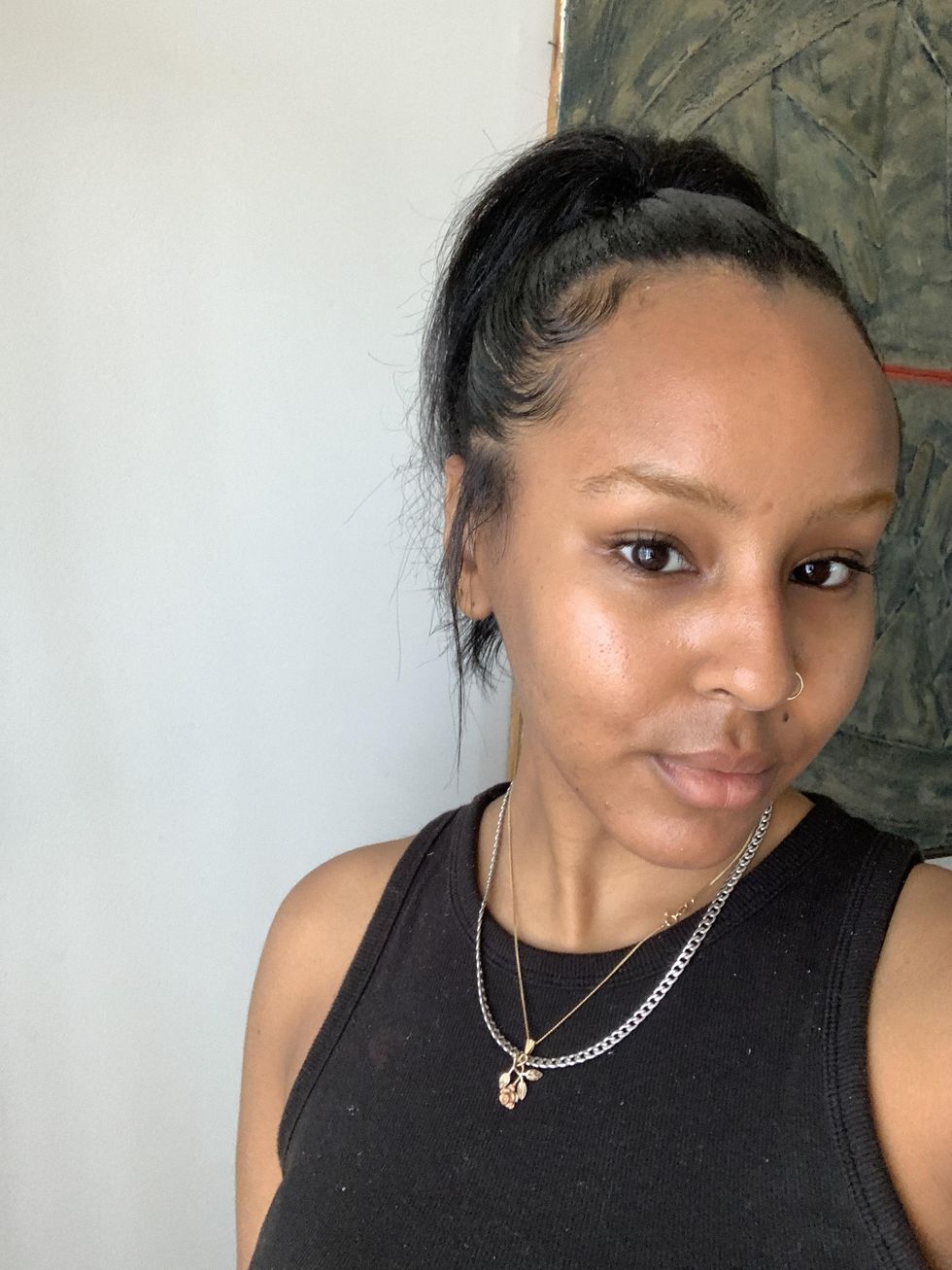 One week into using Soho Skin's 24/7 Treatment.
Photos: Courtesy of Sumiko Wilson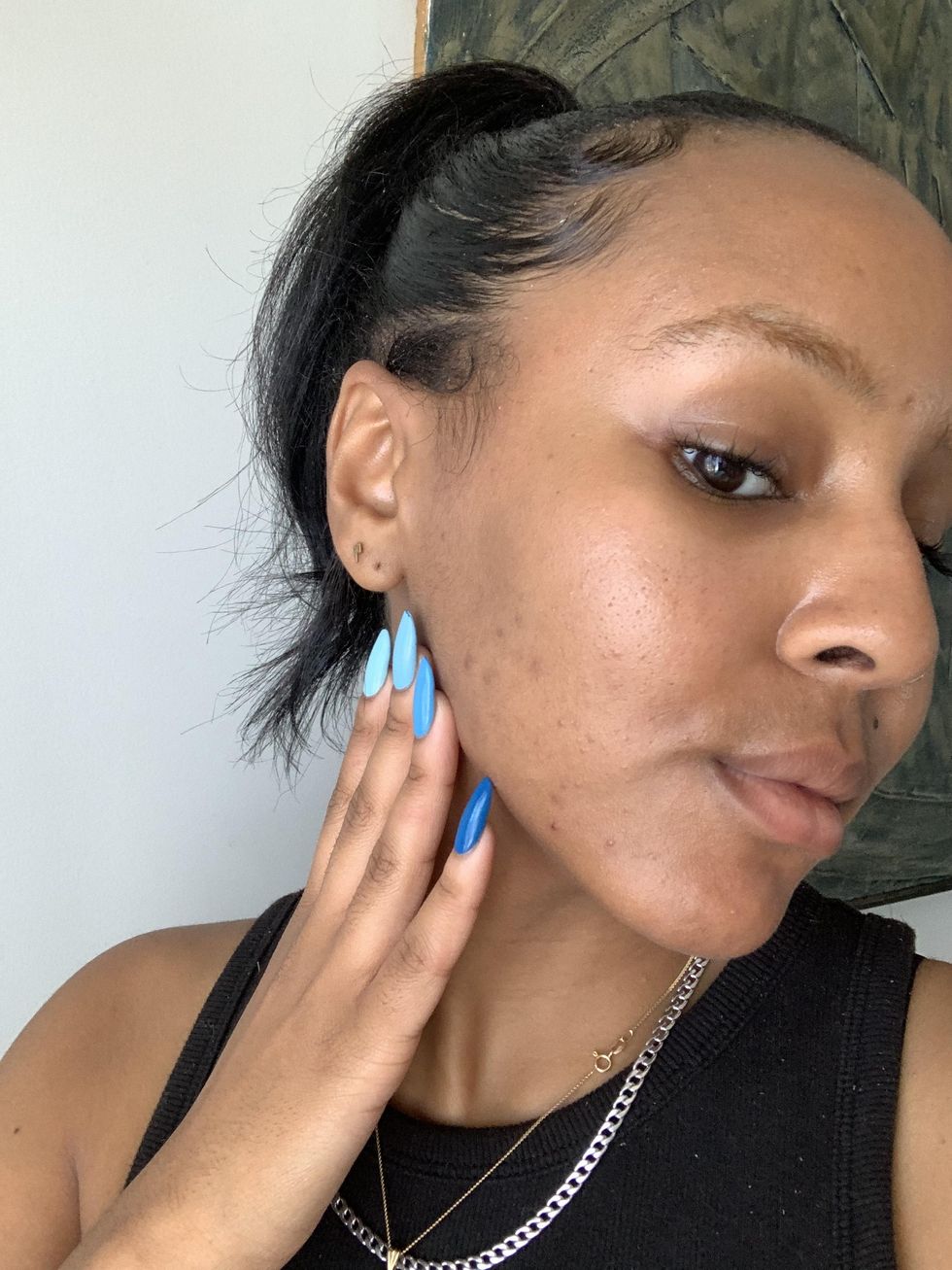 When I worked it into my morning routine (after a night that I didn't wear it to bed), I was obsessed with the instant glow that it left on my skin. It was so noticeable that I didn't even bother reaching for my go-to skin tint. When I rinsed it off, my skin felt super supple and it made for the perfect base on days when I did decide to opt for a full face. And just like that, I have a new skin savior on my top shelf.