Skin
Patience is definitely a virtue.
With the rise of online shopping, tailored Instagram ads, and enough TikTok videos to keep your shopping cart constantly filled, instant gratification has become somewhat of a norm in our era. But when it comes to skin care, expecting immediate results could set you up for disappointment. True, some products are formulated to work their magic overnight (think an acne-drying lotion meant to reduce redness in your flare-up), but others may take weeks to create visible results (which may explain why your hyperpigmentation seems so "stubborn"). The question becomes, then, when should we expect to see the benefits of the skin-care routine we remain so dedicated to? The answer, in short: It's a marathon, not a sprint.
According to board-certified dermatologist and milk + honey medical director Dr. Tyler Hollmig, it takes about one month for newly formed epidermal cells to turn over as the most superficial cells are replaced by new ones. Some products that target deep-rooted skin-care issues may actually require all four of those weeks (and beyond) to show results. But you don't necessarily need to wait four weeks to reap the benefits of every single product you use. "Results can be seen from topical products over variable time courses," notes Dr. Hollmig. "The timing of results depends on what the product is trying to target in the skin, as well as on the mechanism of its active ingredient(s)."
We tapped Dr. Hollmig as well as another board-certified dermatologist to learn when to expect results from your skin-care routine.
Products That Give Instant Results
Even though we'd bet your eye cream won't eliminate your fine lines overnight, there are definitely some skin-care products that give quick, short-term results. "The outermost layer of skin is made up of dead cells, and while these dead cells can't change, you can make them look better instantly but only temporarily," explains board-certified dermatologist Dr. Jessie Cheung. "For example, you'll see instant plumping of the skin with a good moisturizer, but that moisturizer won't change the architecture of your skin. Exfoliants will also deliver instant gratification by removing dull, superficial dead skin cells to reveal an immediate glow."
That being said, Dr. Cheung notes that oftentimes skin-care products will combine ingredients that deliver quick results with ingredients that are slower-acting but produce lasting effects. Case in point: moisturizers and exfoliating cleansers that are combined with skin brighteners. Other products that you'll likely see immediate results with are face masks, whether they're meant to impart a radiance on the skin or they're used to refresh and soothe.
Glamglow
Loops Beauty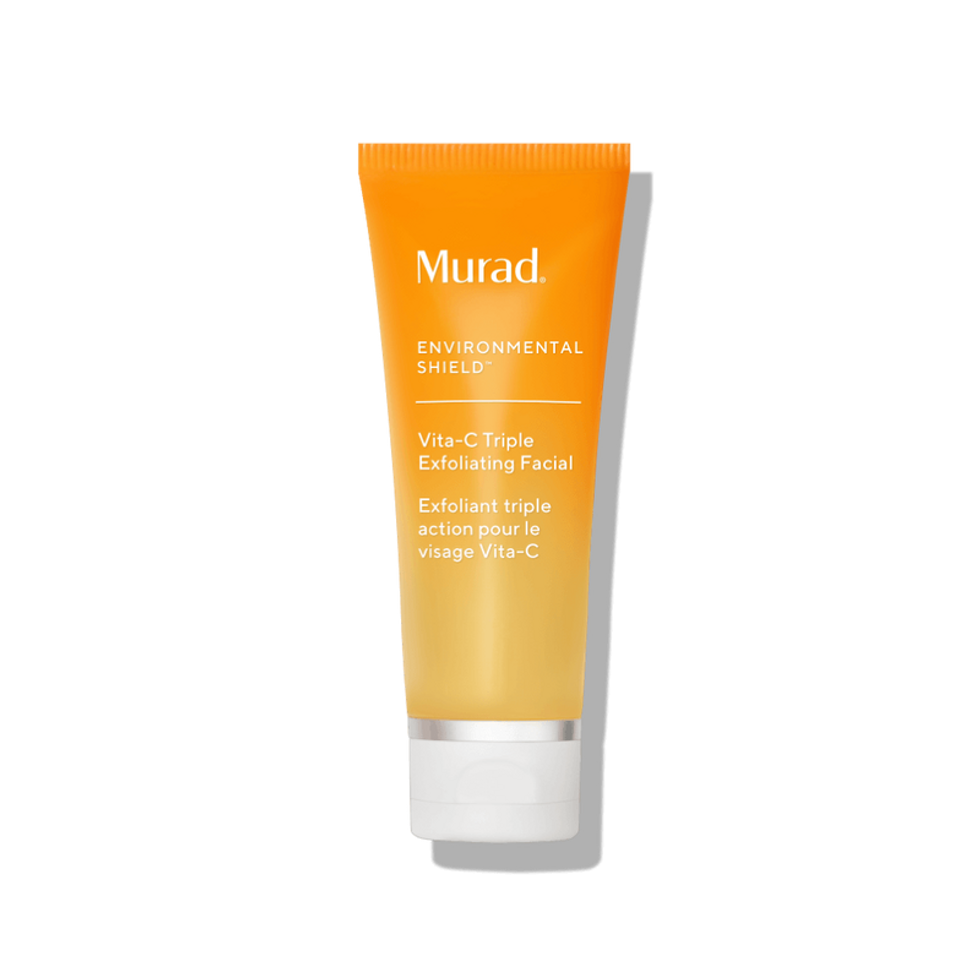 Murad
Products That Take Two to Four Weeks
If you're struggling with breakouts, slapping on an acne-busting face mask (unfortunately) won't make them disappear. Sure, they're effective at swallowing excess sebum that could contribute to acne, but Dr. Cheung says we should nix any expectation that products targeted for acne will banish them immediately. "Products that create long-lasting changes in your skin will never give instant results," she says. "Topical acne products have to get through the top layers of the skin to kill bacteria, decrease inflammation, and unclog pores. It can take weeks to see any difference, especially since your skin may go through an initial purging phase."
Like the right moisturizer formula, your everyday cleanser is another example of a product that gives instant results but can have long-term effects, too. "One goal of using a cleanser is to reduce dirt and grime, which may lead to acne (among other skin conditions)," says Dr. Hollmig. "Any time a preventative approach like this is taken, it takes time to see improvement. A cleanser is not going to get rid of an active pimple, for example, but it may reduce a patient's propensity to make more pimples in the future." Bottom line: Keep your cleanser on rotation, even if you don't think it's doing anything.

Yes to Tomatoes
Dr. Jart+
Babor
Products That Take Months

Unimpressed by that scar-fading cream you just started using? You may just need to be a little more—dare we say it—patient. As it turns out, products with active ingredients take time to work. Take retinols, for example. They're used to help stimulate collagen growth in order to reduce fine lines and acne scars, but as Dr. Hollmig tells us, this is definitely a slow roll, with results visible over months and even years.
Dr. Cheung agrees, adding that collagen-stimulating products or products that break down unwanted pigment work in the deeper skin layers, so it can take months to see, with the naked eye, any lasting effect. "Have patience, and give them at least a few skin cycles before you pass judgment," she says.
Rodan + Fields
A Method by Tina Alster, MD