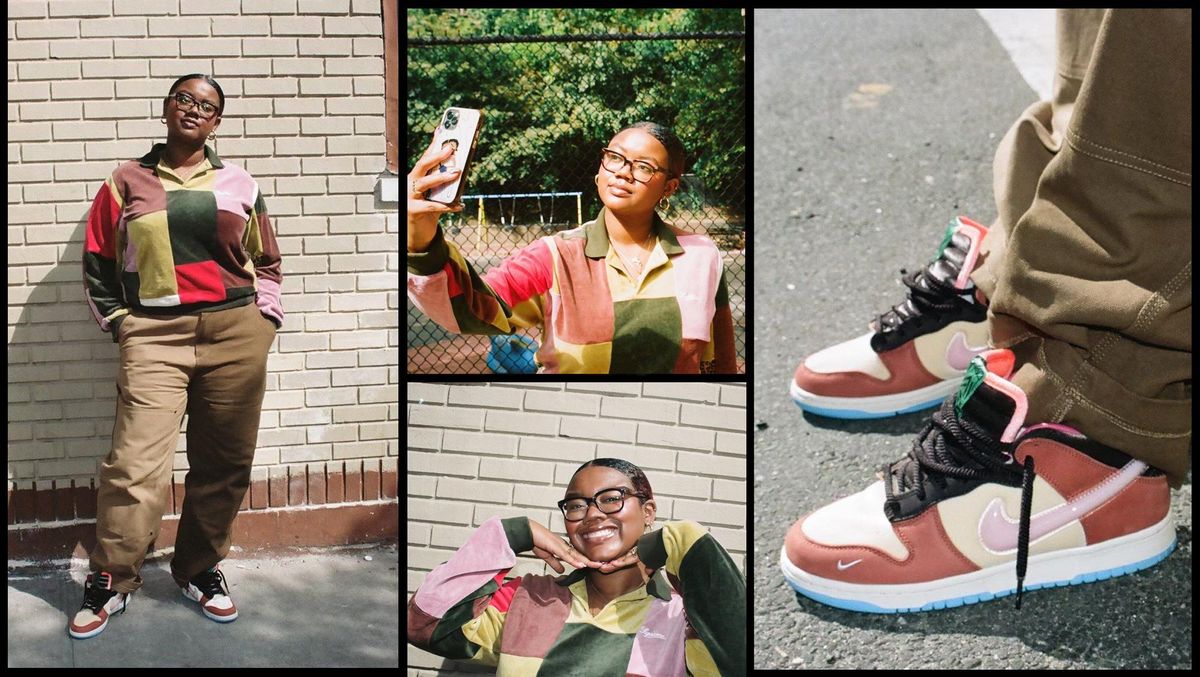 How To Shop Like
How to Shop for Sneakers Like an Expert
Sneaker savant Jourdan Ash weighs in.
Graphic:
Ashley Combs
Welcome to our How to Shop Like series, where we spotlight personalities within the fashion industry and take a deeper look at how they shop—think all the best insider tips and tricks. This week, we're chatting with Jourdan Ash, the founder of True to Us, an online platform that centers Black and Brown women as the foundation in the streetwear and sneaker industry.
There's shopping and then there's sneaker shopping. The world of the "hype sneaker" is convoluted and confusing, filled with drops, flips, and collaborations. The quest to achieve your next pair can quickly become an all-out treasure hunt. So, we decided to consult an expert to share all her tips and tricks.
Jourdan Ash, the founder of True to Us, has made it her mission to fuse Black and Brown women into the sneaker world by uplifting their stories, bridging gaps, and shattering boundaries. Alongside these aspirational goals, Ash knows the industry extremely well. She knows not only where to shop, but how to shop. Most importantly, the sneaker savant understands that trends are never worth sacrificing your personal style. Continue to discover how Ash shops for sneakers and what's on her current wish list.
Shop Jourdan's Current Picks: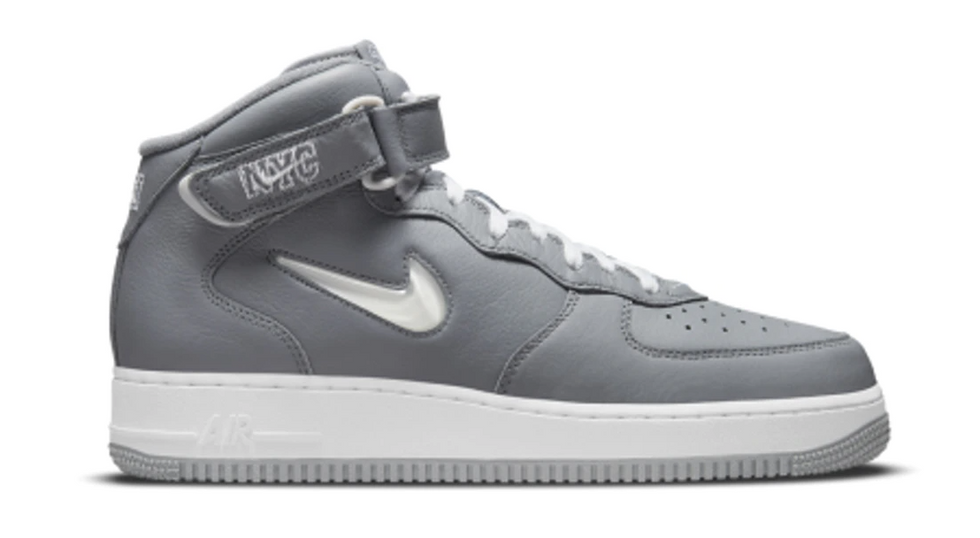 Nike
Salomon
Factors to keep in mind when purchasing sneakers?
"The only factor to keep in mind when buying sneakers (outside of making sure they're authentic) is making sure you like them. I get asked a lot, 'What's a good first sneaker to buy?' My answer is always whatever you like. Too many times people are buying things that are popular just to have it. Buying things that you like is the key to having your own style."
Tips for hunting down a hard-to-find pair?
"Tip number one: make sure the sneaker actually exists. Sometimes on the internet, it's easy to fall in love with a pair of kicks that someone made on photoshop. Tip number two: eBay is your best friend! I have a great friend, artist, and vintage sourcer, Melinda Griffith, who helps me out alot on eBay. I can find good vintage dunks for a reasonable price there. Otherwise, I like Flight Club. Flight Club has been in my life since high school, so it's like a history of sneakers in a retail store for me. I can typically find any pair I've been looking for through them."
Best pair for a first-time purchase?
"The best pair of kicks for a first time purchase is whatever you gravitate towards. Think about your own personal style and lifestyle and how you'd like to elevate it. Do you hike a lot? Have a more sporty style? Try a Nike Lahar low or a Salomon. If dresses and skirts are more of your thing and you're looking for a way to introduce them into your wardrobe, try a Nike Blazer or Converse for a high top option. For something low, I personally enjoy a Nike Daybreak."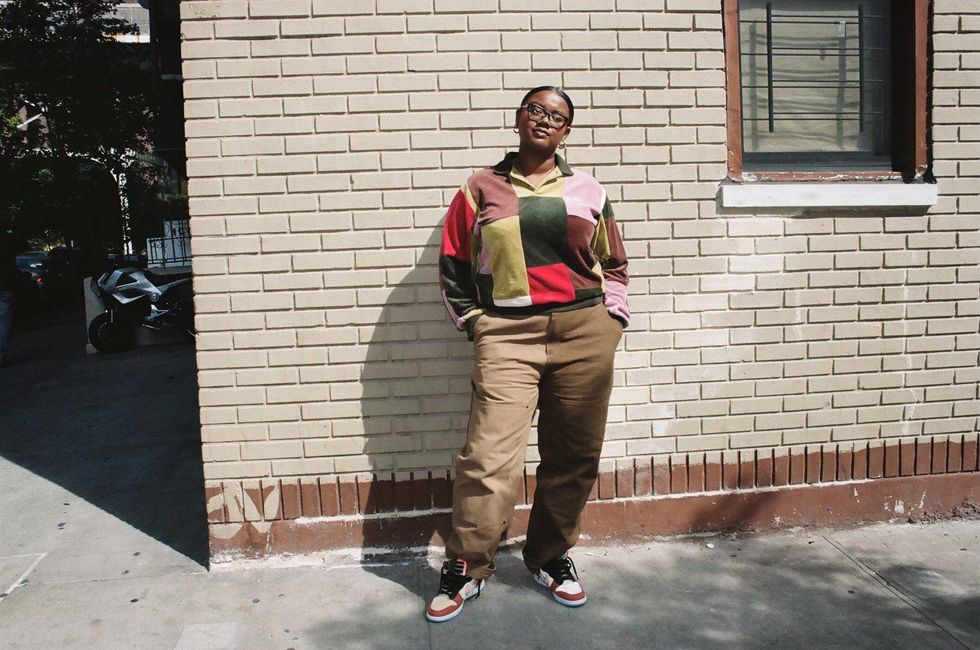 What's on your sneaker bucket list?
"The Stussy x Dunk Low Pro SB 'Cherry,' Olivia Kim Black Cat 4's, and especially the Women's Air Max Plus SE in 'Enamel Green'—they were a part of a pack when I was in high school that I have yet to find."
Favorite sneaker brands?
"Most recently, my favorite brand is New Balance. The 2002R has been my favorite so far; it feels like I'm walking on clouds. I was lucky enough to be able to buy the Salehe Bembury x 2002R 'Water be the Guide,' and they were so comfortable and colorful. At this point, I'll probably try to buy any sneaker Salehe makes. I'm hoping to buy the NB x Salehe Bembury 574 Yurt's next! My all-time favorite is Nike, though. Nike has always been a part of my life."
Most worn pair?
"My De La Soul SB Dunks. They've been through everything with me since 2015. I need to get them fixed up, but I'm never giving them up."
Pre-owned or new?
"New."
Tips for scoring discounts?
"I don't get discounts. I pay full price for everything."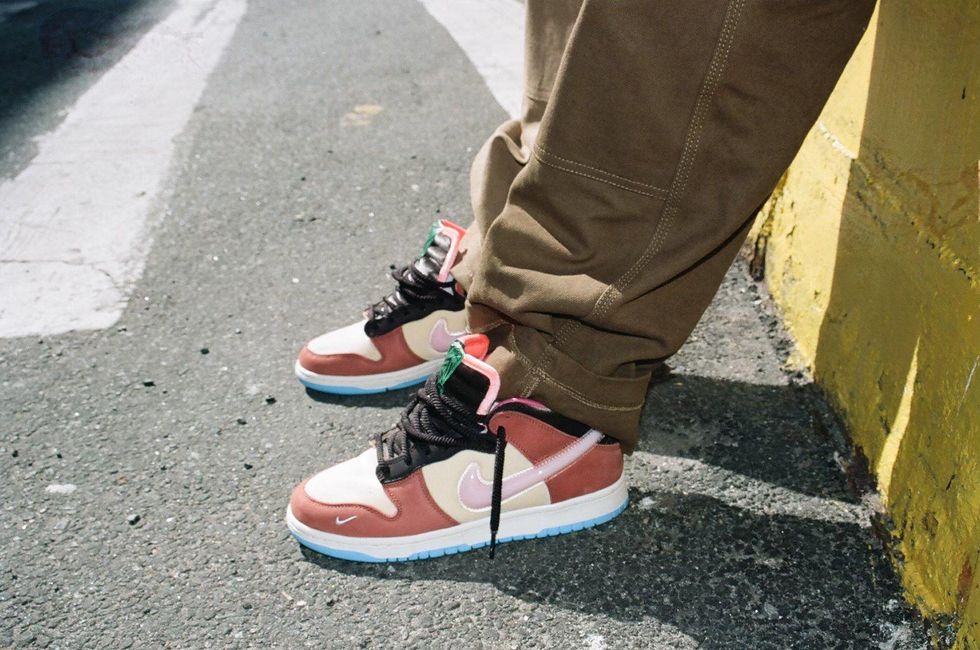 How do you stay up to date on sneaker trends?
"My community keeps me up to date. I look at what's on their feet and what they do to decipher 'wearability' and versatility. I like looking good and feeling comfortable."
How do you gauge what sneakers should cost and what is unreasonable?
"I personally don't enjoy spending over $240 for sneakers. Honestly, over $200 is where my conscience kicks in and says, 'Girl, what are you doing?' If it's a pair of kicks I wanted as a child, I might do it. But, I also think about how much I'm going to wear them."
Classic silhouettes that never go out of style?
" Nike AF1 is an eternal classic."
Where do you like to shop for sneakers? Online? In-person? Apps?
"Shopping for sneakers online has become more nerve-wracking than it actually should be. It's not fun or easy. So, shopping in-person is my favorite. I like being able to ask people their opinion on the shoe or quick questions about the fit in person. It creates the same sneaker buying experience I had as a kid. Because I wear a common size, sometimes stores have my size sold out. Then, I go to apps like Goat."
Where best to find inexpensive styles? Where to look for more obscure pairs?
"eBay."
Favorite sneakerheads to follow?
"@nerdlikejazzy, @b.hov, @blackmissfrizzle, @aaliyahnoel, and @thenotoriouskia."
Any last tips?
"Be yourself. Buy the brands you like. Support the brands who support you."