This Menswear Stylist Believes It's Not about What You Wear But How You Wear It
Courtney Mays' job is to create great looks, so she knows a thing or two about shopping.
How To Shop Like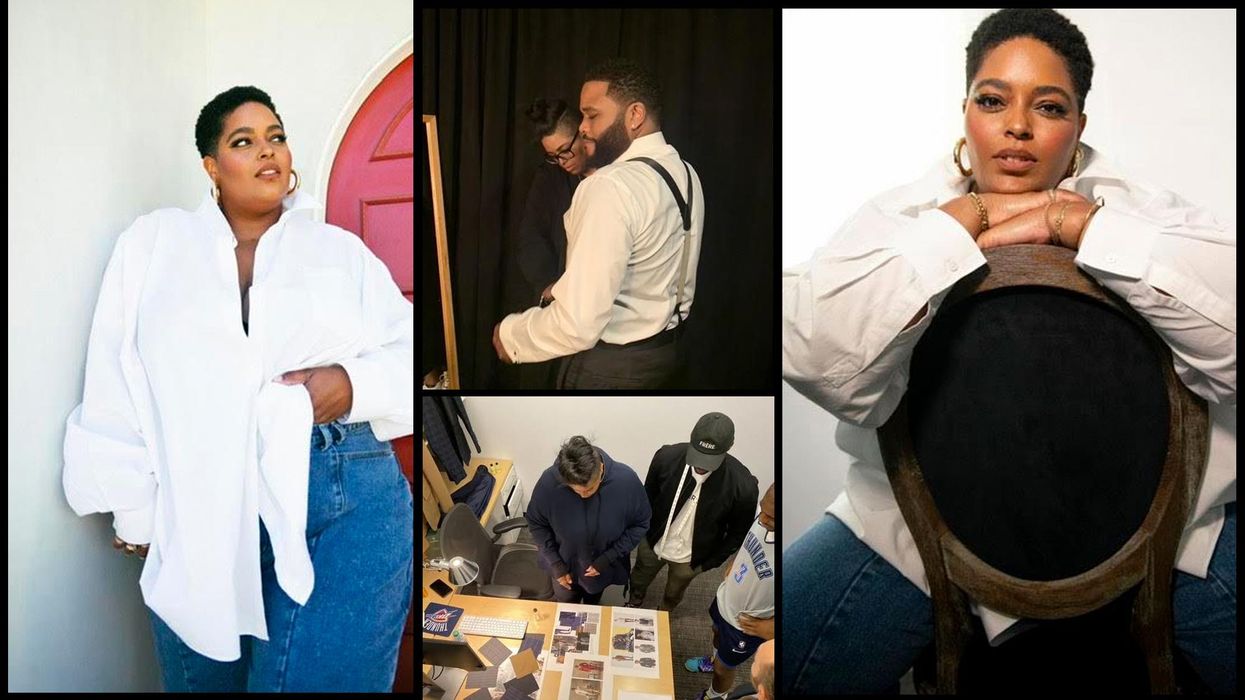 Welcome to our How to Shop Like series, where we spotlight personalities within the fashion industry and take a deeper look at their personal relationships with style and how they shop—think all the best insider tips and tricks. This week we're chatting with stylist and menswear consultant Courtney Mays.
Courtney Mays knows how to make clothes look good on people. After training under Tracy Reese and Rachel Johnson, and later launching her own firm in 2012, the menswear stylist specifically known for her work with athletes understands how to craft a look (and wardrobe) for someone according to their body and their personal style, versus succumbing to of-the-moment industry trends. Her clients, ranging from NBA stars Kevin Love and DeAndre Jordan to actor Anthony Anderson, are photographed to the utmost degree, which shifts her purpose from piecing together cool ensembles to ensuring these images are timeless—a real feat when you consider the trends we are all bombarded with on a regular basis.
Not only is Mays' styling arsenal a harbinger of allure, but a medium of communication, as well. "I have always believed that fashion is a form of art. It is a vehicle for storytelling," she says. "A person can give you windows to their personality, the things that are important to them, and what is going on in their life if you pay attention to what they are wearing." That notion extends to her personal style, as well. And as a plus-size woman, Mays' shopping habits have to work a little harder simply to secure what she wants in her size—a problem that is still very real for many. A wealth of sartorial information, the talented stylist allowed us to pick her brain for all the best tips and tricks from where to splurge versus save to the menswear staples we can all rely on.
Shop Courtney's Current Picks: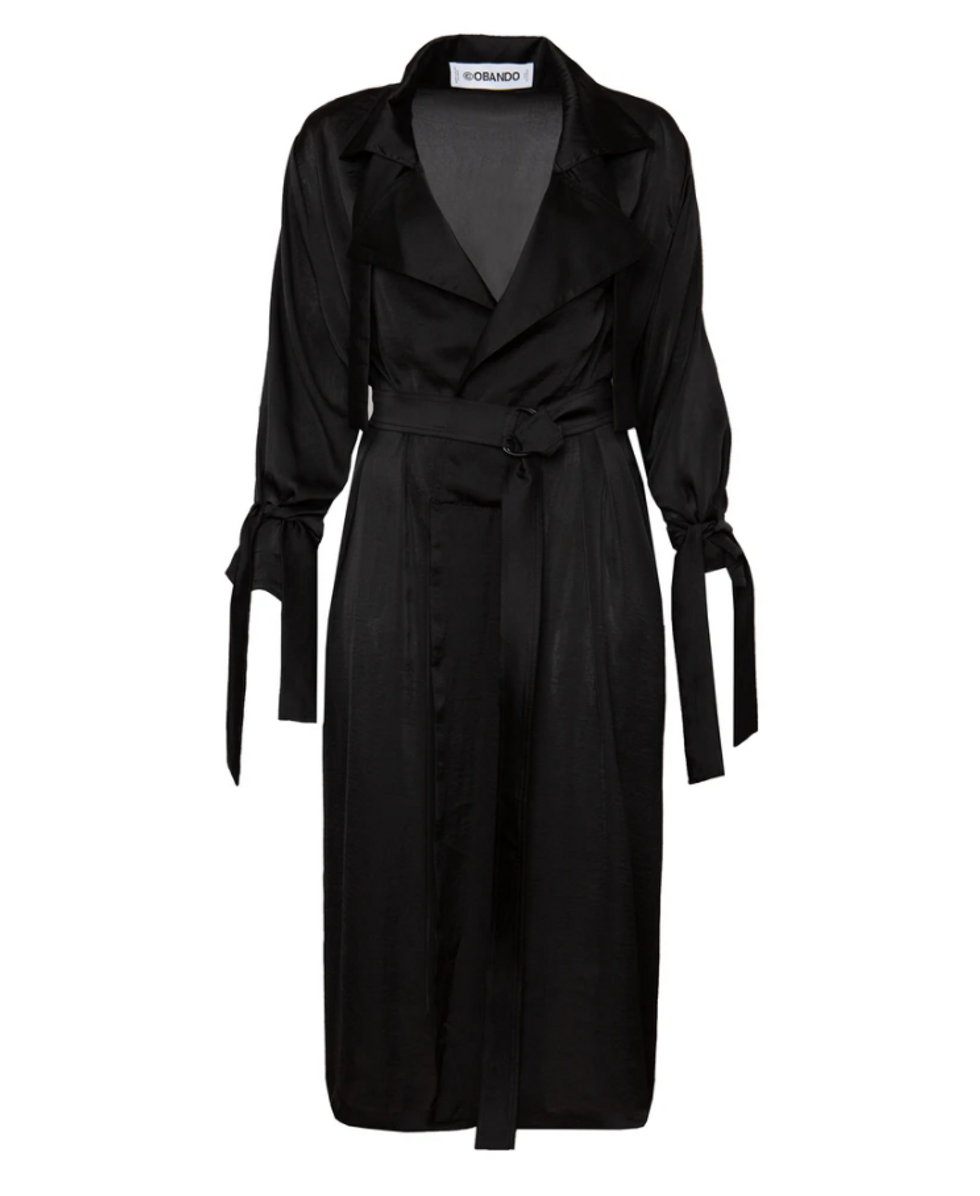 Juan Carlos Obando
Saint Laurent
Uncle Nearest
Black Owned Everything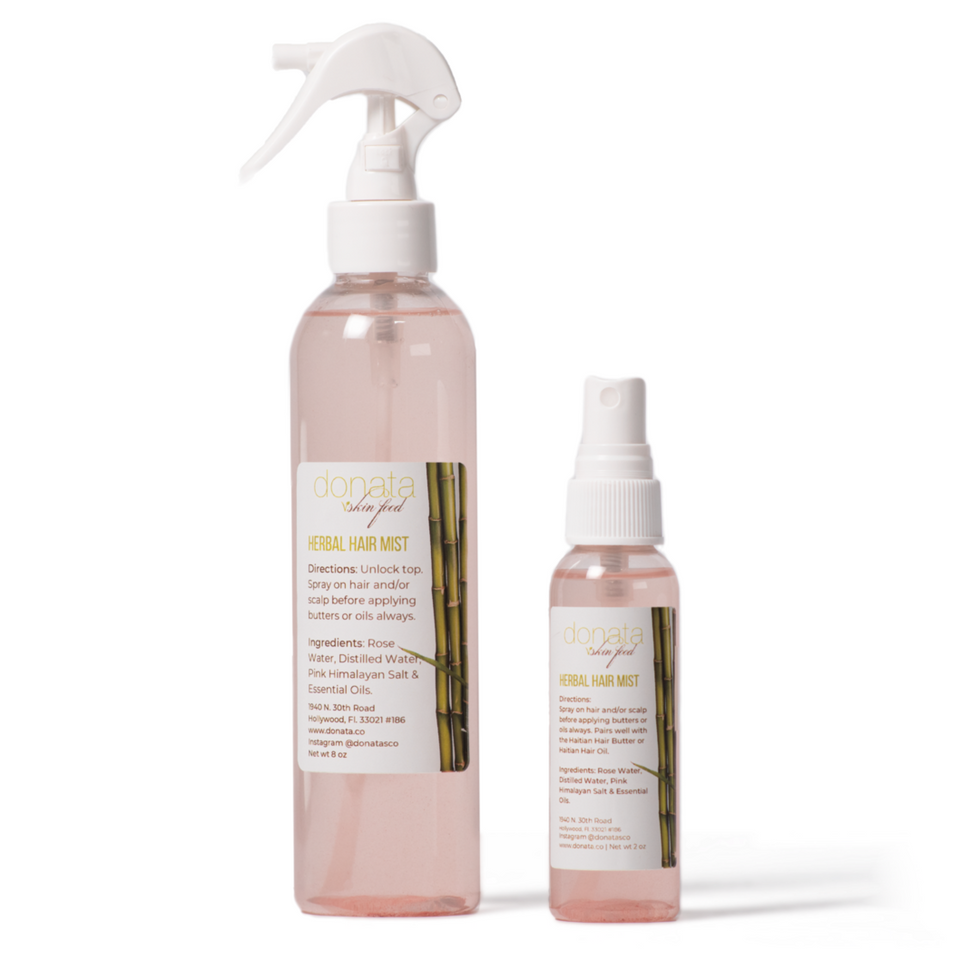 Donata
What is it about fashion, and menswear specifically, that initially drew you in?
"I have always believed that fashion is a form of art. It is a vehicle for storytelling. A person can give you windows to their personality, the things that are important to them and what is going on in their life, just by paying attention to what they are wearing. I think I have always identified with and admired the tailoring of menswear. When I was a little girl my parents went to a black-tie event, and what I remember most (besides the strawberry cheesecake they brought home in a foil swan) is that my mom wore a Brooks Brothers men's black tuxedo with satin lapels, a bustier, and patent leather pumps! She took a garment that was traditionally masculine and made it her own. My first style icon!"
How does your work as a stylist influence how you shop or get dressed? What has it taught you about more logistical aspects, like the fit or construction of a garment?
"I am the ultimate tomboy. My ideal look is a tailored suit with a t-shirt and sneakers. I would wear that EVERY. SINGLE. DAY! Not that I believe suiting is inherently masculine, but hey... I'm OK with being androgynous."
Fashion versus style—what's the difference to you?
"I never want to focus on putting my clients in the latest trends—what the world deems as most fashionable or highly coveted. I want to identify true style sensibility and create images (or a wardrobe collection) that are timeless and lasting."
Do you have a uniform?
"All-black everything! The combination of a wide-leg trouser, tee, and oversized blazer, usually with an all-white low Air Force 1 and LOTS of jewels. Also, wait—who am I kidding, really?—black oversize sweats, scrunch socks, a tee, and a blazer. I guess my trousers are a part of my vision board look (ha!), but the jewels never go away... I have on layers of jewels even with my pajamas."
Fashion has the power to…(fill in the blank):
"EMPOWER!"
In your opinion, what fashion items are worth the splurge? And vice versa, what can be done on the cheaper side?
"Splurge on classic suiting and watches....save on very trendy pieces and basics. For example, I love Uniqlo socks and crew-neck tees. I use them in my own closet and always have them in my kit for my guys."
Favorite purchase of all time?
"My partner Candice always coveted the pinky ring Deborah Kerr wore in An Affair to Remember. For our anniversary a couple years ago, I asked our friend Avo (who is a jeweler) to recreate an emerald-cut emerald, but set it horizontally. It's such a beauty! Something about it is so nostalgic. Of course I had to copy her homework and make one for myself—mine in onyx as a nod to the pinky ring my dad used to wear growing up."
Do you believe in dressing for your body type? Why or why not?
"I believe that being aware of what silhouettes and styles are most flattering is important. I also believe in proper undergarments. BUT I do not believe in being limited because of size. I am a plus-size girl, and there are so many times that I say to myself, 'I wish that came in my size!' It is so unfortunate that I still have to say that."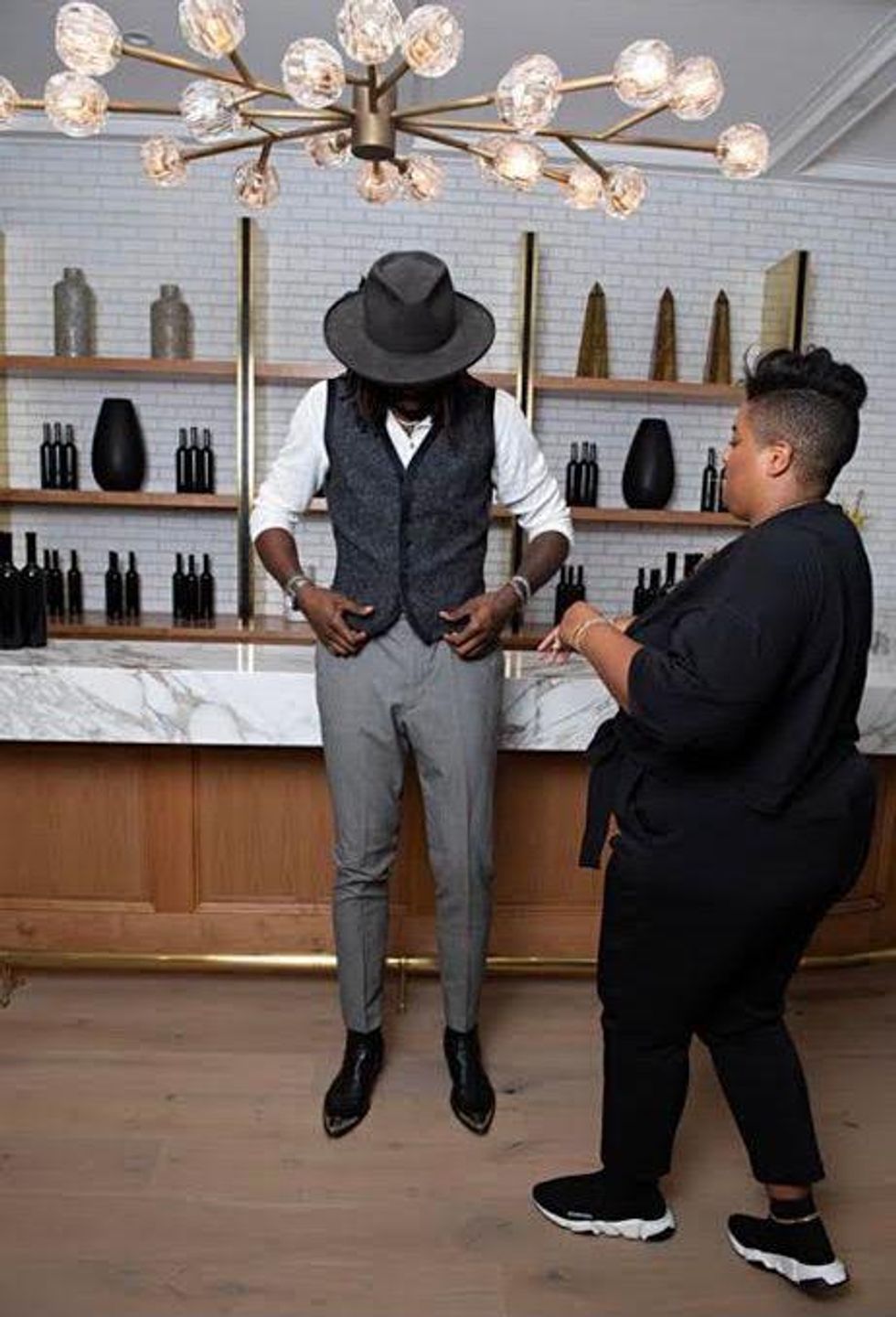 Photo: Candice Jones
What's your advice for finding clothes that fit well outside the realm of straight sizing, whether that be from your own experience, or from working with a 6'8'' athlete?
"The internet is your friend. Being plus-size, I have never really had the luxury of walking into a retail store and finding something that fits me. In fact, maybe that is the true reason why menswear resonates with me so much—because I spend so much time shopping for myself...initially to find pieces to fit over these curves. I love shopping sites like 11 Honoré, Henning, and Universal Standard.
"So often, people assume basketball players have to get everything custom—that every player has some kin to the jolly green giant or something crazy. I've learned to understand body types. While Kevin Love and DeAndre Jordan have long arms and legs, they can definitely shop amazing knits and vintage tees in 'standard' sizes. Also, we are never married to the number on the tag. A 36 in one designer may fit completely differently in the next. Buy the size that fits best, and utilize your tailor to tweak. It's definitely easier to size up and make adjustments to make it more fitted."
What are some brands/designers who have impressed you in the plus-size fashion space?
"Henning has unquestionably mastered tailoring. The suiting is classic and timeless. I love everything about the fit and fabric. I know that these suits are pieces I will have in my closet for years to come. Cheers to Lauren Chan! I am also so impressed with Skims and Good American. Size inclusive...skin-color inclusive... I LIVE in the Good Sweats and Skims Scoop Neck Bra."
As this is your area of expertise, which menswear items do you keep in heavy rotation in your own wardrobe?
"My favorite and most worn item is a classic oversize white Margiela button-up shirt from the men's collection. I wear a women's 12, so finding shoes adds another layer to the shopping struggle; men's shoes have been my saving grace. If it's not an Airmax, Bass Weejuns are a weekly go-to."
Where do you begin when getting dressed? Shoes first? Top down? A reference image?
"For myself, I usually start with trousers. That sort of dictates the rest of the look. Is it a sweatpants day, or a high-waist trouser day? I am, however, unquestionably a uniform girl, so you're most likely going to see me in a variation of the same shit most of the time. I will play with overcoats and shoes for diversity though.
"With clients, so many different pieces draw out inspiration. There definitely isn't a rule of thumb here."
Which stores do you frequent? Do you prefer to shop online or IRL?
"There is nothing like going into a store and actually touching the fabric, but I'm so used to shopping online for myself, it has become my modus operandi even for clients. I DO love small boutiques that offer a multi-hyphenate experience. I want to buy the sweatshirt, smell the candle, learn about a new photographer, and re-up on my serum all in the same spot, but with all the quaintness of supporting a small business. My favorites for the guys are The Webster, Mr. Porter, Just One Eye, and GOOP. For myself, I have an ASOS habit. I've had to delete the app off of my phone several times. I think seeing so many options in my size is a little too exciting, but not always rewarding because the quality is not always there. I also love finding smaller brands that are size inclusive, like Wray New York, Coyan Studios, and Diarra Blu. Let's also not get it twisted...I will tear down a Target. Go in for mouthwash, leave with the entire Who What Wear collection."
Fashion bucket list: What are three items you would love to own one day (regardless of price)?
"A vintage Audemars Piguet Royal Oak, a made-to-measure Purple Label Ralph Lauren black tuxedo with grosgrain lapel (THE GOAT), and ANY Mickalene Thomas collage."
Favorite designers to dress your clients in?
"Pyer Moss, COS, Fear of God, Aime Leon Dore, Romeo Hunte, Daily Paper, and Greg Lauren."
The mark of a great outfit?
"Confidence. It's never what you wear, but how you wear it. Yep. That mantra is very, very true. But I'm always impressed by the people who look like they just threw something together, but every element seems considered—fit, accessories, everything! Effortless style will always be on trend."