How To Shop Like
This Designer Understands the Difference Between Fashion and Style
òL founder Allen Aderotoye reveals his shopping habits and wardrobe wish list.
Graphic:
Stacey Toth
Welcome to our How to Shop Like series, where we spotlight personalities within the fashion industry and take a deeper look at their personal relationships with fashion and how they shop—think all the best insider tips and tricks. This week we're chatting with designer and founder of òL, Allen Aderotoye.
For many of today's most sought-after designers, the impetus behind their label is simple: It stems from an inability to find what they wanted to wear in the market. This was the case for Nigerian-American designer Allen Aderotoye when he launched òL, which stands for Outside Lines. Not only is Aderotoye a great designer—he's made us question why all of our pants haven't had bungee cords in them up to this point—he knows a thing or two about getting dressed. His ensembles consistently have layers to them, and not just in the literal sense of the word. He juxtaposes chunky knit sweaters with graphic tees, distressed denim with Bottega Veneta puddle boots, retro Gucci-esque glasses with baseball caps. Needless to say, we were highly intrigued, so we sat down with the fresh talent to discuss his most worn pieces and the mark of a great outfit.
Shop Allen's Current Picks:
òL
òL
Lanvin
òL
Patek Philippe
When did you first fall in love with fashion?
"I believe I was seven. It really all started with sneakers for me—they are what sparked my interest. Sneakers are where I saw the intersection between design and wearability."
Why did you decide to launch your own line?
"I was going into stores in SoHo, but was having a hard time finding pieces with a longevity appeal. What I saw didn't really speak to me, so I decided to start making my own clothes. I enjoyed the process of seeing it all come to life, and it stuck out to people, so I kept going."
Fashion versus style—what's the difference?
"Fashion can be seen as a trend, based on time, while style is timeless, it speaks to your originality as an individual."
Do you have a uniform?
"I move around quite often, so I lean on my sense of style while adapting to different places, spaces, and climates. I have essentials like my òL Bungee pants and seamless worker jacket, my basics that I take everywhere, and a few other staples—those pieces that set it all off or make it all come together, however you look at it."
Favorite thing to splurge on?
"Shoes! You can never have enough shoes. The feet are where it starts for me."
Favorite purchase of all time?
"That's difficult to say, as things evolve through time. I'll say precious metals. I like gold—not like Austin Powers though. I like that it holds value beyond looking nice. It's the wealth value for me."
Where do you look for inspiration for your collections? Is your answer the same in terms of your own style?
"I look for inspiration everywhere, but my biggest source of inspiration is travel. Going to different places, experiencing different colors, scents, food, and culture as a whole certainly inspire me. Then I add a mood and narrative to further communicate my message. My style is a similar approach to that formula combined with where I am going and how I feel that day."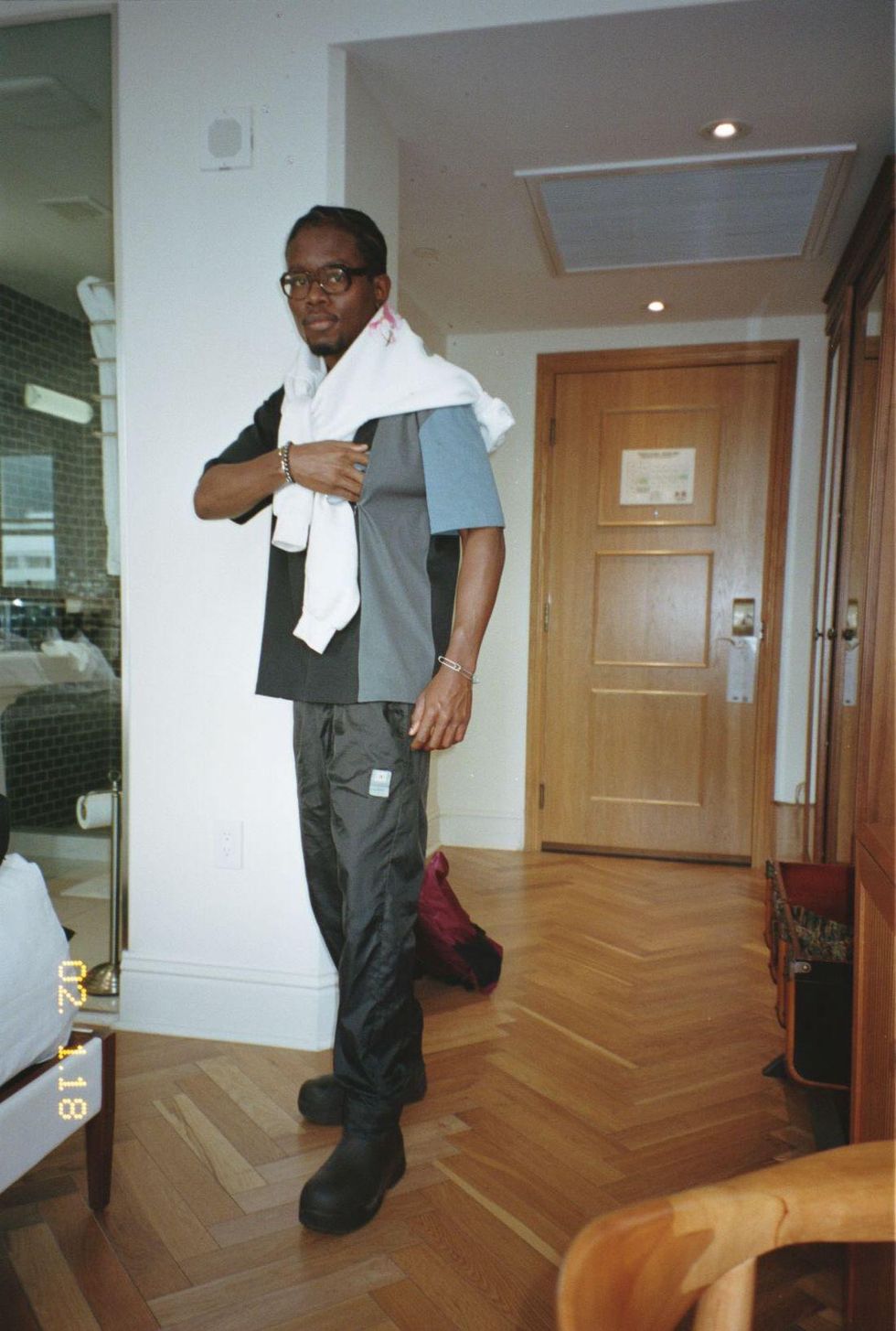 Photo: Courtesy of Allen Aderotoye
What has designing taught you about fashion?
"It is a tough and fast game with many players—big and small—that's only getting more intense. However, if you have a unique point of view, build it out and you will find others who think just like you and want you to continue creating a vibe they really agree with."
How does your personal background inform both how you design and how you get dressed?
"My culture is the baseline of my designs with complements of homeland aesthetics to create a product that is current yet timeless. My DNA is what leads my work, and juxtaposition is what I aim to achieve with each piece. I envision each item I create serving in a different time period in history or a contrasting setting. The way I dress is complementary to that ethos, given that I design with people like me in mind."
Which stores do you frequent?
"I am a huge fan of a concept store like Dover Street Market, LNCC, or BlendsLA. It is a place where, as a designer, you really get to communicate your value and I like that."
What would your closet be full of if money were no object?
"24k gold bars."
Vintage or new?
"New."
The mark of a great outfit?
"You don't remember last night or your day goes seemingly perfectly."
Favorite fabrics to work with or wear?
"Different blends of knits, wools, and canvas are pretty easy to work with and can serve in unique ways."
Favorite fashion brands of the moment?
"Bottega Veneta, Bode, and of course òL."