Future of Fashion
A closer look at how print in the digital age is evolving for the better.
Graphics:
Ashley Combs
Storytelling in 2021 is an interesting art form. With media at its helm, our modern-day world is unfolding culture in fascinating ways—and through digital outlets aplenty. Websites, blogs, newsletters, podcasts, social media platforms, memes, vlogs, and more make a case for what's important, interesting, or worthwhile in today's rapidly changing world, yet also tend to move at an equally fast pace as the news itself. What was found contemporary and cool a week ago can overnight fade to old news. So when fads fade and trends turn over, what form of media will act as an evergreen archive or an everlasting source of inspiration? What must the storytelling we read in the future have in order to stick?
Lately, we've seen a resurgence in print media. After a year in semi-isolation amid the pandemic, a return to holding something tactile in our hands is equally nostalgic and sensational. Meanwhile, new niche and heritage titles alike are reimagining what lifestyle and fashion's roles are in reflecting culture, focusing on topics important today rather than the traditional ones of yesteryear. Emerging books like Perfect and Huck, and established ones like British Vogue under new direction, have recently used their pages to pull back the dreamy curtains and explore difficult topics like identity, community, climate, and the unjust treatment of the BIPOC community. Thoughtful covers—like The Cut's of CNN news anchor Abby Phillip; Vanity Fair Italy's of a health worker during the pandemic; and Vogue Scandinavia's of climate activist Greta Thunberg—followed, stunning our senses with authenticity once numbed by unrealistic fantasy.
And while indie titles—like Juxtapoz, Kinfolk, Hunger, I-D, Aperture, Cereal, Monocle, B, Civilization, and Victory Journal—have relatively stuck to their monthly, seasonal, or annual editorial calendars, they've upped the ante on their transparent content. Now more than ever, they're keen on providing something unusual and unheard of—something deeper than the subtitle suggests. Today their ability to keep their finger on the pulse of culture is either a skill that meets the needs of both the featured and the reader, or not. Whichever way the page falls, print publications have the ability to push beyond the face value of an image, beyond a limited character caption, and beyond the temporary satisfaction the web delivers.
"Print has a languorous feeling to it, and I think that's a good thing," said Shanté Cosme, the editor-in-chief of Mic. "Magazines should encourage slow, thoughtful reading and aim to be more literary than informative. They should be brimming with stimulating images and ideas that invite reflection and encourage close reading. Magazines should interrogate and provoke—inspire us to shake off the dullness of the everyday. They should get us feeling strange emotions and thinking existential thoughts in a café at noon on a Saturday."
Amid the swirl of digital's daze, magazines with thick-cut pages and glossy tops that offer long-format features and full-bleed imagery incite a greeting that whispers, "Stay for a while." The physical materiality of a magazine is something that can take you somewhere else, and you can take it there, too. So when today's readers of print magazines do stay for a while, they prove they're interested in and invested in the creation and documentation of meaningful content.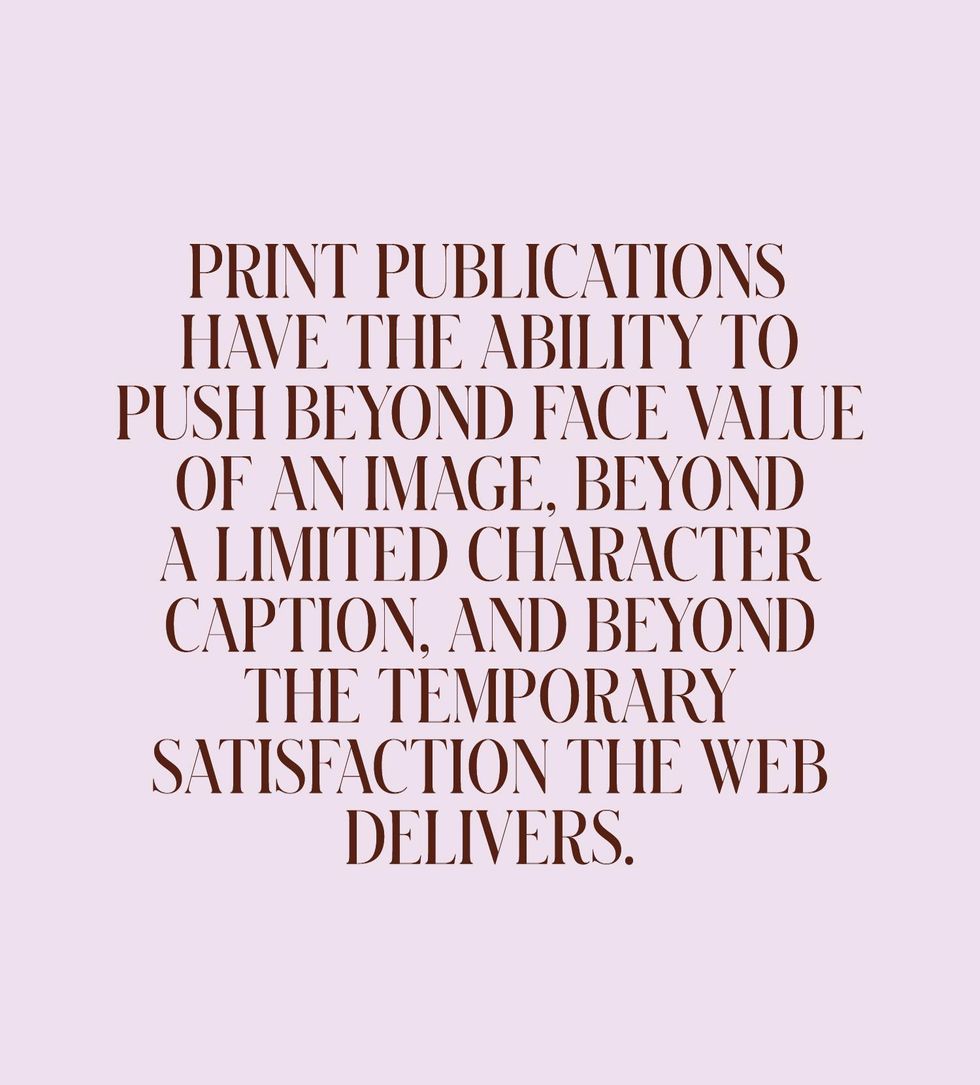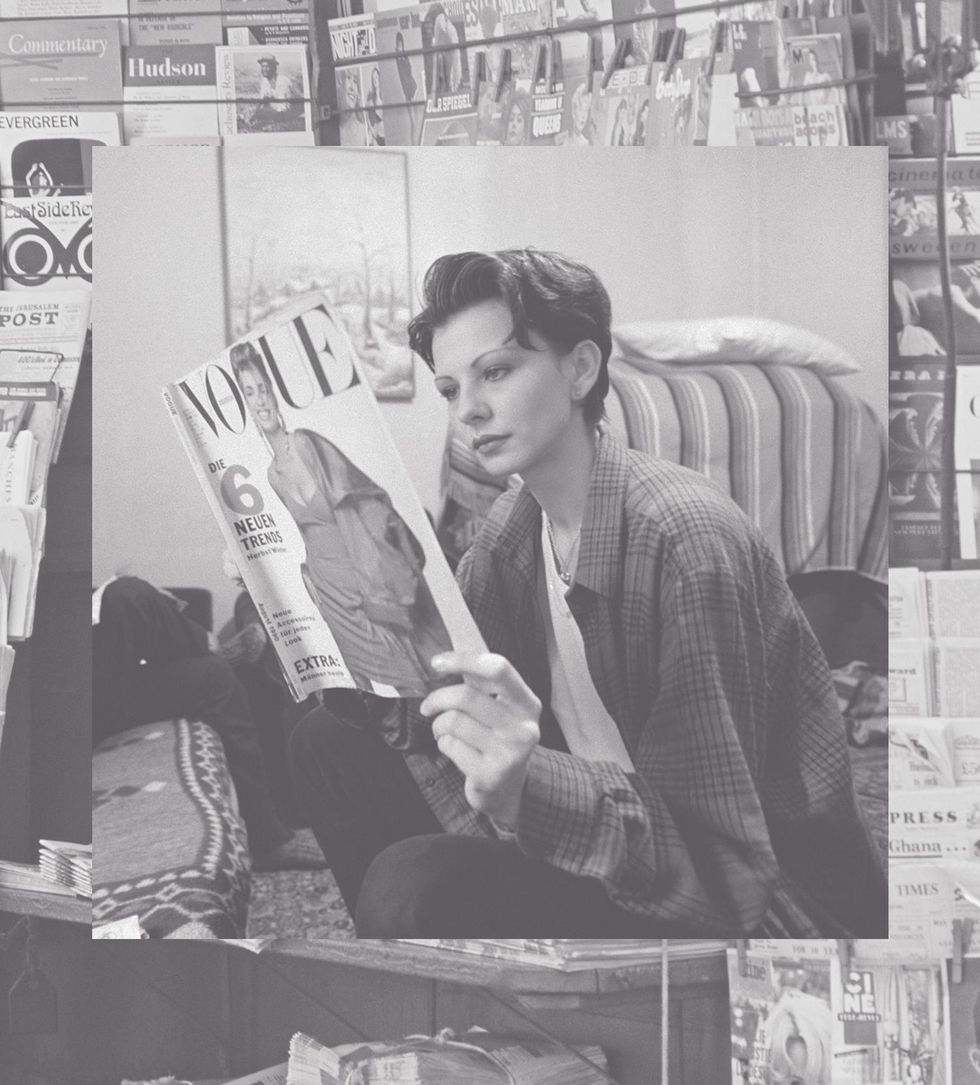 Photos: Getty
"I still very much enjoy getting my hand on print. I love the feel of having an actual object in my hand—and one that I can take with me everywhere. I look forward to turning the pages. It feels like a surprise with each flip of paper," said Isolde Brielmaier, the deputy director of the New Museum. "While there is still critical work to be done, magazines are reflecting more of me and of my daily lived experience as a woman, as a person of color, and as a creative and world citizen."
Print in the digital age pushes fast-paced minds to slow down and consider fact or opinion as art or education. The changing tides in print, guided by shrinking advertising budgets and digital's rise, encourages creative veterans on both sides of the page to envelop something smart and substantial, sophisticated and transparent. As Brielmaier put it, there is still much work to be done in terms of content and those that create it, but the industry is moving in a positive direction to capitalize on offering something creatively deeper.
"With burn-bright trends and the turnover of trending topics often powering social platforms and digital magazines, culture must require the opposite of print fashion and lifestyle publications," said David Graver, the editor-in-chief of Cool Hunting. "Though print must approach the discovery of diverse, ground-breaking talent in the same way that social media continues to pioneer, tactile magazines must reinforce long-term developments, dive deeper, and offer expertise."
As we're seeing more and more, some of those long-term developments engulf buzz terms like "sustainability" and "transparency," yet few actually offer the insight we yearn for. One magazine, however, was founded by Nicole Gavrilles as a passion project to dive deeper into the world of responsible consumption, sustainable production, and slow fashion. In turn, her magazine moved away from a bi-annual release to an annual calendar embracing more sustainable efforts in printing and to take more time in creating all its own content.
"This shift allows us to focus on beautifully curated, limited-edition issues that translate into a timeless piece in one's collection in their homes," said Gavrilles. "Our mission revolves around transparency, and we look to work with photographers and other creatives that also work sustainably and share our core values. We hope by setting these guidelines, it will help change the mindsets of others to think about how to create in a more sustainable way."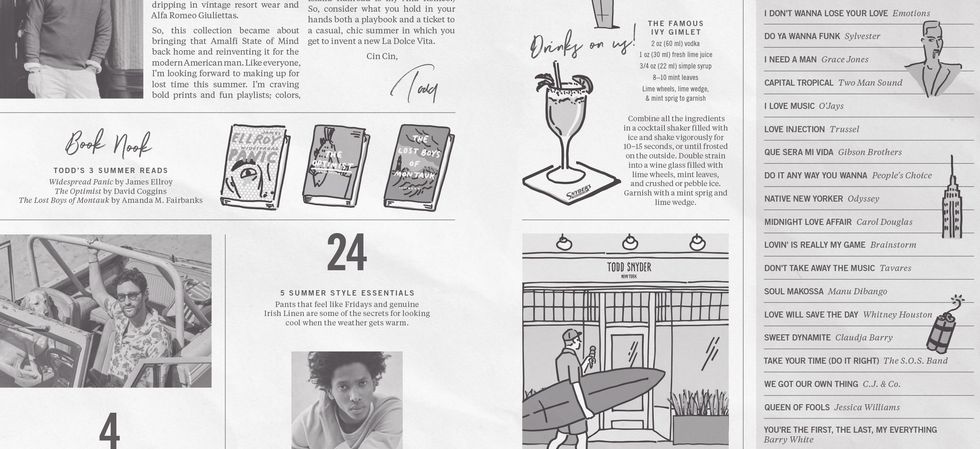 Photo: Courtesy of Todd Snyder
"Magazines should encourage slow, thoughtful reading and aim to be more literary than informative."
Other print publications that have folded their physical pages in recent years—like Playboy, Teen Vogue, and Nylon—have since strengthened their online presences, generating growth with explorative topics and new strategies that connect with an audience of ever-changing interests. For Liz Suman, the vice president of art curation and editorial at Playboy, the focus is less on what readers aren't getting from traditional media and more on what she sees as an opportunity to redefine storytelling that moves culture forward.
"Our goal is to create a world where all people can pursue pleasure," said Suman. "We do this by building on our 67-year-old history of championing artists and participating in meaningful conversations about censorship, sexuality, and freedom of expression—by continuing to provide a platform for artists, writers, and photographers to break taboos and express themselves with total freedom. We're having fun carving out new ways to use art, music, and editorial collaborations to tell stories in new ways with new technologies."
In addition to independent magazines, a handful of fashion brands—like Todd Snyder, Thebe Magugu, and Another Tomorrow—also feature an editorial arm to their companies. Instead of featuring just a lookbook with credits, these designers are being transparent with where their materials come from, why a theme was explored, and even what food or music can best pair with a new ensemble this summer.
"Magazines have always been my biggest source for inspiration, outside of art and travel," said Snyder, who mails an editorial catalogue full of interviews, playlists, and travel recommendations to subscribers alongside the lookbook. "I think magazines need to continue to deliver creative takes on upcoming trends, but figure out how to master the digital landscape and create content that is interactive through our phones."
The fine-art photographer Gray Malin does this well—showcasing his photographs online and in print, too. His recently released book fills the mind with wanderlust, while his editorial column online documents more personal everyday life with travel guides, skin-care routines, and more. "Looking to the future of print publications, I am interested in reading stories about industry leaders that are continuing to push the boundaries of emerging art, design, and technology in ways like never before," Malin said. "It is also important to me to hear from people that are continuing to empower voices of diversity and integrating important social issues into their work."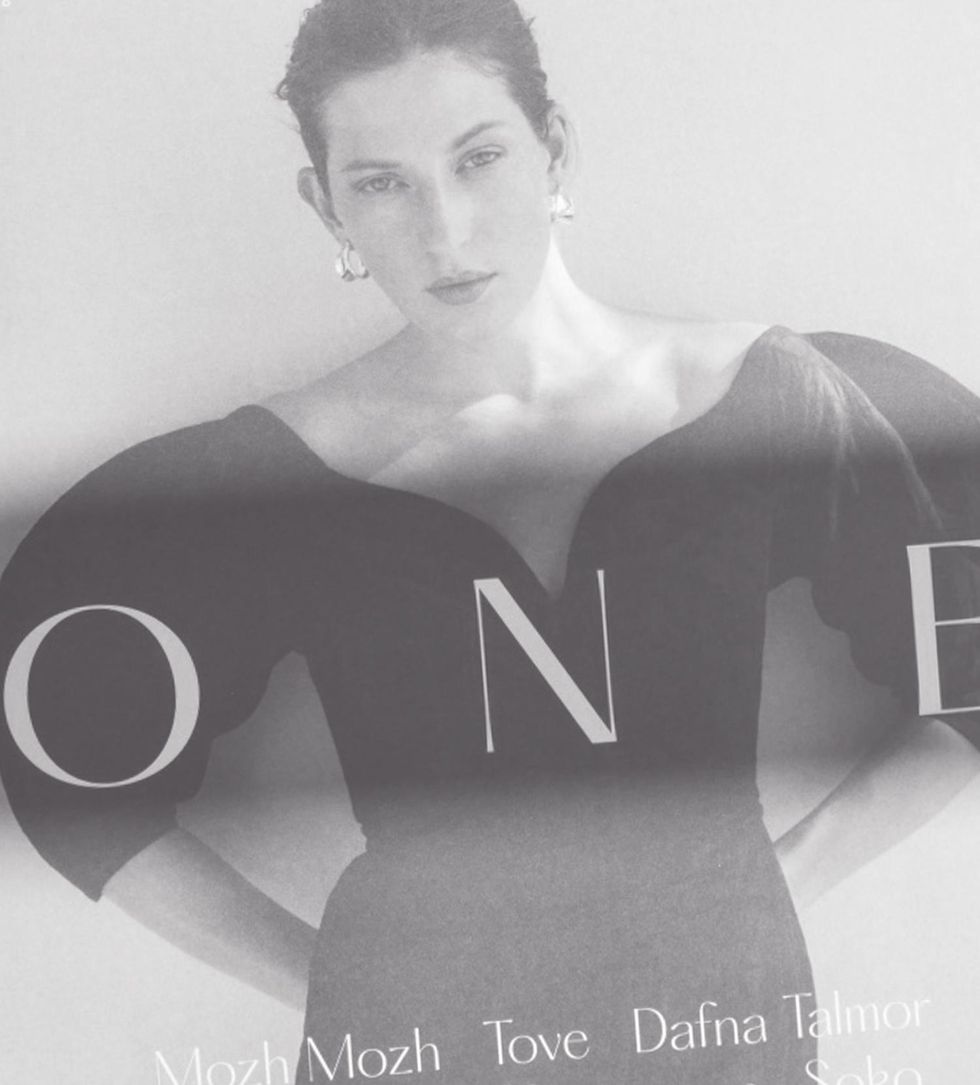 Photo: Courtesy of One Magazine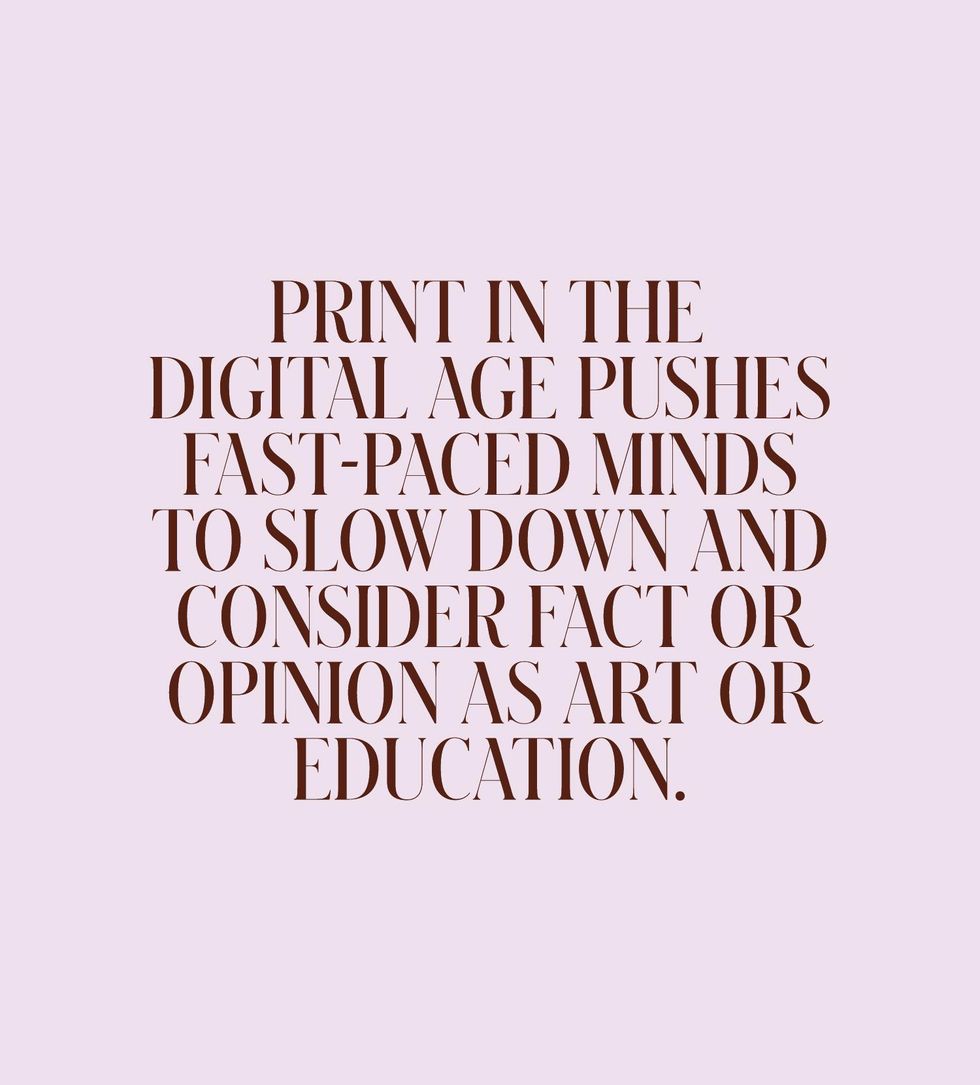 It's important to recognize that designers, artists, and tastemakers digest media for insight and inspiration too, yet they have a personal relationship with how the industry is documented. Their heightened awareness on how the industry evolves, how their brand fits in, and who is behind other brands that they admire is not often shared. And for brands that have deep history in the long landscape of fashion, like the 60-year-old house Genny, their global experience can encourage new storytelling.
"Fashion magazines will need to speak about the culture of fashion, its evolution, its being an art that lives in the history of the times," said Sara Cavazza Facchini, the creative director of Genny. "Tell us about the hidden secrets and the workers who give life to the lifestyle—all this within a global vision of the world."
For other designers, the importance of print is rooted in representation in the workplace and having magazines act like a mirror of society. Baylee Zwart, the jewelry designer behind AZLEE and a previous editor at Glamour and Allure, has a vision to see the narrative of women reworked, and that starts with having a diverse staff of content creators. "I would love to see even more of an authentic celebration of women. Women who are interesting, whose achievements are worthy of celebration," she said. "I'd love to see more than just women's beauty being celebrated—to see the focus shift from beauty to depth, vulnerability, strength, and resilience. A true depiction of how dynamic women are."
Echoing that sentiment is another jewelry designer across the pond in Milan, Bea Bongiasca, who finds that while print magazines are dreamy, she yearns for honesty. "I find that fashion and lifestyle print magazines are often rooted in fantasy. And while there's nothing wrong with that, the narrative is beginning to feel a little mundane," she added. "I would love to see some more authenticity and relatable stories, as well as advice. It would be powerful to see rawer content and greater transparency."
Only time will tell how print's resurgence plays out, moving the needle of culture toward a more inclusive, sustainable future, but one thing remains true: It will need to deliver a multi-dimensional approach to life amid change for an audience that's rapidly evolving.

Top photo: Getty