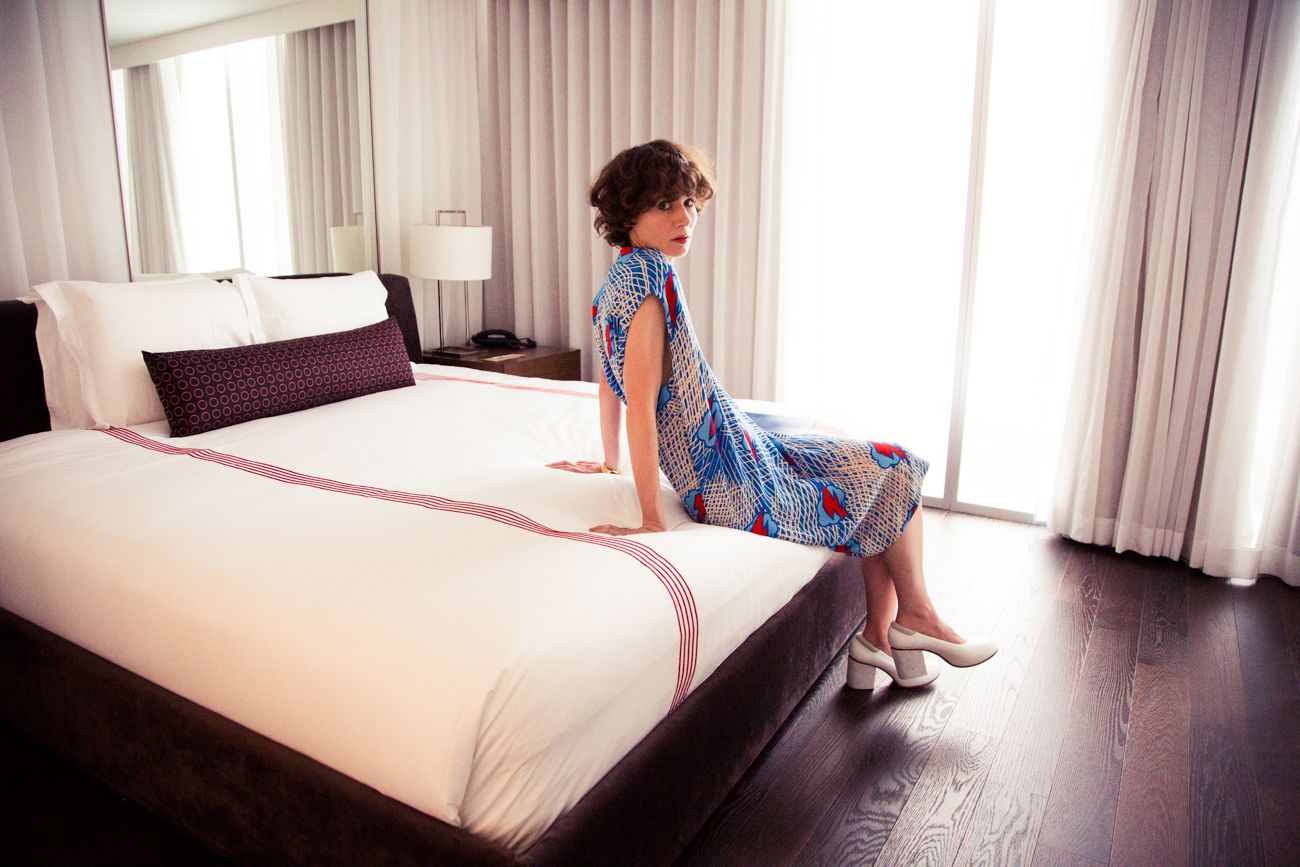 Career
Writer, Actor, Artist. Toronto
Renée Rodenkirchen
There are just some people we want to be best friends with. Say, Kathleen Hanna or, the ultimate, Ilona Royce Smithkin (Google her—you won't be disappointed). It practically goes without saying that Miranda July is one of those people. We mean, we're talking about the same woman who has made two feature films, written countless short stories, developed an art piece-cum-messaging app with Miu Miu and Prada, AND acted in Portlandia (oh yeah, did we mention she's friends with Carrie Brownstein? Now that is our clique.) And that's not even the half of it.
---
When we heard her first novel, The First Bad Man, was about to be released, we just about threw our next book off the nightstand to make room for it. TBH, it's funny. Really funny. Needless to say we put on on our best shoes (trust us when we say we've got the blisters to prove it) to chat with July during the Toronto leg of her book tour. In Prada heels and a newly purchased pair of vintage leather pants, July filled us in on everything from coming to the decision to write a novel to achieving that perfect head of curls.
ON WRITING HER FIRST NOVEL..."Well, a novel is a big, life dream type thing. Both my parents are writers. I always wanted to be a writer. Maybe so much that I did all these other things first, including making a feature film, so that just in case I failed at being a writer, it wouldn't be the most devastating. I'd be able to recover from it. I'd be able to say, 'I'm actually a filmmaker so it doesn't matter.'"
ON HOW SHE COMES UP WITH HER (SOMETIMES CRAZY, BUT ALWAYS GOOD) IDEAS…"I have a lot of bad ideas, first of all. I have a project I'm doing in London that I'm working on now and I had like five or six ideas that I went pretty far down the road with until I kind of hit a wall and was like, 'This really isn't good, is this?' I'm always trying to figure out ways to make a feature film with all non-actors all living in one neighborhood. Ideas like that I'm always sort of getting very far with and then being like, 'This is a crazy nightmare.' But even those ideas that I don't end up doing end up influencing a version of it that is kind of scalable. I make something that is possible that has the same spirit. So it is a process."
ON LENA DUNHAM BRINGING EVERYTHING FULL CIRCLE..."There's definitely a climate right now where me and my peers are getting a lot of energy from supporting each other and the idea of competition or something seems really passé. We all get that it helps us all to rally behind each other and we're all genuinely influenced by each other. It's no act; these people bring me great joy in the privacy of my own home.nnLena [Dunham]'s quite a bit younger than me and Tavi [Gevinson]'s quite a bit younger than Lena, so the levels of influence are kind of interesting. You know, we're helping to make the people who end up making the world. Lena said she saw my movie, Me And You and Everyone We Know, when she was a senior in high school and yet I am benefiting right now from the way that she has reshaped the landscape just in the last few years. When I'm doing press, people are a lot more self-aware, they're a lot more conscious of how they speak about women just because they've watched these battles play out and she's challenged a lot of thought."
ON LIVING OUT HER 13-YEAR-OLD SELF'S DREAMS & DESIGNING A NAMESAKE BAG…"I was a fan of Laurel [Broughton]'s first, she does WELCOMECOMPANIONS. I had stumbled onto her site. It was one of those things where you're like, 'Oh my god, everything this girl does is so cool' and then I was like, 'Oh wait, she lives here in L.A.' I sent her an email inquiring about the price of something hoping she would recognize my name, which is a kind of low-level thing I sometimes do (laughs). We did a big trade: everything I've ever made for like…one bag. Those bags aren't cheap!nnA while later she was doing this collection called The Classics, and one classic kind of bag is the namesake bag; she wanted hers to be The Miranda. Of course, I loved that idea; the thirteen year old in me was overjoyed. There was part of me that was like we need to twist it somehow to make the idea of it more pointedly ridiculous. So we decided on this limited edition bag that was absurdly customized to the point where it would only make sense for me. Like a picture of my fake son, my specific homeopathic sleeping pills, all these things that are what I would want in my bag. I don't know that anyone would actually try and put their stuff in that bag, there's not much room in there. It ended up as more of an art piece."
ON HER FAVORITE PLACES TO SHOP…"I love Creatures of Comfort and Opening Ceremony. There's another place in L.A. called Mohawk General Store. There's a vintage expo in L.A.…there's a cool one and then there's an uncool one and I like to go to the uncool one that has, like, weird collectors and stuff in it. I love A Détacher. Mona Kowalska is just a super interesting, idiosyncratic woman with her own shop and her own line. She's been doing it for a long time. I just think her stuff is beautiful and her clientele is like…I'd probably like to be friends with every single woman that comes through her store.nnI just got these leather pants from Squaresville, which is a thrift store. I remember buying my fifteen-dollar dress for Sundance there, the first year I went in 2005. That was exactly what I could afford at that time and accepted an award in. And I still go there because sometimes there's nothing but sometimes there's amazing stuff. That is still the funnest thing, a vintage score."
ON THAT HAIR…"I get a really good haircut from a woman named Nikki Providence. She just cuts hair for a few people in her house. It's all based on that cut, which we've perfected over the years. The truth is, the products that really make it good are not that good for your hair in the long run. They all have alcohol in them, all those thickening things. On tour, I let myself go crazy with that stuff. I don't wash it that much and I can pretty much sculpt it and make it do anything. In my daily life, I try not to use anything that's at all harsh because it can get killed pretty easily, so I'll just use Bumble and Bumble Tonic Lotion and leave it at that.nnAfter I wash my hair and put whatever I'm going to put in it, I can basically sculpt my hair into any shape and it will dry like that. Then I brush it out and it's done. Sometimes I do it into sections. Once I showed Nikki, my hair person, what I do and she told me I was essentially doing a roller set but with no rollers. It's like a thing they learn in beauty school."
ON THE BEAUTY PRODUCTS SHE CAN'T LIVE WITHOUT...
Leonor Greyl Shampooing Crème Moelle de Bambou: "This is very good shampoo that's in the vein of trying not to fuck up your hair, which you can actually be doing for a long time without realizing it. You don't have to use conditioner with it, it's low sudsing and natural."
Earth Tu Face Face Wash: "I've only been cleaning my face with oils. This is a really nice one, but I think pretty much any oil works. I've had a lot of Earth Tu Face products, but this is the only one I kept using."
YSL Rouge Pur Couture Lipstick in Le Orange: "This color looks good on everyone."
Medicine Mama's Sweet Bee Magic: "At night, after I've washed my face with oil, I cover my face with this. I use the wand when I'm traveling but I have a tub of it at home. It looks so hippie and, yeah, you can get it at Whole Foods, but the main makeup artist I use, she was like, 'No, get this!' You're going to be worried it will make you break out because you feel like you're rubbing beeswax on your face but in fact it's quite the opposite. If you ever have any imperfection just put a ton of that on it. It has like magical antibiotic bee power, so until they crack the anti-aging stuff I'm just going to go with that."
Thieves Spray: "My acupuncturist suggested this. Instead of all the hand sanitizer stuff, I'm just spraying this on me and my son constantly. It doesn't just clean your hands, it also sort of protects them."
—Nicola St. George-Hyslop