Photo: Getty Images
Beauty
TikTok will make you do crazy things.
When I stumbled across beauty influencers on TikTok both mixing lube with foundation and using it as a primer, my reaction was a half-amused eye roll, similar to that prompted by those "5-Minute Crafts" videos that show you ridiculous "hacks" like how to apply an eyebrow pencil using a stencil made out of a nipple pasty. But I am the first to admit that every once in a while, my sense of curiosity gets the best of me, and something about using lube to make foundation go on smoother and provide a glowy finish just seemed to...make sense? The hunt for flawless skin will make you do crazy things.
So, I decided to spend an afternoon slathering my face in lube—for you, reader, and for science. As a professional, I wanted to ensure that my approach was thorough, so I decided to try both silicone- and water-based products. Follow along as I discern whether this hack is an actual beauty game-changer or the makeup equivalent of DIY-ing flip-flops out of a pop-it fidget.
Part 1: Überlube
I began my journey by mixing Überlube, the luxurious, highly-rated silicone-based lube that comes in a gorgeous little glass bottle, with Zoeva Authentik Skin Foundation, a luminous, liquid base. I combined the two on a plate then dotted the concoction on my face and started buffing it with a brush—the way I normally blend this foundation. After a few seconds, it became apparent this combination was not going to melt beautifully into my skin as this foundation typically does, but instead was simply being pushed around the surface of my face in swirly patterns. So I switched to a damp beauty blender, and after pounding my face for a few minutes, I decided it was as good as it was going to get (which was not good at all).
By this time, the leftover lube and foundation on the plate had separated and congealed in a way that had me reconsidering every decision that had led me to this moment. My skin was neither glowier nor dewier. After a brief existential reckoning with myself in the mirror, I decided the show must go on and snapped a few photos so my experiment could be immortalized on the internet.
Next, I tried using the Uberlube as a primer, which was mildly more successful. The lubricant was actually quite pleasant to apply and had a similar effect to any face oil, but it still was a challenge to blend in the foundation on top of it.
Top: K-Y Jelly and Nars Pure Radiant Tinted Moisturizer. Bottom: Überlube and Zoeva Authentik Skin Foundation.
Photos: Courtesy Maraya Fisher
Überlube mixed with foundation. Zoom in to see the texture around my nose and chin.
Part 2: K-Y Jelly
At this point, I was ready to throw in the towel. If the expensive stuff didn't work, I didn't think K-Y Jelly would be any better, but again, I am a professional, so I persevered. This time I mixed the lube (more gelatinous than the silky, almost oily Überlube) with the Nars Pure Radiant Tinted Moisturizer. The texture was even more ghastly on the plate, and I had to take a moment of complaining to my roommate to hype myself up before applying the gloopy, foul-looking mixture to my face. I was surprised by the pretty glow this produced, but any positives were displaced by the insane amount of pilling that happened when I tried to blend in the product with my fingers. (My face looked like what happens when you rub an eraser over a sheet of cheap paper.)
K-Y Jelly and tinted moisturizer. It's hard to capture the intense pilling around my mouth and jaw.
Photos: Courtesy Maraya Fisher
After using K-Y Jelly as a primer. The glow!
Finally, I tried using K-Y Jelly as primer. I don't know whether it actually worked or my bar was just really low after the pilling experience, but this was actually quite nice. The finish and feel were vaguely akin to Milk Makeup's cult Hydro Grip Primer, except less sticky. Up to this point, if a viral TikTok sound were to be soundtracking my experience, it would be Kreepa's "Oh No," the song universally used to indicate folly and failure. Instead, as there is an appropriate audio for every point on the spectrum of human emotion, a different sound ran through my head as I gazed at my glistening, lubed face: Keira Knightly's "I look quite pretty" quote from Love Actually. It truly pains me to report that K-Y Jelly worked very well as a primer, and the tinted moisturizer glided and blended as it should—leaving me with my desired, fresh-faced finish.
Final Verdict
Could I have lived my entire life happily without putting lube on my face? Absolutely. Did literally anyone ask me to do this? Not a soul. On the bright side, I have a piece of next-to-useless information: If you're going to use lube with foundation, thicker, cheaper, water-based products are the way to go. I don't know in what universe you have access to K-Y Jelly and not a gel primer, but at $9 it's an inexpensive option (I guess). You could always just go with e.l.f.'s $10 Power Grip Primer.
Shop the Story: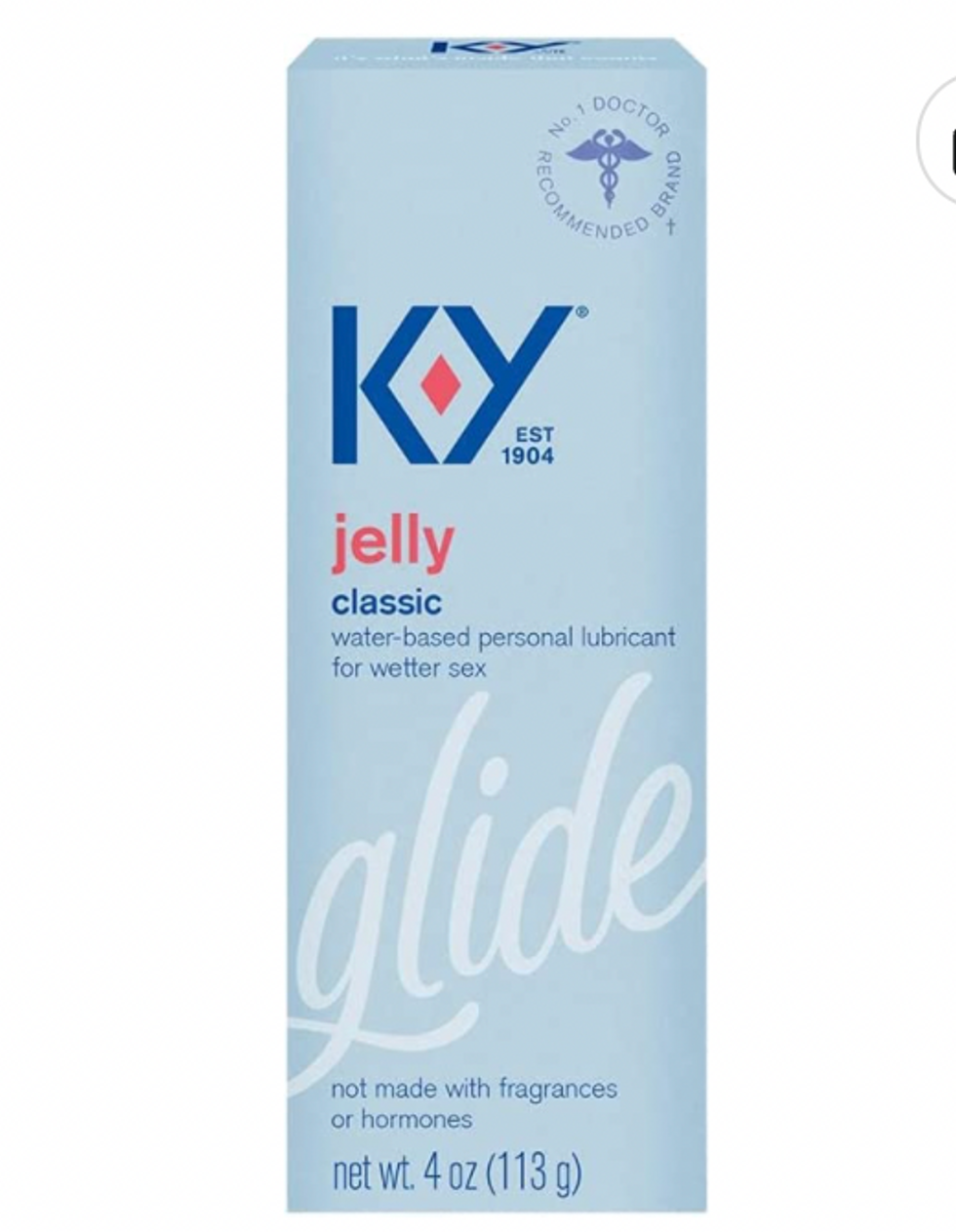 K-Y
Überlube
Zoeva