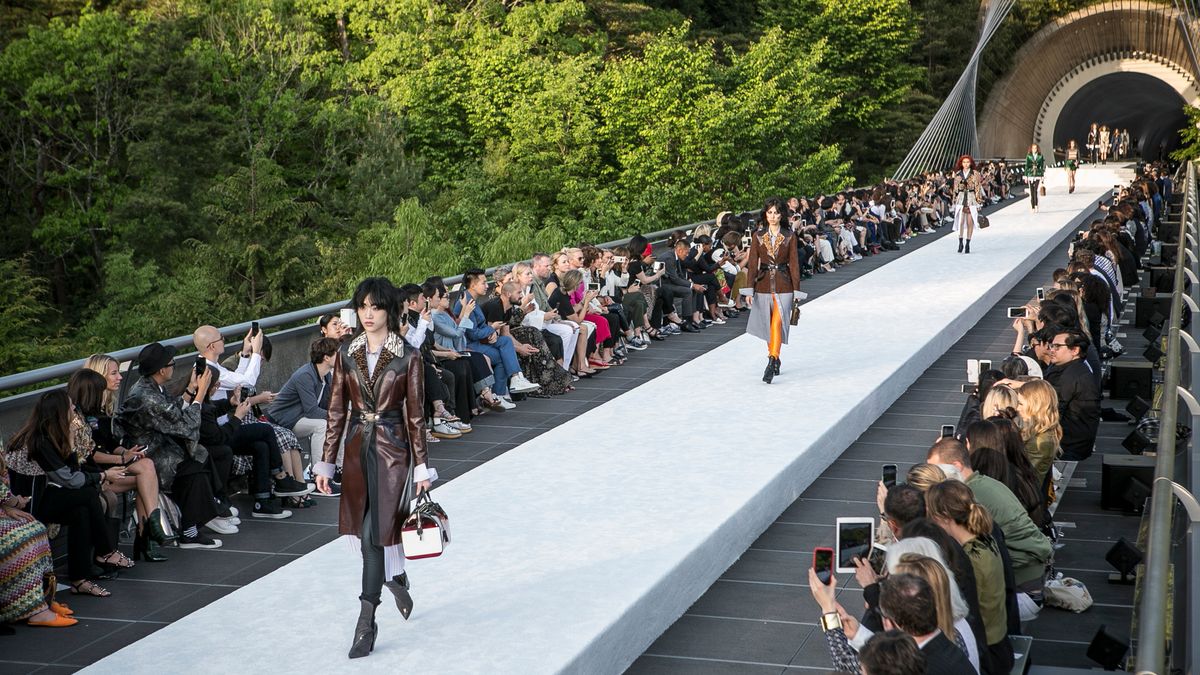 Fashion Week
From dresses worn over pants to a very exaggerated cat eye.
Louis Vuitton's Cruise show took place an hour outside of Kyoto this past weekend, and while Japan served as a backdrop for the event, it was also part of the inspiration. Dresses featured sequined samurai, bags had Kabuki eyes, and makeup looks were smeared with an exaggerated cat eye. As models walked down the runway with a bad-ass biker confidence—influenced by the fictional female gang of the Japanese film Stray Cat Rock (plot: group of girls take on a racist mob boss; take away: girls rule)—guests like Laura Harrier, Michelle Williams, and Jennifer Connelly looked on, admiring everything they saw. 
For this collection, designer Nicolas Ghesquière collaborated with designer Kansai Yamamoto, whose name may not be as well-known as his styling of David Bowie in that iconic striped larger-than-life wide-legged jumpsuit. Now that we think about it,  Bowie's Rebel, Rebel *is* the perfect soundtrack for obsessively scrolling through this collection (the line "I like it all" especially resonates with us).  
Here are our top four takeaways from the show, as well as the trends we hope catch on from this collection:
Why choose a dress or pants when you can just wear one over the other?
Cowboy boots are officially coming back.
Continue to clash patterns, and forget it was ever a faux pas. 
Minimal makeup is taking a back seat to an exaggerated and elaborate cat eye.
Scroll through to see our favorite Louis Vuitton Cruise '18 looks from the runway.
---