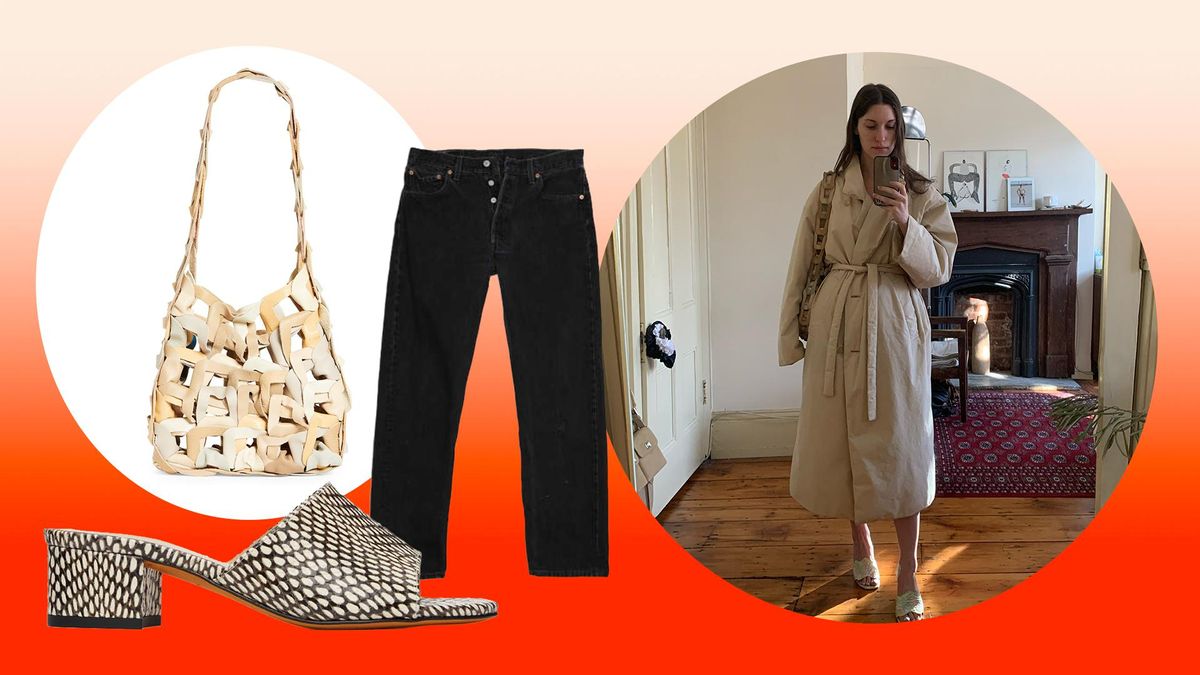 Literally The Best
Did we mention she has perfected her personal approach to buying pre-owned Levi's?
When discussing our own wardrobe and style essentials, Coveteur staffers found their feelings could often be summed up with the phrase, "it's literally the best … white t-shirt, pair of jeans, drugstore find, etc." So, in our new series, fittingly titled Literally the Best, we're asking industry insiders to reveal the style essentials they turn to over and over again and simply can't live without.
Laura Reilly is one of those New Yorkers whose job you would have trouble explaining to your mom. A writer and editor by trade, she works freelance gigs but is currently most known for her newsletter Magasin. There, she keeps her readers updated on all things shopping and style—new sales to scour, interesting ensembles people are wearing, and all the emerging brands you can't miss. Essentially, Reilly is the ultimate source of knowledge on every aspect of curating your wardrobe.
This accelerated rate of visual consumption guarantees a constantly evolving sense of personal style. "What photo did I see that blew my mind recently? What conversation did I have? What feels more relevant?" she explains, noting all the factors at play. Perhaps that entails stills from the Prada runway, a chat with publicist Juliana Goldman, or even back-and-forth via email with a reader discussing a pair of shoes. All of which can mold her style trajectory. Lucky for us, that sartorial stream of consciousness is available for all to consume in a weekly newsletter format. Continue reading to discover all the essentials Reilly can't live without—trust us, this is a well-researched list.
Paint us a picture of your personal style. What sort of outfits are you wearing on a day-to-day basis?
"I have a difficult time identifying what my personal style is just because it does change and evolve. It's so tied to my mood and whatever confidence level or the media that I'm consuming, so it's very in flux all the time. What photo did I see that blew my mind recently? What conversation did I have? What feels more relevant? If it's matchy-matchy, predictable, seems too styled, sometimes you want to wreak havoc on it a bit. Sometimes you want to be the only person to understand what you're doing.
"I think I do have a pretty good range of basics that I rely on most of the time when I'm getting dressed. Especially in the winter, I feel maybe not uninspired but much more reliant on those core pieces. The oversized white and black jeans, the trouser, the oversized button-down, the white t-shirt. In terms of expressiveness, I think that does tend to come out more in the summer months. That's a time where I feel a little more comfortable. I'm doing more stuff. There are more daylight hours for people to see what I'm wearing, so it feels more impactful."
When purchasing a new item of clothing or an accessory, what are the boxes you're looking to check?
"I do a lot of online shopping, so it's definitely a bit of a gamble. I feel like I try and try again in certain categories. Like with the oversized jeans, I have the white and the black really nailed down, but I don't have a blue jean that I love. I'll buy it online, it won't quite work, so I'll resell it. That happens kind of a lot. I want everything to feel super organic and integrate with my wardrobe really well. With my basics, I don't love something that feels brand new. I want it to feel like it has an instant history to it. That's like one-half of my wardrobe. The other half is more statement-y stuff—the things I have fun with, or that allow me to opt into various personas. Those need to have that sort of 'aha' moment to them. I need to obsess for a little bit."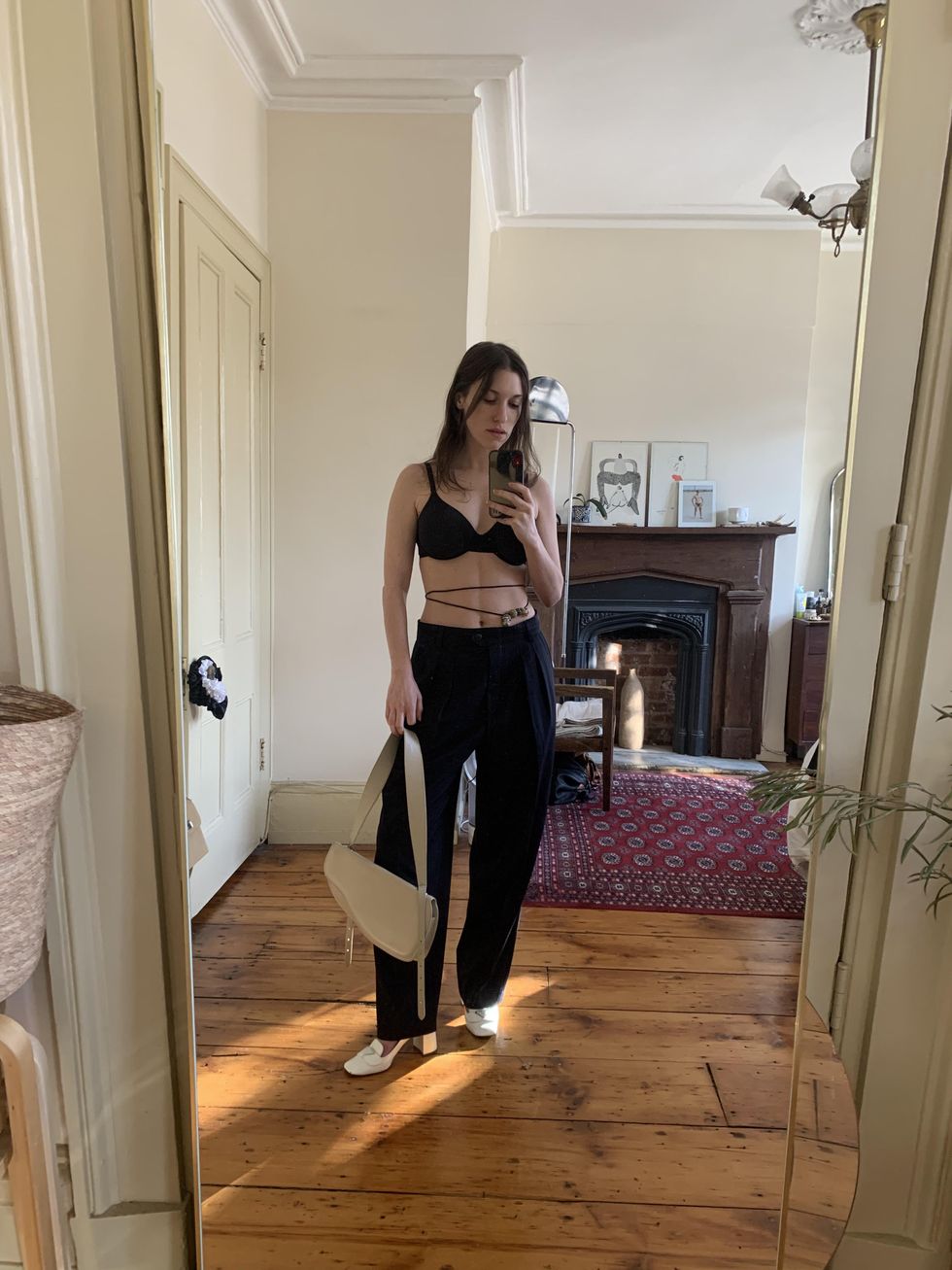 Shop Her Style Essentials: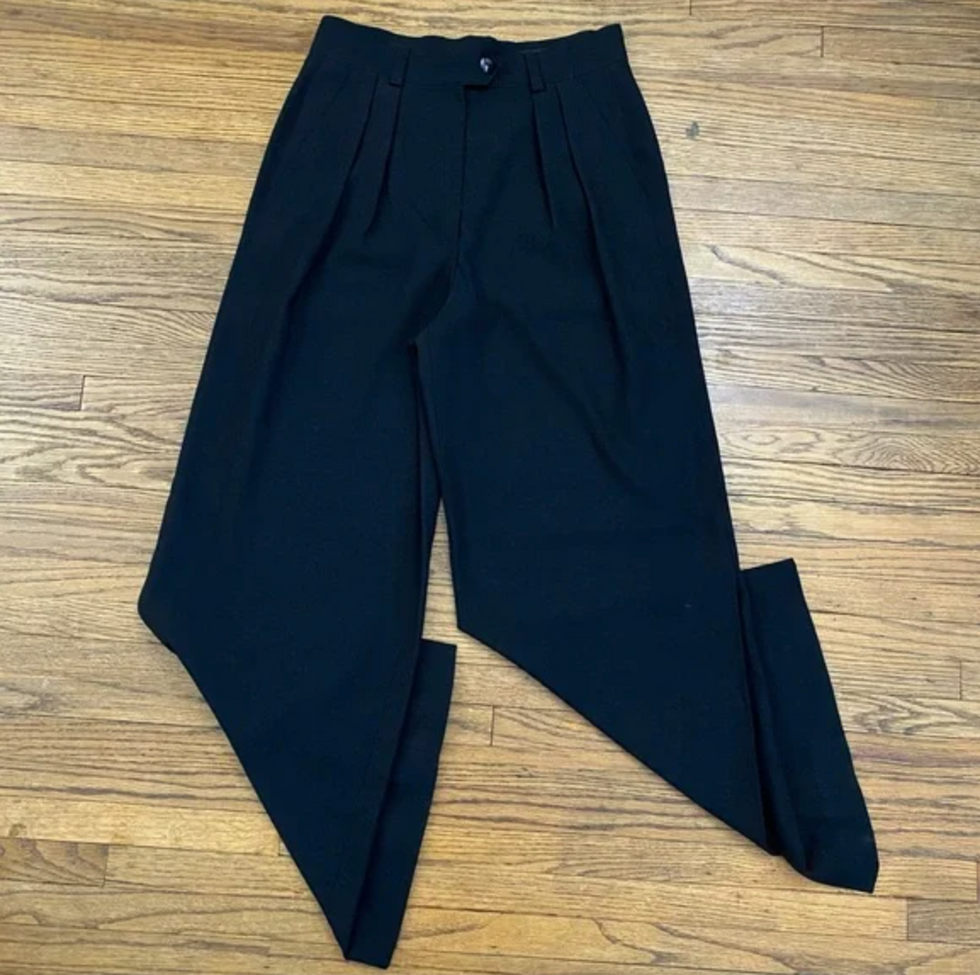 "I have bought this Escada pleated pant so many times before, and I think I'll continue to do so because I'm surprised by it every time. Basically, I'll go on eBay. I won't necessarily look at the sizes, I'll just order a pair that speaks to me. Maybe that's the way that the fabric is being shown or the specific color. They're all slightly different even if they're technically the same cut. Depending on whatever size I've ordered, they will either have a really interesting high-waisted fit or be much more relaxed at the waist. I've ordered sizes that are quite far up, and it gives them this super-oversized suit-pant effect, which is also really interesting. I wear them a lot in navy blue brushed wool. I have a very sleek black suiting oversized version I like. Then, I have the super-high-waisted, cinched creamy light wool summer version that is cropped. This is one of those saved searches that I'm going to hang onto for a really long time because it's given me so many good pants."
Vintage Escada
"There are two bags I wear often. They are opposite sides of the same coin—my two personalities in a way. One of them is the SC103 leather links bag. One is very left brain and the other is very right brain. The 103 is chaos and organic matter and misshapen everything and creative freedom."
SC 103
"The other is the Ratio et Motus holster bag. It is this tidy, put-together, type A, everything-has-a-specific-place, my-life-is-together bag. These two bags cater to whatever my brain could be feeling at a given time. They're very much like sisters in that regard. One of them will usually be with me when I'm out."
Ratio Et Motus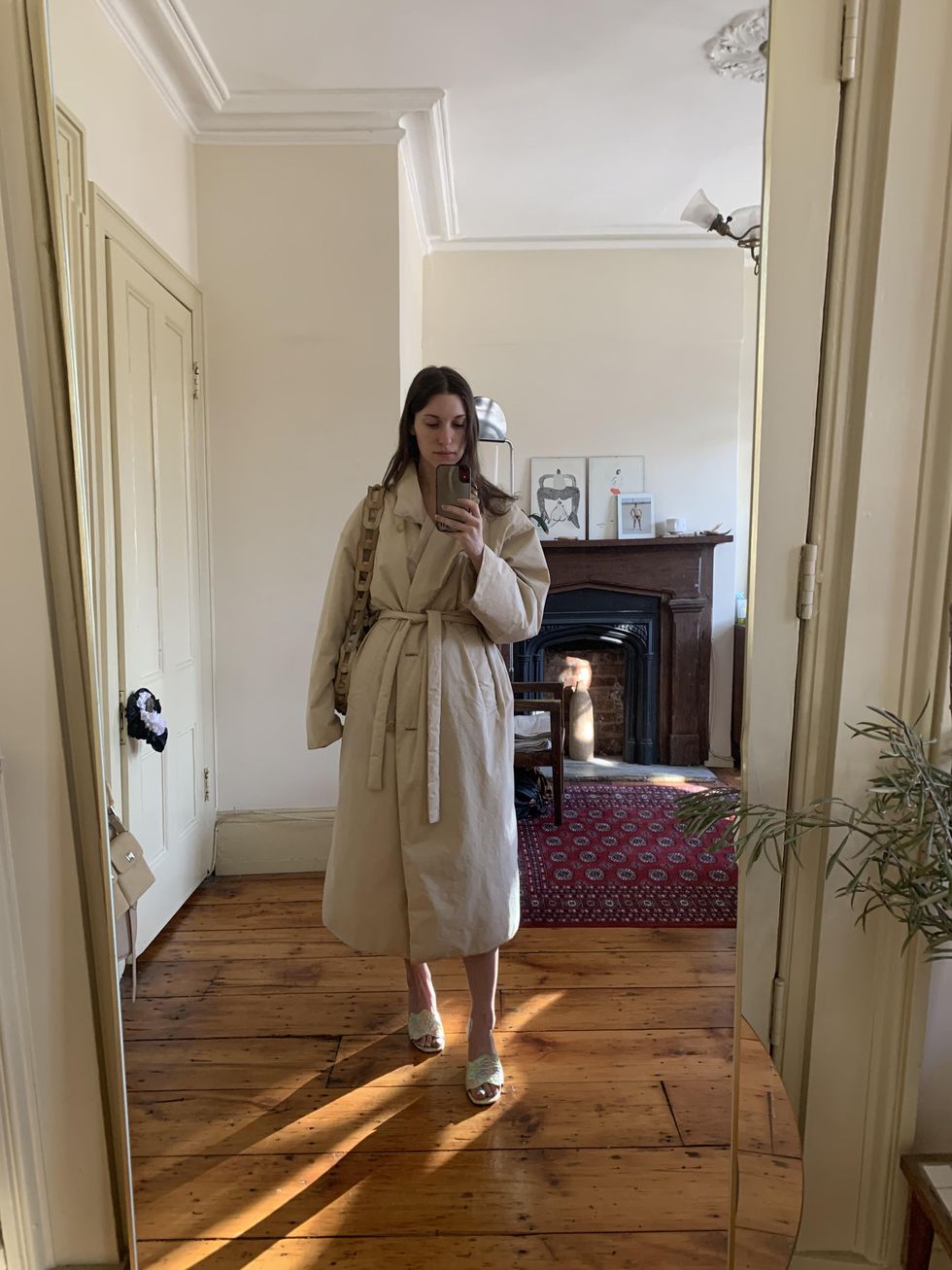 "I wear this Uniqlo U by Lemaire puffer trench all the time. I feel like I cycle through stuff, but this coat has been like my most worn piece every winter since I got it. I've gotten similar coats, but I only want to wear this specific beige coat. Everything from the Uniqlo U collection always gets so much wear. This puffer trench, then I got this men's unlined trench that I wear all the time. Those were just such good gets. Not to add to your eBay list, but I always keep an eye on Uniqlo U stuff from past seasons."
Uniqlo
"I think, like a lot of people, the pandemic changed my relationship with pants. After The Row's spring '21 show came out with those sweeping low-rise, wide-leg white pants, I was like, 'why the fuck am I still wearing high-waisted jeans?' I don't ever want to see them again in my life. I got the perfect oversized white vintage 501's, like four sizes too big and had them tailored so they were the right length and the right fit at the waist and in the butt. When I want to feel my most casual, most effortless but still chic and tapped-in, those are my go-to."
Levi's Secondhand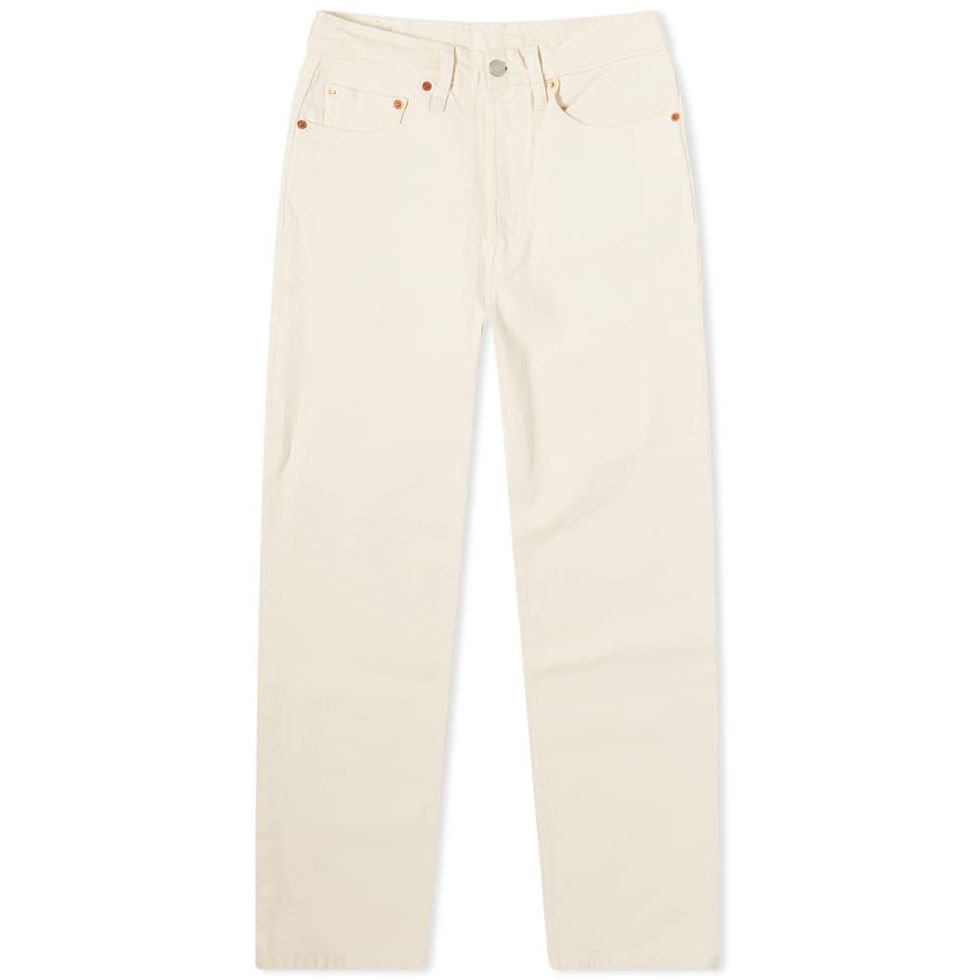 "Then in the winter, I basically did the same thing with this washed black Levi's 501—that vintage gray-black—in the same size. I figured how oversized I need to buy for the right fit: four sizes larger than I would generally get in vintage Levi's. I feel like figuring that out has really made my wardrobe a lot more comfortable and a lot more dynamic. There are tomes written about vintage 501s. It can be such a journey to find your fit and style. I had an era where I was loving the Levi's 550s, wearing a size smaller than I usually would. A little boy's size—super-snatched, just ass-chokers. I couldn't do it anymore. I want fabric. I want reams of it around me. I want them to barely be touching my body."
Levi's Vintage Clothing
"The next thing I have on my list is a belt made by a friend of mine Michelle Del Rio. She makes these very beautiful, double-wrapped cord belts that have small ceramic figurines looped through them. They're very beautiful. She's just an extremely talented individual. I knew about her belts before I really knew her as a person. I found her through Instagram, and we connected, had dinner together, and have been friends since she moved to New York. So when I finally got a belt from her, it was this beautiful fulfillment of a beautiful moment. It's got this sort of spiritual quality about it, a very mystical feeling. Wearing it always seems to elevate or add some intrigue to whatever kind of outfit I'm wearing. I'll wear it with a black silk slip and let the belt sort of speak for the whole outfit, or it can be a layer on something a bit more complex, like under a vest or over a leather jacket."
Michelle Del Rio
"I have these Maryam Nassir Zadeh wedges that I've owned for years. I keep them near the mirror. When I want to see if an outfit works, they'll always make it for me. They're like a sort of fish-scale iridescent multicolor wedge open-toe sandal, so they don't really go with a lot of things. They are a bit of a statement piece, but I feel so comfortable in them and I just love them so much. When I'm getting dressed, I'll want to see what an outfit looks like with an inch-and-a-half heel, then I'll swap them out before I actually leave. I like the chaos of them sometimes. They're a bit off. I refuse to stop wearing them, even for the amount of time it would take me to get them re-soled. I know I would miss them. I have a closet full of MNZ shoes because I love her approach, her eye, her pieces. These ones get the most attention."
Maryam Nassir Zadeh