Skin
A PSA to those tiny red bumps on your arms: It's over.
Keratosis Pilaris [ker-uh-tow-sis pih-lair-is], or KP [noun]. Those tiny little red bumps seen on 50% of the population, sometimes (albeit, ineloquently) known as 'chicken skin', on the back of your arms, upper thighs and, dare we say it, on your buttocks, you've had since pre-pubescence. Otherwise known as the cause of many awkward casual arm grazes (spooning is out of the question, people), taints the look of that perfectly-boho sleeveless silk-crepe Etro maxi you've been dreaming of wearing since the snow thawed, and drains your Net-A-Porter fund in lieu of a summer's supply of M.A.C's Studio Body foundation.
---
It goes without saying, when it comes to skincare, we've put ourselves through pretty much anything (remember this and this?) to reduce our pores to the point of invisibility and even our tone. But KP, is one of those skin anomalies that's the causality of our unintentional neglect — likely due to the fact that it isn't painful (in the slightest) and only seems to worsen in the winter months, when we're buried under layers of wool and down fill. You could say we're ritualistic about skincare methods from the décolletage up, but when it comes to shoulders down, well, let's just say there's been a slight oversight.
But, we're vowing to change all that, guys. As our weather app reads temps of above 0, we enlisted the help of Dr. Audrey Kunin, the derm behind the niche keratosis pilaris skincare line, DERMADoctor KP Duty, who lays out the groundwork for how to finally smooth, even, and prevent rough and spotted skin. Yup, we'll strictly keep the polka dotted appearance for the SS15 Dolce & Gabbana ruffled dress in our virtual shopping bag.
What Is KP?
Don't confuse these welts with sebum-clogged acne, keratosis pilaris is actually a hard buildup of keratin (as seen in all those hair oils you've been hoarding) in the hair follicle. But wait, we're not saying you should abandon your elixirs, keratin in actuality naturally produced by your body, so there's no way around it. In fact, it's completely genetic. "KP is a normal variance of how your skin is produced. In fact, half of the entire world population has it. It's essentially an issue where the skin cells are made too fast and too numerous around individual hair follicles, specifically around the upper arms and the thighs."
The result? Bumpy, and sometimes crusty (oh, how we hate that word) texture of the skin. That dotted appearance? All because of some inflammation at the base of your hair follicle. "In fair complexioned people, it can look pinkish or purplish, if your skin tone is darker, it can have brown or black polka dotting."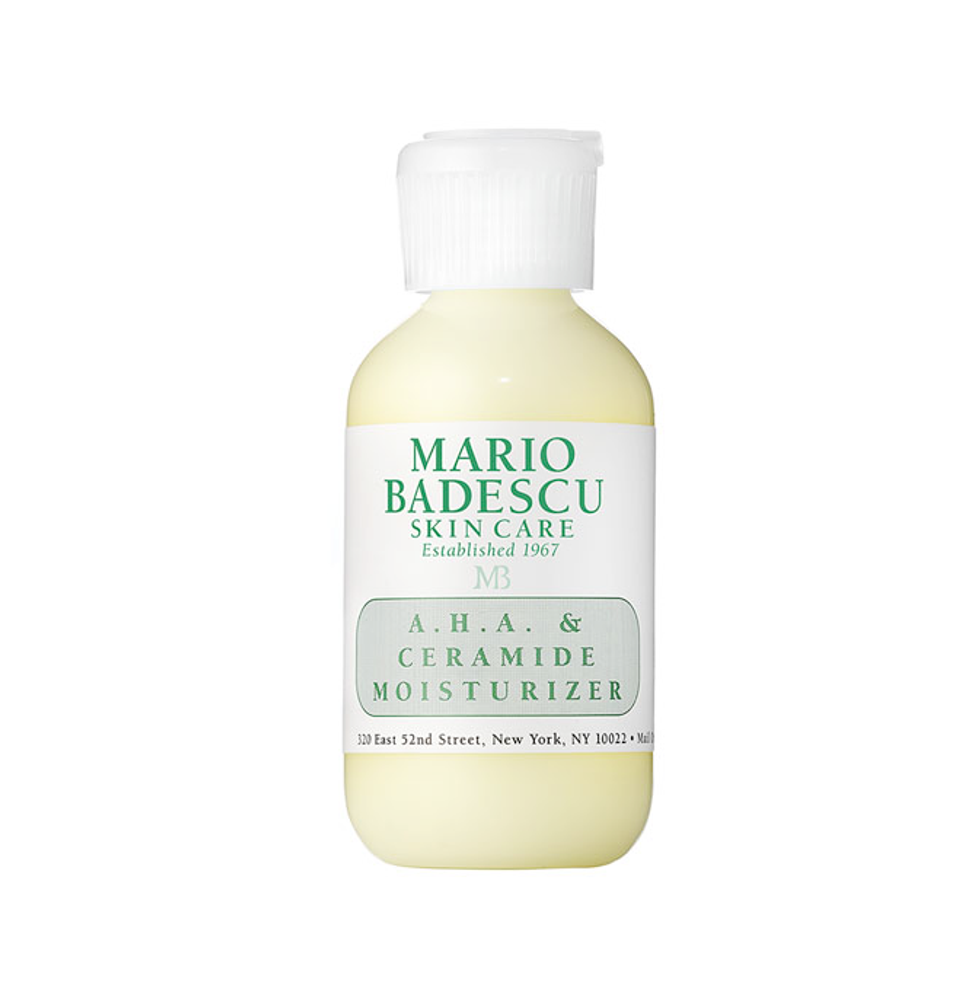 Prevention
Hate to break it you, guys, but unfortunately, there's no way to completely prevent KP from happening in the first place. "You'd have to turn the gene off," explains Dr. Kunin. And since we're not Leeloo in 5th Element, it's likely not an option. "It's more about what you can do topically to improve the appearance of the condition."
Treatment
Okay, so here's the good news: there's a few things you can do to make your KP look a whole lot better.
1. Moisturize: "Ideally use moisturizers that have AHA alpha hydroxy acid, a glycolic or lactic acid, to help smooth the skin," says Dr Kunin. We love Peter Thomas Roth's Glycolic Acid 10% Moisturizer for our ultra just-coming-out-of-winter's-duldrum dry skin. 
2. Exfoliate: "There are a lot of great scrubs out there that can smooth away the bumps. While exfoliators can be helpful, it doesn't address the inflammation at the base of the hair follicle, which gives it that discolored appearance. You can have the smoothest skin from exfoliating but that alone won't get rid of that polka dotting," she explains. 
3. Even Out Skin Tone: Dr Kunin continues, "As far as the redness itself, you can use a variety of different skin-soothing or calming ingredients. But using brighteners may cause blotching and unevenness." Instead, try KP Duty's lotion which is loaded with antioxidant green tea and AHAs to buff out and even your skin.