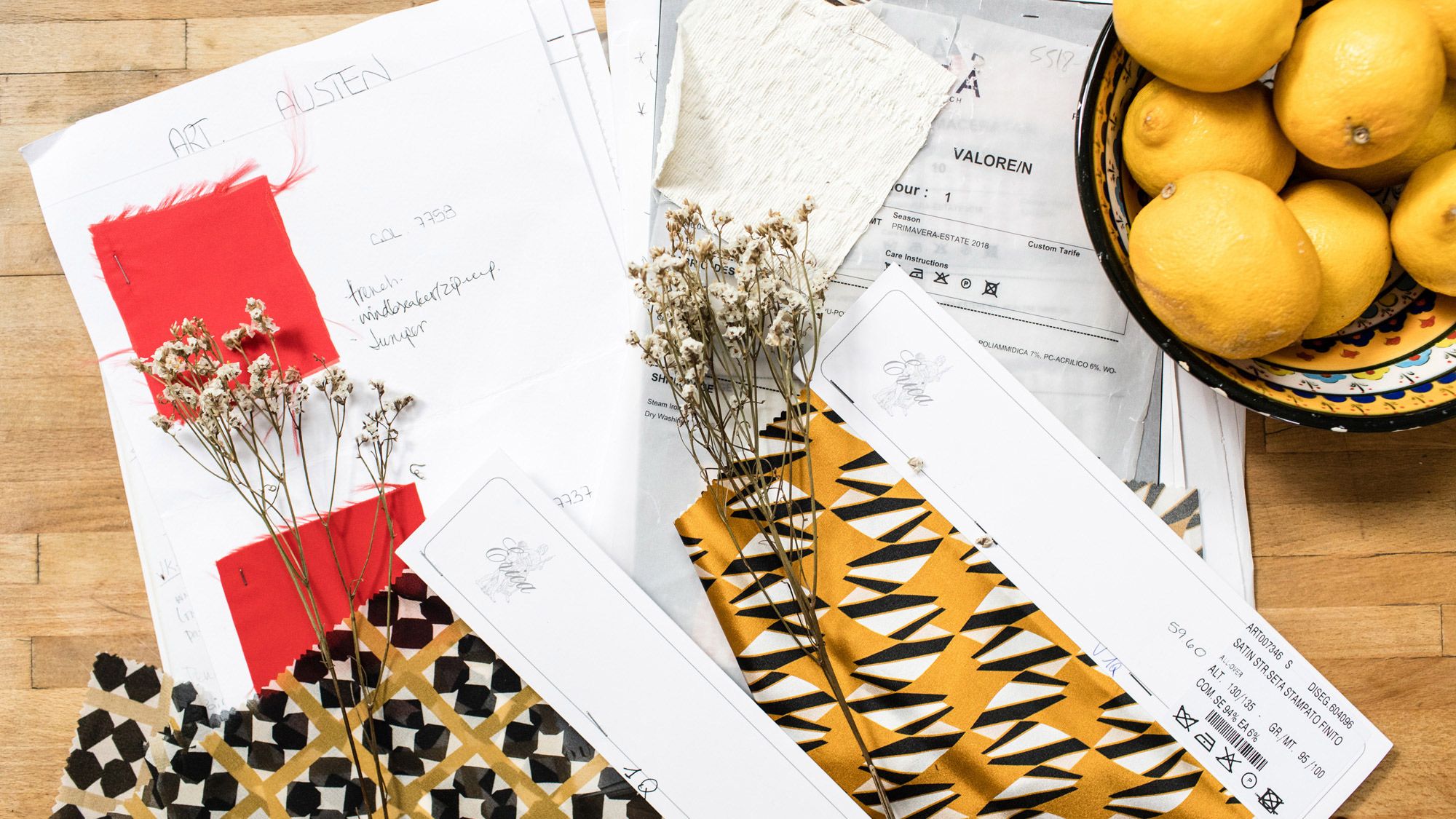 Designers
Meet Markoo.
Nathan Legiehn
Curranne Labercane, Jodi Taylor
If you haven't noticed the resurgence of the tube top yet, let us reintroduce you. This time to the top of all tubes: a knotted leather creation c/o Canadian label Markoo. It's *the* chicest one we've ever seen and the fine work of best friends-slash-business partners Tania Martins and Mona Koochek.

The two first met in Toronto when Koochek walked into Martins' former boutique in search of the perfect party outfit. And while a purchase never materialized, ultimately something special did: the creation of Markoo. Now five years in, The New York Times-labeled "brand to know" is recognized by its luxe fabrics—think buttery lamb-skin leather, flirty linens, a dash of houndstooth—and its "no fuss" simplicity.

We tracked down the designers at Koochek's charming Queen West walk-up—where they've housed their Toronto studio in the short term as they contemplate a move to Europe. Martins and Koochek filled us in on the early days of Markoo; how it took them *forever* to come up with the name; and how they found the guts to design what they truly love.
---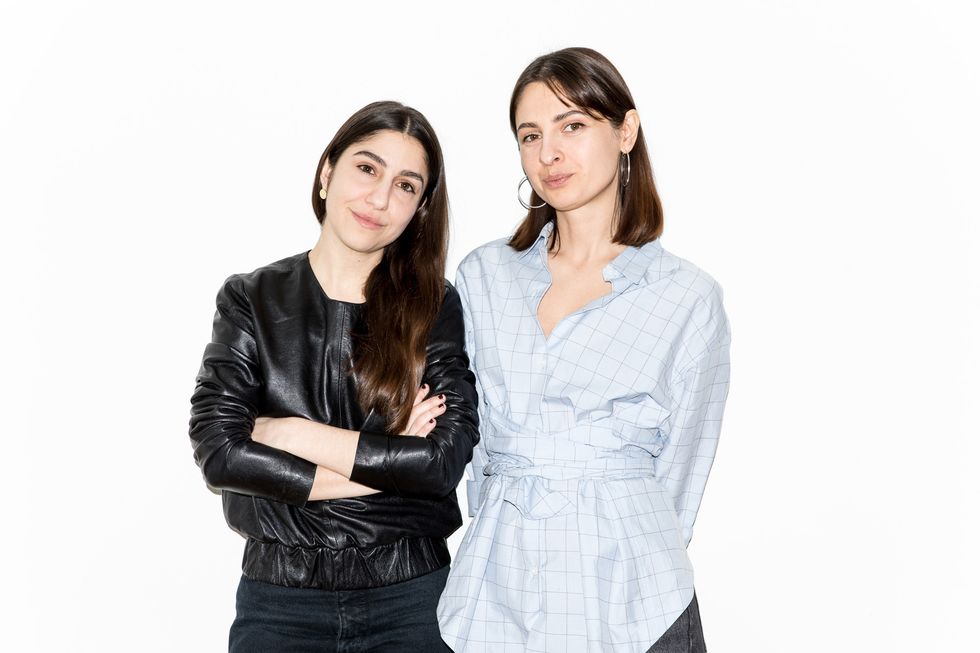 On serendipitous beginnings:
Mona Koochek: "Tania had a really cool store in the city—all the babes shopped there. I went in for a party outfit, and we really hit it off. I wanted to learn more about fashion and was taking night classes on pattern-making."
Tania Martins: "And I was like, 'Don't do that. I'll teach you.'"
MK: "We would go in the mornings before the store would open. How many times did I sew a sleeve backwards? Tania was like, 'Why? We just talked about this [laughs].'"
The birth of the brand:
MK: "When Tania decided to close the store, she approached me about starting up a studio together. It wasn't necessarily to have a brand together. And then we were just collaborating all the time. It was such a back-and-forth about what we thought was missing in the industry, what we would want, what we loved…"
TM: "And then we joked, 'We should do something together one day.' Then it was, 'Why are we waiting? Why don't we just do it?!'"
MK: "And then we flung in, without necessarily thinking."
The name should've come easily—but it didn't:
MK: "It's the amalgamation of our two last names. And it took forever."
TM: "Six months. We started [the collection] before we had a name. We were like, 'We have to start the collection, we'll figure out the name later.'"
MK: "I don't know if Markoo was always on the table. But it just made a lot of sense."
On daring to dream big:
MK: "It took a bit of time for us to be like, 'This is what we want to be,' and make the decision to push the envelope. As Canadian designers, that is definitely a challenge. In New York, it's a lot easier to meet the right editors. Toronto is a very small market and a very safe market. So you have to go where people dare a little harder. We do our production in Portugal, where there is a lot more capacity and expertise. And by having the creative team in London, we're networking with a lot more stylists. We're chipping away at it."
The pieces have a presence:
MK: "When we first started, we were making your staple moto, your staple wide-leg pant—we still do—but then we started to work with Italian fabric mills that have really beautiful fabrics. We are taking the brand somewhere where it feels like it has a presence. And the girl who wears it has a presence. If she's going to walk into a room wearing the [knot leather] tube top, she's like, 'Hi! I'm here, world.'"
How it works as a two-designer team:
MK: "I was the one who started talking about the knot in [a piece of] fabric. And Tania was like, 'Not in leather—whoa, [actually] that's so hot.' I was like, 'What do you mean?' And she's like, 'This is what I mean,' and puts it across her bust [laughs]. That's how it happens. An idea will come, and then it can go into many [directions]. Sometimes it works; sometimes it doesn't."
Why they shouldn't go to parties together:
TM: "Every time we're together, we will talk about what we need to do. Every time. We were just at a birthday party, and we got into a corner and started talking about this fabric and this idea. We need to stop [laughs]."
How they chill:
MK: "I do Pilates. I really love it. Misfits is the best Pilates studio in Toronto. It really does help. It's a direct-impact kind of thing, where you're like, 'OK, I'm chilling out.' And we talk about taking vacations [together] so that we can design while we're there."
Is a move to Europe in their future?
MK: "Well, there's always talk about moving, hopefully to London, and being able to station out of there. We're trying to work it out."
Their best biz advice (via Mona's dad):
MK: "Be patient. And stick to it. When we first started, my dad said, 'Know that it probably won't happen fast. And you have to be OK with sticking to it.'"
If they weren't designers, they would be…
TM: "We don't know... That's why we stick to it [laughs]."