Fashion Week
The man behind our favorite things to wear is now responsible for the best hair ever. Coincidence?
If there's one show we can count on to forecast an entire season, through shiny-and-new-on-the-shelves to serious sale season scores, it's Phillip Lim's. No, seriously: our biannual wish list building more or less begins the moment the lights dim and the music starts booming over through the designer's venue every September and February. And so when we got word that we'd be backstage watching his latest (and arguably greatest) collection come together, we may have had a mild meltdown. As in, Facetime humblebrags occurred. Not one of our finer moments.
---
And while there was more than enough fodder for us to be transfixed by backstage (specifically: the perfectly jaunty trousers, cropped, sculptural jackets and cool cocktail dresses), we were most immediately drawn to the beauty team working their magic. With
Tresemme
's Paul Hanlon on hair, we watched as the fleet of girls were one-by-one given what seems to be (arguably, in contrast to the clothes) a return to the basics, beauty-wise.
Case in point? Clean, sculpted skin with a hint of sheen, paired with full, natural brows and what Hanlon dubbed 'the flyaway knot'. Yes, the all-star hairstylist possesses the unique capability to make even your post-bike ride topknot look chic and polished: cue an artfully messy bun with accent pieces framing the face for a windblown, almost wispy effect. Guys, if post-cardio hair actually becomes a thing, our snooze button might just have to put a ring on it.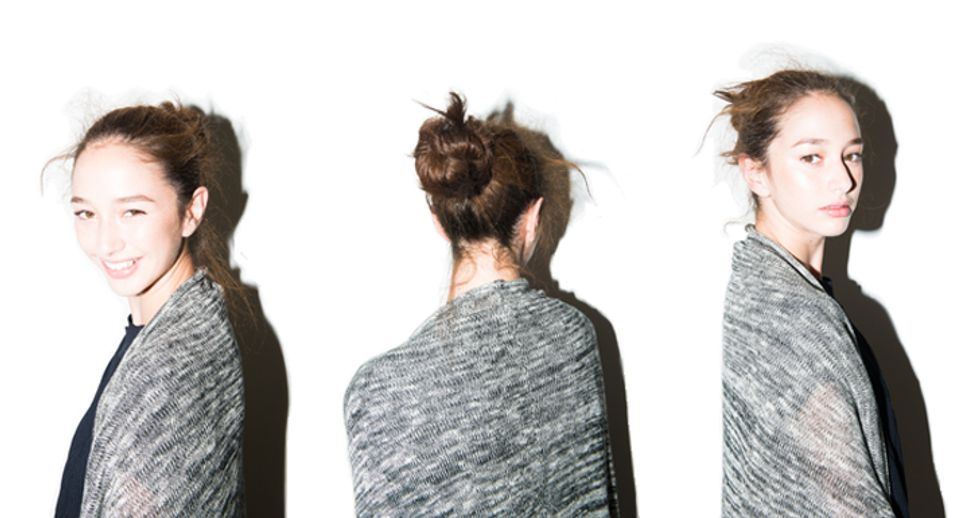 You will need...
TRESemmé Climate Control Mousse
Hairdryer
Soft bristle brush
TRESemmé Fresh Start Volumizing Dry Shampoo
Fine-tooth comb
TRESemmé Climate Control Hair Spray
Elastic
Hair pins.
Step 1
Prep the hair by applying TRESemmé Climate Control Mousse through the hairline and mid-lengths to add volume and give it hold without soaking the hair.
Step 2
Rough dry with a hairdryer and then use a soft bristle brush to pull out and straighten the hair around the hairline.
Step 3
Use TRESemmé Fresh Start Volumizing Dry Shampoo on the roots of the hair to create a matte and mouldable texture. Then, moving around the hairline, back comb fine sections of the lengths and lightly spray with TRESemmé Climate Control Hair Spray to define and hold.
Step 4
Pull the hair into a ponytail at the crown of the head and secure with a hair tie. Divide the lengths into two sections and then knot (as you would your shoes laces), twice or three times depending on the length of the hair. Secure with pins and leave the ends to stick out for a punkier look.
Step 5
Finally pull out strands around the sides and back of the hairline and finish with a spritz of TRESemmé Climate Control Hair Spray. Selfie time!