Future of Fashion
Dirk Standen on the Future of the Fashion Industry
The former editor-in-chief of Style.com and the founding editor of Conde Nast's creative agency 23 Stories shares his thoughts.
Graphics:
Ashley Combs
The last 18 months have been so grim that we had to invent a new word for the way we consume the news. But let's take a break from doom scrolling and look at things from a different angle. The fashion industry faces a number of challenges, some critical, others merely profound, and there are ways it can start to meet them. All of which means:
You'll never buy new clothes again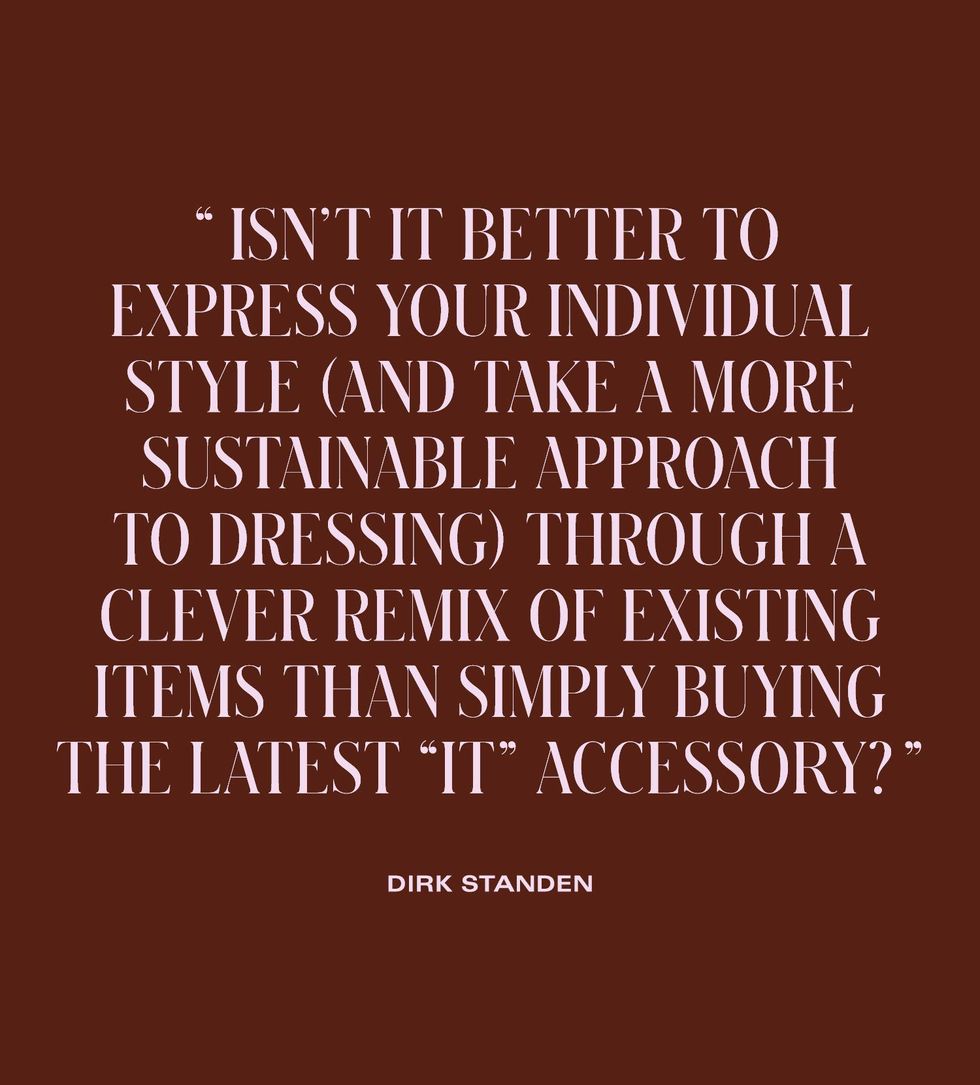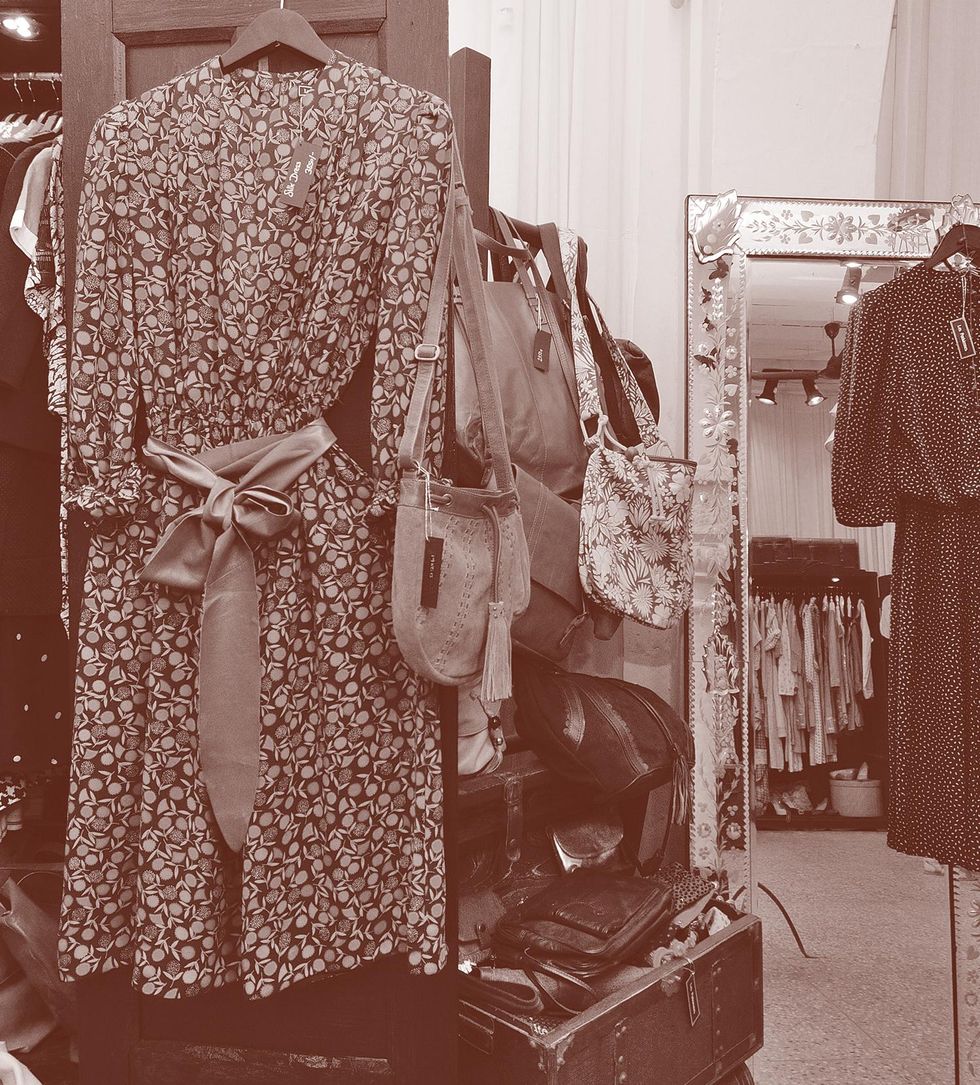 OK, that's an exaggeration. The allure of the new will surely remain strong. But the resale market is booming—among other developments, Etsy just bought Depop for $1.6 billion, and luxury conglomerate Kering got into the game by investing in Vestiare Collective—and we are at the start of a permanent change in consumer behavior. Isn't it better to express your individual style (and take a more sustainable approach to dressing) through a clever remix of existing items than simply buying the latest "It" accessory? Talking of which…
You'll never buy leather goods again
That may actually be true. Demetra. Sylvania. Mylo. These are not ancient goddesses and gods you have somehow never heard of. They are the names of new leather alternatives, derived from mushrooms and other animal-free sources and used respectively in Gucci's new sneakers, the "Victoria" bag from Hermès, and a version of adidas Stan Smiths. Now that companies have shown that they can develop alternatives that are as supple and tactile as "the real thing," minus the environmental pollution that comes with livestock overproduction and toxic tanning processes, consumers will increasingly shun leather. Don't believe me? It wasn't that long ago that fur was considered glamorous.
You'll only support companies with innovative approaches to sustainability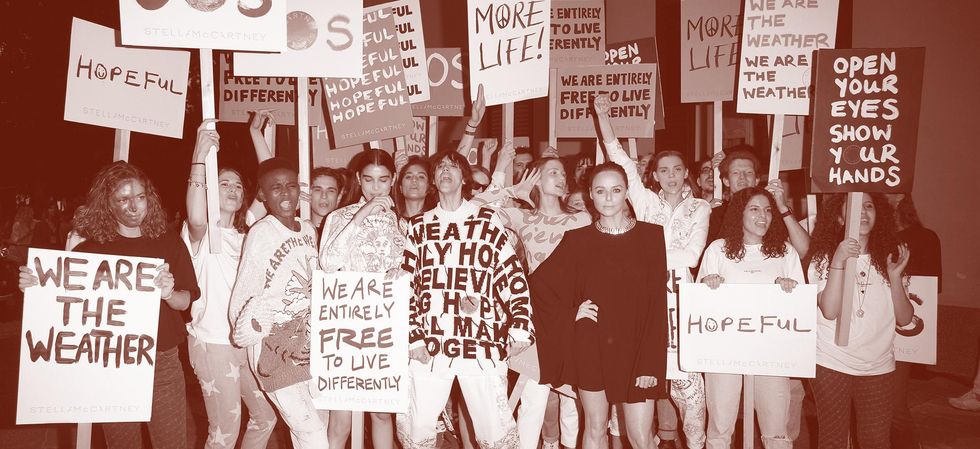 And only companies with innovative approaches to sustainability will thrive in the future. Consumption is so hardwired into humans at this point that it's hard to see us ever scaling back. In Fashionopolis, her clear-eyed dissection of fast fashion's ills, author Dana Thomas reports that the industry is on track to produce 102 million tons of clothing a year by 2030, a 63 percent increase. The alternative is to innovate our way out of this mess. And it's not as impossible as it seems. New technologies already exist that minimize waste and pollution at every step of the manufacturing process. We are now able to turn discarded clothing into new materials, eliminate waste in pattern cutting, and make clothes using minimal water and zero chemicals. And we can do it at scale. Fashion companies need to adopt these methods more quickly, and government regulation would help, but as Stella McCartney, a pioneer in incorporating sustainable practices, recently told the Business of Fashion: "You can't walk into a room with a business model in any industry now and not have sustainability be one part of it. You can't start a fashion brand today without that, you're so irrelevant, you're like the most unfashionable. Now, that is a fucking miracle."
You'll only support companies that are truly diverse
And only companies that are truly diverse will thrive in the future. A lack of diversity has been a long-standing problem in fashion, and the absence of Black voices has been particularly acute. In the wake of the global protests sparked by the murder of George Floyd, there has been a scrutiny on just how urgently change is needed at every level of every company, in boardrooms as well as design studios, in ownership structures. A number of forces—increased pressure on companies to back their words with action; the emergence over the last decade of industry-leading designers, each with very different points of view and business models, but each with their own spheres of influence, like Virgil Abloh (Louis Vuitton and Off-White), Telfar Clemens (Telfar), Grace Wales Bonner (Wales Bonner), Kanye West (Yeezy), Kerby Jean-Raymond (Pyer Moss), and Jerry Lorenzo (Fear of God); enterprising new initiatives like Abloh's "Post-Modern" Scholarship Fund and Aurora James' 15 Percent Pledge—have started to push the industry at large to recognize, support, and promote a range of talent. Without minimizing the collective work we need to do, this is one area where fashion can belatedly take the lead.
You won't go completely digital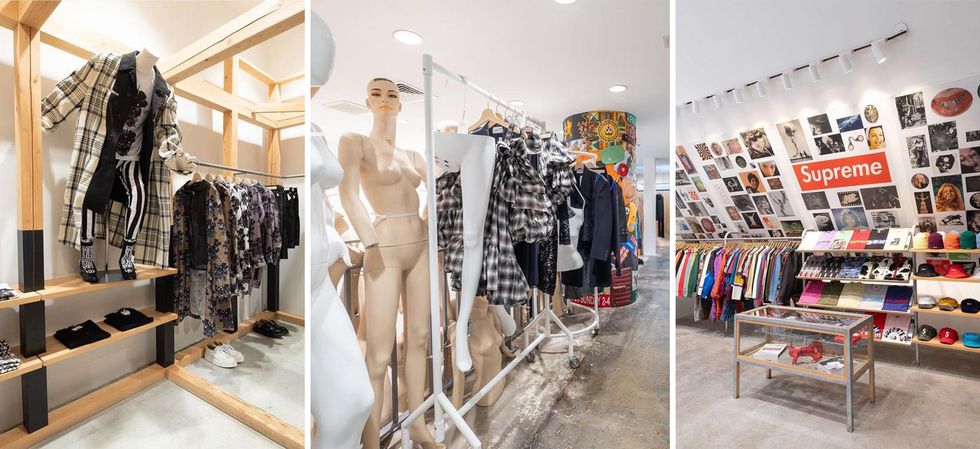 As purchasing moves almost entirely online, physical stores will reinvent themselves as brand showcases, elaborate stage sets for social media activations, and VIP clubhouses for their superfans. An early and radical interpretation of this approach is taking shape in a 17th-century mansion in the Marais district of Paris. Dover Street Market, the network of stores owned by Comme des Garçons, plans to use the space for dance parties, music concerts, art installations, panel discussions, poetry readings, and maybe even to sell you a few things. "It's a new way of doing business, of which retail is only a part," Dover Street Market CEO Adrian Joffe told WWD.com. "It seemed a good idea to take the already existing idea of all the DSMs to create a community of creative and visionary people, all with something to say, and expand that idea beyond just the physical store." Joffe knows a thing or two about retail innovation. He and his partner Rei Kawakubo are credited with inventing the concept of pop-up stores with the "guerilla" outposts they started introducing in the early 2000s.
You'll still watch runway shows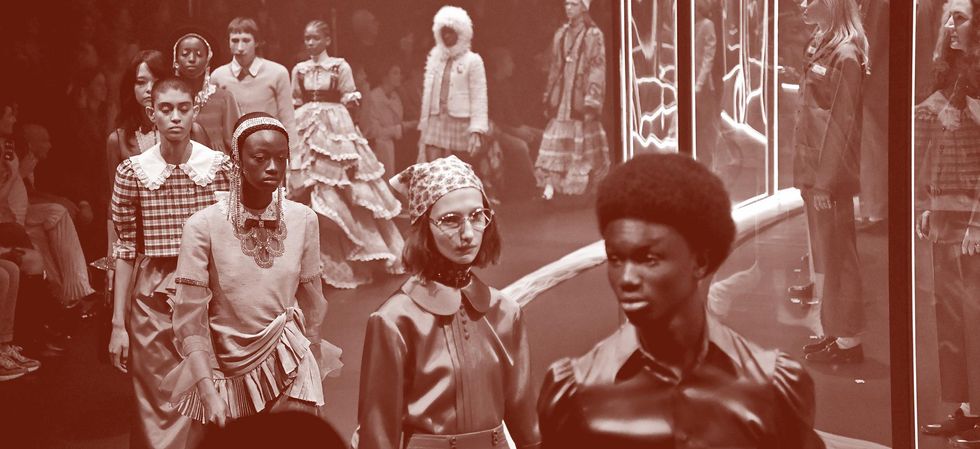 Even before the pandemic, people were questioning the relevance of physical shows and the overheated fashion week schedules and excessive travel they entail. Then, as we sat glued to our screens during lockdown, we were supposed to be witnessing the dawn of an exciting new era of digital-only presentations. Only it turned out those videos weren't very good, and even the halfway decent ones struggled to replicate the electricity and immersive quality of the live experience. Which means that runway shows are probably here to say. But to justify the excess and the expense, brands will turn them into spectacular one-off events and find ways to bring their followers into the experience, whether through expanded venues or ultimately virtual reality technology. Think Kanye West's DONDA listening party in Atlanta, with its visuals and stage set designed in collaboration with Balenciaga's Demna Gvasalia, translated to the fashion space.
Your avatar will be better dressed than you
Yes, welcome to the metaverse, an interconnected virtual world combining elements of gaming and simulated reality that, according to some people at least, is set to replace the internet as we know it. It might seem far-fetched, but true believers include Mark Zuckerberg, who is throwing many of Facebook's billions into the idea. And we're already seeing its influence on fashion. Gucci has started selling $12.99 virtual sneakers. Burberry is teaming up with the multiplayer game Blankos Block Party and introducing digital characters and accessories you can buy and trade, i.e., non-fungible tokens or NFTs. Not to be outdone, Louis Vuitton celebrated its 200th anniversary with a mobile game featuring NFTs designed by Mike Winkelmann, the digital artist known as Beeple. Meanwhile, new ventures like L.A.-based DressX are springing up to provide digital-only fashions, essentially designs that can be photoshopped with increasing seamlessness onto your existing selfies. And while the current offerings can be best described as whimsical, you can see the attraction of flexing on social without the hassle, expense, and waste of buying physical clothes.
You'll learn to embrace the chaos
Where will this all lead? Who knows? What's exciting about the metaverse right now is that it feels like the early days of the internet and that, the likes of Zuckerberg aside, the parameters of this new world are being mapped outside mainstream commercial arenas—in platforms like Discord, Roblox, and others most of us have never heard of; in the whole crypto frenzy (terrible as it currently is for the environment); and in the sudden mania for NFTs. And it will transform fashion in ways that we have yet to imagine. I was talking to the head of a streetwear label in L.A., the sort of Brit who barely conceals an appetite for anarchy beneath a veneer of soft-spoken politeness. It was a couple of mornings after Beeple sold his digital artwork Everydays: The First 5,000 Days for $69 million, and the streetwear founder was raving about the potential of NFTs. "Yeah," I said, "But do you really understand what they are?" "No," he admitted. "I just love the chaos of it." Not a bad philosophy, I thought. The future will be chaotic, but we'll find new ways to adapt.
Photos: Getty
Dirk Standen is Professor of Fashion Marketing and Management at SCAD Savannah. Previously, he was editor-in-chief of Style.com and the founding editor of Conde Nast's creative agency, 23 Stories.