Entertaining
With Bartender Kenzie Brenna. La Carnita, Toronto
Welcome to Day Drinking, our new series in which we'll be celebrating just that—the age-old tradition of getting tipsy during the daytime. We'll be spotlighting cocktails, bars and their respective bartenders every Friday—think of it as your digital pre-drink for the weekend ahead.
---
ICYMI: we hail from Toronto, home of the two hour taco wait. While our city's love of Mexican grub is well-documented; it's not to be taken lightly. In time for Cinco de Mayo, we recently spent an afternoon holed up at La Carnita (a local pop-up-turned-full-time resto) , which is hailed for their delicious, melt-in-your-mouth tacos, unreal street corn and on-tap margaritas (pretty sure #goals was invented solely for this occasion). There, bartender Kenzie Brenna schooled us on the not-so-traditional margarita and the art of the OG Michelada.
---
Verdita Margarita 
2 oz TROMBA BLANCO TEQUILA 
1 oz FRESHLY SQUEEZED LIME JUICE 
1oz PINEAPPLE JALAPEÑO SYRUP 
SPRIG OF MINT
SPRIG OF CILANTRO 
DASH OF SEA SALT
one > Add mint and cilantro
two > Add liquor, juice and sweetener and salt. Shake.
three > Pour into rocks glass with ice
four > Garnish with disciplined mint 
---
---
The O.G. Michelada 
SEA SALTED RIM
SPLASH OF LIME
SPLASH OF HABANERO HOT SAUCE
SPLASH OF CLAMATO JUICE
1 CORONA CAN
one > Salt rim of mason jar
two > Add hot sauce, lime juice and clamato juice. Fill with ice.
three > Garnish with lime
four > Serve with side of Corona can.
---
ON HER FAVORITE DRINKING SOUNDTRACK:
"'Loaded' by The Velvet Underground! Ending the night with 'Oh! Sweet Nuthin'' is perfect. If that fails, Jimi Hendrix's 'Bold As Love' puts me in a good place too."
ON HER GO-TO TOM CRUISE-STYLE BARTENDER TRICK:
"Making sure to not do those tricks and not do them well."
ON HER FAVORITE COCKTAIL:
"I like simple cocktails that are smooth and dry. I'll have to say a Sazerac."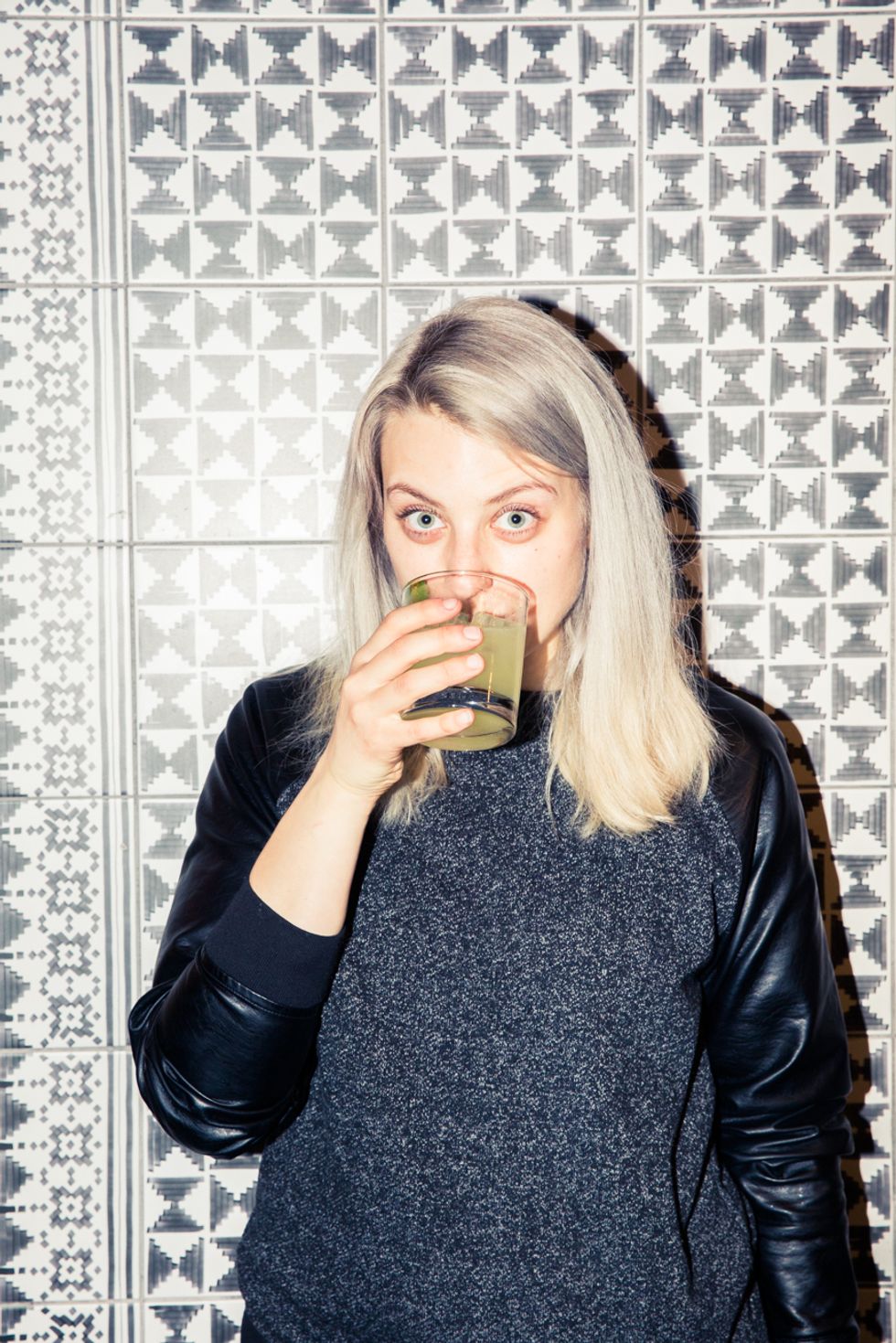 ON HER LIQUOR OF CHOICE:
"Dirty Jamesons."
ON THE MOST MEMORABLE COCKTAIL SHE'S EVER HAD:
"Maison Premiere, New York. It could have been the oysters making me feel so good, but I always long for this gin cocktail, Carondelet. It's quite a lovely cocktail, very balanced. The vanilla they use brings out the nuttiness and orange flavours in the Beefeater Gin."
ON THE BEST HANGOVER CURE:
"A shitty coffee and some fucking nachos."
ON HER DREAM DRINKING BUDDY:
"William S Burroughs. Although, he had a problem with the poison so I would feel uncomfortable making him a drink. Stevie Ray Vaughn, then. But he also had a drinking problem. Okay, very last choice would be... Patti Smith, I feel like she has insightful things to say about our current culture and politics. But she doesn't drink! So just a shared conversation over coffee I guess."