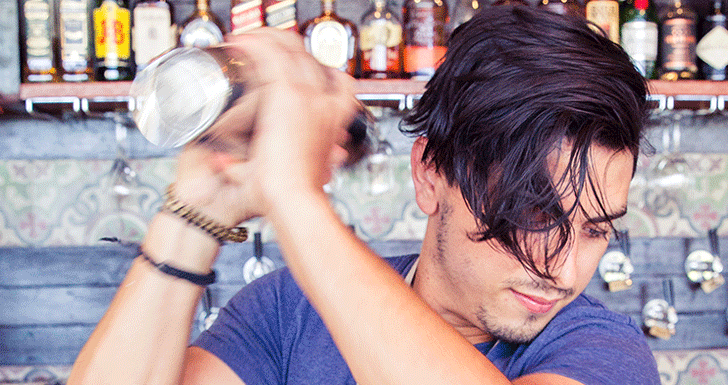 Entertaining
With bartender James Stewart. Three Blue Ducks, Bronte
---
Welcome to Day Drinking, our new series in which we'll be celebrating just that—the age-old tradition of getting tipsy during the daytime. We'll be spotlighting cocktails, bars and their respective bartenders every Friday—think of it as your digital pre-drink for the weekend ahead.
Straight up: we like our drinks personalized. No, really, the simpleton concoctions a la vodka sodas are reserved strictly for cleanse season. We're more of the four-plus floral-infused, obscure-liquor (occasion depending) ingredient types, if you know what we mean. And such customization came easy at Three Blue Ducks restaurant where we had a Have It Your Own Bloody Way (yeah, we got to choose the booze :raised_hands:) to wash down our pan-roasted mulloway. But since we can't all be in New South Wales, Australia every weekend, we had the charming barman James Stewart show us how to mix it up at home. Oh, and there's a Fresh Pisco Sour recipe in there for good measure. Cheers to the freakin' weekend, friends! 
---
"HAVE IT YOUR OWN BLOODY WAY"
Bloody Mary
1 (OR 2) OZ KETEL ONE VODKA
1 OZ LEMON JUICE
TOPPED WITH MARY MIX 
CUCUMBER
LEMON
CORIANDER
CRACKED BLACK PEPPER
one > Use a tall bamboo glass rimmed with chilli salt and filled with ice.
two > Our Mary mix is a blend of Tomato juice, Worcestershire sauce, our house made hot sauce and Cabernet Sauvignon. These ingredients can be added independently and adjusted to taste. I would suggest no more than 1 oz of each to start. 
three > Garnish with cucumber, chilli, lemon, coriander (cilantro) and cracked black pepper.
---
FAVORITE DRINKING SOUNDTRACK? 
"Depends on the occasion but historically it seems some 'Lets Go' by Rancid gets me in the mood. If the need for something more accessible arises, a little 'Songs In The Key Of Eh' by the Mad Caddies is always well received. Track 9 stills raises the hair on my arms. 
FAVORITE TOM CRUISE COCKTAIL-ERA BARTENDING TRICK?
"Can't say I'm one for flairing, we call them 'Startenders' down here. I can appreciate their skill though. But to answer the question, I'd love to be able to throw my shaker to the ground and have it bounce back to my hand. That'd be pretty sweet."
LIQUOR OF CHOICE?
"Bourbon is a lot of fun." 
FAVORITE COCKTAIL?
"A tall Black & Tan. Made with Coopers Best Extra Stout and Coopers Sparkling Ale. This is the best Black & Tan you'll ever drink.  However if we're talking hard liquor, then a good 50/50 Rye/Cognac Sazarac is my go-to beverage." 
MOST MEMORABLE COCKTAIL? 
"Happens to be the one I can't recall. It was called a Waterfall and was served at a bar called Friday's in Brisbane. Similar to a Blue Blazer, but made with Chartreuse Green and Chambord. The bartender would light the liquor on fire and pour from a wine glass to a rocks glass. Then place the wine glass rim down over a coaster with an ice cube placed in the middle. You would take the shot, then inhale the fumes from the wine glass with a straw. I woke up in a garden bed in Brisbane City being seen to by paramedics. After I drank four. The drink has since been abolished."
---
FARM FRESH
Pisco Sour
2 OZ CAMPO DE ENCANTO PISCO
1.5 OZ LIME JUICE
1 OZ LEMON MYRTLE SUGAR SYRUP
1 OZ EGG WHITE
ONE QUARTER ROYAL GALA APPLE (SLICED)
one > Muddle apple thoroughly in the mixing glass, then add Pisco, lime juice, sugar syrup and egg white. Prepare your rocks glass with coarse ice. 
two > Vigorously dry shake.
three > Add ice to shaker and shake again.
four > Double strain over coarse ice. 
five > Garnish with Aromatic Bitters, dehydrated apple slices (or fresh) and Marigold petals. 
---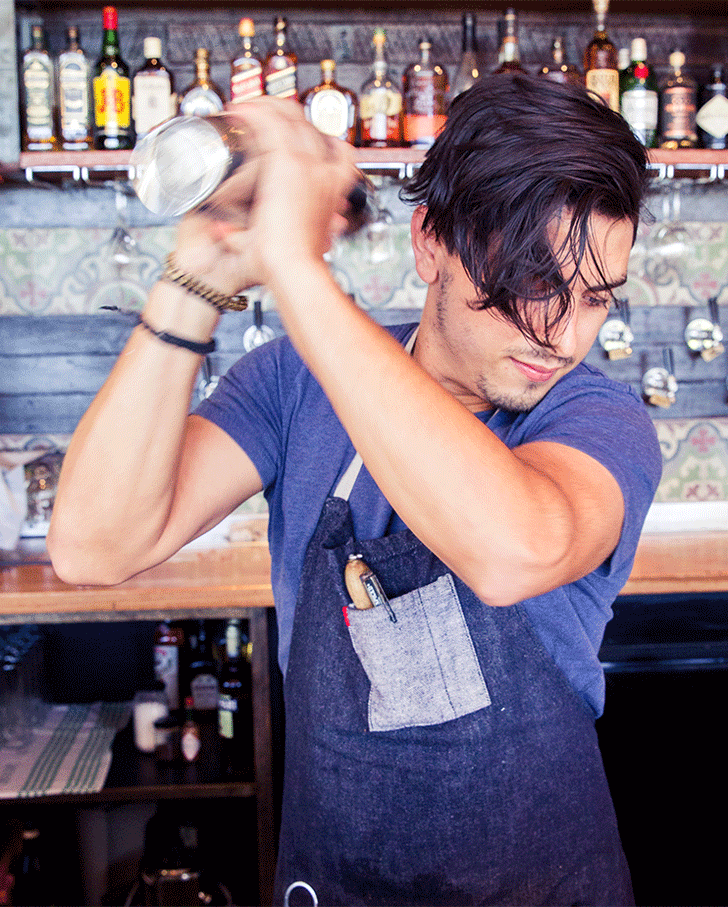 BEST HANGOVER CURE?
"Sleep and pre-sleep electrolytes or water—if you have the good sense to actually do it. Otherwise, nothing can beat a hair of the dog that bit you." 
PERSON I WOULD MOST LIKE TO DRINK WITH? 
"Sterling Archer."