Designer Daniella Kallmeyer Launched Her Label on the Premise of Suiting
Now, she's fleshed out a comprehensive women's ready-to-wear brand that blurs the lines between masculine and feminine.
Fashion
Fashion designer Daniella Kallmeyer and I logged onto our scheduled Zoom interview at exactly the same time. Instantly, our videos came into focus to reveal two startlingly similar images. Here were two women clad in an oversized white button down and black-framed glasses with our hair pulled back. "If you're not wearing Jeff Goldblum glasses and a white shirt, then you're not allowed on," she laughs.
This, Kallmeyer says, is essentially her everyday uniform. "I'm often in black or [blue] jeans that are four sizes too big for me and a white button down." She wears her closely-cropped hair slicked back behind her ears with little to no makeup. Despite her carefully cultivated personal uniform, the designer has used her career to crack through the facade of uniformity, at least as it applies to women's ready-to-wear.
When Kallmeyer, 36, entered the fashion industry in the early 2000s, the divisions between segments were much more rigid. There was workwear and then there was formalwear. There were feminine clothes and there were masculine clothes. "I was on a mission to create something where it was quite obvious there was a gray area in the market," she says of the space in between those categories.
"I was just coming out as a as a queer woman in New York. Granted, I hadn't resolved that in myself yet, or what that meant for my choices or my style or whatever," she says. "But I did sense that walking into a store, nothing was for me." Kallmeyer never loved fashion as an industry. But she did love watching a clothing item's transformative power in action as a means of personal style.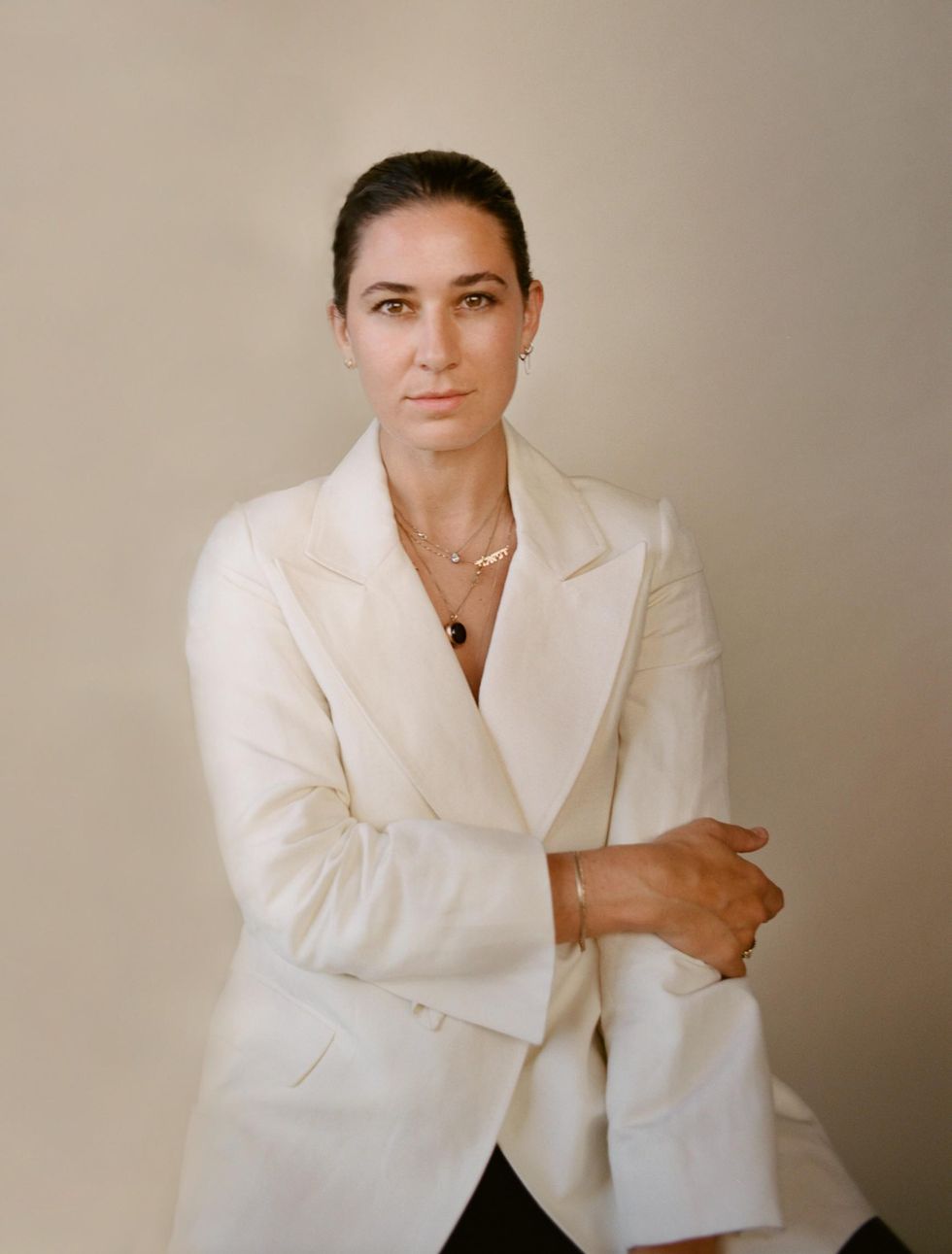 Fashion designer Daniella Kallmeyer.
Photo: Austin Sandhaus
The designer's very chic and very fabulous grandmother helped her to first identify her love of personal expression. "I don't think I understood it to be fashion, as I understand fashion as an industry now, but it was [about] presentation of one's self," Kallmeyer recounts.
As a musical theater kid, she hunted for loopholes to glean what she needed out of high school. With the help of a compassionate art history teacher, Kallmeyer essentially designed her own fashion curriculum through the class which culminated in the presentation of a collection at her graduation party. From there, the budding designer enrolled at Syracuse—a logical next step for a South African immigrant (and the child of two South African immigrants)—but quickly transferred to the London College of Fashion.
Her timing was excellent. Kallmeyer began as an assistant at Alexander McQueen as they launched McQ, a more affordable line geared towards a savvier youthful audience, under the duress of designer and founder Lee McQueen. "I remember I got a nod during a review," she says wide-eyed. Kallmeyer had hand-painted bleach onto denim in the form of X-rayed bird skeletons to earn the praise of the legendary designer.
After Kallmeyer's grandmother fell ill, Kallmeyer immediately returned to New York in 2008amidst a recession. She underwent resume-building stints at Proenza Schouler, Alice and Olivia, Luca Luca, and Jen Kao. "I just felt not in love with any of the work I was doing," she says. So Kallmeyer, somewhat prematurely as she notes, launched her own label roughly 11 years ago, around the age of 25.
"I'm always pushing and pulling the boundary of not wanting to feel too feminine, but wanting to celebrate my woman-ness, and not wanting to feel too masculine, but wanting to celebrate my strength," Kallmeyer explains. The young designer built her eponymous label on the foundation of otherness. And she did so in the form of tailoring.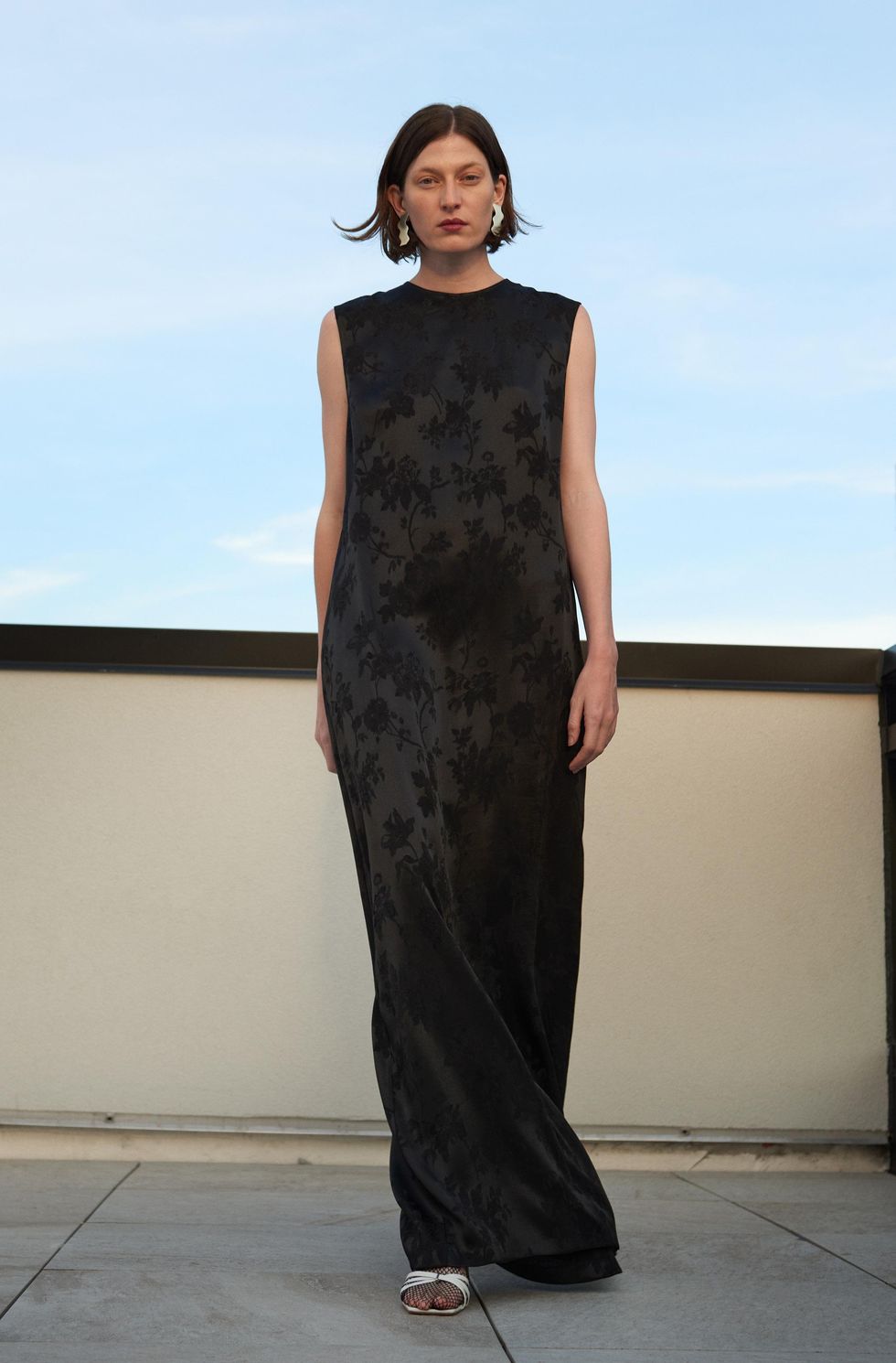 Daniella Kallmeyer Resort '23.
Photo: Austin Sandhaus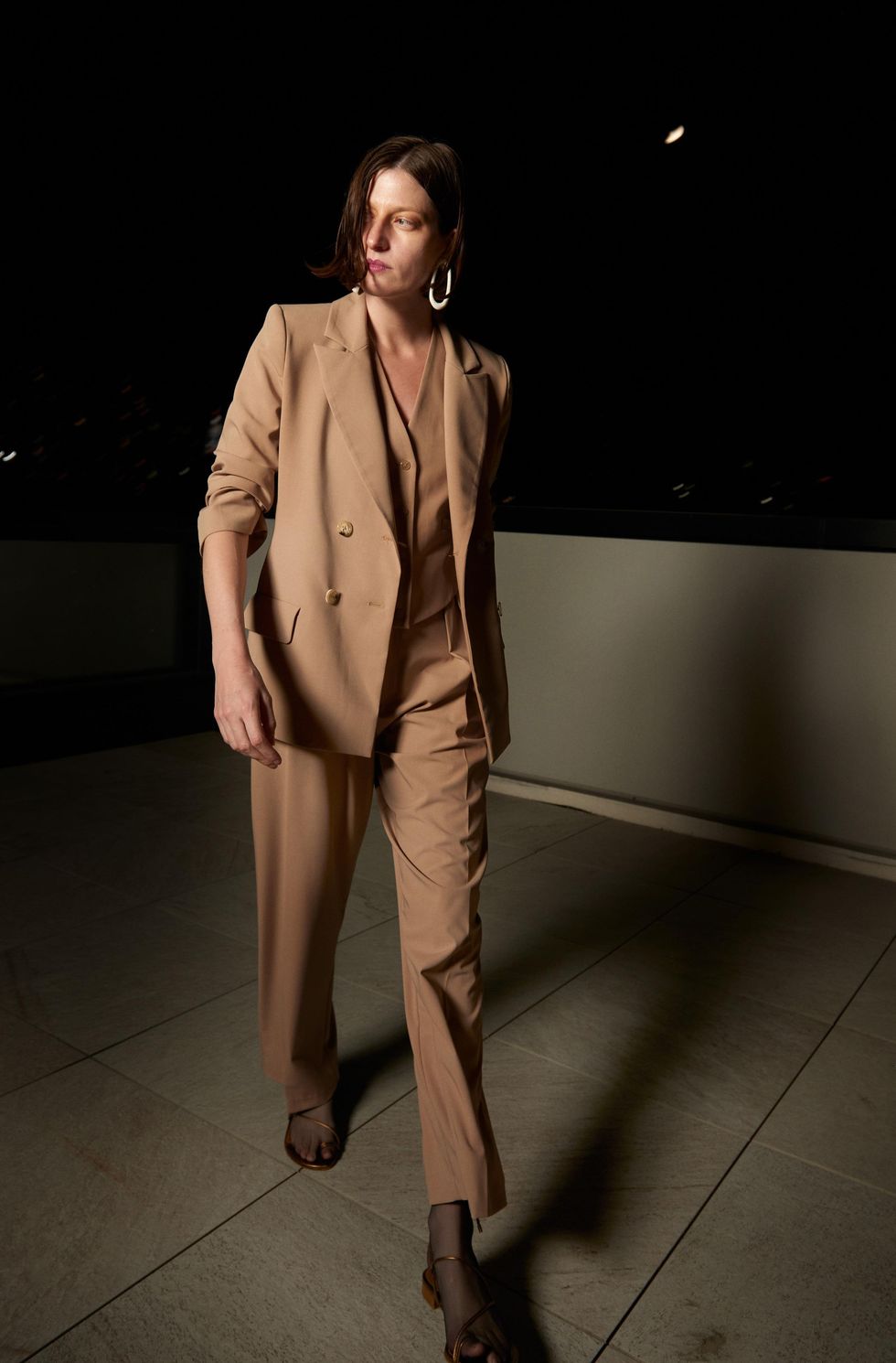 Daniella Kallmeyer Resort '23.
Photo: Austin Sandhaus
"I think regardless of their gender, there's a way that people carry themselves when they are in a suit," Kallmeyer says. For this fashion savant, the pinpoints of the suit's architecture are the shoulders and the waist. Those are the aspects controlled by the designer. Then, a combination of gravity and the human form dictates how the fabric falls. "I think of creating a skeleton-like structure that your body then carries," she says. "It is sort of like a piece of armor." Referencing old Saint Laurent and Helmut Lang imagery—"I can't help but think of them"—she notes that at the time, we hadn't seen women in this shape before.
Kallmeyer has since evolved that philosophy to coin a three-piece suit as a brand signature. "We had a cohort of queer women coming into the shop and looking for something to wear to dress up. I remember wanting to expand on that category," she says. That's where the vest (the third piece) came into play—introduced before the fashion world became obsessed with them. Both Kallmeyer's blazers and trousers often skew oversized. The bodice-like vest, with a hemline that inches up in the back, provides a more feminine element to the equation.
Her affinity for tailoring is poetic. "I liked that in a way it was masculine but sexy," she says. "There's so much iconic imagery associated with that amount of ritualistic dressing, and [I love] the choreography of dressing in layers in that way and [the idea of] being buttoned up," continues Kallmeyer. "Thank you, Diane Keaton."
With as much attention paid to the garments as the overall ensemble, the New Yorker might be more obsessed with her trousers than her vests. "I'm always on a mission for 'the perfect this.' The perfect pant, the perfect dress, the perfect, whatever." Her suiting trousers are simple yet meticulously cut—and they almost always have pockets.
This perfect mixture was intended as "a suit for lesbians and all," she laughs. "I just wanted people to feel hot and sexy. And not objectified or not frumpy or against their nature." But that suit is only a fraction of her diversified offering. Her current collection also includes a full white cotton skirt, a slinky knit polo, and wide-leg jeans.
The clothes are neutral, but not too neutral. "I think I'm constantly building a core wardrobe first, and then adding flavor to it in a way," she says. "If we were to stay on theme there, it's like garnish. A beautiful bowl of pasta with olive oil is simple and perfect enough. But no one wants beige food. So you sprinkle a little green on top or something."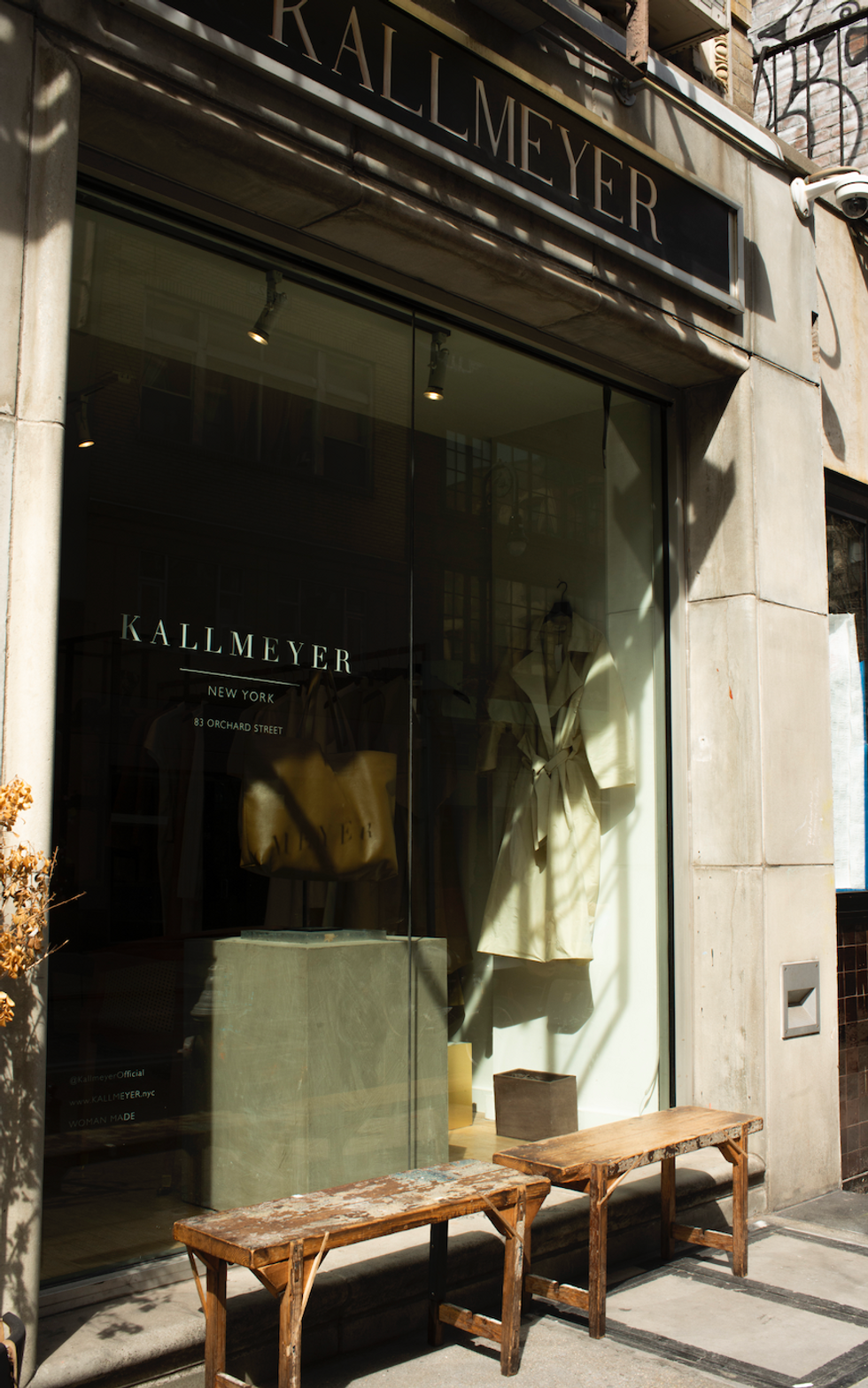 Kallmeyer's Orchard Street store.
Photo: Quinton Mulvey
Kallmeyer's purpose as a designer shifted when she opened her Orchard Street store in 2019. In addition to fueling her vintage furniture addiction, the store offered a setting to lure her customers in on the premise of suiting, and to then educate them on her greater range of ready-to-wear clothing. Customers are often surprised to discover Kallmeyer can be their tailor and their dressmaker.
A physical space for the burgeoning New York label seemed far-fetched initially. Kallmeyer essentially snuck into the location with a pop-up shop to shed excess inventory and refused to let go. "I was like, 'I do not have a husband. I do not have backers. I don't have rich parents. I don't have savings. But I just know deep in my soul that this is going to work and on my grandmother's grave, I swear to you, this is going to work,'" she says of the speech she gave the brokers. "And they gave me a lease."
Within the store, Kallmeyer, who spends most days on the floor, acquainted herself with her customer. The Kallmeyer shopper now tried on clothes, asked questions, and revealed tidbits about their life before the designer's eyes.
Recounting interactions with various customers, she notes women will come in with situational requests. What do I wear on a date? How do I dress for a job interview? After spending an hour debating gender constructs in fashion, I was curious how similar her answer to those two questions would be.
"I might show her a different garment, but it's not really a different thing," she says. "Because what is sexy? Sexy is just being in your power. And what is being dressed well for an interview? It's being in your power."