Christy Turlington Burns on the Moment That Helped Launch Her Career
The model reflects on shifts in the industry, and returning 34 years later as the face of Calvin Klein Eternity.
Beauty
Photo: Getty Images
When Christy Turlington Burns' career launched in the early '80s, the modeling industry was on the precipice of change. There was no street style commotion (collections in New York were shown in designer showrooms), and far less of the glitz and glamour we associate with fashion and modeling today. Turlington Burns and her peers—Cindy Crawford, Naomi Campbell, and Linda Evangelista, just to name a few—created a new class of celebrity: the supermodel.

In the time in between her first campaign and this most recent one, plenty has changed for Turlington Burns. Yes, she's still modeling in campaigns, including her latest one for Calvin Klein's new Eternity Eau de Parfum, but now the majority of Turlington Burns time is dedicated to Every Mother Counts (EMC), a policy and advocacy group that works to improve outcomes and address inequities in maternal health. After she recovered from complications following the birth of her daughter Grace, Turlington Burns' priorities shifted, leading her to spend more time raising awareness for this cause.
Below, Turlington Burns looks back on the campaign that launched her career, reflects on how both she and the modeling industry have changed, and more.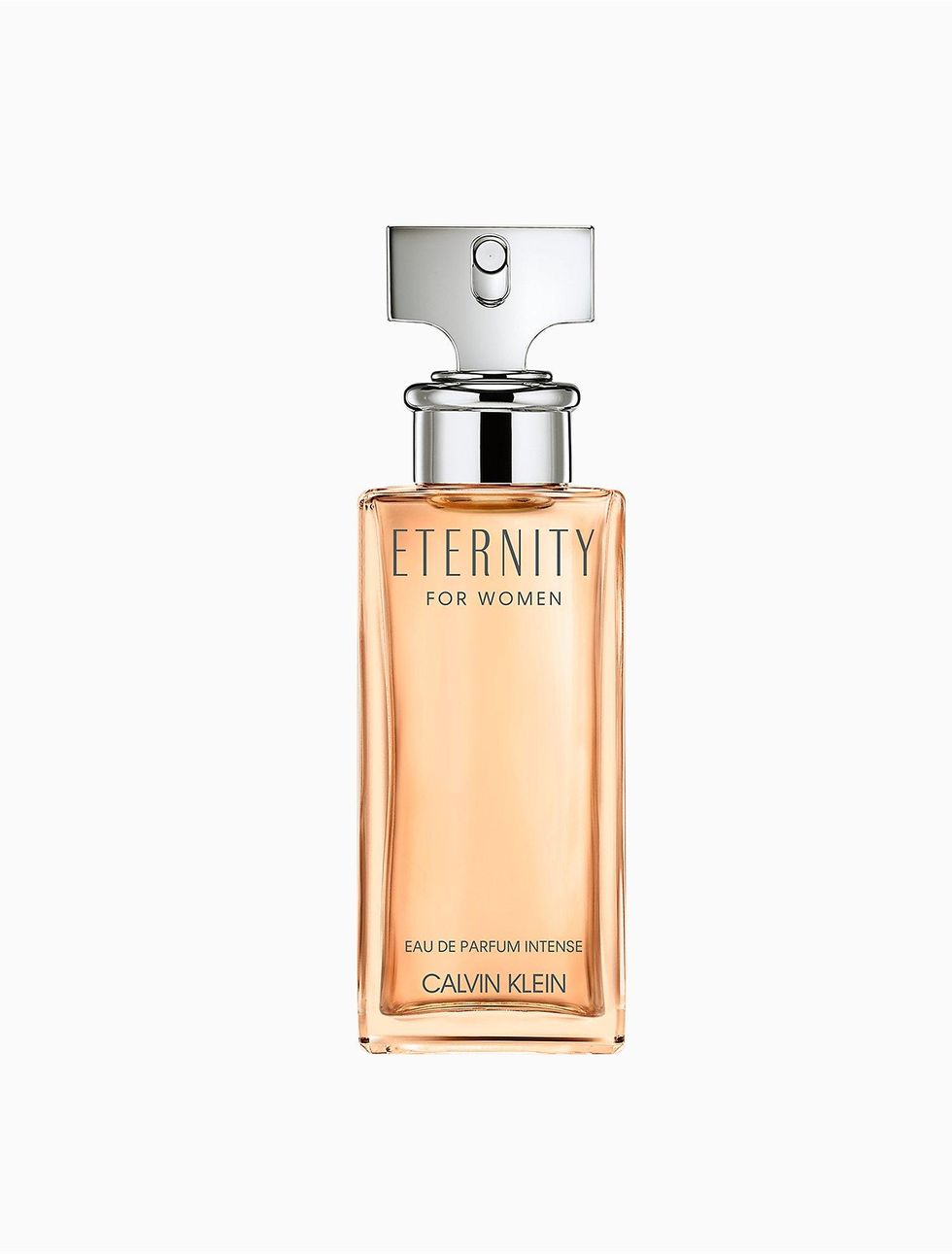 Ama Kwarteng
Calvin Klein
Who were your role models growing up and how did they influence you?
"I guess my role models growing up would've been my mom and grandmother. Then as I got older, I'd say my sisters. I'm the middle of three girls, so I have an older sister and a younger sister, and I [also] have a half sister. I just had a lot of people close by that I could always learn from, draw from, [and] ask questions, so I felt very supported."
You first starred in the Eternity campaign when it debuted in 1988. Do you remember that day? How did it feel?
"I remember the launch of the fragrance so vividly because I was newly living in New York City full time. I was still at the beginning of my career. I had started working with Calvin and felt so special that he reached out to offer me the opportunity to work with him on this fragrance launch. I remember him being so excited about the bottle, and spraying it around the showroom when we'd come in for fittings. Calvin at that point was already known for having these incredible campaigns. The Calvin fragrance commercials were very important and special, and people paid attention. For Eternity, it was also really exciting wondering what they were going to do for this campaign. It ended up being a series of 10 commercials that all connected to a storyline and we shot for over a month. Richard Avedon directed them and everyone involved was incredible. I got to learn so much. It was such a unique experience for me at that time. I've never quite had such a special experience shooting for a campaign since.
"For the first photo campaign that went [along] with the commercials, we shot in Martha's Vineyard, and we shot with all of these amazing children, some of whom I stayed in touch with for many, many years. I remember [the day] so vividly; the clothes, the weather, everyone who was involved. It was really special."
Christy Turlington-Burns, 2022.
Photos: Courtesy of Calvin Klein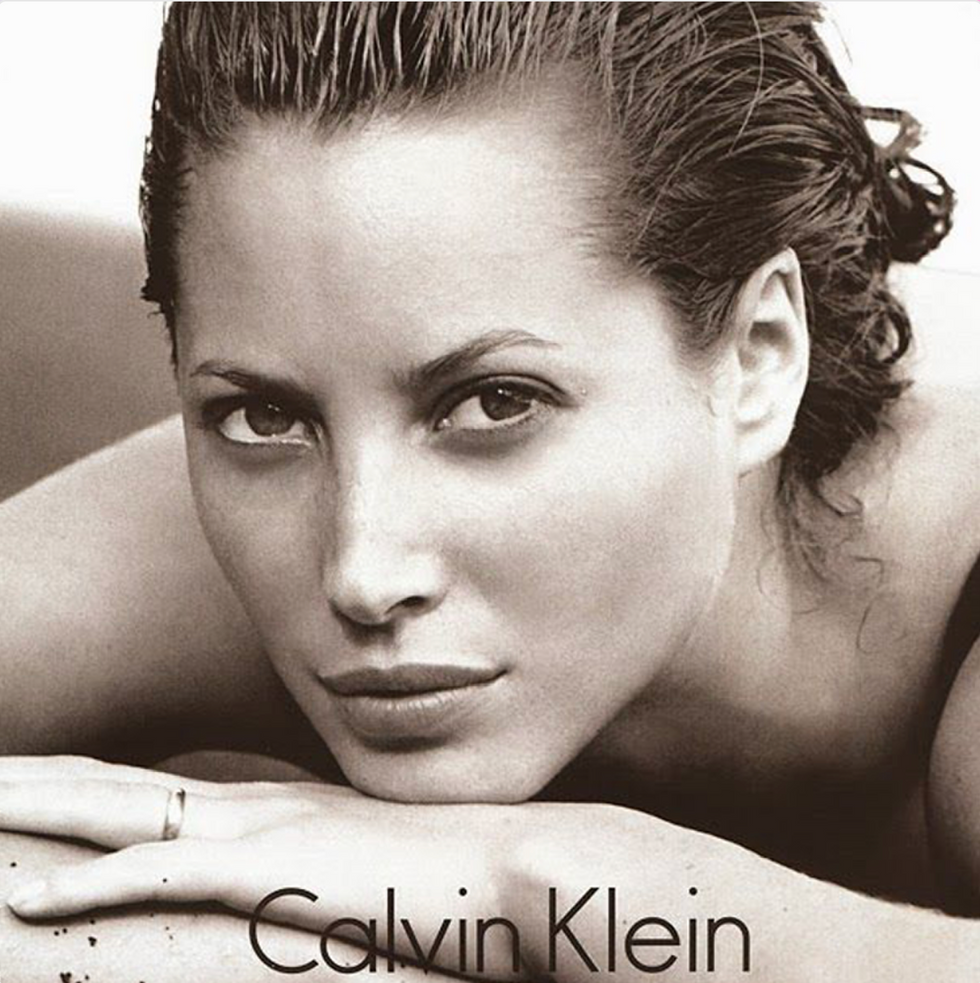 Christy Turlington-Burns, 1988.
How does it feel to be returning to the Eternity campaign, and how does it compare to the first time you shot it?
"It's really fun to work with a company for this long. When I first started modeling, I honestly thought that it would be something I would do for a couple of years before college or before I found what the thing is that I wanted to do. It still amazes me that 35 years or however many it is, that it's still an option that I still get to have it. Having the continuity of a relationship with a brand over this many years, I feel proud of it. I feel like every campaign ever shot [with Calvin Klein] is something that I feel like still holds up. It's still beautiful, it's still relevant, it's still inspiring. It feels nice to be a part of that."
The modeling industry has changed a great deal since you first started your career. I'm curious, do you feel like you have a greater control over your image now than you did at the start?
"When I started modeling, I was young. I was 15 or 16. It took time to learn how to advocate for myself. I think like most young women, it takes time to find your voice and to know what you want and how to express yourself. I do so little now in the industry and for the last 20 or so years, it hasn't been my main job. I get to come in and out. I mostly get to work with people that I know well and that I trust and have built a relationship with.
"I feel like that's lucky. The best [thing about] having done this for so long is that I can ask for people to work with that I feel good with. It's so lucky once you find that right person who also knows you and can do that for you. But it's also really, really important to find your own voice and to express your wants and needs respectfully."
Going back to fragrance, how has it played a role in your life?
"I guess as I've evolved over time, what I want out of a fragrance has changed too. I think in the early years, you kind of feel like you're a grown up if you wear fragrance, so maybe you're wearing it more often or wearing too much of it at first. Then figuring out things like, oh, okay, maybe I like something more subtle. It's sort of [connected to] self-knowledge and self-care, too. I think now I use fragrance as a way to enhance or uplift my mood or my energy. Sometimes it's in the morning and sometimes it's in between the end of day and where I'm going afterwards. I like to play around and I like not having such a set routine with that practice."