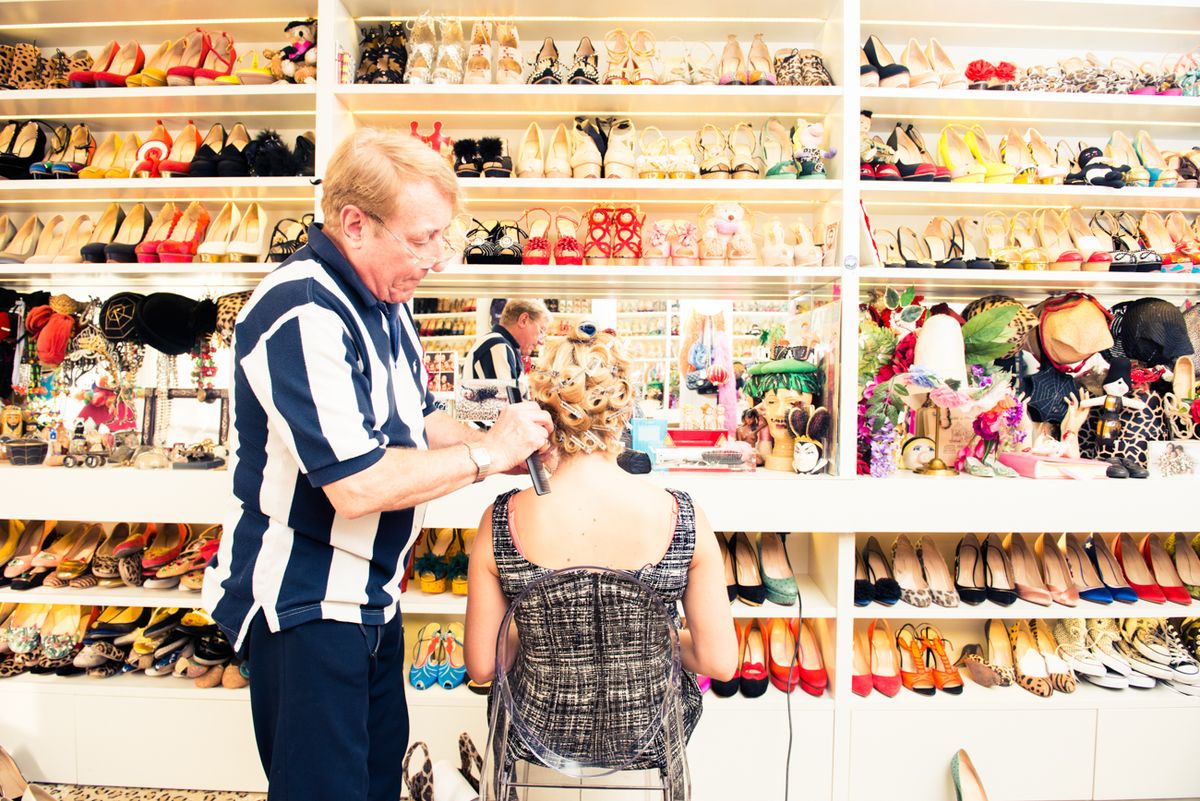 Hair
Okay, so it's not all that low maintenance, but it's definitely worth talking about.
Renée Rodenkirchen
---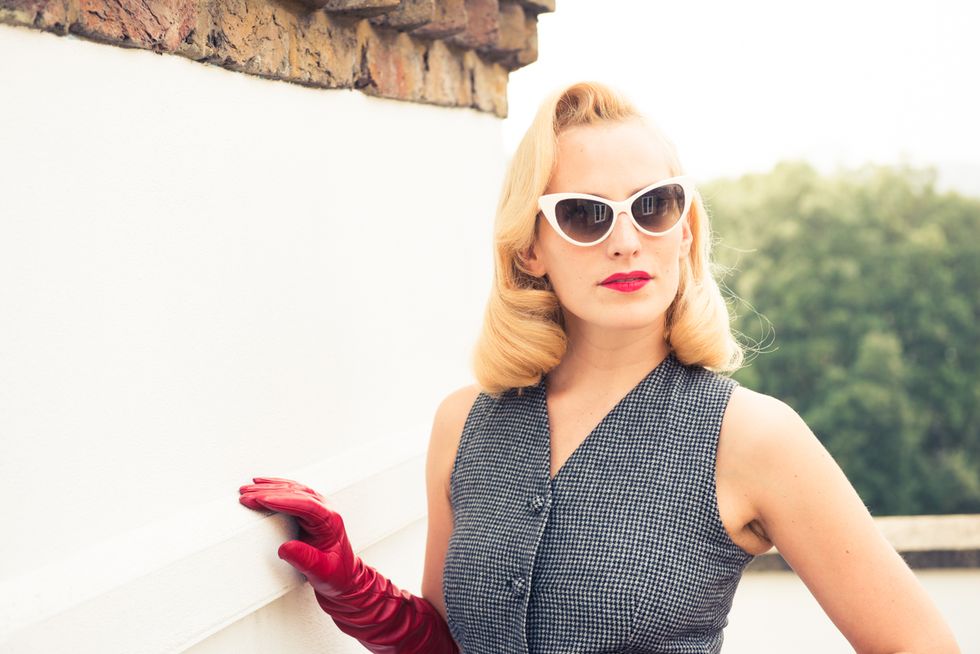 You know her shoes: the chunky gold platforms, the astrological decals, the self-parodying designs (a stockinged leg as a heel, cactuses decorating a wedge sole). And let's be real—if you're not hoarding them in real life, you're hoarding them on Pinterest ("SHOES!"). We mean, Charlotte Olympia Dellal is pretty much the shoe queen, are we right, or are we right?
But if you've
seen her closet
, then you know: Dellal herself is essentially her shoes come to life. Think retro, glamorous and, yeah, kind of hilarious. It might sound like a cliché, but if anyone can get away with it, it's Dellal. She's, well, one-of-a-kind. And But if there's anything we've always wanted to know having seen snaps of her everywhere from Vanity Fair to Style.com is that hair and how. We mean, her retro-inspired coif (and the red lips that go with it) might as well be her calling card.
Lucky for us, when we showed up at her London home, Dellal was still primping with her "best friend, John" (also known as John Hilliard of Daniel Hersheson Salon London). As we do, we took the opportunity to we got into the details on how she started wearing her hair in what might just be the most recognizable style in the industry. And yes, she calls it low maintenance (Charlotte, we have a feeling you'd disapprove of our towel-dry, spritz-of-texturizing-spray, 30-second routine).
On her inspiration...
"I've always loved the 1930s, '40s and '50s from a young age. I used to watch lots of old movies with my mom so I think I get it from my mom. She loves glamor, my grandmother was very glamorous, so I guess I get it from the women in my life, so to speak. I love the glamor of the '40s and the playfulness of the '50s. My hair's inspired from those times as part of my look. My grandmother inspired that as well. As much as I would love to say I'm a natural blonde, I'm not, but she was, so I have the same hair color, I style it in that fashion with the red lips, that's kind of part of my look. Whether I'm wearing a casual outfit or dressed up I still kind of feel like me."
On her retro idols...
"My absolute favorite [iconic figure] is Rita Hayworth. I dyed my hair red once because of her. She's my favorite and Gilda's my favorite movie. But then I love Lauren Bacall; I love Carmen Miranda especially because she's specifically rich in accessories from literally head to toe; Marilyn Monroe I love. There's so many people I love, lots. I love the men also."
On how her look came to be...
"I think it was when I dyed my hair red for the first time because of Rita Hayworth—that's when I started wearing red lips and having my hair styled. For me, red hair always looks fantastic when they've got that kind of '40s wave and red lips because, for me, a red head is quite retro also. Lots of women during those times were red heads. So, for me, red heads are super glamorous."
On going blonde...
"[Dying my hair blonde] was a gradual process, it started with the highlights and then every time I went blonder and blonder and blonder and now I can't really go back—I quite like it."
On the "low maintenance" process...
"I say this look looks high maintenance, but it's not. It takes about an hour to do and I do it the old-fashioned way—so setting lotion, pin curls, under dryer with a little pink hairnet, back-combed and then sculpted into shape with lots of hair clips and let it set for a bit. So, it doesn't take too long, but it lasts forever—it's a bit like a helmet, so to speak. I wake up and it's still the same and then just a bit of red lipstick. So, it looks high maintenance, but it's actually quite low maintenance. I like to say I wake up like this, ha! No I don't. Yeah, so it's part of my look, I don't do it any other way unless it's summer and by the beach and I just have it straight back. It's all thanks to my best friend John, the other man in my life."