A Complete Guide to Carbon Neutrality in Beauty
What it really takes to move the needle towards a more sustainable future.
Beauty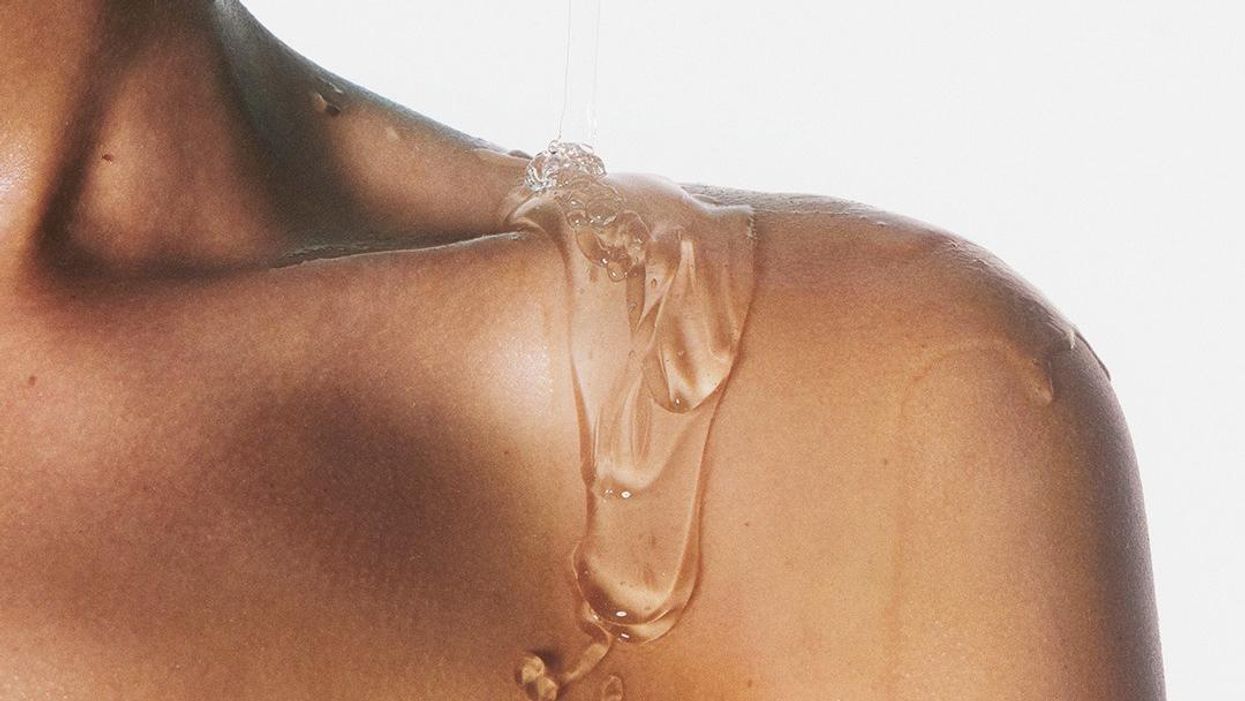 When you're standing in front of the mirror applying your skin care, have you ever stopped to consider the environmental toll of your beauty products? From their ingredients to how they're manufactured, what they're packaged in, how they're shipped, all the way to how they're disposed of, they leave a carbon footprint behind—invisible gases that we can't see but are trapping heat in the atmosphere, making the planet warmer and threatening its future.
According to the National Oceanic and Atmospheric Administration, the amount of carbon dioxide in the atmosphere reached record levels in 2020, hitting 417 parts per million. What's more, the UN Environment Programme's Emissions Gap Report calls attention to the need to reduce emissions by 7.6 percent every year until 2030 to limit global warming to the Paris Agreement goal of 1.5° C. Today, even the most ambitious climate action plans appear far off the mark.
This is an inconvenient truth, one that we're slowly starting to see the beauty industry waking up to. They're coming to terms with the responsibility they have in reducing their carbon footprint, responding with what's quickly catching on as the latest buzz term—Carbon-Neutral Beauty. It's the new brand attribute, but what does it really mean? How does a beauty brand really achieve carbon neutrality?
In a world where conscious consumerism is on the rise, with consumers demanding more from brands, how do you know if they're living up to the claims or peddling them as marketing speak? How can you trust that brands are thinking of sustainability as more than just a box-ticking exercise?
You have questions, and we have answers, and they just may change the way you shop. We turned to the pros to find out what it actually takes for a beauty brand to be carbon neutral. We also picked the brains of some of the brands who are getting it right and are committed to beauty done better.
It Starts with a Life-Cycle Assessment
To be carbon neutral is to remove the same amount of carbon dioxide you are emitting into the atmosphere to achieve net-zero carbon emissions. But how is it actually done? Well, it starts with a life-cycle assessment.
According to Dianne Saxe, an environmental lawyer and former Environmental Commissioner of Ontario, before brands can figure out which things they need to change, the first thing they need to have is a full and honest accounting of their impacts. "That means looking at their supply chain and asking all the uncomfortable questions about where things come from and how they're made," says Saxe. Lorraine Dallmeier, a biologist, environmentalist, and CEO of Formula Botanica agrees, adding, "In order for beauty brands to understand their carbon footprint, they have to start by looking at the entire life cycle of their products. They need to have a complete picture of what is involved in producing their products if they truly want to be responsible."
Brands have to look at where raw ingredients are sourced and whether they are harvested or synthesized in a lab. They need to look at the footprint associated with manufacturing the formulation and the energy and water consumption involved. They need to look at where they source their packaging and the shipping involved in getting ingredients and products from point A to point B. There's also the usage of the products after they've been sold. "Brands need to take responsibility for that, too," says Dallmeier, adding that brands have a tendency to wash their hands of what happens to the products once they've been sold. Disposal and waste have to be taken into account as part of the life cycle, as well. "The words life cycle assessment are of critical importance to anyone making products," says Dallmeier. Hero Cosmetics is making sustainability a top priority this year, "conducting a product-level deep dive to see if we can make each of our products carbon neutral, which requires an end-to-end assessment," says founder and CEO Ju Rhyu.
The exercise isn't without its challenges, and according to Dallmeier, it will likely shine a light on a host of things they probably didn't know about or want to know about. Some brands will find themselves at an advantage, having shaped their business around sustainability, making it a core value from the beginning. Such is the case for minimalist skin-care brand Nécessaire, who set out to weave sustainability into everything they do from day one. "We asked ourselves from the beginning, how do we make this part of our DNA and a thread in everything we do?" says CEO and co-founder Randi Christiansen. "For us, sustainability is a purpose, not a checklist. It's the heartbeat of why we exist," she adds.
So How Is Carbon Footprint Measured?
Under the industry standard Greenhouse Gas Protocol, there are three "scopes" of emissions that represent the entirety of a company's carbon footprint.
Scope 1: Direct emissions such as natural gas used to heat an office, or any direct emissions from owned manufacturing plants. These are the easiest to measure.
Scope 2: Indirect emissions, primarily purchased electricity.
Scope 3: Indirect emissions such as supply chain, corporate business travel, employee commuting, shipping, etc. These make up the majority of a company's footprint and are harder to measure.
To know how thorough a brand is being in their carbon accounting depends on which emissions they are actually measuring. Given that Scope 3 emissions make up the majority of a company's footprint, "any business that's telling you they count Scopes 1 and 2 only could easily be missing half of their emissions," notes Saxe. The question that needs to be asked is whether a company is reporting all of its emissions, and according to Saxe, the reality is most aren't.
Many perceive the task of measurement as complex, expensive, and overwhelming, but organizations like Climate Neutral exist to break down these barriers, making measuring carbon footprint easy and accessible. Austin Whitman, CEO of Climate Neutral, believes that "brands are highly motivated to take climate action, but many haven't been given a tool kit to get started," he says. "Beauty and health brands have become a big focus for us in the past six months, and brands are starting to seek out Climate Neutral, creating a momentum effect, pressuring other companies to follow suit," adds Whitman.
Carbon Offsetting Isn't the Cure-All

Once a company has calculated its emissions, it's time to remove them from the atmosphere. This is called offsetting, and it's the most immediate way to become "neutral." Let's say a company's carbon footprint for 2020 was 60,000 tonnes of carbon. In order to completely offset its footprint and be carbon neutral, they would have to purchase at least 60,000 carbon credits.
Offsets come in many flavors and include projects that remove carbon from the atmosphere (think reforestation) or avoid emissions from traditional fossil fuels (think renewable energy). According to Saxe, one of the most popular offsets is tree planting, and while planting trees is great, it assumes the tree will grow happily for a hundred years. We know that's not necessarily the case. Furthermore, tree planting today is not going to offset your historical emissions. "Tree planting today and then waiting 10 years may well do so, but it takes a long time to sequester that carbon in those trees," notes Dallmeier.
So, while offsetting is a good thing to do, and is the only way to achieve carbon neutrality immediately, it isn't the cure-all. "Offsetting has a role to play and is a good thing to do; however, it's not a panacea, it's not going to solve all of our problems," says Dallmeier, adding that "the goal should be trying to avoid impact first, before you go and mitigate it."
Adam Simone, co-founder of plastic-free razor company Leaf ,says, "We can't turn around tomorrow and make product without producing CO2e, but we can use the money we bring in to responsibly pay for our sins, so to speak. It's not enough to just pay up, though; you must also have an eye for long-term solutions that reduce the carbon-producing activities, too." Nécessaire is of the same view, with Christiansen pointing out that she's not just going to offset, she's committing to reducing certain aspects of her footprint.
A lot of companies say they're carbon neutral when they continue emitting, but are buying offsets to effectively "cancel out" emissions. "If people think they can just keep going business as usual and give a little money for someone to plant trees somewhere, that is not going to take us to a stable climate," says Saxe.
Reduction has to be part of the plan, and this is something Climate Neutral holds brands accountable for when seeking certification. "We require that brands disclose at least two reduction goals and report on progress annually," says Whitman. For Leaf, their reduction plan involves switching over their energy supply to renewable green sources, optimizing their driving routes for package delivery, and installing energy-efficient lighting and appliances. One of Nécessaire's reduction goals is lowering carbon emissions associated with getting products to consumers by extending their shipping ecosystem into a dual-location platform in the US.
Let's Talk Packaging
It should come as no surprise that where sustainability is concerned, an area that is particularly challenging for beauty brands is packaging. It always has and will continue to hold tremendous weight in sales strategies, but brands need to minimize the impact of their packaging if they want to reduce their carbon footprint.
While Nécessaire's products are still in plastic bottles, they are pushing and innovating in this space, using bio resin and post-consumer waste resins. "Where I'm finding it difficult right now is that our brand lives in the shower," says Christiansen. "We live in a slippery, water-filled space, and I didn't necessarily think it was wise to go with glass in the shower." We tend to consider glass the more sustainable option, but the fact is, glass can have a higher carbon footprint thanks to its weight and higher cost to transport. "We're doing a lot of work in this area, and consumers should expect some news from us," says Christiansen.
Sustainable lipstick brand HIGHR packages their lipsticks in tubes made of 85 percent recycled aluminum, and the entire tube can be disassembled for recycling. Outer packaging and shipping boxes are upcycled shoeboxes from a factory in Italy, which are then embossed and customized to the brand's signature pink using vegetable-based ink. "When we think about what products we'll bring out next, a big component of that is dictated by what the sustainable packaging options are," says Molly Hart, Founder of HIGHR. "If there isn't a sustainable packaging option available, we simply won't bring that product to market."
A glaring challenge for indie brands is the inability to procure innovative eco packaging because minimum order quantities are much too steep. Often, smaller brands simply can't afford the hefty investment associated with the unit minimums that many packaging suppliers require. Dallmeier feels packaging suppliers have a responsibility to start providing in smaller units and make packaging more accessible to brands.
"Purpose and transparency is no longer a nice-to-have, it's a need-to-have." —Randi Christiansen, CEO & co-founder, Nécessaire
A recent survey showed that, of respondents who said the environment and sustainability are important to them, more than seven in 10 are willing to pay a premium for brands that support recycling, practice sustainability, and/or are environmentally responsible. A similar survey highlights that consumers are using their spending power to effect the change they want to see, and that 81 percent of global respondents feel strongly that companies should help improve the environment. Consumers are shopping more consciously and are demanding more from brands.
"I think there is a rising demand for transparency coming from consumers," says Whitman. "Many claims are getting thrown around in marketing copy, but few are transparent to consumers, and this is something we are looking to address with the Climate Neutral Certified label," he adds. We're not perfect, but we're working on it—this is all the conscious consumer really wants to hear from brands. They aren't expecting perfection, they simply want a commitment that brands are stepping up, putting in the work, and doing the right thing. "We're not perfect, but we're in it and our hearts are in it," says Christiansen, adding, "Purpose and transparency is no longer a nice-to-have, it's a need-to-have."
Saxe believes brands need an open and transparent plan on the steps they're taking, with reporting and accountability. We should be able to go on a brand's website and be provided with honest responses to questions like: What is the carbon footprint of your company? When do you plan to get to net zero? How are you going to get there? And are you on track? "Transparency is everything," says Hart. "On our website, we tell you all about our sustainable supply chain." For Simone, the approach they take at Leaf is to learn and listen. "Our customers are amazing—they won't hesitate to teach us, and I love it," he says, adding, "It would be easy to slip down the slope and pretend to be the pinnacle of sustainable business and shout that from the rooftops, but that would be disingenuous because we are particularly good at a few things and still learning a lot about pretty much everything else."
At the end of the day, it's about trust. "People increasingly understand that we can't just trust that companies are looking out for us and selling us only good things," says Saxe. It's up to consumers to be discerning about the brands they buy from, and it's up to brands to be vulnerable enough to be open and transparent. "Consumers should feel like they're with someone they trust, a company that is really a person," says Christiansen.
We're Consuming Way Too Much
"If you're talking about carbon-neutral beauty, you can't avoid talking about the elephant in the room, which is that we're all consuming way too much stuff," says Dallmeier. The beauty industry has perpetuated this idea of continuous consumption, leading to the onset of the beauty "shelfie." "We shouldn't be proud of the fact that we have dozens and dozens of beauty products," says Dallmeier, adding that the beauty industry should focus on trying to create and sell more multipurpose, multifunctional, and longer-lasting formulations. "If you combine that with the carbon-neutral discussion, then I think we're on the right track," adds Dallmeier.
To Sum Up….

According to Dallmeier, the future success of a brand is really going to depend on how well they tackle sustainability. "I hope 10 years from now every brand will, by default, be thinking about sustainability continuously," she says.
British naturalist and fatherly protector of the planet Sir David Attenborough believes the solution to the climate crisis lies in putting nature at the heart of our decisions. That is something we all can, and have a responsibility to do.
Photo: Courtesy of Instagram/@necessaire
Want more stories like this?
How to Define "Clean" and "Natural" Beauty in 2021
The Surprising Materials Designers Are Using in the Name of Sustainability
The Future of Beauty Is Powered by Artificial Intelligence—But Is That a Good Thing?