Is Blush the Key To Masking Tired Under Eyes?
My review of TikTok's new blush-concealer hack.
Makeup
Photo: Courtesy of Sumiko Wilson
Every day, a new beauty hack crawls off of our TikTok feeds and onto our vanities. Earlier this spring, I noticed that the beauty girlies were inexplicably adding dabs of blush to their under-eye concealer. At first glance, this seemed totally pointless. Why would one want rosy under eyes? But the payoff isn't so straightforward.
@makeupbyalissiac

Mixing liquid blush with my concealer has changed my life #BeautyHacks #BeautyReview #makeuptutorial
@glowwithmar

The viral concealer and liquid blush hack got my knees quakinnn — what do you think? 😳 #makeupviral #makeuphacks #makeuptutorial #makeuptrend #liquidblush #concealerhack #concealer
It's so hot out that standing outside yields the same amount of sweat as running a lap around the block typically would, so I've dialed down my everyday makeup to a skeleton crew. Day-to-day, I normally top my tinted SPF with mascara, brow gel, and a bit of lip gloss. But if it's hot enough, any of those products can get the axe. The only non-negotiable in my kit is concealer. I'm a fresh university grad and exam crams and all-nighters are barely in my rearview mirror—exhaustion has been my baseline over the past few years and I have the dark circles to prove it. The blush-concealer TikTok hack didn't pique my interest until I realized that it might be the key to curbing dark circles for good.
Basic color theory shows us that hues on opposite ends of the color wheel cancel each other out—that's how color correctors work their magic. This is exactly what blush does when it joins forces with concealer. The purpose isn't to look like a sickly, fever-ridden Victorian child—it's to target dark circles and get more out of your concealer. Here's what happened when I used blush to color correct.
The Process
To get the best results, I tried this hack with a few different blush-concealer combos. My "For You" page didn't provide a clear consensus on what kinds of blushes worked best, so I tried something dark (Glossier Cloud Paint in Storm), something rosy (Well People Supernatural Stick in Nude Berry), and something with an orange-tint (a shade from my e.l.f. Blush & Glow Powder Blush Palette). For concealers, I swapped between my tried-and-true everyday concealer, Kosas Revealer Concealer in shade 08 (my desert island beauty pick, BTW) and my go-to for brightening, Mac Studio Fix in shade NC44.
To apply, I just stippled dots of blush in between dabs of concealer and blended it all using a beauty sponge—easy peasy.
The Results
As I was blending in my deeper blush, I looked like I had just lost a tousle. It was giving battered and bruised. It took a lot of blending and the result was way too red for me. Meanwhile, the orange-tinted Elf shade didn't show up quite as prominently. Even after building on it with a couple of layers, it was way too sheer to make an impact.
Pairing my brightening concealer with a deeper blush wasn't ideal.
Photo: Courtesy of Sumiko Wilson
The orangey blush didn't correct dark circles as I had hoped.
Photo: Courtesy of Sumiko Wilson
Brightening concealer with a rosy blush was *chef's kiss.*
Photo: Courtesy of Sumiko Wilson
By far, the combination of a brightening concealer and a rosy blush gave me the best results. I had resigned myself to the fact my dark circles just exceeded certain concealer's capabilities (my main character syndrome interpreted that as me being more tired than everyone else), but this brightened things up significantly. The pink helped mask the cool tones that make my dark under eyes sometimes peek out from beneath my concealer.
Would I work this into my everyday beauty regime? Probably not. Though my under eyes were brighter, they were still rosier than I'd prefer. My ideal look is "your skin but better"—the clean girl aesthetic resonated before there was a name for it—and the blush-concealer combo doesn't have the most natural-looking finish, but it's the perfect trick when you're really going for a full-on full face.
Shop the Story:
Glossier
Well People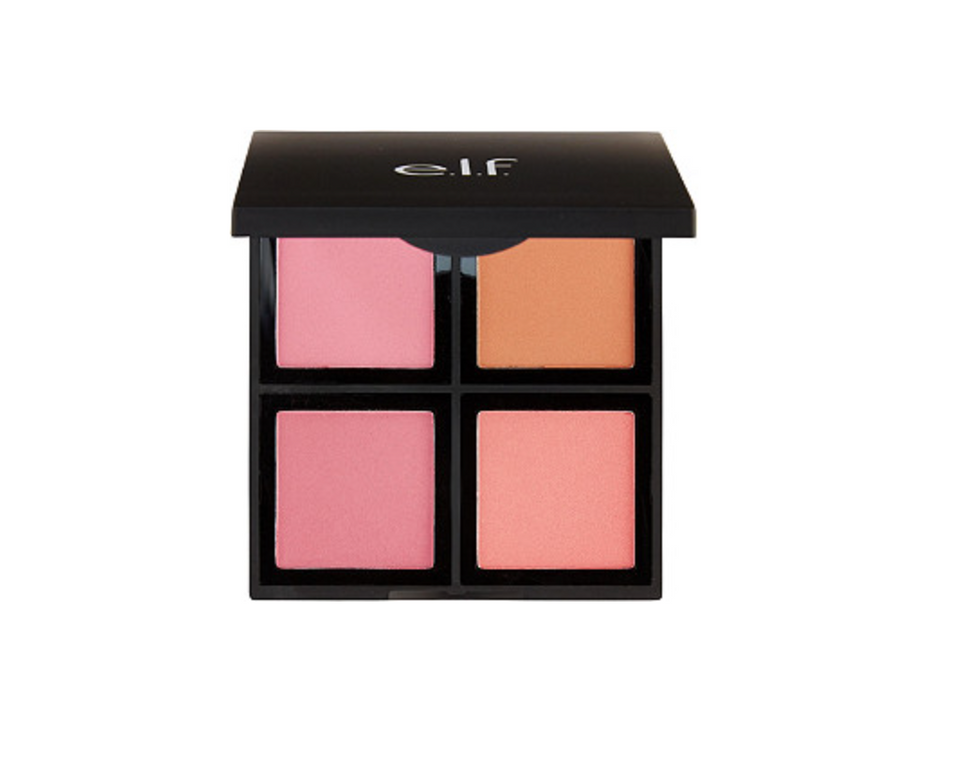 e.l.f. Cosmetics
e.l.f. Cosmetics
MAC Cosmetics