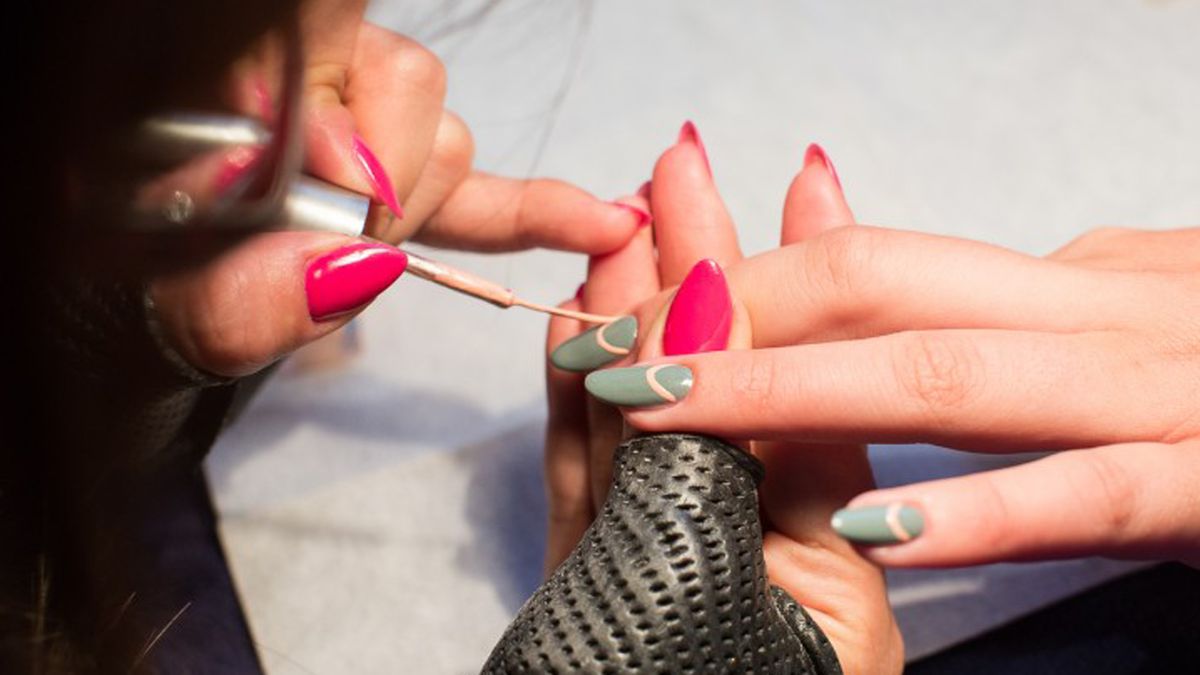 Nails
Only the best for you and your nails.
In the hierarchy of beauty rituals, getting your
nails done
definitely ranks at the top in terms of relaxing as well as socializing. We firmly believe that the best way to treat yourself is to pop into a salon, indulge in a mani-pedi (forced phone break!), and zone out for an hour or so. But if you're located in New York, you already know that nail spots are like the bodegas of beauty—there's one on every corner. Plus, there are a ton of factors that go into deciding which place is perfect for you, like color selection; how long the polish lasts; the atmosphere; whether or not they offer free booze. All crucial. To get all the intel on which nail salons are the best in the city, we polled ten beauty editors for their absolute favorites. Check out what they recommend below.
---
Kara McGrath, Deputy Digital Editor at Allure
"JINsoon's Tribeca location is my absolute favorite. The salon is cozy without feeling crowded, and everyone who works there is just the sweetest (not to mention super talented). I love sipping on their citrus tea while I get a flower-petal pedicure; it feels luxurious, but costs less than 50 bucks."
Victoria Moorhouse, Senior Editor at PopSugar
"Manicures always frustrated me because my polish would inevitably chip like, one day later. Then I discovered Sundays Studio, and my nails have honestly never looked better. The salon's 10-free polish has incredible staying power. I've had a regular manicure last a whopping 10 days from Sundays, surpassing any other non-gel manicure I've ever received by far. The salon itself makes for a pretty Instagram story post, and a regular mani only sets you back about $25. The salon (there are two locations in New York City) also offers cool services like guided meditations with manis."
Megan McIntyre, Beauty Writer
"It kind of looks like millennial pink threw up in this Brooklyn nail salon, but that's a good thing. The space is chic, fun, and funky—it's basically made for the 'gram. The manis and pedis live up to the design aesthetic, with beautiful colors and unique nail art using a great selection of polishes. I'm a diehard Smith + Cult fan, and Paintbucket is well stocked with them, along with Marc Jacobs Beauty and Dior, among others. And the non-gel paint jobs actually last—as someone notorious for chipping or smudging a mani in mere hours post-polishing, that's quite the feat. Bonus: The staff and technicians are amazingly sweet, and the place is open and airy enough that you don't feel like you've been crammed like a sardine into an assembly-line nail joint. And, most importantly, there's free prosecco."
Taylore Glynn, Associate Beauty & Health Editor at Marie Claire
 "This adorable, minimalist spot is only a quick stroll from my apartment, but even if it wasn't, I would still go out of my way to stop by for a mani/pedi. Their Flower Petal Float ritual makes me feel like a princess, and even their most basic treatments are utterly luxurious and totally affordable. The salon's polish wall overflows with options, but the brand's own line of lacquer lasts forever without chipping (Tila, my current shade obsession, makes my cropped nails look like glossy jade eggs). And hey, the unlimited prosecco doesn't hurt, either."
Devon Abelman, Digital Beauty Editor at Allure
"Whatever your wildest nail art dreams may be, the nail artists at Valley can most likely make them happen. My ideal nail art situation is rainbow, holographic, or sparkly, so I always look forward to picking from Valley's extensive selection of glitter and foils. Last time I went, I got cobalt gel polish covered with holographic silver star-shaped glitter, and the look lasted a whole month."
Kristina Rodulfo, Beauty Director at Women's Health
"To be honest, I've gotten so good at doing my own nails, I rarely go to a nail salon. DIY manis have long been a Sunday ritual for me. However, when a special occasion or vacation comes around and I want nail art, I'll head to Paintbox in SoHo. The cozy ambiance and flowing champagne makes the place feel fun and social, so I love going with a friend or even taking meetings there. Plus, the customizable graphic nail designs are not too out-there, but fancy enough to get compliments everywhere I go."
Maya Allen, Digital Beauty Editor at Marie Claire
"I credit Valley with creating some of the dopest nail art I've ever had. I could show one of their artists a design that dropped from the sky (aka my wild imagination), and they'll cook up something fire. Yes, I still obsess over nail art because I'm very extra. More importantly, I could be in such a mood and then look down at my mani and instantly feel like all is well in the world—the mood-boosting powers of pretty nails are pretty magical."
Kristin Limoges, Beauty & Wellness Editor
"I especially love Sundays, particularly the serene Scandinavian-inspired NoMad location. They only use their own Sundays 10-free polish, which I swear must have some magical Hogwarts-level witchcraft in it because it last days longer than any other polish I've ever tried. And the colors are complex and fun, and goshdarnit I love them. The studio is also a place for more than just great nails; it's a space for mindfulness—in place of gossip magazines, there are books by Eckhart Tolle and Brené Brown, and in place of Top 40 music playing overhead, you can put on a pair of headphones and listen to the meditation treatment in partnership with meditation company Inscape. Bonus points for the handmade Danish Rama chairs that owner Amy Ling Lin traveled to Denmark to grab."
Katie Becker, Beauty & Health Director at Elle
"I am so happy whenever I'm in a chair at Jin Soon at any of her locations. She has every color I want from all the brands I love, and her team are all top-notch pros who I recognize and love every time I'm there. Of course, there's the famous citrus tea, too."